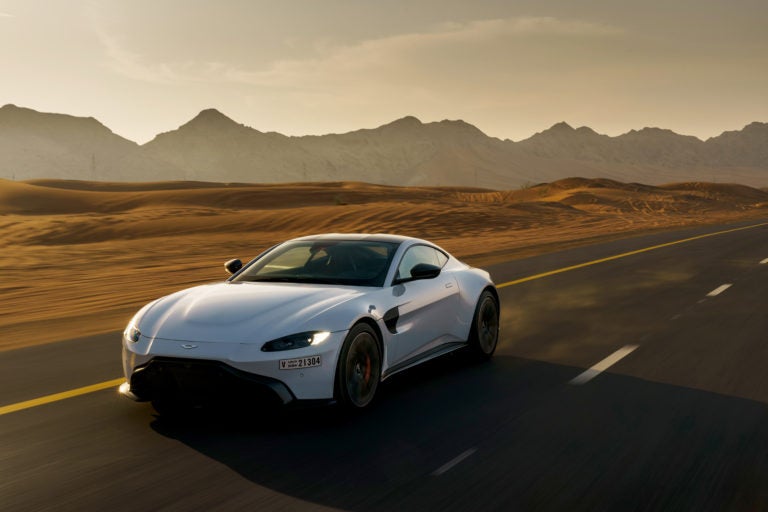 Book your stay at the Waldorf Astoria Dubai Palm Jumeirah this year and take the opportunity to get behind the wheel of one of the world's most beautiful luxury sports cars.
Choose between two of the latest Aston Martin models — a DB11 AMR and a Vantage — and undertake the 86-mile journey to Ras al Khaimah. Both cars are exceptionally fast: The DB11 AMR has a top speed of 208 mph and the Vantage, 195 mph.
An experienced driver will be with you to ensure you get the best out of the drive (and stay on the right side of the law with those tempting speeds). The route to Ras al Khaimah follows the coastline northward through scenic desert highways, showcasing the country's spare beauty.
Finish the day in fine style by dining under Dubai's desert skies in a luxury Bedouin-inspired camp. Waldorf Astoria enlists the help of events specialists Nara Desert Escape to curate an unforgettable culinary and cultural experience.
Ride camels over sand dunes, watch a trained peregrine falcon swoop down on its prey, and marvel at the stars before sitting down to an alfresco meal to reflect on an adventure that will live long in your memory.
Chairman Suite from $5,510 per night, including driving experience.
Contact: Bassem Saudy, director of sales, bassem.saudy@waldorfastoria.com, +971 4 818 2222, waldorfastoria.com