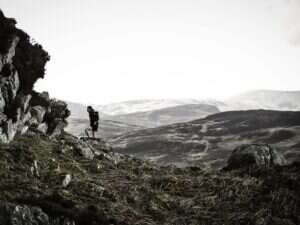 Pegged as 'the world's first premium ultra,' the Highland Kings is an ultra-endurance experience that is launching for the first time in April 2022. Over four days, the brave participants will cover some 120 miles of Scotland's strikingly dramatic west coast (the race is named for Scottish kings KennethMacAlpin, Alexander III and Robert the Bruce, who helped to shape the region).
The invitation-only event is designed by former special forces operatives—think grueling days of running, including a 16,000-ft ascent from Glencoe to the Isle of Arran. In this area of rugged, natural beauty, every step has been taken to ensure minimal impact on the environment making it one of the most sustainable endurance events in the world.
During the race, all logistics are taken care of including bag transfer, and qualified local mountain guides and medics on board an all-terrain 4×4 ambulance will be tracking all athletes. But the challenge doesn't begin at the start line—rather, you'll have months of top-notch coaching and support in the lead-up to the event and access to 'a support crew' of world champion endurance athletes (including reigning world champion ultrarunner Jon Albon), coaches, nutritionists and physiologists to ensure you're fighting fit both physically and mentally.
You will also get a pre-programmed Garmin MARQ watch to track your progress. As any endurance athlete knows, recovery is vital, so at the end of each day you'll have access to on-site masseurs, physiotherapists and hydropools, as well as cuisine prepared by chefs from Michelin-starred restaurants, plus butler service.
You'll camp out in the great Scottish wilderness in luxury tepee-style tents. On the final night, celebrate the completed brutal challenge at a gala banquet in a castle with legendary explorer Sir Ranulph Fiennes.
From $20,450 per person. Contact Matthew Smith, founder, info@primal-adventures.com, +44 755 325 1858, highland-kings.com