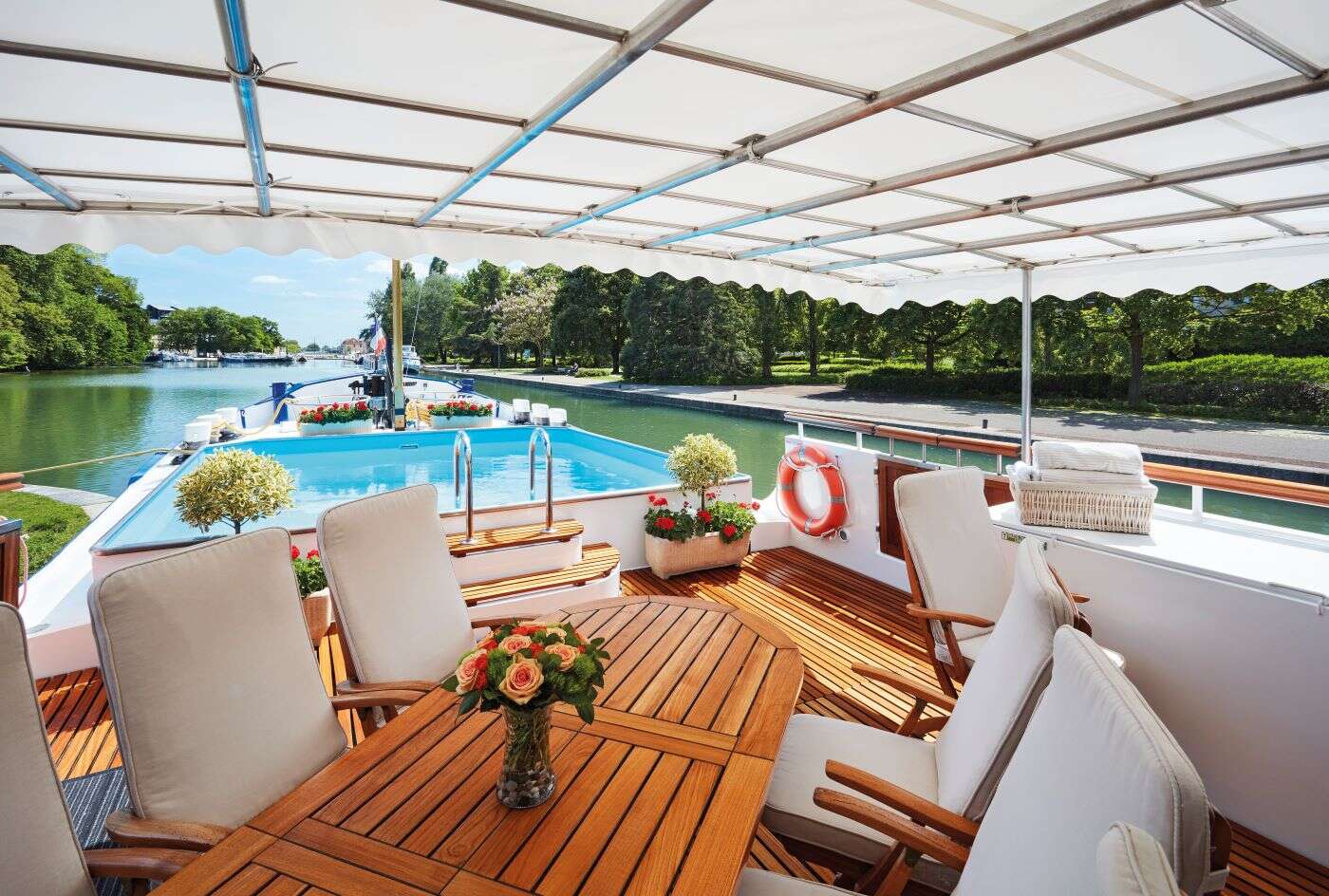 Stretching back as far as the 17th century, France's historic canal network was considered a feat of engineering greatness when it was first constructed. Created long before motor vehicles, the myriad of waterways meander their way through the country's most scenic stretches, charming villages and bustling cities, making them an excellent — yet largely undiscovered — way to explore all that France has to offer. 
As boats go, a canal barge probably isn't the first vessel that springs to mind when planning a luxury boating escape. However, luxury hotel and travel firm Belmond might make you rethink this with its fleet of seven luxury barges, collectively known as Belmond Afloat in France.
More akin to floating villas, Belmond's fleet of canal boats has all the luxuries of a five-star hotel. Featuring personal chefs who source artisanal fare from the markets en route and wine experts onboard to talk you through the rare vintages you'll sample from the alfresco dining deck, cruising on one of Belmond's barges promises to be a very agreeable experience.
[See also: Belmond Promotes Slow Travel with New Train Itineraries]
Spacious cabins offer sparkling en-suite bathrooms and state-of-the-art technology. While some barges are adorned with antiques and artworks, others offer heated pools — and one even has a grand piano. Accommodating anywhere from four to 12 passengers,  every need will be taken care of as guests breathe in the surrounds of Burgundy, Provence or the serene Canal Du Midi from a unique vantage point. 
Available for week-long private charters, families and friends will enjoy tailor-made Belmond Afloat itineraries filled with any manner of experiences, from exploring medieval fortresses and exhilarating ATV tours to Michelin star dining, truffle hunts and private wine tastings. However, the most exciting experiences of all may be Belmond's two new itineraries, which are set to launch on August 29 2021.
Champagne in Champagne
The first of Belmond's new canal boat itineraries has been created with champagne-lovers in mind. Delivered in partnership with luxury specialists Moët Hennessy Louis Vuitton (LVMH), guests will enjoy exclusive access to Champagne's leading vineyards on an indulgent week-long cruise. The itinerary includes a guided tour and tasting at Ruinart's UNESCO-certified cellars – the oldest established champagne house dating back to 1729 – as well as a private visit to Veuve Cliquot, before returning to the barge for a dinner hosted by the renowned champagne producer. 
Another highlight will see guests enjoy Belmond-only access to the Krug family house for a hosted lunch and tour through the walled vineyard. The week will be topped off by a private hot-air balloon ride overlooking Epernay.
Fall Harvest in Burgundy
The second itinerary will arrive just before the temperature drops and the leaves start turning red as Belmond invites guests to participate in Burgundy's annual grape harvest. This special week-long journey onboard the sumptuous Belmond Amaryllis will include exclusive access to the celebrated Domaine Drouhin-Laroze vineyard. Here, guests will join owners Philippe and Christine Drouhin in the time-honored practice of pigéage (crushing grapes by foot). 
As guests cruise past châteaus dotted along the Cote-d'Or's tree-lined waterways, there will be plenty of chance to moor up at some idyllic spots such as the region's wine capital of Beaune. While visiting the historic cobble-paved town, guests will have a masterclass on the ancient art of cooperage with the chance to create a wooden barrel by hand.  In between wine-taskings, guests will also enjoy a visit to an open-air market in Dijon, shopping for local specialties with the personal onboard chef to prepare back on the barge.
Prices for Belmond Afloat in France start at approximately $20,000 per person for a week-long private charter, belmond.com
[See also: Belmond Launches 12-Michelin-Star Tour for Epicureans]