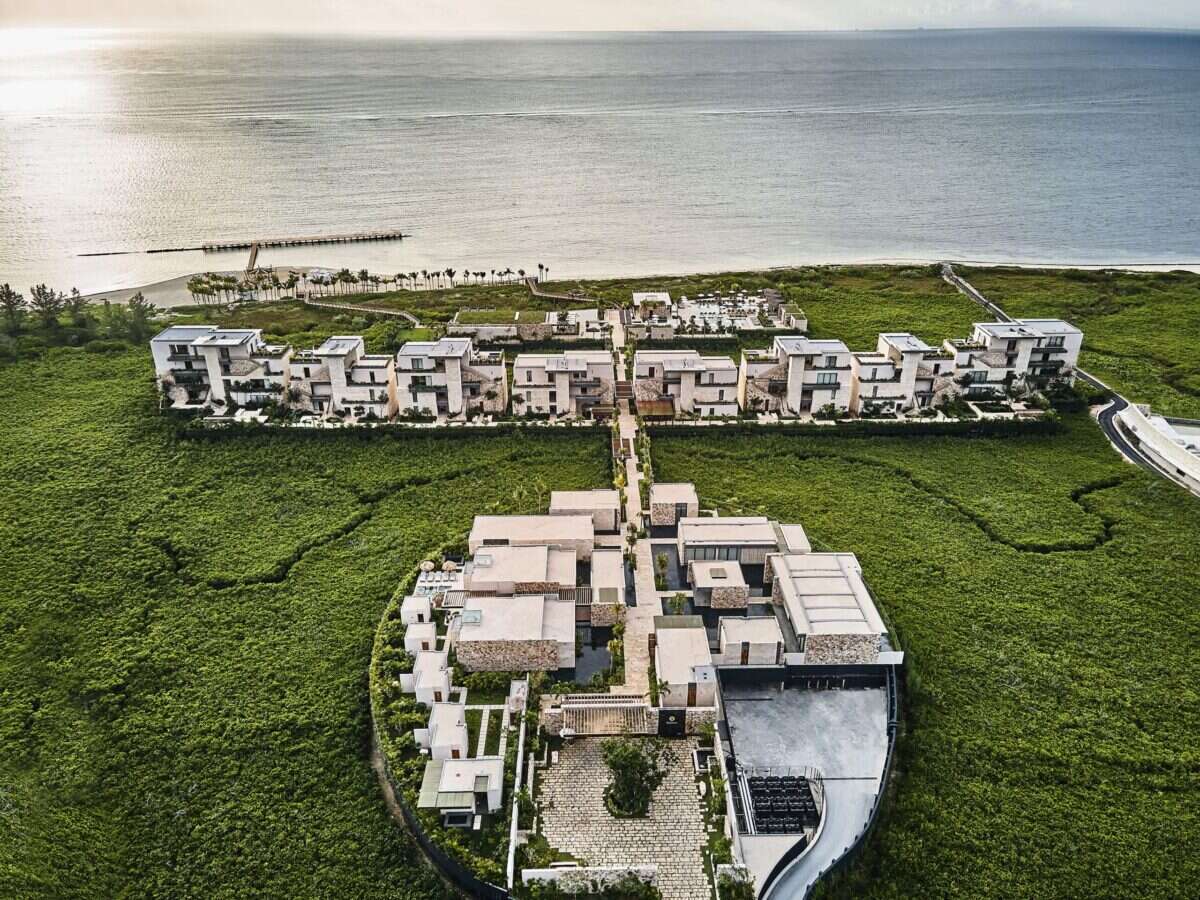 The bar is set high for the ritzy resorts of Mexico's Mayan Riviera, the tourism hotspot near Cancun, which extends roughly 100 miles down the sugar-white Caribbean coast of the Yucatán Peninsula. Here, it takes something above and beyond to get your attention. Enter Etéreo, Auberge Resorts Collection.
Meaning "ethereal" in Spanish, the 75-room beachfront Etéreo opened in December 2021 as the first hotel in the new, ultra-luxe 680-acre Kanai complex, a Mayakoba-like resort development, slated to include properties by St Regis, Edition, and likely, a fourth.
Cleverly crafted from pearly white coral stone and snaking wooden boardwalks, Etéreo looks as if it's floating above a thick, verdant tangle of natural mangrove forest, which is protected under the Mexican government. The cool, earthy and almost brutalist aesthetic of Etéreo comes courtesy of Mexico City-based architects Migdal and landscape architects EDSA, whose portfolio includes properties by Four Seasons, Ritz Carlton and Rosewood. Of the 25 acres that make up Etéreo, only four acres are used and the rest of the land remains untouched.
Interiors, by Meyer Davis, are dedicated to Mexican craftsmanship, fitted with achingly on-trend handmade textiles; carved parota wood panels by pioneering Mexican abstract artist Manuel Felguérez; and curated cultural tributes, like bedside terracotta figurines of the mesoamerican Xoloitzcuintli dog, revered by the Mayans and Aztecs.
This area of the Yucatán is a hotbed of ancient culture, with some of the best-preserved Mayan ruins located nearby at Chichén Itzá, Cobá and on the shoreline of hip Tulum, but despite this richness, a sense of place often gets glossed over at some of the region's resorts. Not so here: Expect nods throughout the property, from welcome rituals by in-house shamans with fragrant smoking copal incense and trumpeting conch shells, to an impressive menu inspired by the Mayan empire at the hotel's signature restaurant, Iztam.
[See more: The Most Iconic Hotels of the 21st Century]
Stay
Etéreo's 75 oceanview rooms are divided into 14 categories, though they can be loosely broken down into studios, suites and penthouses. The penthouses don't necessarily denote location. For example, some are positioned on the main "ground" level, which actually sits at the tree line of the mangrove. (Etéreo doesn't have a back of house; instead, it has an "under house," as all the behind-the-scenes activity happens on the lowest level, which sits under the canopy of mangroves.)
Penthouses — the largest of which spans 3,925 sq ft and includes three bedrooms — are spread over two floors and come with plunge pools, ping-pong tables and outdoor space. The generous sky decks and/or (still generous) balconies are the perfect spot to watch the fuchsia-tinged sunrises set the sea on fire and turn the pools to glass each morning.
The high-design, beachy boho aesthetic is similar throughout all rooms. Entryways are ornamented with a small altar of lustrous shells, painted clay ornaments and milky crystals, as a tribute to the four elements, and doors are unlocked via bamboo bracelet (no plastic key card — or any plastic, for that matter — here.) Inside the rooms, the palette is all calming neutrals of sandy whites and dusty charcoals, plus plenty of warm tzalam wood (aka Mayan walnut), polished lava stone and fiery pops of gleaming copper. It's all very Instagramable.
Sculptural hanging textiles in the rooms come from Caralarga, a local textile workshop using raw cotton yarn and discarded textile waste, but the main piece of art is the carved wood panel, conceived by Felguérez as one of his last projects before his death in 2020. It was the Mexico City family who owns Etéreo who first reached out to Felguérez for the project.
As long-time fans of the famed artist, they asked him to design the logo for the hotel, and the story goes that he nailed it on the first attempt. The interlocking circle — inspired by the Mayan concept of zero and the idea of the infinite — is subtly incorporated throughout the property and appears in the parota wood panels, as well as on the balconies, on concrete screens made with sascab, a type of sand endemic to Quintana Roo.
Housed in a carved wooden box, minibars (called boticas, meaning pharmacies) come fully stocked with artisan goodies (like small-batch Armónico Mexican gin) and thoughtful touches abound throughout the room (like clothes steamers and woven beach bags to use during your stay). Need anything else? Just ask your dedicated Guia, a tech-savvy personal concierge, who grants all your wishes — mostly via WhatsApp.
Roomy bathrooms come with chic, kimono-style robes and woven slippers; soaking tubs, complete with custom rosemary bath salts and palo santo to burn; and divine toiletries — including insect repellent and bite relief — by spiritualist beauty brand Circe Brujeria de Origen, whose products are crafted according to the moon cycle.
Dine
At Etéreo, the culinary offering is just as stylized as the surroundings. Executive chef Miguel Baltazar swaps the typical guac-and-margs fare for wood-fired comal cooking with ancient roots, Japanese inflected mash-ups and sustainably sourced seafood.
Flanked with flickering fire pits and swishing palm trees, the open-air Itzam is the main dining hub, taking inspiration from not only the Yucatán Mayans but the whole Mayan empire, which stretched into modern-day Guatemala, Belize, El Salvador and Honduras. Many of the dishes are up-to-date twists on family recipes sourced from the kitchen staff, many of whom are Mayan.
The seasonal menu is genuinely exciting, and even the most seasoned of foodies may not be familiar with all the ingredients. Try the refreshing salad of shaved chayote (a green gourd) served with Ocosingo cheese, flaxseed crisps, and mustard leaves, and the rich, salsa macha-drizzled lobster esquite — an upscale version of a corn street food favorite — is a must.
At the more casual pool-side Che Che, the concept is Mexico-meets-Japan, with earthenware plates of crispy gyoza overflowing with silky birria, an ancestral braised beef stew from Jalisco. Don't miss the tasting of Mexican sake.
Days are easily whittled away on the soft-sand beach, with the Mesoamerican Barrier Reef (the world's second-largest) just 250 feet from shore, and even an underwater cenote to explore, a few minutes away by sea kayak. There's no need to leave for lunch, thanks to feet-in-the-sand El Changarro (meaning food stall). Snack on the catch of the day served cured in zinging leche de tigre marinade, or for another quick bite, swing by El Carrito (a little food truck) for a cold brew, churros or an evening cocktail.
Every eatery has a well-curated cocktail menu (highlights of which include the Peppers Prey, with gin and habanero, and the mezcal-based Piña Negra, with roasted pineapple and activated charcoal), but for something extraordinary, try the Espiritus De Mexico experience, which includes tastes of lesser-known tipples from across Mexico, including the ceremonial spirit pox from Chiapas and even a sotol (a distillate from the sotol plant), infused with local herbs and botanicals from Chihuahua, including peyote.
Relax
An airy, whitewashed temple of rest and relaxation, Etéreo's Sana spa is adorned in luminescent selenite, glassy reflection pools, and cleansing vibes — both of the new-age and age-old variety. The experience starts with a spiritual cleanse at the Mayan altar and then a corporal cleanse at the spa's high-design interpretation of a cenote (a common geological feature in the region), featuring steams and showers with cacao soap coated in reishi fungus, local honey and crystal-infused kaolin clays.
Treatments range from the mindful to the mystical and include massages with sacred obsidian and jade stones; body veils of geranium, calendula, and palo santo; and spirit-refreshing smoke smudges. There's even a dedicated botanist to help curate these wellness experiences.
More immersive offerings like tarot card readings, ocean-side sound baths, and moonlight massages (taking place on the platformed hammocks above the mangroves) are also on the menu. Holistic-but-high performing Kypris products with organic botanicals are used in skincare rituals, and crystals (some by jewelry designer Joanne Stone) feature prominently.  
Restore
There's substance behind all this style. Most of the property of both Etéreo and the larger Kanai complex is made up of a gorgeously thick forest of red mangroves, which are federally protected. During construction, the design teams focused on creating all hotel structures within the pre-existing (but incongruous) clearings within the mangrove forest, which inspired the "floating" design and the stilted boardwalks.
Kanai has an in-house biologist to make sure the forests remain in good health. An unhealthy mangrove forest would result in bad odors and plenty of mosquitos, not to mention the mangroves are a crucial defense against the hurricanes that plague the region, by creating a natural barrier and cutting winds speeds by up to 50 percent.
The area was hit particularly hard by hurricanes in 2005, but it was only recently that the developers of Kanai received government permission to restore the damaged beachfront ecosystem, which sits between the mangroves and the water. A dredger was brought in to replenish the beach, and a sand-filled geotextile tube was installed to secure the dunes. Native vegetation, like dune grasses and low-lying bushes, was also reintroduced as natural anchors, as well as to create a supportive habitat for local wildlife.
[See more: The Most Luxurious Eco-Friendly Hotels]