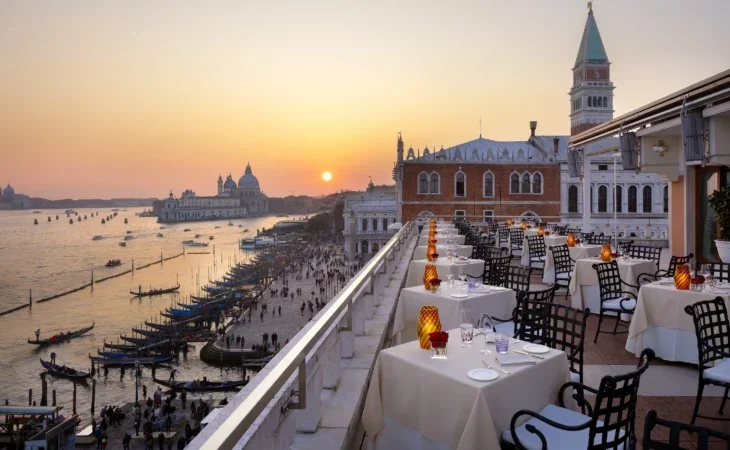 Luxury hospitality giant Four Seasons Hotels and Resorts has partnered with Italian developer Gruppo Statuto to take over managing the historic Hotel Danieli in the heart of Venice.
Situated just steps from the Bridge of Sighs and boasting breathtaking views of the Grand Canal, the gorgeous property is set to reopen in 2025 following extensive renovations. The hotel, which is currently run by Marriott, comprises three buildings: the 14th-century Palazzo Dandolo and two 19th-century additions linked by bridges – Palazzo Casa Nuova and Palazzo Danieli Excelsior.
The property is the perfect spot from which to explore Italy's beautiful floating city, within walking distance of the famed Piazza San Marco and a short ferry ride to the spectacular white stone Basilica di Santi Maria.
[See more: The Most Anticipated Hotel Openings of 2022]
During the revamp, Four Seasons will put its iconic stamp on the property, while meticulously preserving the building's glorious Venetian Gothic style architecture. The interiors will be overseen by revered designer Pierre-Yves Rochon – the creative genius behind several other historic Four Seasons properties across Europe including those in Cap-Ferrat, Florence and Paris. He will also be responsible for transforming the property's four existing gourmet eateries and bars.
"Italy is a beloved and important destination for luxury travelers, and we have been capitalizing on the strength of this market with property enhancements and incredible new additions to our portfolio – many of them in collaboration with our long-term partners, Gruppo Statuto," said Bart Carnahan, president for global business and portfolio management at Four Seasons Hotels and Resorts.
"With Hotel Danieli, we are adding another iconic property to our Italian portfolio, where we will honor the historic legacy of this Venetian landmark while also introducing the exceptional Four Seasons service experience to one of Italy's most popular destinations."
Guiseppe Statuto, owner of Gruppo Statuto added: "Hotel Danieli is a renowned and historic property in Venice and we are confident that our partnership with Four Seasons will help usher the hotel into its next chapter, maintaining the standard of quality and excellence that guests have come to expect of the Hotel."
During the renovations, the property will remain open with select services available under the management of Gruppo Statuto, operating under the name The Hotel Danieli Venezia. The hotel will be the latest addition to Four Seasons' burgeoning collection of properties across Italy including outposts in Milan and Firenze.
[See more: The 8 Best Restaurants in Venice]