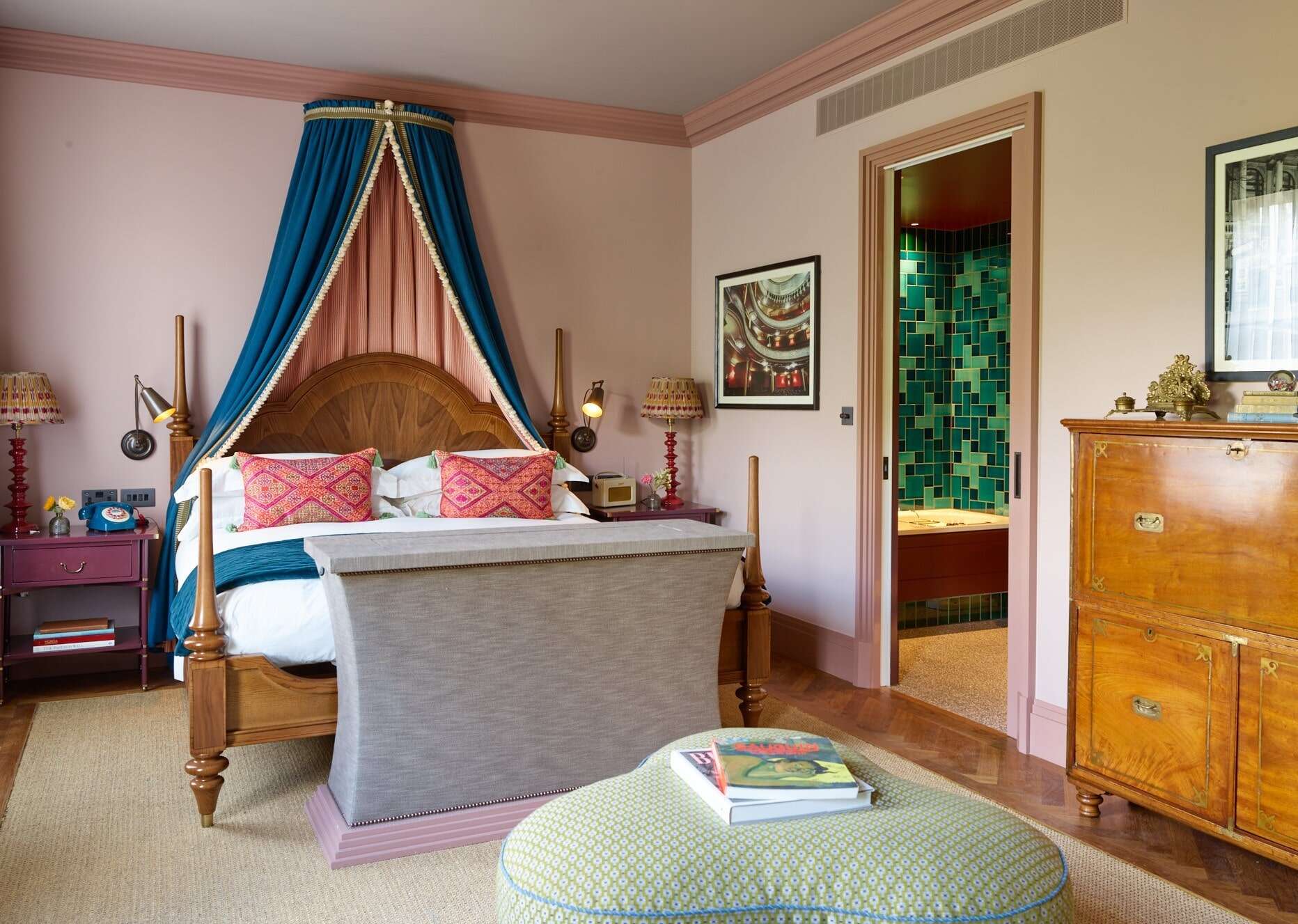 Since opening in 2017, Beaverbrook hotel has been welcoming guests from far and wide for a slice of idyllic relaxation in the Surrey hills. Now, Beaverbrook is going cosmopolitan with the recent opening of Beaverbrook Town House in London.
Occupying two Georgian townhouses in the prestigious Chelsea neighborhood, Beaverbrook Town House offers all the glamour of a traditional English home – and the charm only continues as you enter. With just 14 suites, it is decidedly more boutique than its countryside sibling, but this only serves to make it feel even more welcoming.
The distinctive, and carefully created, home-away-from-home feeling is clear from the minute you walk through the doors, with the classic stuffy reception desk removed in favor of a snug library space. And, instead of formal staff, the townhouse has dedicated personal assistants to attend to guests' every whim.
Featured in our guide to the world's most exciting hotel openings of 2021, Beaverbrook Town House joins London's cohort of new, design-focused hotels that are injecting a little fun into the city's hospitality scene.
Stay
Each of the 14 suites is named after an iconic London theatre, with playful yet unobtrusive reference to its namesake in each room. Guests can choose between Classic, Deluxe or Studio rooms, each of which boasts a sumptuous king-size bed – some of which are four-poster – decked out in super-soft and super-stylish linens. For an extended stay or for larger groups, Beaverbrook Town House also offers the opportunity to combine its five first-floor rooms to become the Executive Floor.
As is the Beaverbrook way, each suite is intended to be a welcoming sanctuary, rather than a lifeless hotel room. To make them feel completely at home, guests are invited to help themselves to trays of treats, a personalized minibar and whisky decanters.
In the generously sized bathrooms, eco-conscious toiletries come courtesy of British spa brand, Bamford. Bamford uses the finest natural and organic ingredients for a more conscious approach to wellness, with products presented in either refillable or recyclable and biodegradable packaging to limit single-use plastics.
Unlike its elder sibling, Beaverbrook Town House doesn't have its own spa, but if you're in the mood for some R&R, a range of wellness therapies and beauty treatments can be delivered in the comfort of your own room.
Dine
Similarly to the Surrey estate, Beaverbrook Town House takes influence from Japanese cuisine in its dining offering. Diners are in confident hands with both restaurant manager Trudi Fairweather and head chef Alex Del both boasting stints at Nobu.
[See also: The Best Spa Hotels in the UK]
The Fuji Grill's menu fuses classic Asian flavors with local ingredients, many of which are sourced directly from the Beaverbrook Estate's own kitchen garden. Select from an a la carte menu of dishes such as tempura, nigiri and sashimi, or leave your fate in the chef's hands with the 18-course Omakase Experience.
To accompany your meal is a substantial wine list courtesy of head sommelier Giovanni Tallu. As well as some international favorites, Tallu has taken care to select local labels, including the Beaverbrook Sparkling Wine which is an organic blend from the Albury Estate in Surrey.
For after-dinner drinks, head to Sir Frank's Bar (named after Beaverbrook's creative director, Sir Frank Lowe), where a menu of theatre-inspired cocktails, a carefully curated wine list and an impressively comprehensive whisky offering is served. Scotch makes up the bulk of the list, but there's a good choice of Japanese bottles, too.
Explore
From West End shows and museums to immersive restaurant experiences and sightseeing, there's no end to the entertainment on offer in the English capital – and Beaverbrook Town House puts you in the heart of it. The hotel is perched on the iconic Sloane Street, from which attractions such as the riverfront, Buckingham Palace and Hyde Park are all within easy walking distance. Guests can also enjoy access to the serene Cadogan Gardens, which features sculptures, a wild meadow and tennis courts.
You're also just minutes away from one of London's most revered shopping districts. Sloane Street itself boasts the likes of Balenciaga, Chanel, Cartier and Prada stores, while the nearby Pavilion Road exudes a village-like feel with a host of independent shops and eateries. A little further afield are the luxury boutiques of Bond Street and London's iconic department stores such as Liberty and Selfridges.
Fitness aficionados can make use of its partnership with the local KXU gym, which offers over 20 different classes in state-of-the-art settings. If you prefer to work out alone, KXU also boasts some of London's best personal trainers.
Design
Executed by the design powerhouse that is Nicola Harding and the aforementioned Frank Lowe, Beaverbrook Town House's design flamboyantly references the playful tastes favored by Lord Beaverbrook himself, who was the previous owner of the original Surrey estate.
The sumptuously rich color scheme, an abundance of prints and a combination of tactile textures, as well as a vast collection of vintage art and memorabilia, all come together to create the image of an enviably glamourous by-gone era. In the design process, Lowe and Harding also focused on restoring the plethora of original features, instead of completely refitting, adding a truly authentic element to the townhouse's vintage maximalist feel.
As with the rest of her work, Harding has put a focus on sustainability in the kitting out of the townhouse, favoring consciously made pieces by London-based designers and suppliers. This includes antique chairs from Howe, cushions by Penny Worrall, lampshades by Rosi de Ruig, decorative lighting from Vaughan Designs, ironmongery by Joseph Giles and trimmings from Samuel & Sons. Bespoke Nicola Harding carpets complete the offering.
Rooms from $475 per night, beaverbrooktownhouse.co.uk
[See also: New UK Hotels That Shouldn't Slip Under Your Radar]