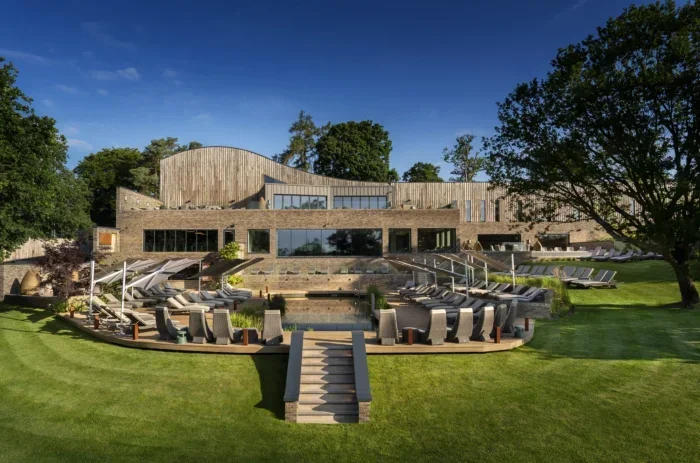 This article contains affiliate links. See our Privacy Policy for more information.
From boundless country retreats to slick city oases, the UK knows a thing or two about spa hotels. And, during a particularly testing period, never have we craved the peaceful, carefree embrace of a wellness break more.
What we really love about many of the UK's best spa hotels is their ability to offer wellness in all its guises. While many State-side retreats are about harsh detoxing or strict regimes, Britain knows the benefits of balance when it comes to health — be it a vigorous massage followed by a chilled glass of fizz or a sweaty gym session before an evening of Michelin-starred fine dining.
Often making use of the country's abundance of natural resources and remedies to achieve optimum physical and mental health, our top picks of UK spa hotels will help detach you from the stresses of daily life, achieving a zen-like state of calm.
[See also: The Best Urban Spas of 2023]
Beaverbrook, Surrey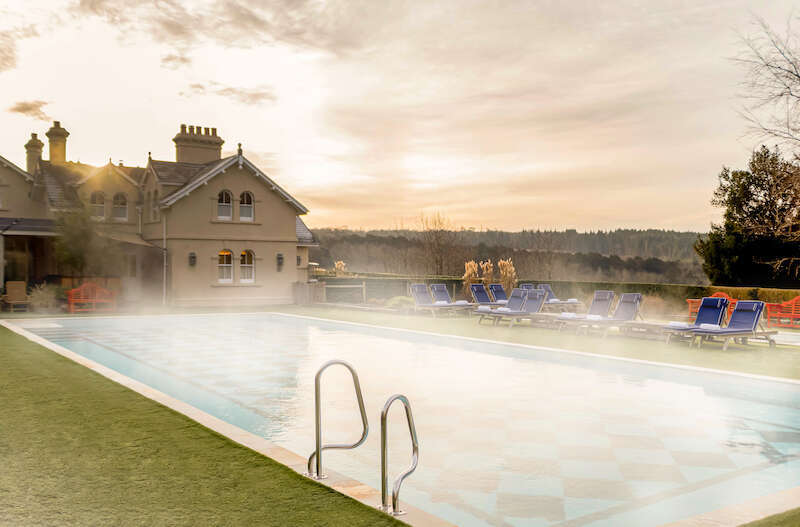 Harnessing the healing powers of the natural environment surrounding the hotel, The Coach House Spa at Beaverbrook has a holistic approach to well-being that is completely tailored to the unique needs of each of its guests. Offering a range of luxury spa retreats, including immune-boosting programs and wild wellness experiences, Beaverbrook's skilled practitioners carefully consider your lifestyle, pain points and progression areas in order to nourish both your body and mind.
While the bespoke treatments promise to rejuvenate, the spa settings themselves are an experience not to be missed. A world away from the standard white-washed spas, the ceiling of stained-glass projects dappled, iridescent light across the ceramic tiled walls, creating a color-drenched indoor paradise. Outside, guests will find an inviting pool set in immaculately landscaped gardens, with views across the Surrey countryside.
The UK spa hotel also boasts its own apothecary garden, with a carefully nurtured selection of medicinal plants and flowers that make up vital ingredients in the hotel's own range of treatments and teas. Guests can also purchase products from the hotel's herbal apothecary line to recreate the Beaverbrook experience at home.
Suite accommodation from $1,070 per night, with additional spa packages from $180 per person.
South Lodge, Sussex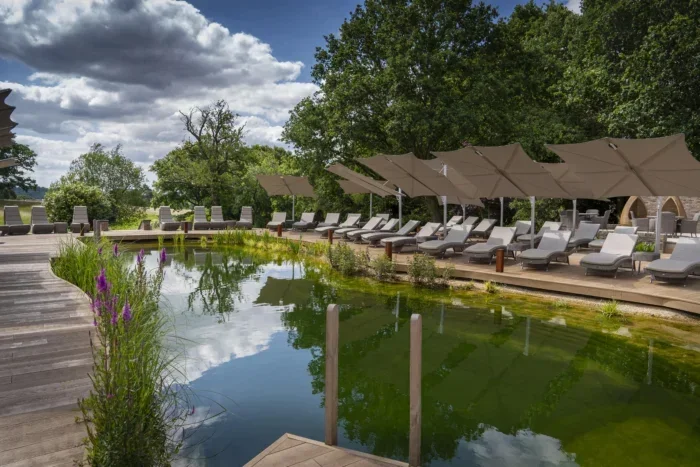 Set among the rolling chalk hills of the South Downs, less than a two-hour drive from London, South Lodge's modern 40,000-sq-ft spa might sound at odds with the historic grandeur of the hotel's main 19th-century manor house. However, the space — which was completed in 2019 — proves to be the perfect addition to a historic property.
The influence of nature is felt throughout, from the treatments to the architecture. Designed to melt into the surrounding landscape, the green-oak-clad building even features a living meadow roof. There is also a dedicated spin studio, two tennis courts, a marble steam room and an infused sauna.
The swimming opportunities are the real highlight though. As well as the standard (and lovely) indoor pool and an outdoor hydrotherapy, the South Lodge spa also has a novel naturally heated wild swimming pool, fringed by reeds and seasonal flowers.
[See also: Bodyism Announces Residencies at Luxury Hotels]
Aman Spa at The Connaught, London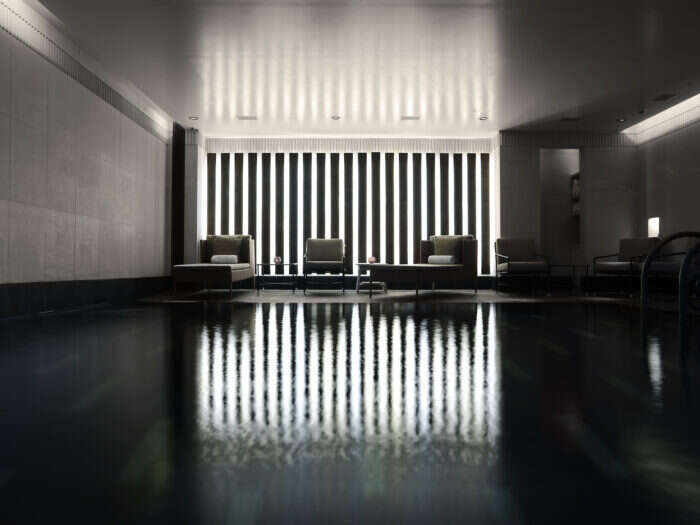 Home to the first Aman Spa outside of the Aman resorts, The Connaught is easily one of the most exclusive spa destinations in London, with hotel guests enjoying complimentary use of the spa facilities.
By replicating the minimalist design that has become synonymous with Aman resorts, the spa immediately transports guests out of busy central London straight into a remote wellness retreat. The black granite swimming pool is a far cry from the light spaces seen in traditional spa settings – but is all the more indulgent for it.
Using world-renowned Aman techniques, the treatments on offer seek to achieve an integrated state of well-being by focusing on four central pillars: nutrition, movement, psychological health and bodywork. Each treatment is tailored to your needs, ensuring that you reap maximum reward. For maximum privacy, treatments can be enjoyed in the seclusion of your hotel room for a surcharge.
Suites from $1,490 per person per night.
Gleneagles, Perthshire
If you're looking for a spa retreat in Scotland, only Gleneagles will do. In addition to its famous golf facilities, the iconic hotel does wellness with abundance, offering a total of 20 treatment rooms that pull from the bounty of the surrounding natural landscape.
As well as its selection of signature treatments, each of which is designed to enhance wellbeing, energy and vitality, Gleneagles has also partnered with leaders in the wellness sphere including Barbara Sturm and Tata Harper to offer a number of targeted spa experiences.
The hotel's wider spa facilities include a sauna cabin, two indoor pools, an outdoor thermal pool and a state-of-the-art gym. Post-treatment, refuel at The Garden Cafe which serves light lunches and snacks in a bright, plant-filled space.
[See also: Relax & Unwind: World's Best Yoga Retreats]
Lucknam Park Hotel and Spa, Wiltshire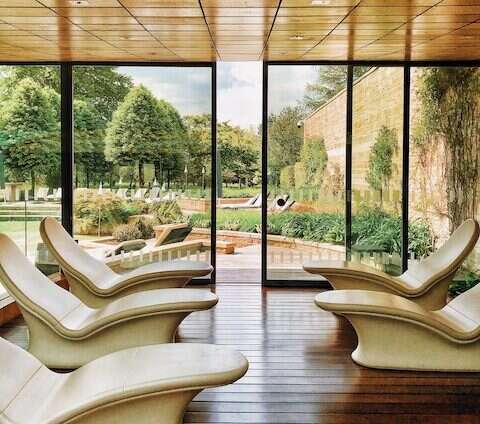 Situated within 500 acres of un-spoilt private land, Lucknam Park promises an idyllic setting in which to completely disconnect from the stress of everyday life. Constructed from wood, marble and glass, the hotel's recently relaunched spa has been expertly designed to exist in harmony with its natural surroundings.
As part of the relaunch, Lucknam Park has also partnered with Bath-based sustainable spa brand Natural Spa Factory to deliver signature treatments, and 111SKIN for its more elevated facial treatments.
Lucknam Park is not about strict regimes or restrictive programs; instead, guests can truly immersive themselves and relax into luxurious country living. At the end of the day, retreat to the secluded privacy of your rooms, each of which is fitted with refined English furnishings nodding to the building's historic past, alongside contemporary touches and amenities.
Suites from $1,135 per night.
Grayshott Health Spa, Surrey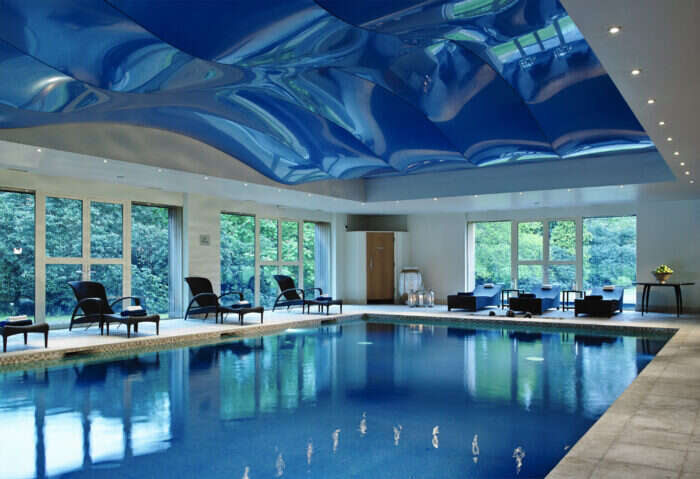 Consistently celebrated as the UK's best wellness retreat, Grayshott Health Spa offers a range of programs expertly designed to provide a complete health overhaul. Grayshott's science-driven Health Regimes work to restore, cleanse and balance your body by focusing on improving the pillar of your digestive system.
Guided by a highly experienced and qualified team, the award-winning Health Regime includes personalized consultations, a gentle exercise program, educational lectures and a dedicated meal plan, along with a range of therapeutic treatments. Although the seven-day regime will certainly set a meaningful change in motion, it is recommended that you opt for the 14- or 21-day regimes in order to make a lasting, life-changing difference to your health.
Retreat guests can also make use of Grayshott's luxurious spa facilities including steam and sauna rooms, the indoor and outdoor swimming pools, and tennis courts, as well as the full menu of world-renowned spa treatments.
Seven-day regimes with Manor House accommodation from $3,260.
[See also: The Best Wellness Retreats in Spain]
ESPA Life at Corinthia Hotel, London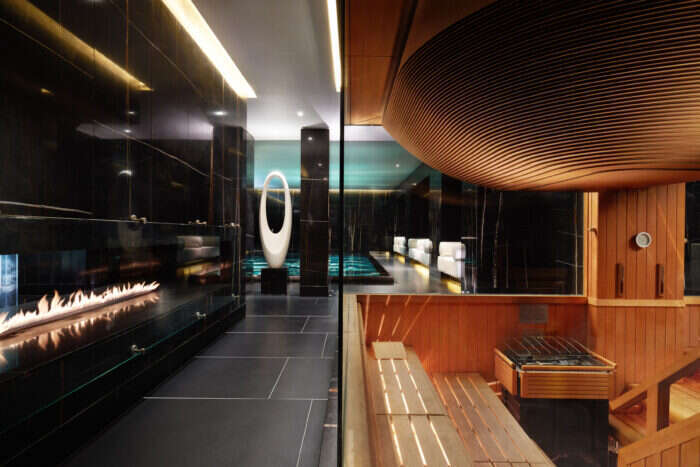 As the self-proclaimed "next generation of spas", ESPA Life at Corinthia promises to be a wellness experience like no other. The pioneering new concept has been carefully curated, with a team of world-leading spa experts delivering a number of renowned treatments and holistic services.
Set over four floors, the expansive ESPA Life Spa has 17 individual treatment rooms and a collection of state-of-the-art facilities and equipment. A highlight is the Thermal Floor, which includes an amphitheater sauna, vitality pool, ice fountain and private sleep pods, promising the height of indulgence.
Guests looking for an immersive and transformative experience should opt for one of the bespoke fitness programs on offer. Each program is uniquely tailored to your ability, needs and aims — be it to lose weight, achieve mental clarity or improve overall wellbeing.
Suite accommodation from $1,255 per night, including spa and gym access.
The Gainsborough Bath Spa, Bath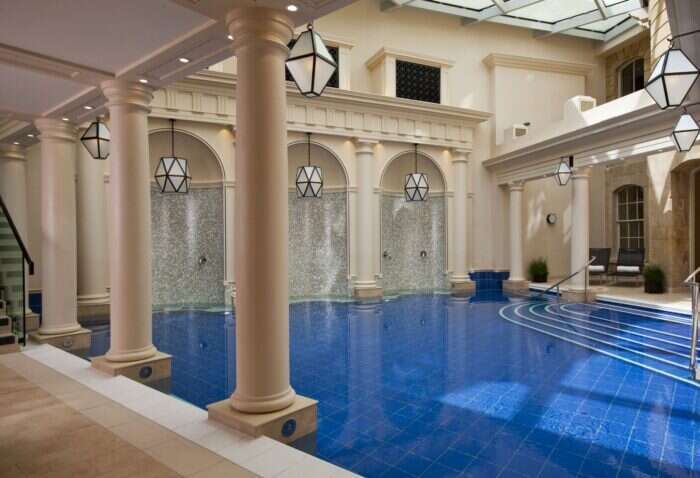 A list of the best UK spa hotels would be remiss not to include a retreat in the historic city of Bath. The Gainsborough Bath Spa taps into the city's original hot springs, harnessing their revered healing properties to create one of the UK's most luxurious spa retreats.
The spa itself features classic Roman columns, mosaic alcoves and glass ceilings in a nod to the ancient civilization that first founded Bath. Guests can enjoy a range of authentic aromatherapy treatments that integrate Bath's treasured waters, as well as a self-guided tour through the thermal baths.
For an extra level of privacy and seclusion, guests in the Bath Spa Suite can enjoy in-room thermal waters from the comfort of their own marble bathtub. All of The Gainsborough's rooms are tastefully decorated and custom furnished, adding to the overall feeling of complete relaxation felt at this fantastically indulgent hotel.
Bath Spa Suite from $770 per night.
Grantley Hall, Yorkshire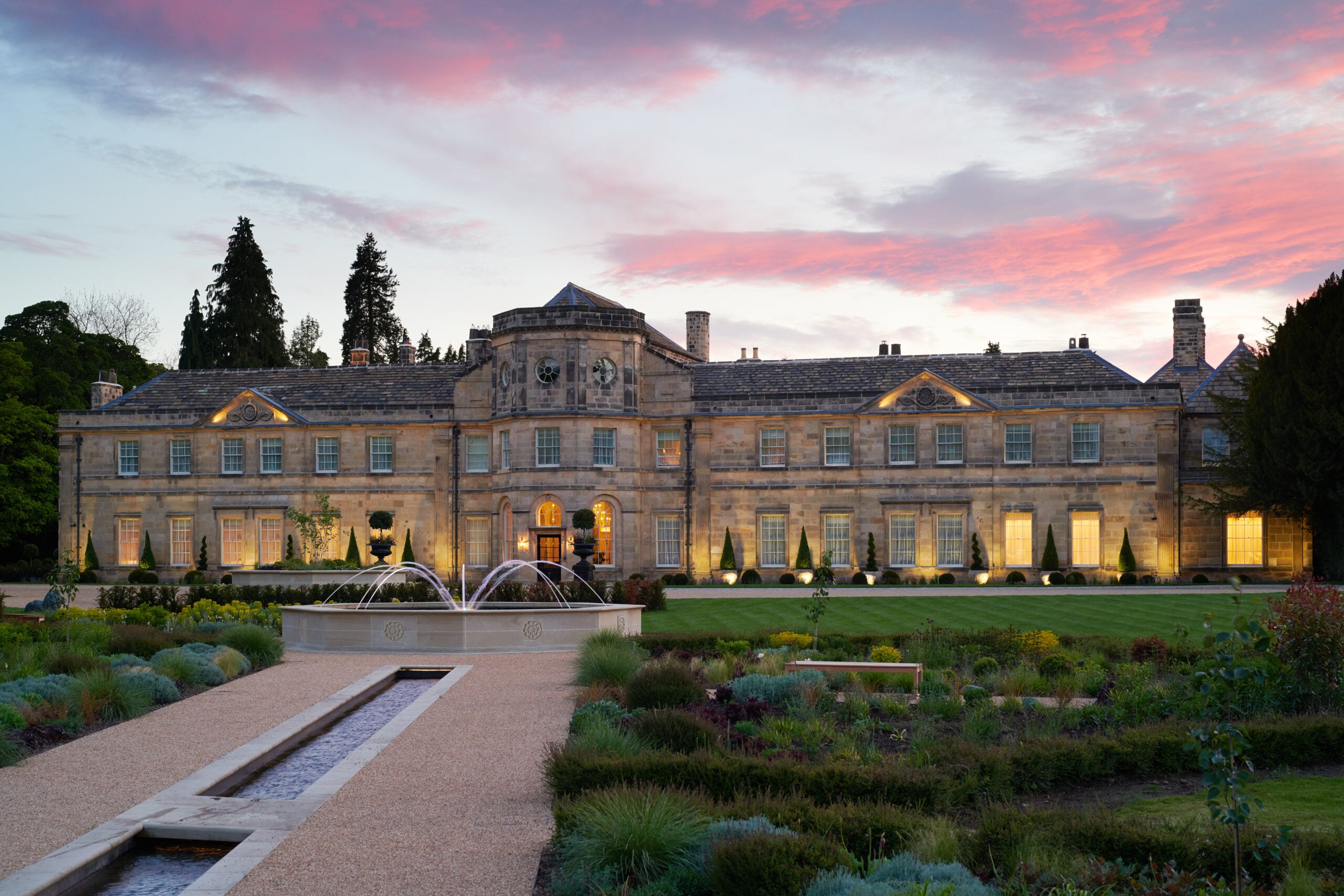 Dating back to 1680, Grantley Hall is a Grade II listed home situated on the outskirts of the picturesque Yorkshire Dales, making the perfect setting for a relaxing spa break. Grantley Hall's three-night Discovery Retreat seeks to reset your body and mind via a personalized itinerary designed to suit your specific needs, all guided by the hotel's expert team.
Beginning with an extensive health consultation, the holistic retreat includes a range of unique treatments and activities. Whilst the retreat is bespoke, your itinerary will typically include daily yoga, an outdoor shinrin-yoku session, three spa treatments of your choice and a cryotherapy session, as well as personal training appointments, designed to help you maintain a healthy lifestyle long after the retreat ends. Grantley Hall's Discovery Retreats also include accommodation in the hotel's tastefully decorated rooms, complete with Italian marble bathrooms.
Three-night Discovery Retreat packages from $4,000.
Chewton Glen, New Forest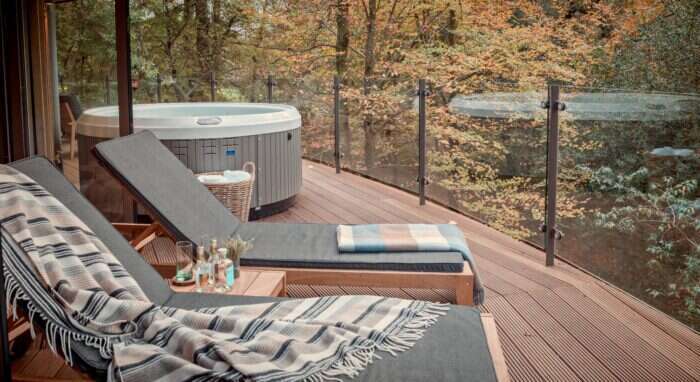 Embodying the purity of its sought-after New Forest location, Chewton Glen's world-class spa invites guests to embark on a sensory journey. Utilizing a range of renowned spa and skincare products, Chewton Glen offers an impressive menu of bespoke treatments and therapies, ensuring a complete sense of relaxation. The spa's 55-ft swimming pool lies beneath a painted fresco on the ceiling, immediately transporting you to Italy as you swim.
With the hotel's overnight spa retreat package, guests can enjoy an exclusive spa treatment, unlimited use of the award-winning spa facilities and complimentary dance and aerobics sessions. Guests seeking a unique spa break should book a Treehouse suite, situated within the canopies of the New Forest.
With a private terrace hot tub, daily breakfast hampers and marble bathrooms offering views across the forest, Chewton Glen's Treehouses are truly one-of-a-kind. Treehouse guests are also privy to two exclusive spa treatments that can only be enjoyed on their private terraces.
Overnight spa breaks with Treehouse accommodation from $1,815.
The Headland, Cornwall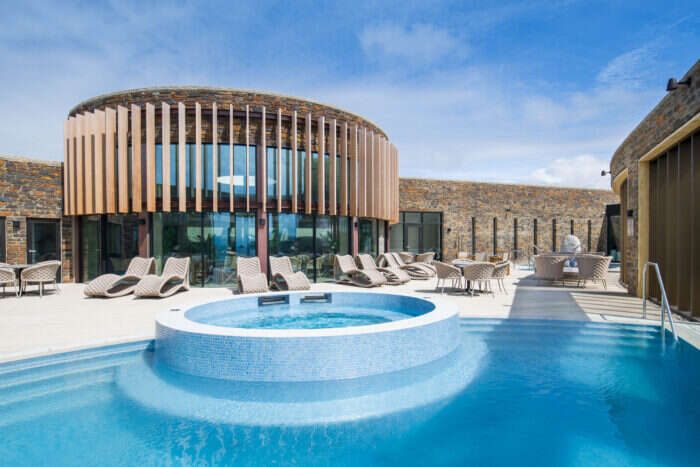 Overlooking Newquay's famous Fistral Beach, The Headland is undoubtedly one of the most impressively situated spa hotels in the UK. If the amazing views weren't enough, at the heart of the hotel lies one of Cornwall's best spas, offering an impressive selection of luxurious treatments.
The Headland's two-night Spa-Cation Break invites guests to completely unwind whilst enjoying a five-star pampering experience. Included in the break is your choice of a selection of treatments, full use of state-of-the-art spa facilities (including a Cornish sea salt sauna) and a meal at the Samphire Restaurant.
Although perfect for a relaxing getaway, The Headland also makes the ideal choice for those wanting to get immerse themselves in the wild Cornish landscape. On the beach, guests can enjoy a host of exhilarating water sports, including paddleboarding, surfing or coasteering, under the watchful guidance of expert instructors.
Two-night Spa-Cation breaks with suite accomodation from $1,360.
Whatley Manor, The Cotswolds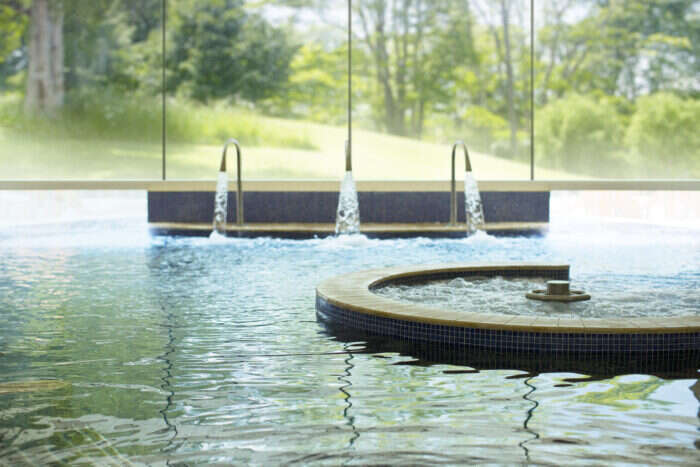 Nestled in a remote corner of the Cotswolds, Whatley Manor is the pinnacle of quintessential English luxury, with fragrant wisteria climbing up the honey-colored exterior walls. The hotel's adults-only Aquarias Spa offers the height of indulgence, with indoor/outdoor hydrotherapy pools and salt scrub showers, alongside an extensive range of spa treatments.
To achieve the full spa experience, choose the Gaia Spa & Stay package, which includes a night's stay in one of Whatley Manor's stunning rooms, your choice of either a bespoke Gaia massage or facial, and full use of the first-class spa and wellness center.
Whatley Manor also has the unique appeal of being the only luxury spa hotel in the Cotswolds to be home to a Michelin-star restaurant. Under the expert lead of executive chef, Niall Keating, The Dining Room has been awarded two Michelin stars, and continues to impress guests with what is more often described as an experience than simply dining.
Gaia Spay & Stay from $1,100 per night for suite accommodation, based on two people sharing.
[See also: Fit for Royalty: The Best Palace Hotels in the World]