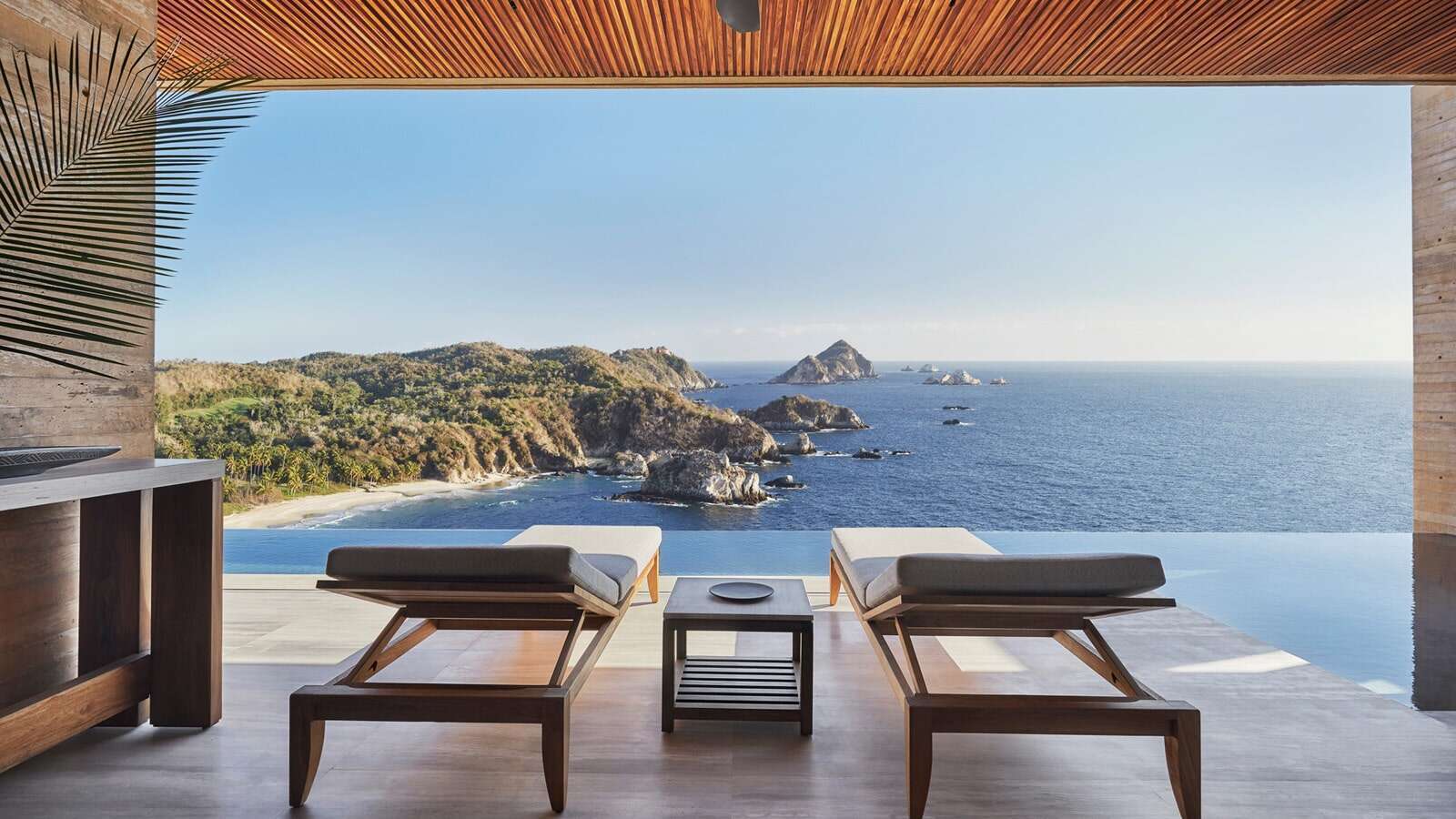 It's no secret that 2020 wreaked havoc on the hotel industry, with establishments around the world forced to close amidst Covid-19 induced lockdown measures. However, with better times on the horizon, the resilient industry is set to return bigger and better than ever with a host of exciting 2021  hotel openings.
With a year of reflection under their belts, some of the world's biggest luxury hotel groups are preparing to open their doors in the most exclusive settings imaginable, inviting travelers to make up for a year's worth of missed vacation opportunities.
However, with so many new hotels to choose from, you may have trouble making your calendar stretch. To help, we have collated the most anticipated hotel openings of 2021 that any discerning traveler needs to have on their radar.
The Woodward, Geneva
Opening spring 2021, The Woodward will sit directly on Lake Geneva and, as the 10th hotel in the group, marks a historic milestone for the Oetker Collection. Originally built 1901, the hotel's grand exterior façade has been expertly reimagined by renowned architect Pierre-Yves Rochon.
Inside, the interiors are a careful blend of classic and contemporary styles, with each suite designed to possess its own distinct character. However, it is undoubtedly the Presidential Suite that is the crowning jewel of the suite-only hotel, with panoramic lake views from every room.
Aside from just being a place to rest your head, The Woodward is also set to become a fine-dining destination. Culinary experiences will be driven by L'Atelier de Joël Robuchon and Le Jardinier, both of which boast Michelin credentials at their New York outposts. Both restaurants are set to revolutionize Geneva's gastronomic scene with a focus on locally sourced ingredients and artisanal quality.
[See also: The 2020 Hotel Openings You May Have Missed]
Paradero Todos Santos, Mexico
Mexico is set to have quite the year, with the country claiming three spots on our guide to the most anticipated hotel openings of 2021, and with an opening date of January 15, Paradero Todos Santos is set to be one of the first.
Spread across five acres of untouched land, the immediate landscape surrounding the hotel offers a diverse range of natural eco-systems. To ensure the preservation and protection of this varied part of the world, UNESCO has designated Todos Santos as a Biosphere Reserve. As you would expect, the hotel will make full use of its unique surrounding, with immersive activities such as surfing, farming tutorials, hiking and local tours all included in the nightly rate.
The accommodation itself is set to be equally as special, with 35 suites ranging from 780 to 2,674 sq ft of both indoor and outdoor space. The inviting Garden Suites will blend seamlessly with the landscape, with an outdoor hot tub for ultimate relaxation, while the Rooftop Suites are distinguished by their panoramic rooftops with high-altitude views.
Beaverbrook Townhouse, UK
Having long stood as a beacon of luxury in the English countryside, Beaverbrook is partnering with Cadogan Estate to bring its charm to London. Beaverbrook Town House will launch on the iconic Sloane Square in the summer of 2021, offering 14 luxury suites across two fully restored Grade II listed Georgian townhouses.
Each of the luxury suites will be named for a much-loved London theatre, with the interior styled to celebrate each landmark. Renowned British designer Nicola Harding has worked closely with Beaverbrook's creative director Sir Frank Lowe to bring the hotel vision to life and inject a dose of the countryside to the heart of the capital city.
Just in case the plethora of fine dining establishments surrounding the new hotel aren't enough to sate your appetite, the townhouse will also feature a 60-cover Japanese restaurant and bar, with interiors inspired by the celebrated 19th-century artist, Hoksuai.
Hotel Castello di Reschio, Italy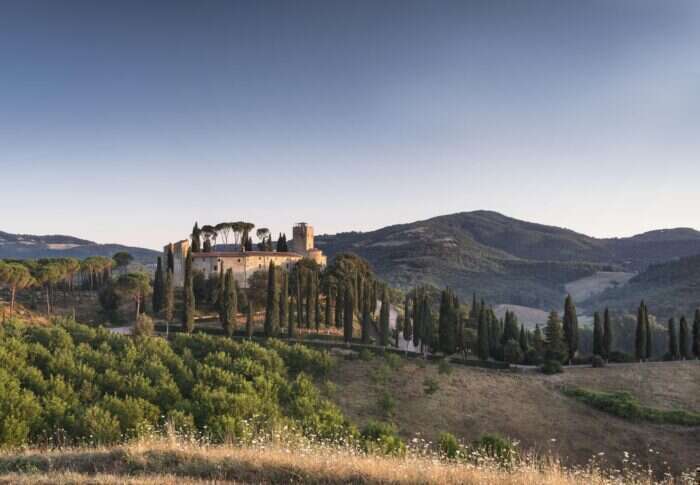 Next year will see a thousand-year-old Umbrian castle open its doors to the public, following an intensive restoration process. Hotel Castello di Reschio's reopening as a 36-room boutique hotel, restaurant and spa is part of a legacy project that aims to protect and restore this unique part of Italy.
In line with the aims of the project, an organic approach has been adopted for Hotel Castello's design, with a focus on celebrating local craftsmanship. Sumptuous Italian fabrics and bespoke furniture sit alongside original oil paintings and hand-picked antique curiosities, creating a welcoming yet quirky interior.
The dining opportunities are set to be equally as impressive, with much of the produce served at the hotel's two restaurants coming from the estate's own organic kitchen, olive groves and vineyards, promising an authentic and sustainable farm-to-table culinary experience. The Bathhouse at Hotel Castello di Reschio promises to be another highlight with a hammam, sauna and plunge pool, as well as two treatment rooms in the castle's cavernous cellar.
Nobu Hotel and Restaurant Marrakech, Morocco
Renowned hotel and restaurant group Nobu Hospitality has firmly established itself as a world leader in luxury hospitality. Now, it is making its first foray into the continent of Africa, with the opening of Nobu Marrakech in Morocco, which has been developed in collaboration with Hivernage Collection and MC Hotels.
Located in the Hivernage district, Nobu Hotel and Restaurant Marrakech will be just steps away from the historic heart of the vibrant city and its main square, Djemaa el-Fna. Opening in the latter half of 2021, the hotel will offer 71 tastefully designed rooms and suites, as well as multiple dining destinations and rooftop spaces and an expansive spa set across over 21,500 sq ft with both indoor and outdoor swimming pools.
Xigera Safari Lodge, Botswana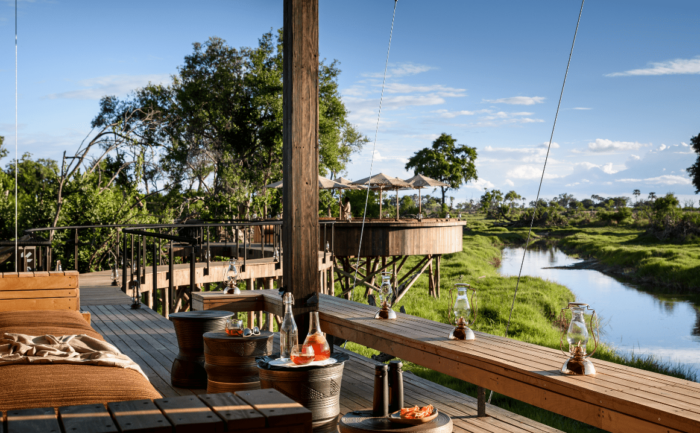 As a legacy project by the people behind Red Carnation, Xigera Safari Lodge is designed to touch the earth lightly. Nestled in the floodplains of Botswana's Okavango Delta, the lodge has been imagined with a commitment to protecting the ecology of the Delta and promoting the people, culture and craftsmanship of the African continent.
Although initially penned for opening in January 2021, Xigera Lodge pushed ahead with an early grand opening in December 2020 with safari specialists taking guests to the lodge from next year. The lodge provides the utmost privacy and seclusion with just 12 individually designed suites, offering space for only 24 guests. Each suite features a carefully collated collection of artworks that celebrates artists from across Africa. The scope of the art is broad, ranging from woven jacquard bedspreads to handblown glassware.
Sustainability and conservation are at the core of this hotel. As well as working closely with the Department of Wildlife and National Parks to ensure ongoing protection of the Okavango Delta, Xigera has also committed to using eco-friendly energy solutions where possible to minimize carbon emissions and promote truly sustainable travel.
Kisawa Sanctuary, Mozambique 
Promising a new standard in luxury hospitality when it opens in early 2021, Kisawa Sanctuary pairs cultural celebration with environmental conservation on the island of Banguerra, nine miles off the coast of Mozambique. Comprised of 12 private bungalows, as well as the Kisawa House, the resort is positioned within 300 acres of forests, beaches and sand dunes. The individually designed bungalows offer ample privacy, each with their own swimming pool, private stretch of beach and massage hut.
Kisawa will offer guests an impressive seven culinary options, including two laid-back beach cafes, in-bungalow private dining, and a dedicated wine room. The amenities are also extensive, with guests being invited to make use of the sand-clay tennis center, fitness facilities, stand-alone spa and diving center.
Kisawa's prime location makes for extensive opportunities to encounter rare wildlife in its natural habitat, including orca, manta rays and flamingos, with the island's warm waters even creating a nursery for mother and calf humpback whales.
Four Seasons Resort Tamarindo, Mexico
Four Seasons recently announced the 2021 launch of its latest Mexico property: Four Seasons Resort Tamarindo. Situated on a private peninsula on the Pacific Coast in a protected eco-reserve, the new hotel's surrounding area is acclaimed for its picturesque beaches, lush landscapes and unique topography.
In true Four Seasons style, in addition to the 155 guest rooms, the resort will boast a plethora of first-class amenities including an 18-hole golf course, a fitness center and a full-service spa. Outside of the resort, guests can immerse themselves in all that this beautiful part of the world has to offer, from whale watching on the coast through to exploring the markets in the local towns.
Although Four Seasons Resort Tamarindo does not yet have a confirmed opening date, as with any Four Seasons opening, it already promises to bring a new level of luxury to a beautiful part of the world.
Six Senses Botanique, Brazil 
Hailed as the first Six Senses in the Americas following postponed hotel openings throughout 2020, the launch of Six Senses Botanique in 2021 is highly anticipated. Described as an intimate eco-retreat with Brazilian authenticity at its heart, Six Senses Botanique will be made up of seven suites and 27 villas in the picturesque forests that surround the Mantiqueira Mountains.
Originally opened in 2012 as Botanique Hotel & Spa, with a focus on recognizing local traditions and culture as well as natural settings, the property will be reopened in early 2021 as part of the Six Senses brand. Although the original hotel is receiving an upgrade, the ethos remains the same.
In addition to the guest suites and villas, Six Senses is also introducing 37 new branded residences, available for purchase with buyers given access to all hotel amenities and services. The new properties will all be constructed using an eco-friendly modular approach with local materials, minimizing their environmental impact.
Habitas Bacalar, Mexico
With sustainability and environmental preservation at the heart of its operations, Habitas is paving the way for a new breed of luxury hospitality that puts nature first. Following the flagship launch in Tulum in 2017, Habitas is now expanding its presence in Mexico with the launch of Habitas Bacalar in early 2021.
Located near the Belize/Mexico border on the shores of the pristine Laguna Bacalar, Habitas Bacalar will be built with the group's core principles of sustainability at the forefront of the entire process, making it one of the most sustainable hotel openings of 2021. Made up of 30 tented rooms that are carefully designed to blend seamlessly with the natural surroundings, only environmentally friendly materials and methods will be used throughout the construction.
As you would expect with any upcoming 2021 hotel openings, Habitas is on a mission to ensure that their philosophy lasts longer than just a vacation. Guests are invited to immerse themselves in the group's way of thinking and forge a deeper relationship with the planet via a series of grounding experiences, including stromatolite conservation activities and authentic wellness treatments such as Temazcal ceremonies
[See also: These Are The Most Expensive Hotel Suites in the US]
Cayo Exclusive Resort and Spa, Crete 
Aiming to bring a new level of luxury design and gastronomy to the Greek island of Crete, the highly anticipated Cayo Resort is set to open for its first full season in 2021. Overlooking the stunning Elounda Bay and the historical Spinalonga islet, the resort's unique terraced architecture has been expertly designed to exist in harmony with the mountainous landscape.
Cayo Resort will be comprised of 74 exclusively designed rooms, suites and villas, with four restaurants, a fitness suite, a shopping boutique and a restorative spa completing the offering. Inside, the décor has been imagined by Italian designer Gian Paolo Venier, with a focus on the cool tones and simplicity that has become synonymous with Greece.
Environmental consciousness is a driving force behind the resort's operations, with a commitment to using innovative reusable energy sources. For example, substantial amounts of energy are saved via a state-of-the-art heat recovery system, that is then used to fuel the air conditioning and heat the main water supply. Sustainability has also guided the hotel's culinary offerings, with each of the four restaurants using only seasonal products sourced from local eco-farms.
Ritz-Carlton Maldives, Fari Island 
If you thought the Maldives didn't have room for another luxury hotel resort, you thought wrong. Ritz-Carlton has announced plans to expand into the beautiful island region, with reservations for the all-villa property on the beaches of North Malé Atoll open for May 2021.
Set within an integrated development, the Ritz-Carlton Maldives, Fari Island will adopt a minimalist approach to luxury, allowing the pristine beaches, crystal oceans and boundless marine wildlife to take center stage. Each of the 100 villas will boast floor-to-ceiling glass walls for truly indoor-outdoor living.
In addition to the luxurious guest accommodations, the resort will also offer seven restaurants and bars showcasing global cuisine through simple ingredients, an overwater spa offering treatments inspired by directional energy and a kids club with daily activities, as well as access to the Fari Marina with luxury shopping, dining and entertainment.
One&Only Portonovi, Montenegro 
As One&Only's first European property, the opening of Portonovi is guaranteed to cause a stir. Situated on Montenegro's beautiful coast in a location as exclusive as you would expect from One&Only, the resort is a milestone for the One&Only group as its first European property.
Sitting at the entrance of the wild Boka Bay, One&Only Portonovi is surrounded by spectacular mountains, and adjacent to the UNESCO World Heritage site of Kotor, creating an unrivaled natural playground. The hotel itself has been designed to replicate the traditional Venetian style palaces of the region, with each of the 113 guest rooms designed as a tranquil retreat from which to enjoy the resort's natural backdrop.
Opening March 2021, the resort will feature the first European Chenot Espace spa which blends revolutionary methods with traditional techniques to achieve a higher level of wellbeing. The culinary offerings are equally as impressive with the hotel's several restaurants showcases the finest cuisine from around the world.
Chatwal Lodge, US
Located inside The Chapin Estate in Sullivan County, Chatwal Lodge aims to bring a touch of urban luxury to the tranquil countryside – and as sister property to New York's esteemed The Chatwal, expectations are already high.
Poised for opening in April 2021, accommodation at the property includes 10 spacious suites, a treehouse that reaches 25ft into the forest canopy and a cozy glam tent for guests hoping to fully immerse themselves in nature. Each of the suites will have private patios overlooking the 1,000-acre Toronto Reservoir, and will all feature unique design details carved from the very woods that surround the lodge.
The amenities on offer will be expansive, with guests privy to a host of activities including fishing, kayaking and spa treatments. The culinary offerings will focus on authentic farm to fork dining, with the lodge's resident world-renowned chef on the cusp of being announced.
ROKU KYOTO, Japan
ROKU KYOTO is set to be the first Asian property under Hilton's luxury brand LXR Hotels and Resorts when it opens in fall 2021. The resort will join LXR's collection of four other currently-open resorts and hotels across the globe, with three additional hotels scheduled to open in 2021.
Sitting in the tranquil Takagamine district of Kyoto, which is regarded as the home of many Japanese traditions including the renowned tea ceremonies, the ultra-luxe resort will aim to capture the true essence of the country's culture.
Designed in collaboration with a local real estate firm, the resort will contain 114 bespoke guest rooms, five fine dining restaurants, natural hot springs and a fitness center. ROKU KYOTO will be part of the 28.6-acre Shozan Resort Kyoto; a luxury enclave that is home to a selection of the region's most notable Japanese gardens and traditional tea houses, as well as a showcase of historic architecture.
[See also: How Covid-19 is Changing The Way We Travel]