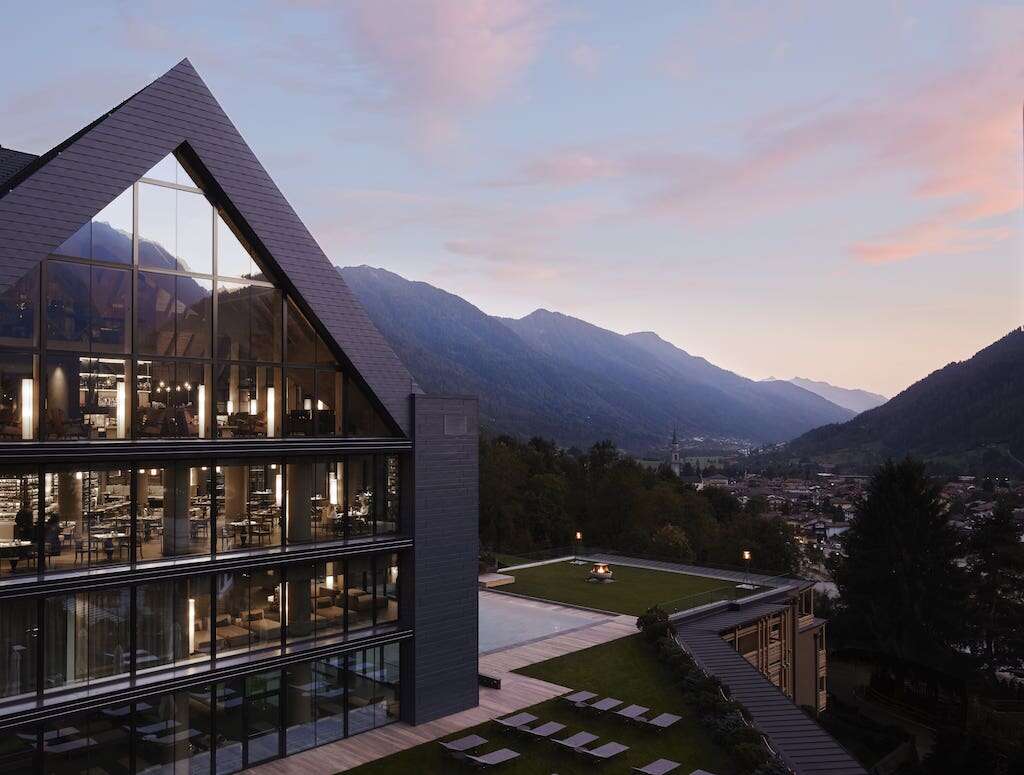 A long-time favorite with the European jet set, the rugged snow-topped Dolomites have been receiving an uptick in international interest thanks in part to a crop of smart new openings, like Lefay Resort & SPA Dolomiti.
With a well-established and well-respected wellness hotspot in nearby Lake Garda (Lefay Resort & SPA Lago di Garda), the Lefay brand opened its 88-suite Dolomiti outpost in summer 2019, in the town of Pinzolo right by the Madonna di Campiglio ski area and the protected Adamello Brenta Natural Park. 
Here, the great outdoors are especially great, with clattering waterfalls, green mountain lakes,and thick beech and spruce forests, home to a small-but-growing population of Alpine brown bears brought back from near-extinction via the European Union's LIFE Ursus project.
[See also: Rosewood Vienna Unveils Asaya Spa]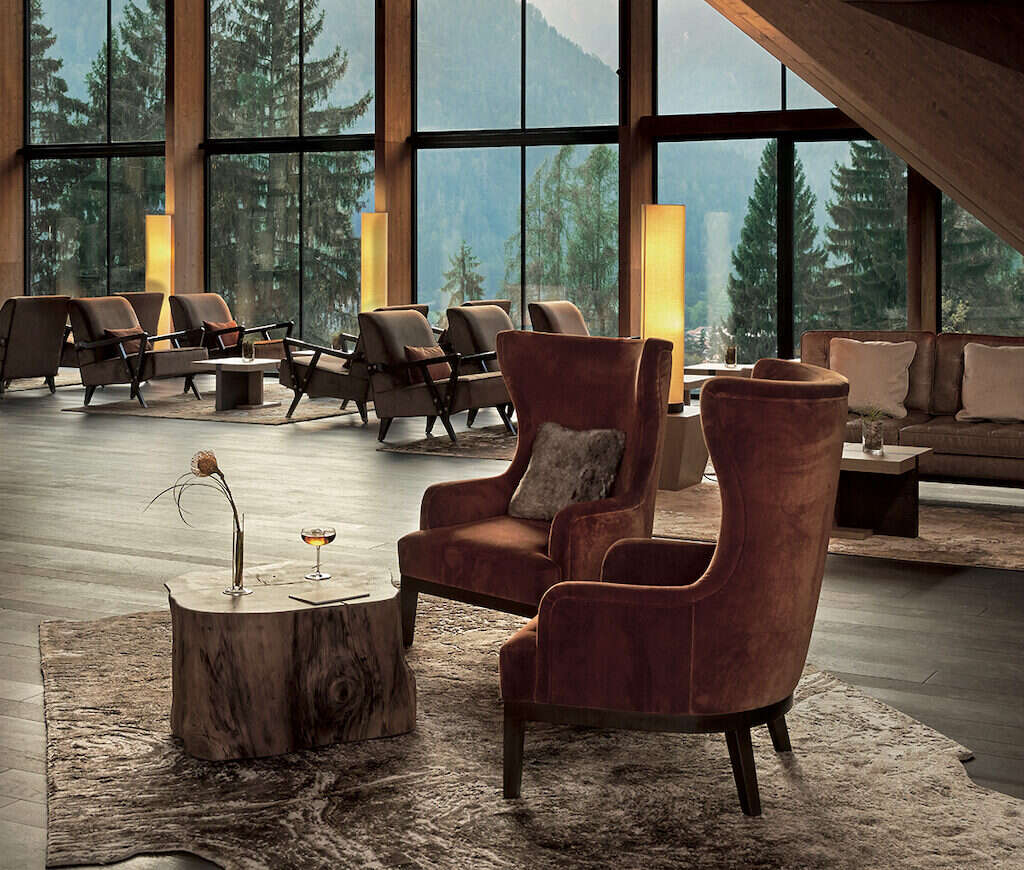 Stay
While some promotional images make it seem like Lefay Dolomiti is in the middle of the woods, this imposing, modern cathedral of a hotel (with zero chalet-kitsch) actually sits on a hill just above town, overlooking quaint chocolate-brown pitched rooftops and stone church spires.
Yet even without the suggested extreme remoteness, there are head-swiveling mountain views at every turn and the property—which is open year-round—makes the best of it with colossal windows and impossibly tall ceilings. The lobby bar makes a good first impression with flickering fireplaces, overstuffed leather sofas and a lofted library.
Throughout, the hotel is flooded with that strong, unflinching mountain light, and there is not much by way of color. It's all earthy and elemental with mushroom browns, pebble grays and misty blues, echoing the surroundings. The sensitivity of this ecology is taken into account through onsite biomass furnaces, creating renewable thermal energy; carbon offsetting (through carbon credits); and ClimaHotel certification, a South Tyrolian program indicating energy efficiency in local hotels.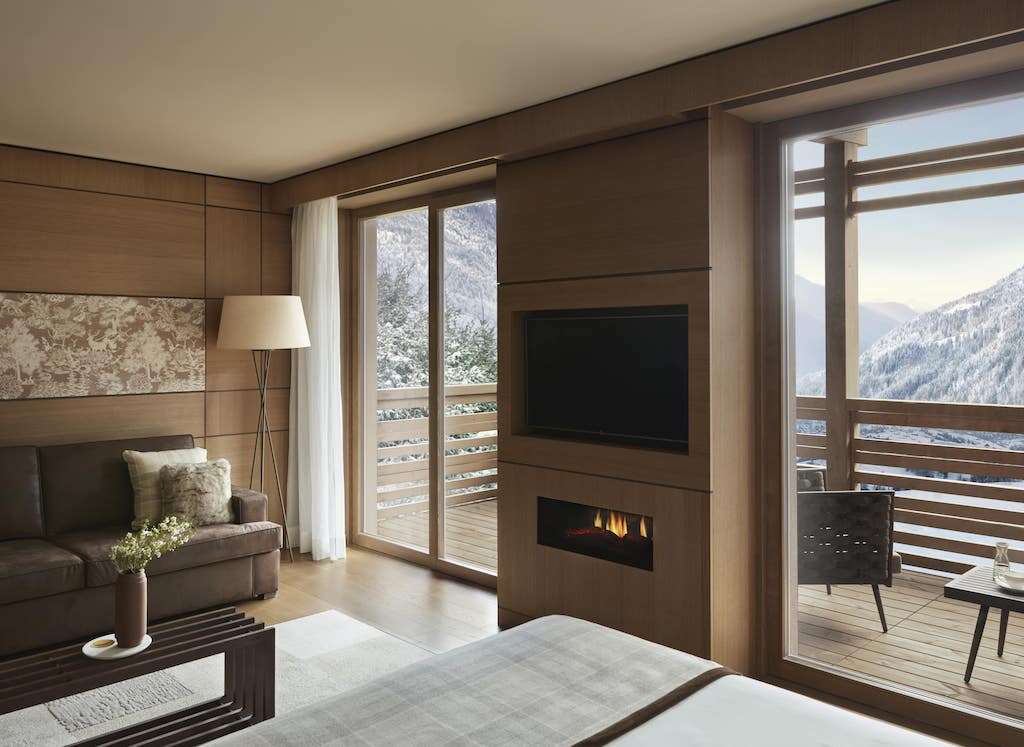 Natural materials found close to home are used throughout: Fir and larch for external coverings; oak for the flooring; chestnut for the furniture; and tonalite (a local stone similar to granite) for the indoor pool.
As an all-suite hotel, there's no such thing as cramped quarters, but the 3,130-square-foot, three-bedroom Penthouse with private sauna and outdoor hot tub overlooking the valley might just be the best pick. All rooms are dressed down and minimal (and mainly beige and brown), but the luxe little touches — like Illy coffee machines (certainly a step-up from your standard Nespressos), faux fur pillows, and flip flops for the spa — go a long way, as do the epic views.
In the bathrooms, Lefay toiletries in mountain-fresh scents like almond blossom, chamomile and horse chestnut are an olfactory delight but points off for the mini plastic bottles.
[See also: Sun, Ski and Spa at the Kempinski St Moritz]
Dine
With floor-to-ceiling windows, The Dolomia Restaurant is the all-day dining spot. Breakfast is momentous with a generous spread of cured meats and cheeses (the freshly made ricotta is to die for), a country bakery's worth of bread and cakes (note the Austrian influence with the strudel and Sachertorte), and a make-your-own juice station. There's also Trentodoc sparkling wine because balance is important.
Lunch is the time to try local favorites like smoked trout; roe deer; and canederli (bread dumplings) with speck and Trentingrana, Trentino-Alto Adige's answer to Parmigiano Reggiano, or hand-cut pasta and steaming copper pots of pumpkin risotto.
[See also: Auberge Resorts Collection Adds Domaine des Etangs
Taking its name from a nearby peak, Grual is the fine dining restaurant open for dinner. Michelin stars are a clear aim of executive chef Matteo Maenza (who worked with Alain Ducasse and Fabio Baldassarre), and clever dishes are divided by altitude (Valley Floor, Mountain Pasture, High Mountain). 
It's the Dolomites on a plate, and there's a real focus on organic and seasonal ingredients from the Trentino-Alto Adige region, especially in the eight- and twelve-course tasting menu. 
However, nothing is too serious (i.e dessert is disguised as toadstools and is called Undergrowth, featuring flavors of chestnuts, juniper and cranberry). The local wine pairing—with dry white Nosiola and intensely fruity red Teroldego, both indigenous grape varieties—is a masterclass in under-the-radar Italian gems.
Go for a preprandial cocktail or cioccolata con panna in the al fresco Sky Lounge, bedecked with cozy blankets, electric fires, and silvery starlight.
[See also: Elite Traveler Reveals First Ever Top 50 Wellness Suites]
Relax
One of the largest in the Alpine region, Lefay Dolomiti's 53,800-sq-ft spa is a clear highlight, with twenty treatment rooms, three pools and daily fitness classes, plus plenty of saunas, steam rooms, salt pools, and ice dips. Treatments use Lefay Spa Method products infused with natural botanicals and minerals (juniper, Alpine salt and mud from the Val di Genova) and methodology incorporates principles of classical Chinese medicine.
This is also the basis of the spa's five "energy circuits" where temperature, humidity and phytotherapy (herbal medicine) vary according to energies that need to be rebalanced. For example, impulsive and nervous guests should visit the Green Dragon, a medium-temperature sauna, while drinking dandelion and bitter herb tea, while anxious guests should try the Red Phoenix, a hot dry zone, followed by a cold bath and lavender and passion-flower tea. (Who wouldn't feel cool, calm, and relaxed after that?)
In the Instagram-favorite indoor-to-outdoor heated pool, jets and bubble beds pummel away any ski strains and airplane aches — and get all the likes on social media.
[See also: The Best Urban Spas of 2023]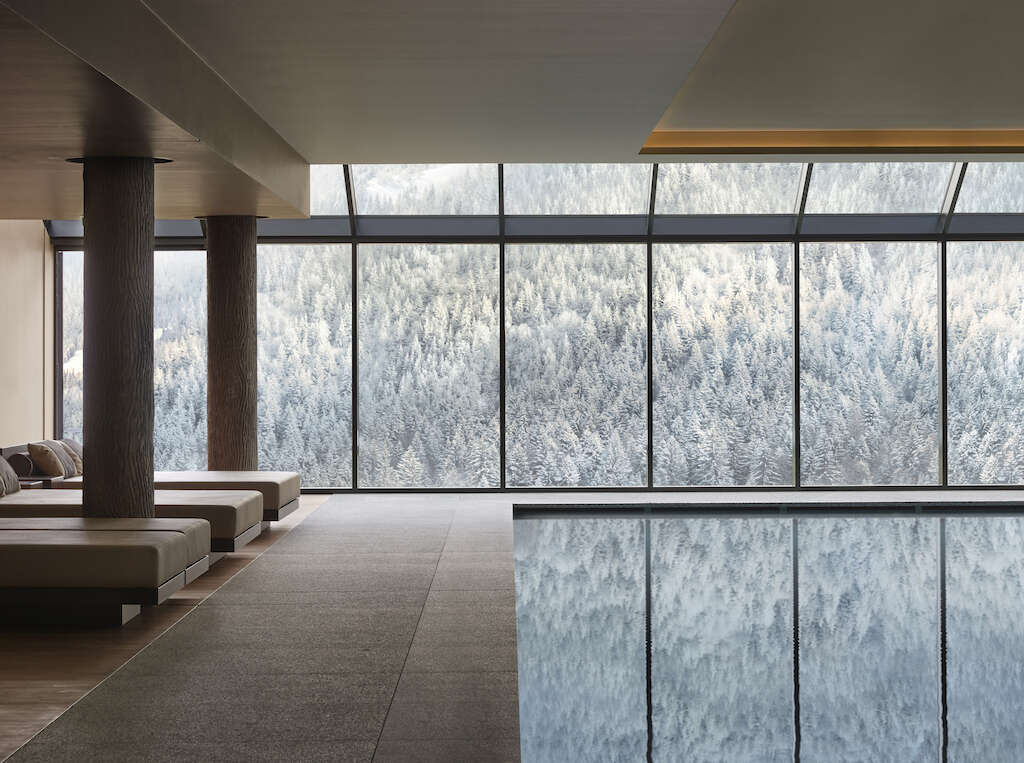 Explore
In the cold-weather months, winter sports are the main focus of the agenda. The hotel sits within the biggest ski area in Trentino, Madonna di Campiglio, which has 93 miles of slopes, 61 lifts and four snowboard parks, and can be accessed with a single ski pass (available for purchase at the hotel). Also, there's a ski shop and ski room with ski butlers and boot heaters. The gondola is five minutes away via the hotel's free shuttle.
The peaks lose none of their appeal in warmer months, and hiking, biking (of the mountain and electric variety) and horseback riding are all popular. The nine-hole golf course, Golf Club Rendena is nearby too. The area is also home to some charming mountain chapels, such as Santo Stefano, famed for its frescos on the external and internal walls, which is just a short hike from the hotel.
[See also: Experiencing an Alpine Wonderland at Four Seasons Megève]