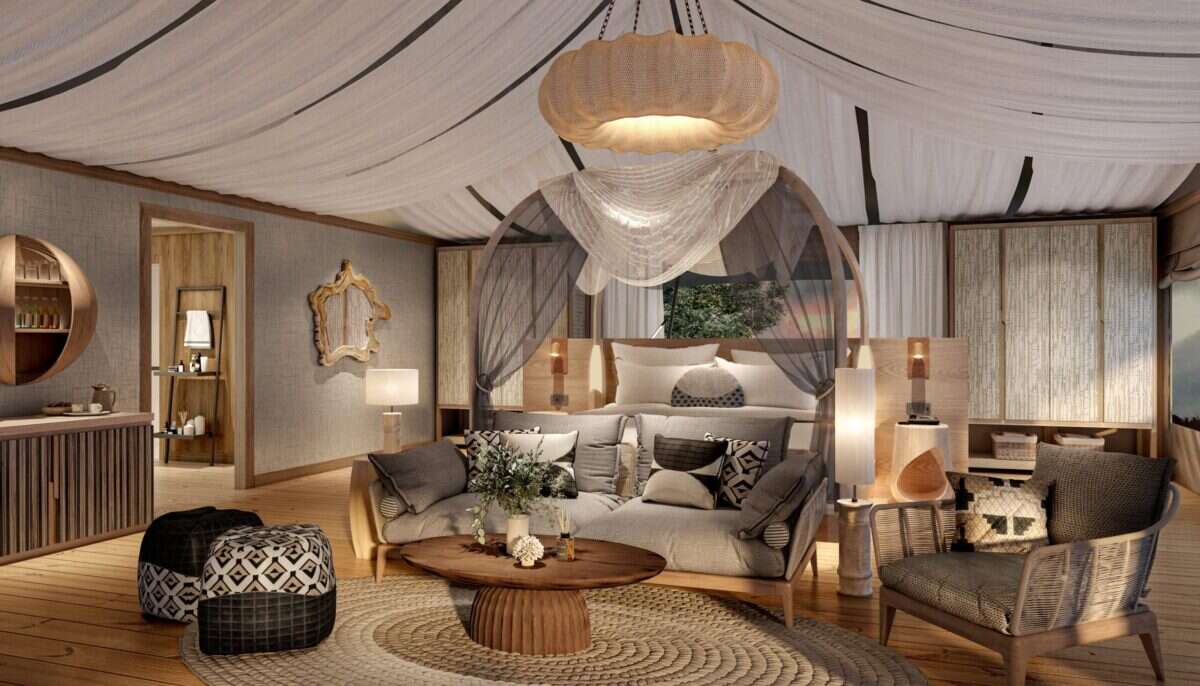 Hotel giant Marriott International has announced plans to open its very first luxury safari lodge overlooking the River Talek on the edge of the Masai National Reserve in Africa.
Situated among the grassy plains and rolling hills of southwest Kenya, the new retreat is uniquely positioned to give guests the opportunity to catch a glimpse of the 'Big Five': lions, leopards, buffalos, rhinoceros and elephants.
And, for those visiting between June and September, there is an exciting chance to witness the spectacular wildebeest migration which sees over one million animals make their annual 1,800-mile journey from North Serengeti in neighboring Tanzania to the south of Kenya's Masai Mara to seek out fresh water and grazing pastures.
Slated to open in 2023, Marriott has signed an agreement with Baraka Lodges to enter the safari market in Africa. The elegant new lodge will feature 19 private tents and an array of communal spaces for relaxation including a lounge, bar, spa, restaurant and spacious outdoor courtyard dotted with fire pits. Larger groups can opt to stay in the ultra-exclusive presidential canvas-topped pavilion complete with two interconnecting canopied suites, each with a private terrace overlooking the river.
[See more: Exclusive African Safari Camps Championing Sustainability]
For the sophisticated interiors, Marriott enlisted award-winning designer, Kristina Zanic. Taking inspiration from the stunning surroundings, the spaces feature a warm, earthy color palette and plenty of natural materials. Think beautiful woven rugs, handcrafted wooden furniture and pottery.
Guests are encouraged to switch off from the stresses of everyday life and fully immerse themselves in the safari experience during their stay. "As a brand rooted in mindfulness, we cannot think of a more perfect retreat for the mind, body and soul than the Masai Mara National Reserve in Kenya," said Bruce Rohr, vice president and brand leader at JW Marriott.
"The lodge will offer guests a luxurious backdrop to make once-in-a-lifetime memories as they connect with nature and wildlife as never before. We are thrilled that the JW Marriott brand will be welcoming adventure travelers, including families, to this breathtaking part of the world."
Jerome Briet, chief development officer for Europe, the Middle East and Africa added: "This landmark project is in response to travelers' growing desire for experiential offerings that enable them to build a deeper connection with their chosen destination. We encourage guests to be mindful and present, which perfectly lends itself to meaningful safari holidays."
Of course, supporting the local community will be essential and JW Marriott aims to employ up to 50 people from the Masai region to work at the retreat. The new lodge joins over 120 existing properties in the hotel giant's burgeoning portfolio in Africa.
[See more: Wilderness Safaris and Panthera Join Forces on New Safari]