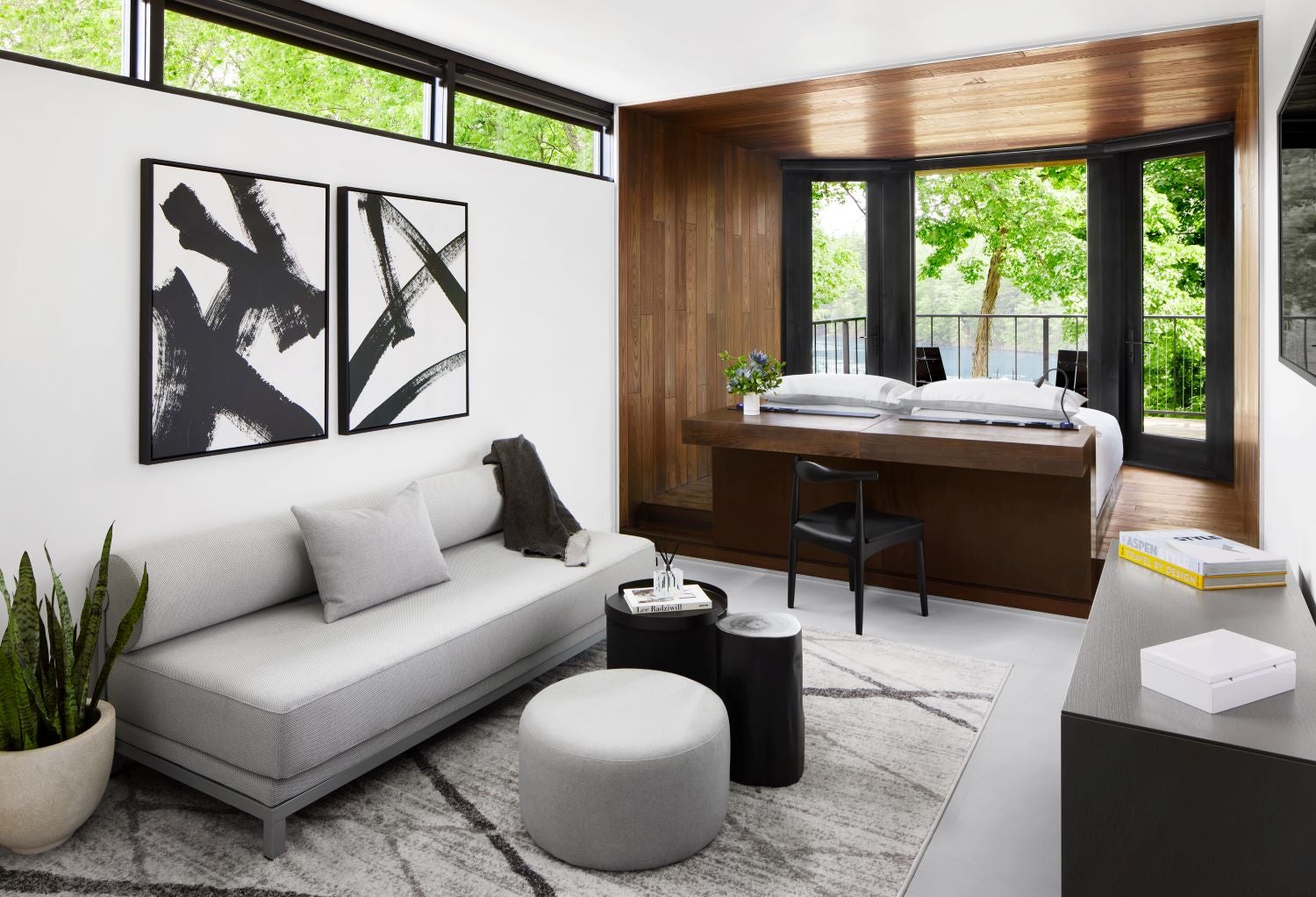 Moliving, self-described as the world's first "nomadic hotel concept", is set to open its first hotel in Upstate New York's picturesque Hudson Valley this Spring.
Recently unveiling its first luxury prefab unit at the site of its new Hurley House Hotel, each pod contains a luxury hotel room and has the ability to pop up anytime, anywhere — something your favorite five-star resort could only dream of.
By providing the means to build hotels in a matter of months as opposed to years, at a fraction of the cost, these agile, customizable units allow hoteliers to adapt to the age-old challenge of supply and demand and adjust and scale room inventory accordingly. An issue that has become infinitely more important over the past two years.
[See also: The Most Luxurious Eco-Friendly Hotels]
So, is Moliving and its new hotel set to revolutionize the industry as we know it? The firm's CEO and founder Jordan Bem has big ambitions: "We started Moliving to democratize the hospitality industry. Moliving is uniquely positioned between the glamping and luxury spaces, and to this day, no one has managed to provide an upscale product and experience while proving true flexibility and a sustainable result."
And sustainability is one of the key factors that sets Moliving apart, explains Bem: "[We] seamlessly integrate sophisticated technology into nature, with virtually zero disruption to the environment. The Moliving units are not only mobile, but also feature a self-leveling system that protects the land by allowing them to be removed with no impact or damage to the ground below. 
"Built with many recycled and eco-friendly materials, the Moliving units are designed and developed in house under one roof and manufactured in local factories in order to reduce the carbon footprint. The units can be fully self-sufficient, with the ability to be set in an "off the grid" setting or connected to the host property in a matter of minutes," says Bem.
"Using the off-the-grid setting, the units rely on solar (each unit features rooftop solar panels) and are completed by the latest lithium batteries, as well as integrated holding tanks. These holding tanks utilize recycling technology which enables guests to reduce their consumption of fresh water."
Molving's Hurley House Hotel
Sustainability aside, can a prefab pod really be as luxurious as a hotel room? The chic wood-clad interiors within Moliving's prototype at Hurley House Hotel certainly look the part.  The modular design firm that Moliving commissioned to build it alongside 59 further units for the new hotel—SG Blocks—boasts some serious luxury credentials, counting Marriott and Aman amongst its clients.
Offering 400 sq ft of space, the cabin-esque structures are considerably larger than the average US hotel room and come complete with two 120-sq-ft private outdoor terraces.
The open floorplan features distinct living, sleeping and working zones. With sleek floor-to-ceiling windows and an oversized skylight illuminating a spa-inspired bathroom, guests can soak in the natural surroundings to their heart's content.
Furnished with a king-size bed that can swiftly be converted to two twins, each pod will feature a Samsung 55" Smart TV, a Devialet wireless speaker, USB ports, a bar, electronically controlled shades and wi-fi.
Moliving is also in the process of creating a mobile app that will provide an interface for guests to handle all front-of-house demands, from check-in to requests for additional pillows.
Hanna Bem, Moliving's chief operating officer believes the new hotel will offer guests something new. "We are crafting unique and memorable experiences that every guest will carry with them for a lifetime," she tells Elite Traveler. "The hotel will offer endless activities from wellness classes to various talks with industry experts and much more, allowing guests to recharge and disconnect from technology, be in the moment with nature and interconnect with others within the Moliving community. We are driven by the principle that nature itself is a luxury, and encourage guests to be their truest and freest self."
Beyond Hurley House Hotel, Moliving isn't resting on its laurels and is already exploring plans to open locations in some of the US's most coveted locations including Lake Tahoe, Sonoma and Vail as well as destinations in Europe.
[See also: Twenty for 20: The Most Iconic Hotels of the 21st Century]