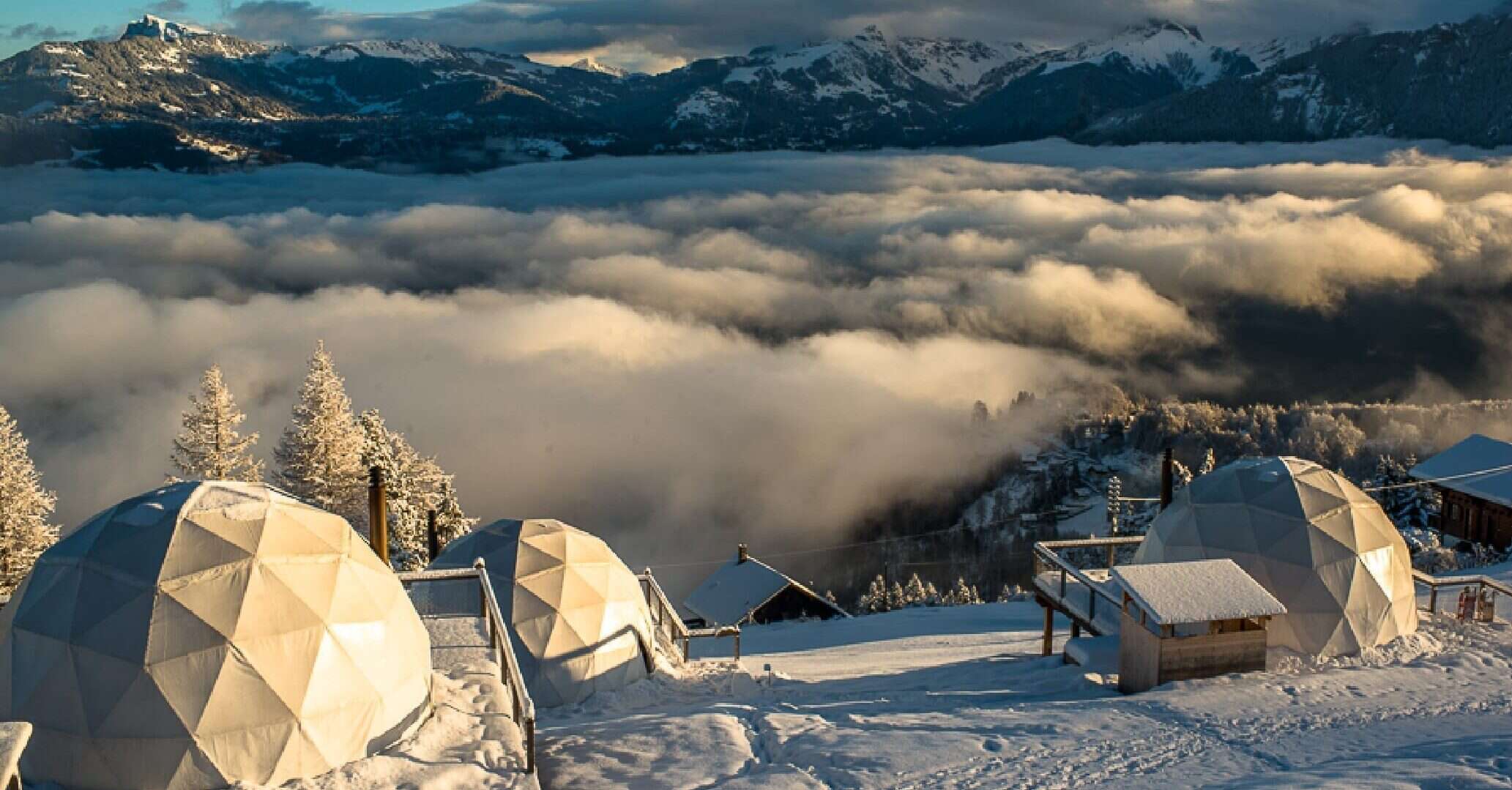 While vacations used to be solely a chance to switch off and relax, as the world around us changes, so do our priorities. Now, as the climate crisis becomes ever more prevalent, factors such as sustainability are becoming more important than ever. To help you travel with a conscience, we've rounded up some of the most sustainable countries in the world.
From implementing waste management schemes and promoting green modes of transport to utilizing cutting-edge technology and protecting wild spaces, many countries around the world have taken meaningful steps toward contributing to a brighter future.
And, one of the best bits of news is that in pushing forward with a new way of thinking, some of the brightest hospitality ventures in the world have emerged as a result. From inventive pods hanging from the trees in Sweden to ocean-front resorts in New Zealand nature parks, eco-tourism has never looked better.
[See also: The Most Luxurious Eco-Friendly Hotels]
Sweden
Sweden is an undisputed leader among countries leading the green revolution, with environmental stewardship playing a key role in the day-to-day lives of many Swedish people. Taking a holistic approach to sustainability, the Nordic country has implemented a range of initiatives in an attempt to limit its environmental footprint. Some of the most successful – and therefore most replicated – have been the introduction of electric public transport, a prompt switch to renewable energy and a focus on urban farming projects to reduce food imports. Citizens are even incentivized to make greener choices, with financial compensation and tax deductions both potential rewards.
In turn, the hospitality offerings in Sweden are refreshingly environmentally friendly. In the capital city of Stockholm, visitors will find a plethora of top-notch restaurants championing the finest local and seasonal ingredients in inventive and quite frankly wild ways – our top picks are Frantzén and Gastrologik.
Naturally, the county's hotels are following suit too. A longstanding favorite among eco-travelers looking for an outside-the-box adventure is the Treehotel, which sprung to fame for its unusual accommodations. In place of the standard guest rooms and suites, the Treehotel has a series of pod-like structures dotted throughout the trees in a tall pine forest in northern Sweden. Each one takes a different form: one is designed to look like a bird's nest, another like a UFO. There's even one with mirrored exterior walls, making it all but invisible. In line with the hotel's steadfast commitment to sustainability, each pod is designed to sit lightly, with minimal impact on the natural environment.
New Zealand
Boasting some of the planet's most stunning natural scenery, it comes as no surprise that as a country, New Zealand is united in its mission to limit its environmental impact. Taking inspiration from the traditional Māori principle that we are each infinitely connected to the natural world and its bountiful resources – and therefore duty-bound to protect it – New Zealand is one of the few countries that has climate action enshrined in law, with the 2019 Zero Carbon Act committing to carbon neutrality by 2050.
As a result, there's plenty of eco-conscious resorts and hotels to choose from for your next trip to New Zealand. While many cater for the backpacking community with budget rates and pared-back amenities, there's a host of luxe accommodations to pick from too. One of our favorites is the stunning Helena Bay Lodge, which was recently featured in our guide to the Top Suites in the world.
The hotel takes its responsibility to actively contribute to a brighter planet for the future very seriously, from painstaking caring for the indigenous flora and fauna in its 494-acre estate and electric vehicles, to promoting an estate-to-plate culinary ethos to limit carbon emissions from food transportation.
[See also: The Most Anticipated Hotel Openings of 2022]
Costa Rica
Costa Rica is consistently named among the most sustainable countries in the world, thanks in no small part to its impressive reliance on renewable power sources, such as hydropower and wind and solar energy. In recognition of its solid efforts and meaningful impact, the South American country received the United Nations Environment Programme's Champions of the Earth award for policy leadership back in 2019.
Eco-tourism has long been the norm in Costa Rica, with changemakers going to admirable lengths to ensure the country's gorgeous natural scenery – which ranges from lush verdant rainforests to stretches of long white sandy beaches – can be enjoyed respectfully and safely by visitors and locals alike. Now, much of the country's wild spaces have been organized into national parks, wildlife reserves and conservation projects, ensuring its protection.
And naturally, with eco-tourism comes eco-hotels, and Costa Rica is in no short supply of these. One of our favorites is Tabacon Resort and Spa, which seamlessly proves that sustainability need not come at the cost of luxury. Nestled within the vibrant rainforests of the Arenal Volcano National Park, Tabacon makes the most of its unrivaled location with floor-to-ceiling windows in its guest suites and a host of immersive spa treatments utilizing the local thermal spring water.
Switzerland
By all standards, Switzerland is a country that many think of when considering how a country can do it 'right.' Salaries are high, education is cheap (if not free) and its residents are happy. And true to form, its environmental creds are good too, with Switzerland routinely ranked as one of the most sustainable countries in the world.
As well as implementing adoptable initiatives such as waste management and water preservation, Switzerland has also been thinking outside of the box, using advanced technology to curb its carbon footprint. For example, 2017 saw the world's first 'carbon capture' plant be launched just outside Zurich, which was capable of absorbing up to 900 tons of carbon dioxide from the air per year.
While cities like Geneva and Zurich are hotspots among travelers, as are the ultra-chic ski resorts, we recommend something a bit alternative to understand the full scope of the country's eco-friendly accommodations. Tucked away in the heart of the Swiss countryside, nature comes first at Whitepod, with everything from construction to day-to-day operations prioritizing sustainability. Its signature Pod Suites are designed to sit lightly and maintain a stable heat no matter the season; staff all live locally to limit the use of motorized vehicles; and the dining offering champions local seasonal ingredients.
Denmark
It's fair to say that Scandinavian countries are leaving the rest of the world in the dust when it comes to environmental sustainability, and Denmark is no exception. While having a teeny population of under 6 million naturally helped, Denmark's steadfast commitment – and wide adoption – to eco-friendly initiatives are what has cemented its status as one of the most sustainable countries in the world.
Denmark's environmental efforts have been sustained over many years, with the key pillars being built around waste management, renewable energy and green transportation. While there's still a little way to go before it achieves its 2050 net-zero goal, there's plenty to shout about already. Denmark is run on nearly 50% wind power, the country-wide adoption of cycling (there are almost twice as many bikes on the road as there are cars) has dramatically cut transport emissions and citizens enjoy financial compensation for recycling.
While the whole country is on its way to becoming the greenest in the world, there are a few individual success stories that deserve special mention. The capital city of Copenhagen, for example, has bold aims to be net-zero by 2025 (a whole 25 years ahead of the rest of the country). Another is the island of Samsø, which has been energy-positive for over a decade, with a 100% reliance on renewable energy. At just two hours away from Copenhagen by train, it's well worth fitting a trip to the island into your next Danish vacation to understand how true sustainability works in practice.
[See also: The Best Destinations for a Winter City Break]