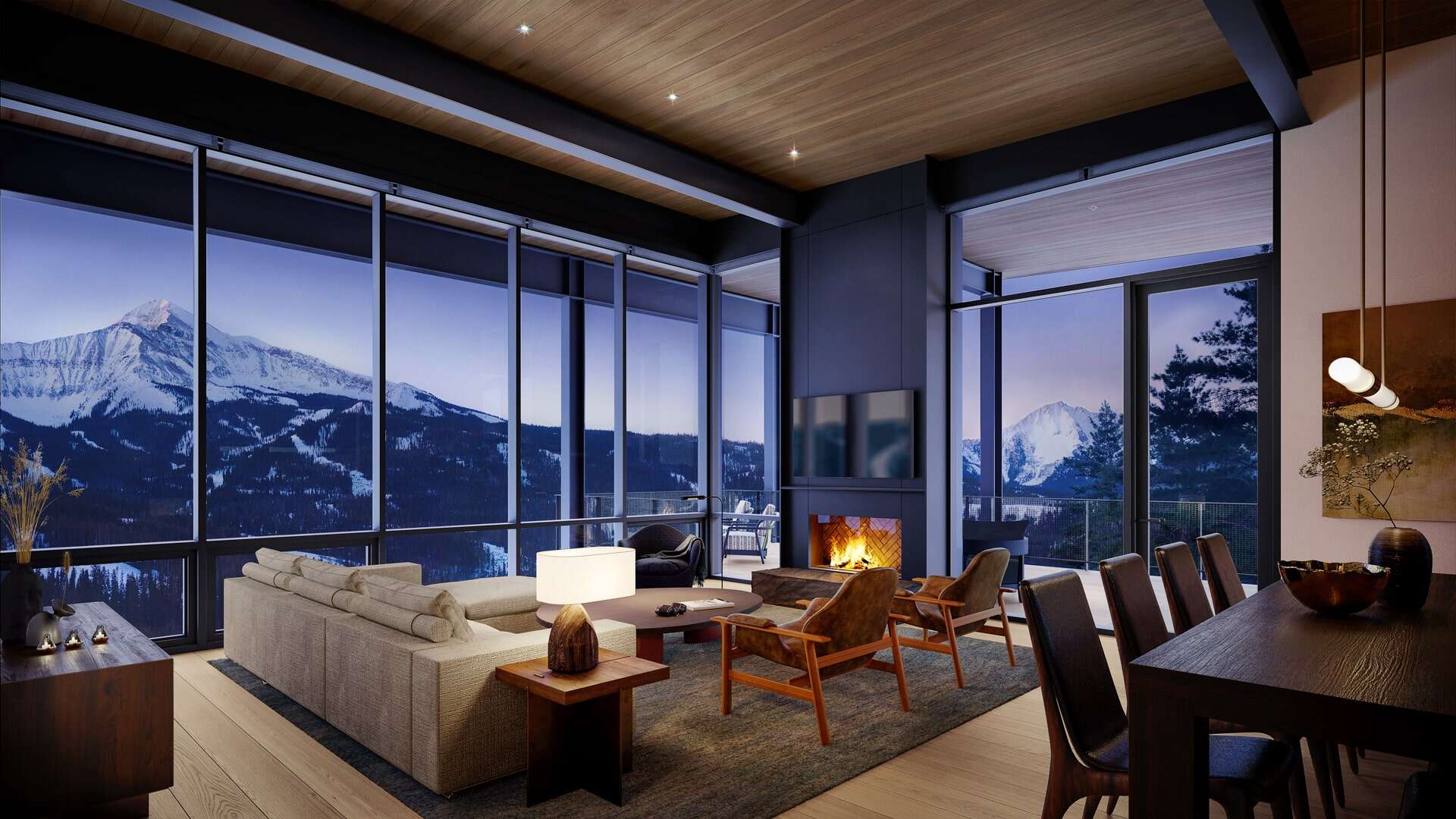 One&Only has long been known for choosing the world's most inspiring locations to set up camp, including resorts in the Maldives, Malaysia, Rwanda, UAE and Australia. Up until now, however, its elevated take on laidback luxury had not made it stateside – but this is about to change with the launch of One&Only Moonlight Basin, which will be the first One&Only resort in the US.
Slated to open its doors in 2024, the new resort is being built against the backdrop of Montana's majestic mountainous landscape, with renowned architect Olson Kundig taking the helm on its design. The main lodge will be compromised of just 73 guest rooms and suites, ensuring that One&Only's signature intimate atmosphere is maintained, with a further 19 private villas dotted throughout the resort.
In another US first, One&Only Moonlight Basis will also be home to the country's only Chenot Spa. Calling on 50 years' worth of experience, the Swiss spa company takes a unique approach to health and wellness, incorporating science-led remedies into spiritual programs. Its flagship Chenot Method treatment is world-renowned for its restorative properties and practical approach to overall wellbeing.
[See also: The Most Anticipated Hotel Openings of 2022]
As well as the Chenot Spa, guests will be able to enjoy internationally inspired cuisine at one of the resort's six restaurants and bars, all of which will be committed to championing the finest local ingredients. Each dining space will be defined by its own unique ethos and design, with several also featuring inviting outdoor spaces.
While One&Only Moonlight Basin's amenities are plentiful, it is the location that will be the real draw for many. Montana's Big Sky sits within a staggering three-million-acre national forest, connected to the wider Greater Yellowstone Ecosystem.
Offering one of the most diverse climates in the country, winters here are categorized by their blanket coverings of snow, with sports enthusiasts traveling from far and wide to ski its enviable slopes. One&Only Moonlight Basin is perfectly located to enjoy all that Big Sky has to offer, with a private gondola connecting the resort to the nearby 5,800 acres of ski slopes. In summer, the scene changes entirely, with visitors enjoying paddleboarding on glass lakes, horseback riding through stunning trails and teeing off at the Moonlight Basin golf course.
The resort's decidedly boutique size has allowed designers to ensure that it is carefully developed with the utmost respect for this beautiful surrounding landscape and its fragile ecosystem. The beauty of the natural world makes its way into the resort's design, with glass making up a key portion of the build materials, ensuring that the jaw-dropping views take center stage.
[See also: The Best US Ski Resort Hotels to Check Into this Winter]
As well as the main resort, One&Only Moonlight Basin will also house 63 branded private residences, inviting a few lucky guests to call this stunning corner of the country home. Also designed by Olson Kundig, each of the freestanding 'floating' homes will exude contemporary minimalism, with an added dose of One&Only luxe. The homes range from five to six bedrooms, with both two- and three-story plans available.
"I am thrilled that we are introducing our first One&Only resort and community of Private Homes in the US.  Each One&Only resort celebrates their own distinctive location and Big Sky is the perfect site, where guests and residents alike can enjoy the very best of nature year-round through the life and energy of One&Only," says Philippe Zuber, chief executive officer of Kerzner International, which operates the One&Only brand.
"At Moonlight Basin, Lone Mountain Land Company has built a mountain destination that showcases the natural beauty of Montana's extensive, dramatic landscapes, and I am delighted to introduce One&Only in this unrivaled destination," he continues.
[See also: One&Only Portonovi: Mediterranean Living at its Finest]