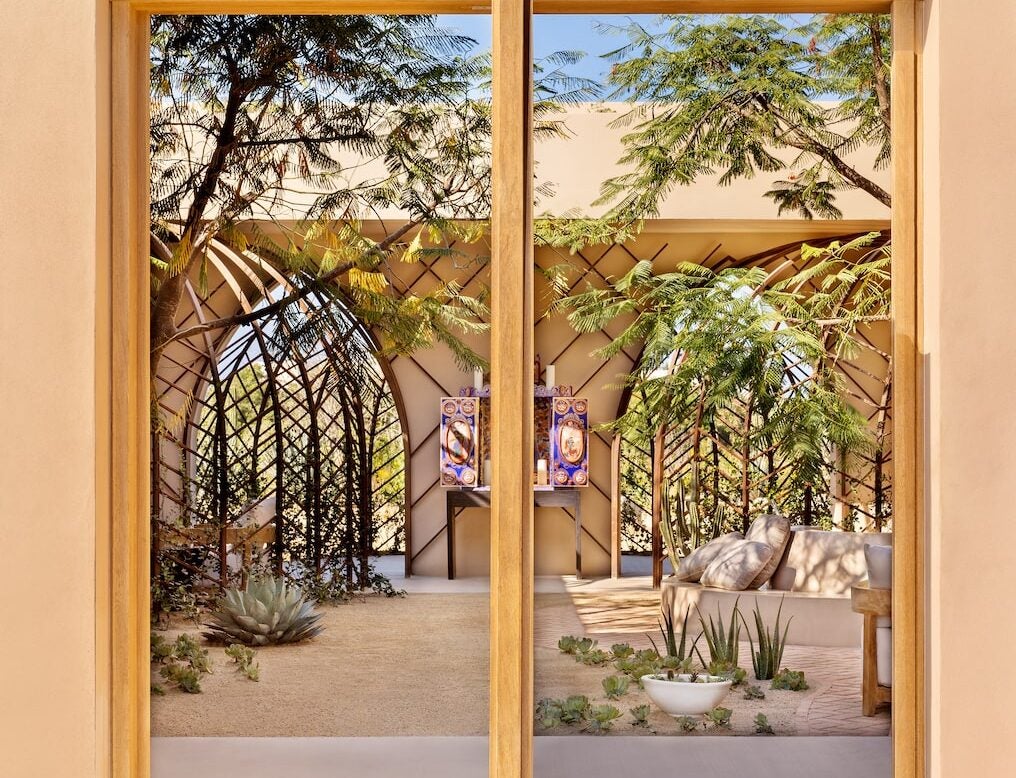 After an unassuming turn off a highway near Baja California Sur's Todos Santos, my driver steers us down a dusty, bumpy road. All around the region's high desert vegetation captures the sun, glowing golden beneath the gaze of the nearby Sierra Laguna Mountains. We stop abruptly at an artfully constructed concrete wall, raised, it seems, in the middle of cacti-mottled nowhere. At this moment, it seems impossible to believe that Rancho Pescadero, an acclaimed, adults-only beachside resort, recently reopened after extensive renovation, could lie anywhere nearby.
"This is it," says the driver, who points towards the wall. I climb out, curious and even a little incredulous. Someone in white appears, specter-like as if blown in by a sudden desert wind.
"Please open the door," they say, gesturing to a spot in the wall. I push gingerly — the door moves slowly, as if to prolong the anticipation. I step across a threshold to be immersed into an astonishing otherworld.
An en plein air ante-room, anchored by a folkloric altar, awaits. It leads to a breath-stealing dreamscape, connected by an undulating, sandy path that winds through manicured desert terrain. Beyond, on the horizon, a thrashing sea casts out a pastiche of blues. Above, clouds, like random thoughts, hover above low-lying buildings, organically designed to fuse with the milieu.
[See also: The Best Hotel Suites in Mexico]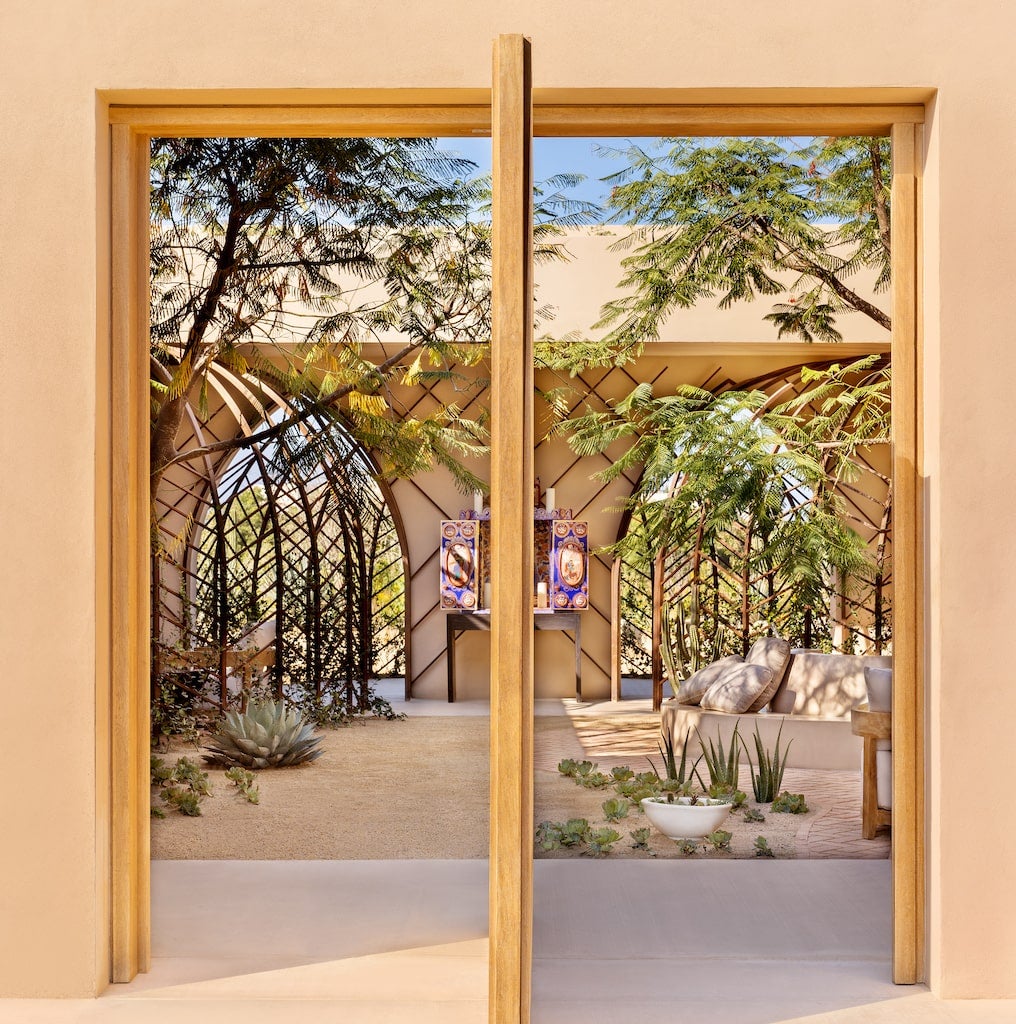 Gardens abound, sprouting up in every direction. I'm speechless. It seems to amuse the staff member, who explains: "We call this crossing over." He hands me a welcome drink and gestures to the altar (Is that the Virgen de Guadalupe? I ask myself.) "Would you like to make an intention for your stay?" He urges me forward — and something glorious and unborn rumbles inside me.
It's as if Rancho Pescadero has given me permission to embrace my inner landscape, to seek transformation — or at the very least seize a moment of restorative peace while in residence at this sublime hideaway.
[See also: The Best Restaurants in Tulum]
I walk barefoot to my suite — as urged by staff — passing the herb and vegetable garden. It wafts an earthy potpourri through the air, suddenly reminding me of a poem by Rumi: "The Breeze At Dawn Has Secrets to Tell You."
He writes about embracing liminal space, seeking transformation, living mindfully. "Don't go back to sleep, " he says, ending evocatively with "The door is wide and open." During my stay at Rancho, I don't go back to sleep at all. I walk through the door, widely awakened, experiencing a form of wellness I call 'Baja Bathing'.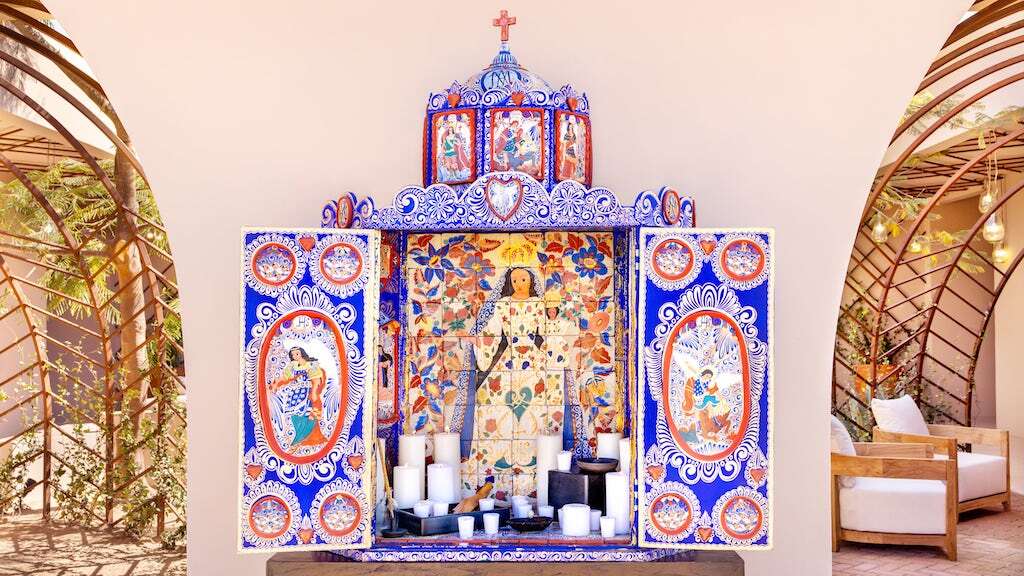 Stay
I often glibly state that the best hotels are those that began as someone's personal sanctum, as homes or getaways that ended up being so good the original owner felt an altruistic need to share. Rancho embodies that theory. Founded in 2009 by Lisa Harper as a casually elegant bolthole, remote Rancho began with just 12 spacious, stand-alone rooms spread along an arrestingly unspoiled beach.
Harper had discovered the land years before, using it as a restorative escape from work stress, even camping here to reignite her inner flame. Intuitively, eventually, it made sense to share Rancho's largesse with friends, and she built the original resort as a haven for harried folks to reset.
[See also: The Ultimate Luxury Guide to Mexico City]
Employing the same philosophy as today's Rancho, the original retreat offered an alternative holiday of self-proclaimed wellness, a place to slow down and chase dreams. In Harper's mind that means (and meant) a no-judgment agenda of bliss as defined by the guest, with customized days that might engage doses of hedonism or joy with meditation, languor, new experiences, quietude or diligent pursuit of a goal.
This was a place where legendarily Matthew McConaughey came to rest and ended up working behind the bar making margaritas for fellow guests — and it still seems like a place where that could happen again.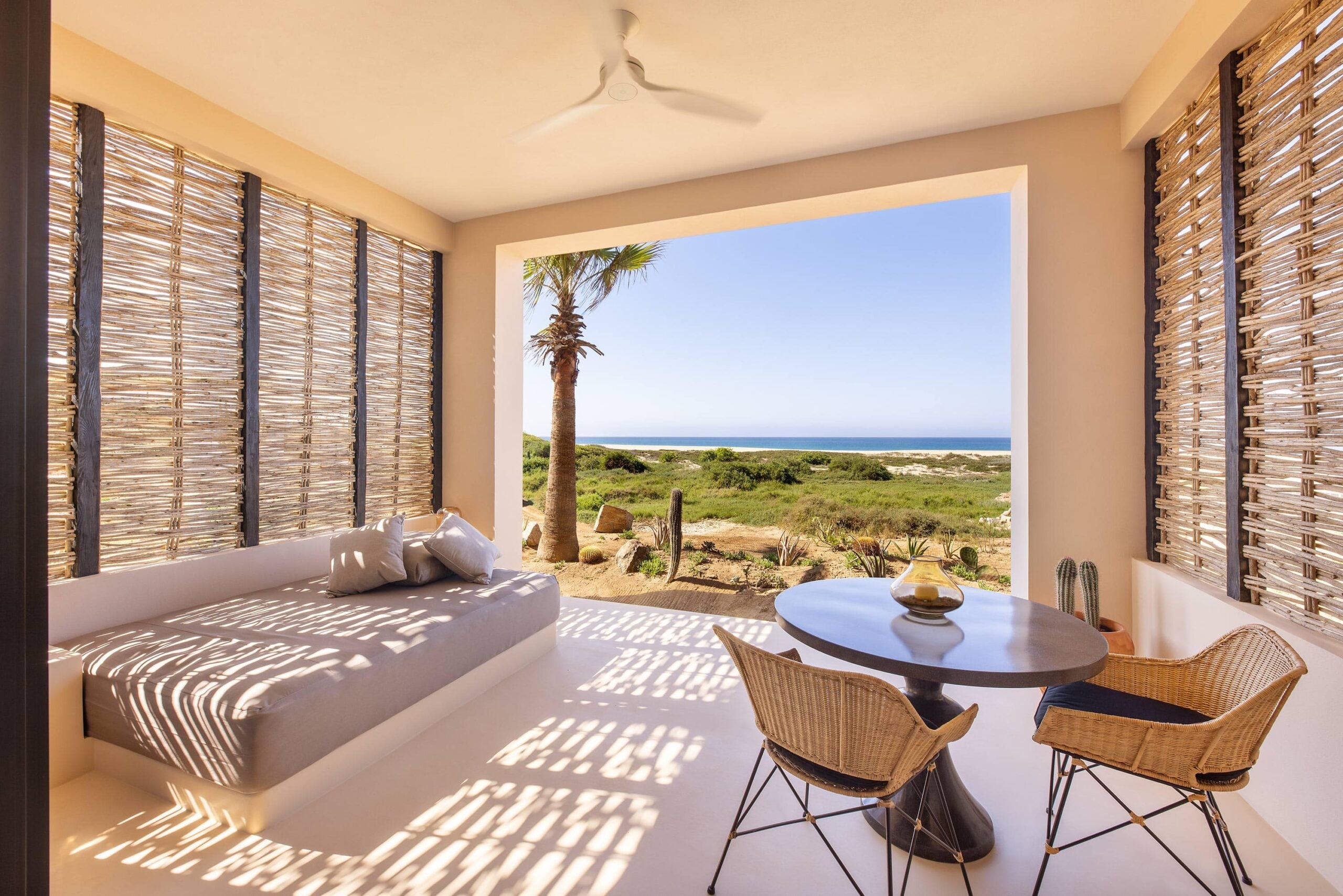 After a three-year redo, the new, fancier, grander 30-acre-big Rancho boasts 103 rooms and villas. Amazingly, the new rendition not only retains Rancho's original demeanor and spirit, but expands artfully and soulfully on it. It soars.
Case in point: the Botánica Spa, a 25,000-sq-ft wellness arena, the creme-de-la-creme of Rancho 2.0. Entering the spa complex feels almost like another crossing over—a sanctuary within a sanctuary. Surrounded by gardens, crisscrossed with paths, it holds a lap pool, apothecary, two yoga shalas, a topnotch fitness room, a Pilates studio, a shady outdoor relaxation area, nooks aplenty and an array of healing flowers and herbs.
As for the rooms: All are suite-like, and most face the ocean, some vaunt plunge pools, some have rooftop decks. For a romantic holiday, opt for one of the 12 oceanfront villas, designed to sequester those in search of quietude, yet positioned just a stone's throw from all resort amenities including the three pools, spa, restaurants and bars.
Kitted out with local, artisan-made design elements (more on that later), the airy villas exude a cozy chic with colorful bathrooms, immense soaking tubs, uninterrupted views of the seas, fire pits and infinity plunge pools. Warning: some guests check in and never venture from their domain.
Dine
Rancho Pescadero used to be a poblano pepper farm, so it's no wonder that its fertile soil has the pluckiness and fecund talent to support nine interconnecting gardens, a farm, an orchard, bee hives, chickens, goats and a mind-boggling array of vegetables, herbs, flowers and fruit.
Just walking the gardens alone or (even better) with talented chef, Sandro Falbo, (who hails from Rome but exudes Mexican sensibilities) is to connect with Rancho.
The resort proposes a variety of garden activities, including choosing your eggs for breakfast and the ingredients for your omelette, picking vegetables for lunch, learning to garden, or snipping flowers from a bouquet to take to your room.
Embodying the true meaning of farm-to-plate, the landscape-centric property and its restaurants showcase the natural connection between food and its source, something that seems almost a metaphor for all aspects of the resort at large. Three main restaurants tempt:
Botánica
Dovetailed into the verdant garden, Botánica brandishes a wood-fired oven. Its menu, a compilation of pizzas, slow-cooked Mexican-intoned meat and fish dishes, housemade sausages, gourmet tacos, fresh tortillas from a traditional comal and daily inspiration from the garden rules here. Large groups can sup at an atmospheric common table, illuminated by fairy lights, in the citrus orchard. 
Centro
The retreat's highly satisfying all-day dining spot, the cafe has a two-level bar and restaurant, prime for whale spotting in season. Freshly caught seafood, innovative tacos (I had the vegan tacos every day for lunch, each preparation at the whim of the garden's bounty), first-class cocktails, guacamole that's the stuff of dreams and truffle mac and cheese — among other delights — comprise the menu.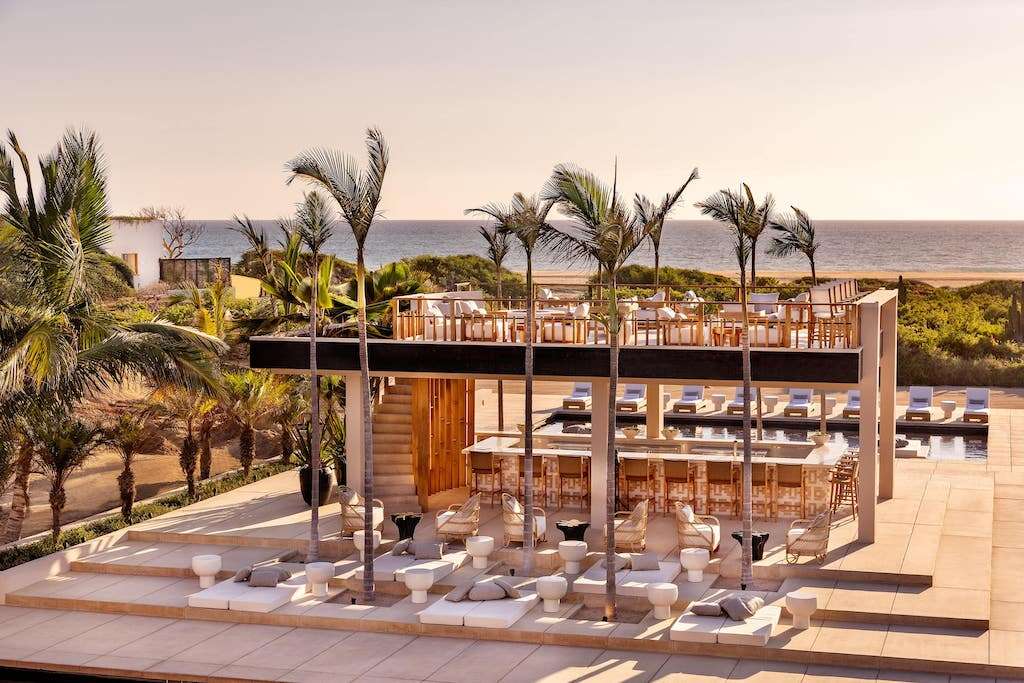 Kahal
Rancho's most posh eatery, poised oceanfront, specializes in seafood with Mexican and international flair. The eye-widening raw bar, salt-crusted snapper and a Baja Seafood Platter (a symphony of tiraditos and ceviches) exemplify the vibe food-wise, while the abstract pool and decor, designed to be reminiscent of the inside of a seashell, set a chic mood.  
Design
In an homage to nature and to Mexico's vibrantly colorful, deeply crafted arts scene, the resort has been designed by renowned architect and interior designer Alejandra Templeton of Indigo Añil.
Neutral, clean, earth tones and sleek lines meld with the sea and desert, but pops of bright colors, many that mirror the hues from the garden, ocean and sky, add drama and a lyrical allure.
Daybeds capping rooftops, outdoor showers, custom-made furniture and suites spread out in a variety of buildings texturize the grounds. Within the rooms and villas, a host of handmade items from across Mexico warm the heart, ensure sense of place and activate the senses.
Think: fabric from Tiajuana, Talavera tiles from Tlaquepaque, Chihuahuan steel headboards with leather tassels, creamy wool rugs from Michoacán, trays from Guerrero, plus local art and artifacts galore.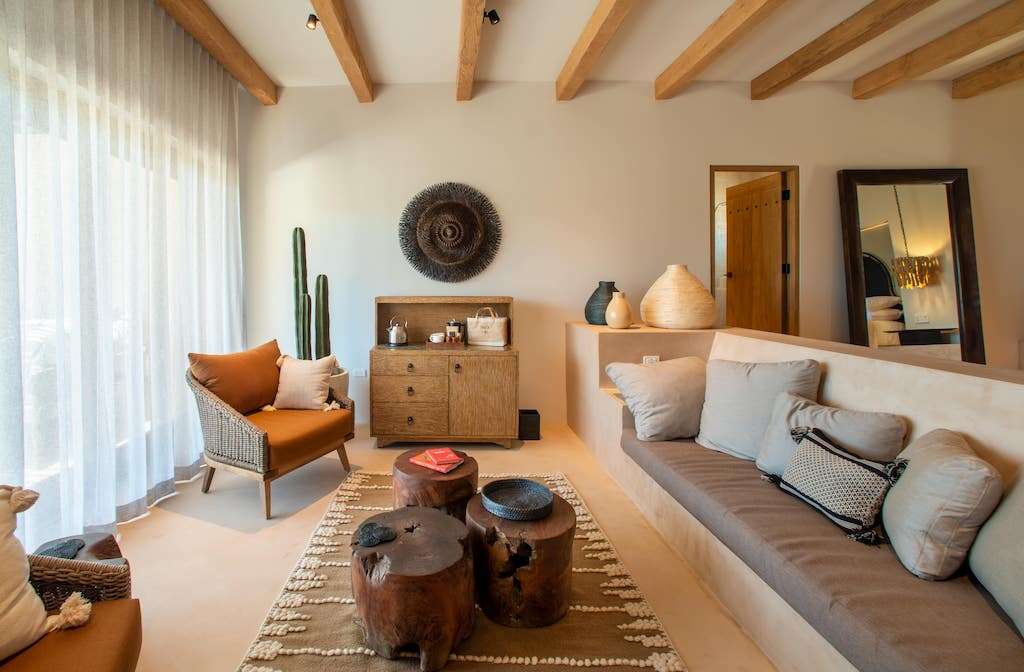 Most of the resort's architecture seems to be an extension of the gardens, farm, sea and desert. My multi-level room, replete with rooftop lounge — an amazing spot to practice yoga with a sea vista — summoned visions of treehouses and sleeping within a work of art. Kahal lords beachside, emanating the DNA of the ocean with contemporary lines. It's abstract, tony and festive — ever reminiscent of seashells, but in a non-kitschy way.
Just a bit on sustainability. Rancho had to displace tons of plants during its renovation, but they replanted each one later and all thrive again. This says so much about the resort. They're passionate about the earth. Whether it's the sprawling solar system or the water processing and desalination system, the resort stands at the forefront.
Deeply connected locally, they source from local fishers and farmers, and have plans to build housing for 300 + employees and their families, just minutes from the resort.
Explore
Not far from Baja Sur's entrancing Todos Santos, an artists' colony and designated "magic town," Rancho often sends guests to shop at the village's fascinating boutiques. It's worth a visit, but return travelers to Mexico might prefer to keep their Rancho entrenchment into the "other" alive with onsite activities, instead.
On property, an array of opportunities will fill your dance card. Enjoy apothecary DIY workshops making botanical lotions, mists or soaps, do yoga or delve deeply into soul work with a sound bowl healing or heady cacao ceremony.
Taste Mexican wines, have a candle-lit dinner in a garden cranny, whale watch or assist with turtle release. Learn to cook or make cocktails, get gardening tips or be pampered in the spa with a unique treatment ( I loved the Refuerzo Romero, a rosemary-infused, immune-boosting treatment with hot stones.) Off campus, most anything can be arranged: surfing, horseback riding, fishing and guided walks, to name a few.
Villas from $1,100 per night. Contact info@ranchopescadero.com, +52 612 689 0043, ranchopescadero.com