When Covid-19 catalyzed the collapse of Thailand's tourism industry, the long-awaited, freshly opened Rosewood Bangkok had no choice but to close. Now, the country's luxury market has stabilized once more, and Rosewood Bangkok is back with a bang — and the Thai hotel scene is all the richer for it.
With guests checking into the Rosewood luxury hotel since September, the reopening has allowed for the official global launch of Rosewood Bangkok's Houses: three sprawling signature suites touted as being among the most lavish abodes offered by any hotel in this immense city.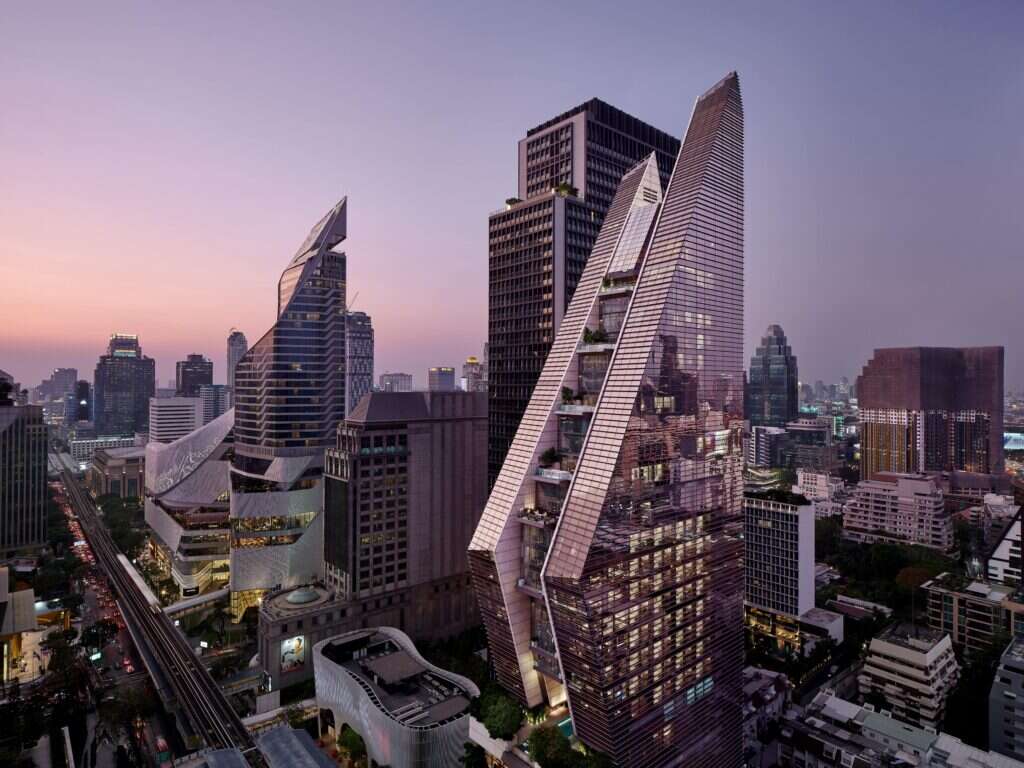 [See also: The Ultimate Luxury Guide to Phuket]
Stay
Rosewood Bangkok's 159 rooms range from the clever Sense Studios, which include a dedicated spa space and marble-lined whirlpool where therapists can administer cosseting, in situ treatments, to a Two-bedroom Sky Pool Suite with its own outdoor terrace and private plunge pool. Rosewood Bangkok's most exceptional spaces are the aforementioned three 'Houses,' the designation given globally to Rosewood's most exceptional suites.
On the 20th and 23rd floor respectively, Nara House and Thara House are nearly identical, save for the former being smaller. Each the figurative home of a worldly art collector, they are elegantly finished in jades and grays, decorated with a geometric chandelier here and a fold of jacquard Jim Thompson textiles there. Walk-in closets are mammoth; dinky kitchenettes provide just enough space for on-call butlers to prepare drinks for impromptu cocktail parties; and outdoor terraces feature glass-fronted plunge pools.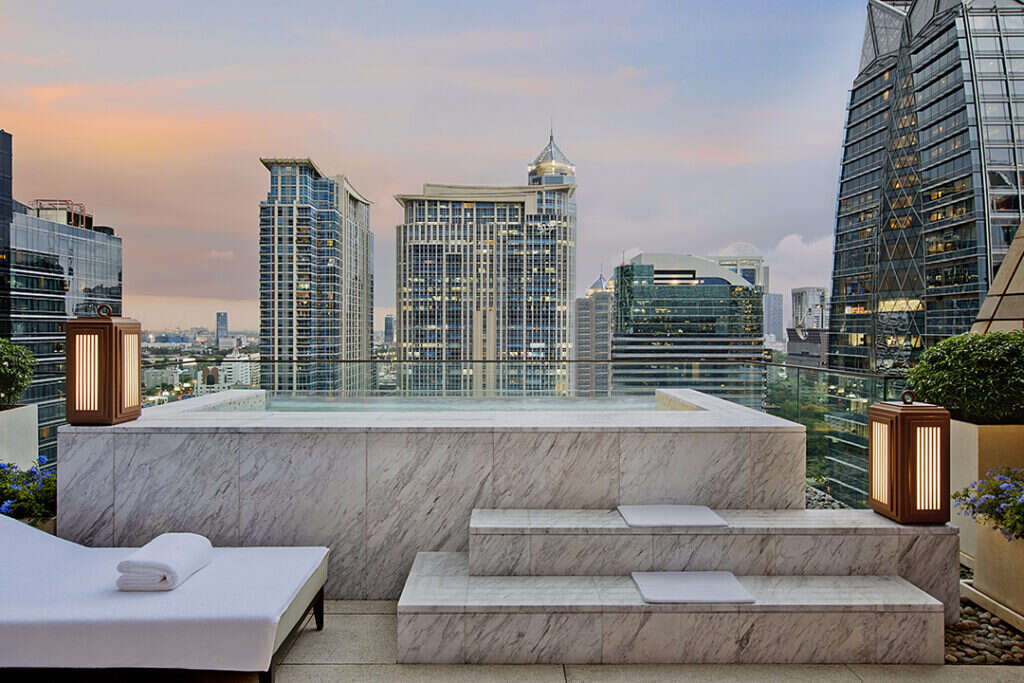 Better still is the one-bedroom Bannakarn House, which sprawls across the entirety of the 29th floor and is accessed via its own private elevator. With knockout views of Sukhumvit's skyscrapers, the living room's centerpiece is a stand-alone alabaster cocktail bar. Furnished with Gaggenau appliances and full kitchen facilities, the adjacent 10-seat dining room is all set to host catered dinner parties. An expansive terrace with outdoor lounge chairs and ample space for alfresco cocktails also offers a suntrap plunge pool.
Given all the surrounding grandeur, the bedroom is surprisingly simple — floor-to-ceiling windows provide sweeping city views, and plump pillows, embroidered with guests' initials, are piled high atop the bed. The hotel's butlers ensure every House guest enjoys bespoke touches, and adept concierges guarantee requests are handled with flair and ingenuity.
[See also: Elite Traveler Reveals Top 100 Suites in the World]
Dine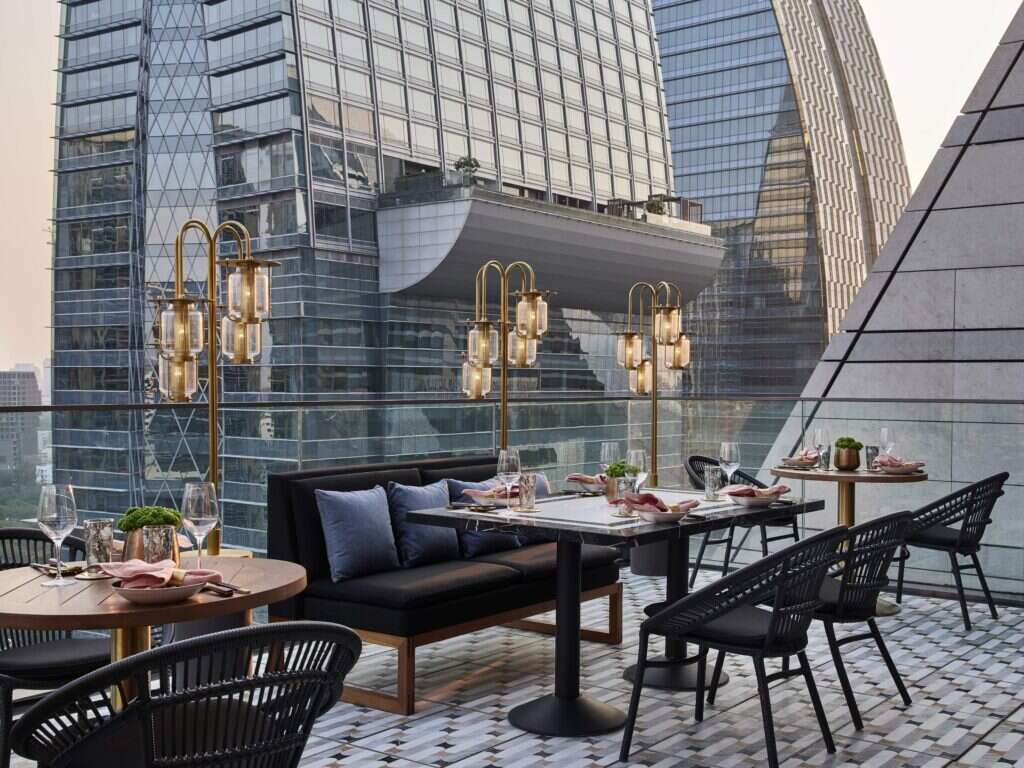 Foreign travelers might feel miffed that the hotel's flagship restaurant is a Chinese, rather than Thai, eatery, but Nan Bei is special. Embellished with Art Deco flourishes, the 19th-floor venue ambitiously serves a menu that oscillates from top to tail of the country ('Nan Bei' is Mandarin for 'North South'), and the results are a resounding success.
Generous sharing dishes such as honey-glazed barbecue pork, spotted grouper and classic Peking duck are particularly wondrous. At all-day Lakorn, just off the lobby, Thai specialities are offered alongside competent Western dishes, while health-conscious hotel guests are catered to at organic café G&O.
Offering another vibe entirely, lively 30th-floor bar Lennon's is modeled on old-school speakeasies and is beautifully finished in a '70s-lite honeyed palette of caramel and coffee. Its experimental cocktail menu pays tribute to yesteryear's musicians — the full-bodied Donna Summer blends vodka, Aperol and Mancino Vermouth Rosso — while a DJ plays eclectic sets drawing from the bar's collection of 6,000-plus vinyls.
Relax
Right in the heart of one the busiest cities in the world, Rosewood's Sense Spa offers itself up as a haven of serenity from the never-ending bustle that has come to define Bangkok. Signature treatments draw inspiration from ancient Thai well-being rituals and utilize healing herbs such as ginger root and licorice, alongside products from EviDenS de Beauté and Maison Caulières.
As you'd expect from a top-tier Thai property, kind-spirited therapists are meticulously trained, and signature treatments are adapted to guests' requirements. Rounding out the spa offering is an adjacent nail and hair salon. Three stories up, the 9th-floor gym offers fitness classes and stands alongside a 65-ft lap pool and whirlpool.
[See also: Timeless Elegance: Inside Rosewood Vienna]
Nara House from $2,250 per night; Thara House from $2,600 per night; Bannakarn House from $4,700 per night. Contact Sandra Watermann, managing director, sandra.watermann@rosewoodhotels.com, Photos Owen Raggett +66 208 000 89, rosewoodhotels.com
This article appears in the 30 Nov 2022 issue of the New Statesman, Winter 2022/23