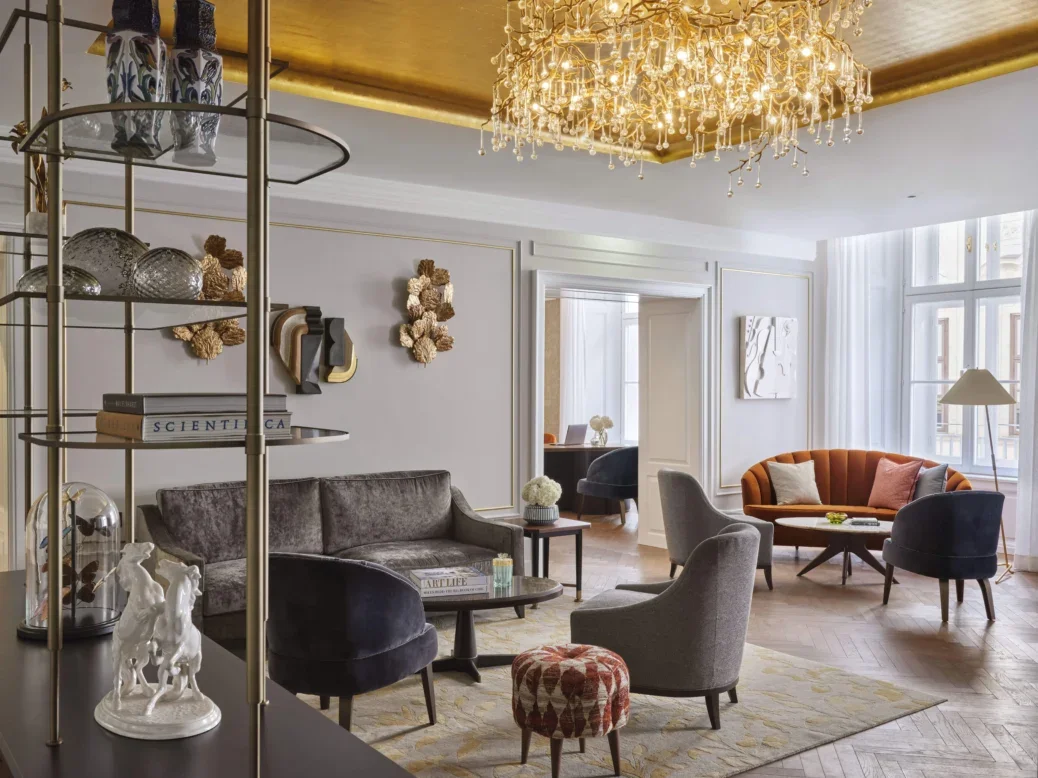 Rosewood has opened the doors to a stunning new hotel in the heart of Vienna's historic Old Town. The property occupies a collection of meticulously restored 19th-century buildings including Mozart's former home in the center of Petersplatz square, a stone's throw from Hofburg Imperial Palace.
The ultra-luxury hotel group enlisted renowned interior designer Alexander Waterworth, A2K Architects and BEHF Architects for the project. In keeping with Rosewood's ever-growing portfolio of properties, the newest outpost reflects the history and culture of the city, immersing guests in the elegance, grace and imperial flair that is synonymous with Vienna.
"The opening of Rosewood Vienna offers today's ultra-luxury travelers a new kind of Viennese lifestyle, one that is imbued with the rich history of the destination yet the modern and cosmopolitan outlook befitting this dynamic European capital," said Alexander Lahmer, managing director of Rosewood Vienna. "We are thrilled to open our doors to a distinctive hospitality experience in one of the world's greatest cities."
Naturally, we were eager to see whether Rosewood's first hotel in the German-speaking market would live up to expectations. Here, Elite Traveler takes a look inside.
[See also: Inside the Striking Rosewood Hong Kong]
Stay
Two local architecture firms – A2K and BEHF – were brought in to transform the neoclassical building, taking the utmost care to protect and preserve its heritage while stamping the property with the luxury hotel group's signature style.
Boasting 71 guest rooms and 28 suites spread across seven floors, the accommodation at Rosewood Vienna is stylish yet laid-back. Waterworth has effortlessly mixed modern and historic details to create cozy interiors that nod to the building's past.
Each uniquely designed room features a neutral color palette and is thoughtfully decorated with handcrafted brass wall light fixtures that are inspired by the edelweiss Austrian alpine flower.
The light-filled spaces are dotted with plush velvet chairs, bespoke furnishings and distinctive high-quality upholstery fabrics by Backhausen. All of the accommodations are adorned with beautiful illustrations, archival photography, and wall sculptures by leading international artists, and feature opulent marble bathrooms with generous soaking tubs.
Hoffman House – the 1,900-sq-ft presidential suite – is the most exclusive abode of all. Taking its name from the great Viennese Modernist architect Josef Hoffman, the spacious apartment boasts its own discrete private entrance, a sprawling eight-person dining room, and French balcony with breathtaking views of Petersplatz. For larger groups, Hoffman House can be connected with up to seven guest rooms.
[See also: Four Seasons to Open Historic Hotel in Venice]
Dine
When it comes to dining, guests are in for a treat. Up on the sixth floor is Neue Hoheit (New Highness) Brasserie, serving an array of European culinary delights that pay tribute to Vienna, alongside a killer wine list.
Guests can also choose to dine al fresco on The Garden Room's light, airy outdoor terrace. Afterward, finish the evening with a cocktail at the speakeasy-style rooftop bar on the seventh floor.
For something a bit more casual, head to Salon Aurelie on the first floor. The intimate 16-seat café is the perfect setting to while away an afternoon with a cup of coffee and a selection of delicious Viennese chocolates.
Relax
As you would expect from a Rosewood hotel, the new Vienna outpost also has a comprehensive wellness offering. Asaya Spa – which is set to open in September 2022 – extends over floors five and six of the property overlooking the dome of St Peter's church.
The expansive spa features four treatment rooms, a social suite, relaxation area, sauna, steam bath, and experience shower. Expert therapists are on hand to carry out a range of massages and facials, and there's a brand-new fitness center too.
Explore
When guests can bring themselves to step foot outside the hotel, there is an array of galleries, restaurants and museums to explore nearby.
Marvel at masterpieces by Egon Schiele, Oskar Kokoschka and Gustav Klimt at The Upper Belvedere Palace, and stop by at the Albertina Museum to pore over the impressive collection of prints and drawings on display.
Of course, a trip to Vienna would not be complete without visiting the Hofburg Imperial Palace and St. Peter's church, both of which are within walking distance.
Rosewood Vienna is currently accepting reservations. Rates start from €700 (approx. $737) per night. 
[See also: The Carlyle Unveils Remarkable Renovation]