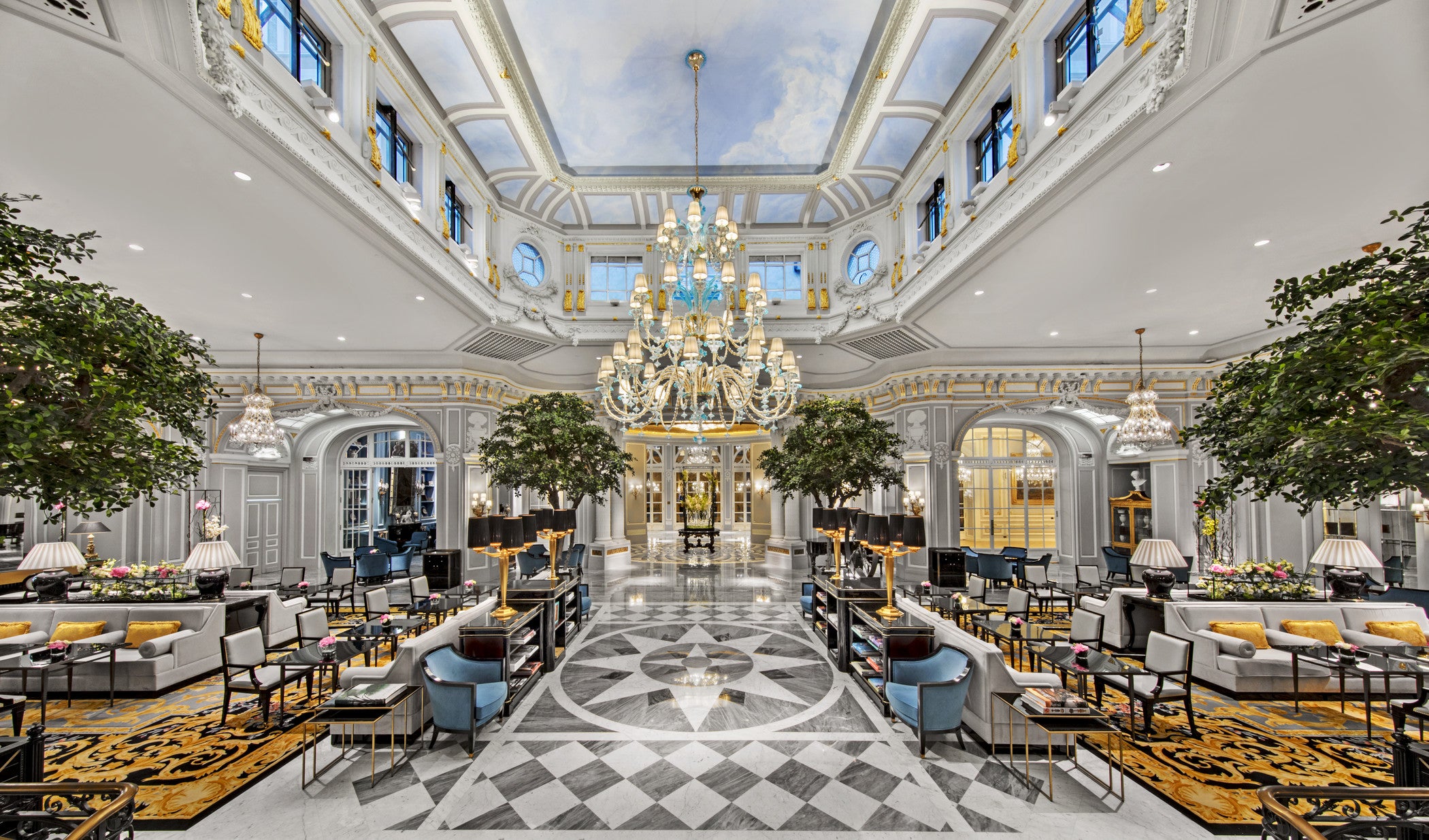 As one of the world's most historical cities and a hotspot for travelers from around the globe, it is no surprise that Rome boasts an impressive selection of luxurious accommodations that reflects the city's illustrious history. With opulent marble interiors, expansive rooftop terraces and impressive views aplenty, the best hotels and suites in Rome are befitting of the most discerning guests.
Nicknamed the Eternal City, Rome continues to impress and excite visitors, with the cobbled streets revealing new secrets upon each visit. From hidden churches and secluded gardens through to jawdropping architecture and sweeping views, Rome is a city of many facets – with an impressively grand hotel scene to match.
St. Regis Rome
Situated in one of the city's most iconic palazzos, the St. Regis Rome (pictured above) features the opulent architecture that has become synonymous with Italy's capital. Elaborate frescoes adorn the ceilings of both the Ritz ballroom and iconic staircase, with Murano chandeliers and a selection of gold accented furnishings throwing delicate light throughout each room.
As with the entire St. Regis portfolio, the hotel promises multiple fine dining offerings, including the eternally stylish champagne bar where guests can enjoy an aperitif in style. Those hoping to explore all Rome has to offer will be delighted to find that the city's iconic landmarks are just a short walk from the hotel's doors.
Top suite: The Royal Suite
St. Regis Rome's top suite offers a level of decadence usually only witnessed in royal palaces. Every whim is catered for in the Royal Suite, with a discreet private entrance, welcome champagne and a piano making up just a few of the suite's amenities.
Hotel de Russie
Just a stone's throw from the Spanish Steps and with a view over Piazza del Popolo, Hotel de Russie is situated in the beating heart of Rome. With 120 spacious rooms and suites, the hotel is the ideal setting for a romantic city break.
Hotel de Russie boasts a chic yet sophisticated interior, with each room tastefully littered with elegant soft furnishings, stylish sculptures and contemporary photography. Home to two restaurants offering a mix of classic Italian dishes and modern favorites, guests can dine al fresco in sublime Roman surroundings.
Those staying at Hotel de Russie can remain confident that they are experiencing the crème de la crème of what the city has to offer, with notable previous guests including Picasso and Stravinsky.
Top suite: Nijinsky Suite
Based on the hotel's top floor, the Presidential Nijinsky Suite occupies 1850 sq ft of interior space, with an impressive 2570 sq ft private terrace offering sublime views over the Eternal City. Aside from the expansive terrace, the Carrara marble bathroom, adorned with Bisazza mosaics, is the shining star of this luxurious suite. Nijinsky Suite guests can enjoy a host of additional amenities including a welcome bottle of Franciacorta and complimentary limousine use.
Hotel Hassler Roma
Overlooking the iconic Spanish Steps, Hotel Hassler Roma boasts one of the most coveted locations in the city. The hotel's 95 rooms feature a seamless blend of state-of-the-art conveniences with antique furnishings, creating an authentic yet stylish effect.
Hotel amenities include an idyllic spa and multiple fine dining options, including the Michelin-starred Imàgo, hailed as Rome's first panoramic restaurant. Consistently regarded as one of the best hotels in Rome, Hotel Hassler is the go-to for those wanting to experience the height of Italian luxury.
Top suite: Hassler Penthouse
Occupying over 3,550 sq ft of the hotel's top floor, including two panoramic terraces, the Hassler Penthouse offers unrivaled views across the city's sublime skyline.
With three bedrooms, walk-in closets, a kitchen and a master living space at their disposal, Hassler Penthouse guests will have ample space to entertain or simply appreciate a home-away-from-home environment. Guests can also enjoy free access to the hotel's five-star spa facilities.
Residenza Napoleone III
Undoubtedly one of Rome's most unique hotels, Residenza Napoleone III retains all the splendor of the 1800s, when it was home to Emperor Napoleon III. The history of the property is reflected in the décor, with the opulent furnishings including genuine heirlooms. Currently owned by Prince Pietro and Letizia Ruspoli, Residenza Napoleone III is situated within the 16th century Palazzo Ruspoli – which is every bit as royal as it sounds.
Comprised of just two exclusive suites, guests can enjoy complete privacy and seclusion in the heart of Rome. However, if you do find yourself in need, a concierge is on-hand to assist with restaurant bookings, museum tickets and chauffeured travel.
Top suite: Napoleone Suite
Whilst the boutique residence only offers two suites, it is the Napoleone Suite that is without a doubt the crowning jewel. Comprised of two reception rooms, one bedroom, a kitchen, bathroom and powder room, the suite provides a level of opulent luxury that you would be hard-pressed to find anywhere else in Rome.
Featuring authentic 16th century tapestries, striking oil paintings and hand-stenciled walls, the Napoleone Suite encapsulates the illustrious history that Rome is famed for. Guests can enjoy a grand king-size bed, as well as delight in a marble bathroom, hidden behind one of the suite's many oil paintings.
The Aleph
Combining high-tech amenities with classic décor, The Aleph offers the epitome of contemporary luxury. Situated within walking distance of the Spanish Steps, the Colosseum and the Trident shopping area, the hotel makes the perfect base from which to explore all that Rome has to offer.
Guests can also make use of the hotel's many facilities, including the complimentary spa, based in the hotel's historic basements, a rooftop swimming pool, as well as multiple bars and restaurants – don't miss out on the signature Aleph cocktail, which can be sampled at the Onyx Bar.
Top suite: Barberini Suite
Although not the largest of The Aleph's suites (that accolade goes to the Basilio Suite), the Barberini has the added draw of a private roof terrace, fully furnished for your comfort. Inside, guests will find a king bedroom, two bathrooms and a spacious living area, as well as host of luxurious extras including a pillow menu, complimentary mini-bar and Acqua di Parma toiletries.
J.K. Place Roma
With marble details, contemporary artwork and ornate sculptures tastefully littered throughout the hotel, guests would be forgiven for thinking they'd entered one of Rome's many museums. J.K. Place Roma's stunning interiors are a masterclass in combining sophisticated style with welcoming touches.
Set on an unassuming side street, J. K. Place offers a tranquil recluse from Rome's busy tourist traps, whilst remaining within walking distance of iconic sights such as the Trevi Fountain and the Pantheon. This boutique hotel also offers a number of beautiful spaces available to hire, ensuring that your next event is hosted in style.
Top suite: JKMaster Balcony Suite
Set across 540sq ft of the hotel's top floor, the JKMaster Balcony Suites are small but mighty. Enjoy a delicate breakfast on your private balcony overlooking the picturesque streets of Italy's capital to start your morning, and end a busy day of exploring with a soak in the luxurious Italian marble bathroom.
Rome Cavalieri
Home to La Pergola, Rome's first and only three Michelin star restaurant, Rome Cavalieri promises the height of luxury and excellence. Set back from the city center amid a lush oasis of greenery, the hotel offers mesmerizing vistas across Rome.
When not exploring the sights of the Eternal City, guests can make use of the enormous range of amenities on offer at Rome Cavalieri. With indoor and outdoor pools, marble-clad Roman baths and premium spa facilities and treatments, as well as a private park waiting to be explored, the hotel is not short of opportunities to truly relax.
Top suite: Planetarium Suite
The absolute pinnacle of decadence, Rome Cavalieri's Planetarium Suite truly lives up to its name, with out of this world views across the city, as well as a sliding glass ceiling opening to reveal the dazzling Roman sky.
Although the Planetarium is not the hotel's largest suite, the expansive private rooftop garden, complete with whirlpool, outdoor dining and sun loungers, makes it the shining star of the hotel's accommodation offerings. If these features didn't cement the suite as being the height of extravagance, the private gallery of Robert Indiana's pop art originals certainly does.
La Scelta di Goethe
Comprised of two comfortable yet impressively stylish suites, La Scelta di Goethe promises to be a grand home-away-from-home for travelers looking to explore the authentic side of Rome.
The one-bedroom Trinità dei Monti suite offers a romantic attic hideaway, complete with private library and rooftop hot tub with 360° views over the city skyline, making the perfect spot to enjoy a pre-dinner spritz. The suite's elegant bathroom boasts a hydro massage shower and Turkish bath, ensuring the height of relaxation.
Sleeping up to four people with one double and one twin bedroom, the Villa Medici suite is a spacious Roman retreat, with the magnificent dining space and tasteful living area making this suite the ideal base to host friends and family. The suite's balconies look down on the living streets below, giving a genuine taste of life in the Italian capital.
Top suite: Goethe's Home
Those looking for more space can opt to make use of the entirety of La Scelta di Goethe, combining both suites to create Goethe's Home. Occupying 2800sq ft over two floors with multiple outdoor spaces, the apartment has three bedrooms ensuring enough room for the whole family.
Hotel Eden
Fine dining and luxury accommodation work in perfect harmony in Rome, with many of the city's top restaurants calling one of the best hotels home — and Hotel Eden is no exception. The Michelin-starred La Terrazza sits at the top of the hotel, serving up exquisite dishes that wouldn't look out of place in a modern art gallery.
Embodying the warmth that Rome is famous for, Hotel Eden is the perfect hotel from which to explore the vibrant history of the city.
Top suite: Bellavista Penthouse Suite
Situated on the hotel's sixth floor, the 2,174sq ft Bellavista Penthouse Suite offers panoramic views across the city, with the floor-to-ceiling windows opening completely, allowing the incomparable beauty and atmosphere of Rome to fill your rooms.
The Bellavista's bathroom is the real star of the show, with a luxurious circular tub looking out over views of Rome. Opulent marble and intricate mosaics decorate the walls, with Bottega Veneta toiletries on hand for guests to indulge in.
Hotel de la Ville
With rooms born of a design collaboration between Olga Polizzi and Tommaso Ziffer, Hotel de la Ville is stylish yet classic, with more than just a dash of Italian charm. Sitting at the top of the Spanish Steps, the hotel is nestled in one of Rome's most coveted hotel destinations, just a short stroll from the city's iconic sights and attractions.
With a Sicilian-inspired spa, a collection of buzzing bars and restaurants and multiple terraces from which to absorb the city's unrivaled atmosphere, Hotel de la Ville guests can be confident they are experiencing the best of Rome.
Top suite: Suite de la Ville
With an expertly curated selection of antique and contemporary furniture and artwork, Suite de la Ville offers lavish luxury accommodation. With two expansive terraces offering enviable skyline views, as well as a spacious private dining area, the suite makes the perfect place to entertain — or just enjoy some privacy.
In addition to the in-room treats such as a welcome bottle of Franciacorta, Suite de la Ville guests will also have the exclusive opportunity to select a personalized experience of their choice, including a 60-minute massage for two or an Italian aperitif on your terrace, with a selection of delicious canapes.