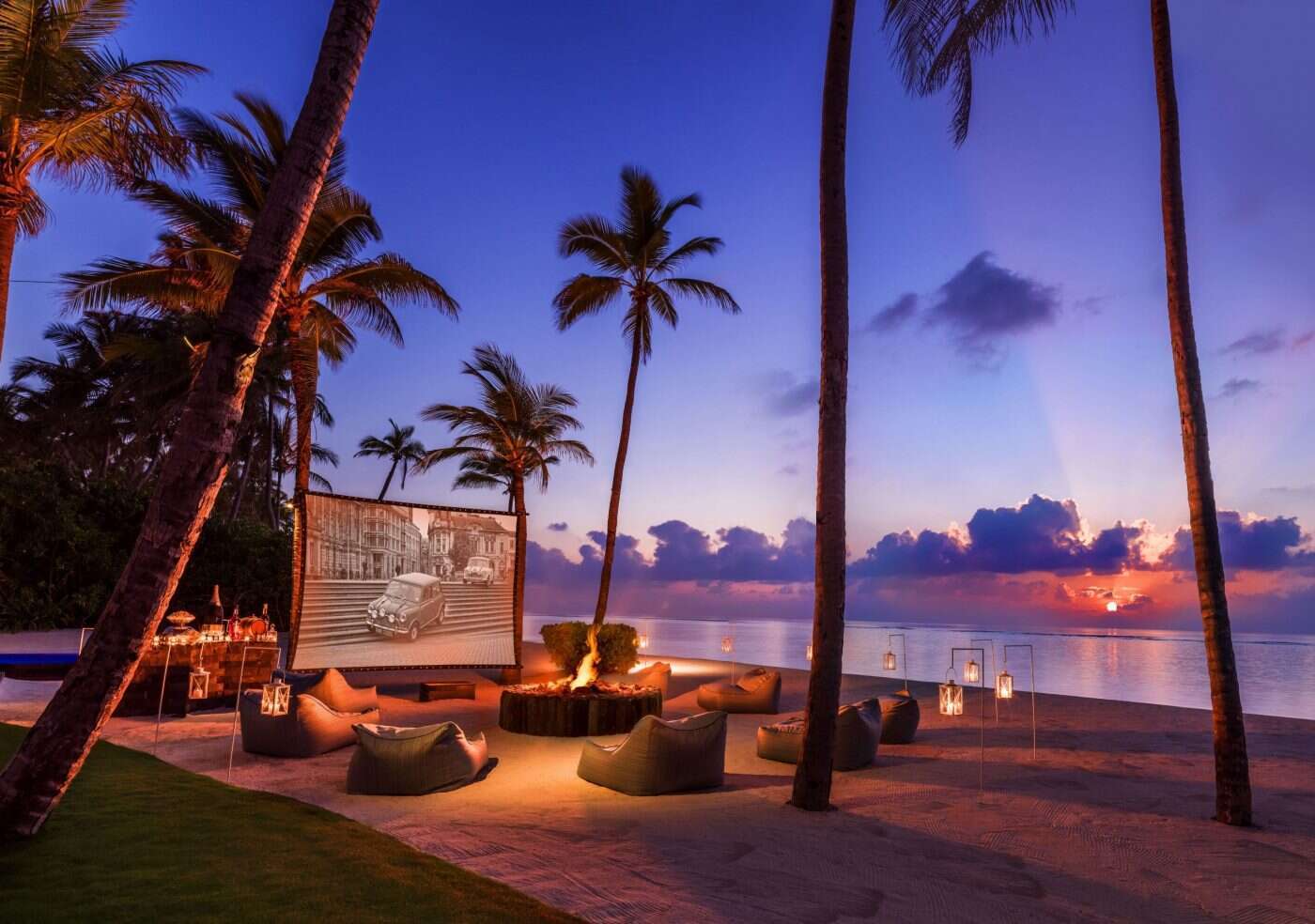 There's no denying that as each year passes, family travel gets a little bit more exciting. Not only are parents willing to take their kids to more far-flung and exotic locations around the globe, but children themselves, whether it be from what they've seen on television or on social media, are downright influencing the family's decisions on where to explore. The world's luxury hotels, resorts and even tour operators have clocked on to this trend and, as a result, have adapted and upped their family game to please all in the group, including mom and dad. From getting lost in the Scottish wilderness or luxuriating in a Parisian grand dame, to resetting batteries on a Californian beach escape or checking into a Rwandan eco-luxe resort hidden away in the mountains, Elite Traveler has hunted far and wide for our fair planet's best escapes (and the suites to book) to make your next family vacation even more memorable.
[See also: The Most Luxurious Eco-Friendly Hotels]
Four Seasons at Nevis
Nevis, The Caribbean
Sporty and ever-so family-friendly, the Four Seasons Resort Nevis is the upscale, attractive Caribbean beach escape you've all been yearning for. Set among the stellar white sands and super-clear waters of Pinney's Beach on Nevis's well-protected west coast, the 189-room retreat enjoys the perks of a central location without the massive crowds. It is très chic, with beautifully modern entrance halls, glitzy boulevards and a soaring lobby that feels more like a Broadway stage than it does a grand entrance hall. For families checking in, there are over 50 one- to seven-bedroom private retreats to choose from, all pairing the benefits of villa privacy with excellent hotel amenities. Spread out in one of the resort's six 'neighborhoods,' you'll find homey digs with comfortable indoor-outdoor living space, large entertainment areas, enormous kitchens and private pools.
Gourmands will love it here too — there are four restaurants to choose from that run on genuinely sustainable lines and champion locally sourced ingredients and produce. Signature dishes include whole grilled branzino, squid-ink pasta and the delectable pan-seared snapper. In terms of fun activities, the place is unrivaled: With 10 tennis courts, a mammoth golf course, a long, supremely well-kept and unspoiled beach, and a never-ending roster of daily events, you're more or less guaranteed to keep the entire crew happy for days on end. Lounge chairs, all nonmotorized water sports and communal games (think basketball and beach soccer) are complimentary.
There's an amazing spa hideout complete with restful pools and treatment cottages set among tropical gardens, where expert therapists show off Nevis's specialty, tailored wellness experiences (go for the 65-minute Nevisian Massage delivered with strokes that mimic the waves of the Caribbean Sea). As a family, go on a bespoke hiking excursion up in the mountains, add some spark to your beach day with a crab-hunting experience, or learn all about the island's adorable sea turtles, led by the international Sea Turtle Conservancy and the Nevis Turtle Group.
Family fun
Jump in a Jeep and whizz around the golf course on a monkey-spotting tour. Marvel at the resort's colorful botanicals and nab a family selfie with, as everyone hopes, a photobomb featuring one of the island's famous green vervet monkeys.
From $1,930 per night. Contact Ruby Garcia, resort manager, reservations.nev@fourseasons.com, +1 869 469 1111, fourseasons.com
The Fife Arms
Fife, Scotland, UK
There's nowhere else quite like the Fife Arms. Beautiful, authentic and with the seal of approval by none other than Her Majesty, Queen Elizabeth II, this expertly restored coaching inn in the remote Aberdeenshire highlands is the passion project of creative duo Iwan and Manuela Wirth, the Swiss couple behind gallery empire Hauser & Wirth. Here, extraordinary imagination sees art turned into an experience where every delight is in the details. The hotel houses more than 14,000 pieces of art and antiques, carefully curated throughout its main reception rooms, bedrooms, corridors and corners. There's Freud, a Picasso (yes, really) and a dramatic cuboid mural by Guillermo Kuitca on the walls of the Clunie Dining Room.
Aesthetic expectations are high, but Fife delivers, and effortlessly so. From William Morris to Timorous Beasties, interior designer Russell Sage aces lighthearted drama in every nook. The suites are just as wow-worthy. All the bedrooms are themed — 'Scottish Culture' (notable Scots), 'Nature and Poetry' (think twigs, tweed and Walter Scott) or charmingly simple 'Croft' rooms (with tongue and groove and cabin beds). Many double up as interconnected suites to keep the family group together at all times. When it comes to dinner, dress to impress with pre-dinner cocktails at Elsa's — named after Italian fashion designer Elsa Schiaparelli — before taking a seat in the Clunie Dining Room, where Scottish ingredients and wonderfully inventive flavors take center stage.
For low-key, post-family-exploring eats, book one of the scrubbed pine tables in The Flying Stag. The menu is hearty, and there's a special kid's menu, too. In terms of family fun, the Fife Arms is well prepared. A game room piled high with classic games, books, table football and a play kitchen will keep younger guests busy for hours. Outside the hotel, head out into the wild to uncover all the secrets of Scotland's native trees, woodlands and the animals that live in them, or travel back in time to see how the people of the past lived and worked in the remote glens surrounding your regal abode. For mom and dad? The Albamhor Spa for massages and bespoke treatments is where to head after your outdoor adventures.
Family fun
Learn the art of navigation in the wilderness with the Braemar Highland Experience. The hands-on course teaches the basics of map reading including the use of features, contours and grid references through the breathtaking landscape of Cairngorms National Park. Find treasure, amazing panoramas and Instagram-incredible sights on an adventure that will either bring you closer or be as testing as a festive get-together.
From $850 per night. Contact Federica Bertolini, general manager, reservations@thefifearms.com, +44 133 972 0202, thefifearms.com
[See also: Luxury Hotels Offering 'Schoolcation' Programs for Kids]
The Connaught
London, England
The Americans love it, the English admire it, and London's Instagram community can't get enough of it: There's no denying that The Connaught Hotel is one of the capital's most adored spots. Undeniably smart, the hotel hugs the corner of Carlos Place in Mayfair and is surrounded by high-end restaurants and swanky shops from Celine to Christian Louboutin and Goyard. Though it's one of London's most exclusive hotels, it's far from snobby or pretentious.
Old world meets the new, but not in a mish-mash way. Step inside and you'll see dark polished woods, shiny marble floors and pillars, and the solid-gold-leaf-gilded-mahogany staircase in the lobby, so beautiful that Ralph Lauren replicated the design in his New York flagship store. Corridors are lined with thousands of original artworks spanning Damien Hirst to Barbara Hepworth, and side cabinets and striking rooms show off fresh flowers by luxury florist McQueens. The restaurants are also ridiculously good. Three Michelin stars come courtesy of celebrated chef Hélène Darroze — dinner for adults at the namesake restaurant is a must — and Modern European fare gets its moment at Jean-Georges at The Connaught. If you want to just stuff yourself silly with cake, the newly opened Connaught Patisserie is stocked with sweet treats.
The best family space to book is, without question, The Mews. Highlights include your very own private entrance plus direct entrance into The Connaught, 24-hour private butler service, huge walk-in closets, vast open-plan living space complete with two fuel-effect fireplaces, grand piano, more coffee-table books than you can count (including a huge Hockney tome on an easel). There's also an option to interconnect with neighboring suites. What's in store for the kids? Their own bathrobes and slippers, endless books and board games, use of a Nintendo Wii and a choice of games and, of course, treats on arrival. If that's not enough, the hotel will also sort out all your daily activities, transportation, tickets for London shows, and attractions and long days out away from the Big Smoke.
Family fun
The Connaught has one of the best spas in the city, and you can take advantage of family-friendly swimming hours at the hotel's underground AMAN Spa. Kids can splash about for hours while mom and dad lounge — with book, paper, magazine and drink in hand.
The Mews from $14,000 per night. Contact Dani Degen, group director of revenue and reservations, signaturesuites@the-connaught.co.uk, +44 207 107 8945, the-connaught.co.uk
Plaza Athénée
Paris, France
Famously opulent, unabashedly ostentatious and boasting a fashion experience to please even the fussiest VIP, Plaza Athénée is a crash course in over-the-top luxury. Its geranium-filled facade — which has starred in numerous cover shoots and in Sex & the City — sits on the prestigious tree-lined Avenue Montaigne (home of Parisian haute couture) and is legendary the world over. Fashion houses Dior, Chanel, YSL, Louis Vuitton and more are your neighbors, along with the River Seine and Eiffel Tower, both within walking distance of the hotel. Few Parisian hotels rival its charming mix of French classicism meets Art Deco meets millennial modern convenience. A touch of Versailles style with a contemporary finish runs throughout, with polished white marble floors, glitzy immense chandeliers and opulent staircases.
The suites (many interconnecting) are, in a word, incroyable. The best are found on the top floors (avenue-side), decorated with portraits, period paneling, plush carpet and chandeliers, with a more modern Deco styling in some rooms. Balconies show off flawless Eiffel Tower views: The entire family will be left starry-eyed by the endless light shows that the iconic landmark displays into the early hours and, come the morning, unruly Instagram-obsessed teens will love 'grammin' their breakfasts for hours on end. The Royal Suite will please with its four bedrooms, four bathrooms, two drawing rooms, office, kitchen, classic design and dramatic panoramas over the city of Paris.
Extra family time comes in the form of some very luxe dining. Alain Ducasse au Plaza Athénée is the glamorous gastronomic hangout: Breakfast, lunch and dinner are served here under the ethos of a no-meat, 'fish-vegetables-cereal trilogy.' The food is unexpected, adventurous and, unsurprisingly, delicious. Afternoon tea is dished out in the handsome gallery and leafy courtyard, best enjoyed after a treatment in the flashy Dior spa. Expert facials yield noticeable results, and the comprehensive fitness suite — personal trainer included — is worth an early wake-up call. Younger children are treated to toys and games on arrival, and the concierge team can arrange family-friendly excursions at your request.
Family fun
Go all out and dine at the hotel's Le Relais Plaza. This historic mainstay was a favorite of Yves Saint Laurent and his circle, and adored for its original Deco features as well as its theatrical service. The Paris set often descends on the place, so expect to see tables filled with a who's who of the city feasting on brasserie fare, from king crab to a dishy sole meunière. The must-eat? Anything featuring the word oyster.
Royal Suite from $29,123 per night. Contact Louise Prevost, director of guest relations, reservations.hpa@dorchestercollection.com, +33 153 676 667, dorchestercollection.com
[See also: The Best Hotel Suites for Business Trips in the World]
Scarp Ridge Lodge
Crested Butte, Colorado, USA
This flagship spot of adventure specialists Eleven Experiences is out of this world. Cozy yet effortlessly slick, the Crested Butte-located (hailed by many as the mountain-biking mecca) exclusive lodge sits between a picture-perfect valley floor (made ever more enchanting by a series of twisting rivers), magical woods and the star attraction, Crested Butte Mountain itself. Back in the day, the hotel was the go-to spot for Butte's vast swathe of mine workers, nods to which you will spot throughout the Wild West saloon-style space.
Inside its aquamarine exterior, soothing palettes of stone, pale greens and earthy textures run through the house's beautiful mezzanine, cozy cinema and guest rooms. The bedrooms are dreamy, decorated with heavy curtains, gargantuan cushions, brilliantly upholstered headboards, and bathrooms with shiny tiles and tubs with on-trend chrome fixtures. The rustic boudoir walls hang with moose heads, elk horns, smile-inducing pressed flowers and portraits, which all complement Scarp Ridge Lodges's home-away-from-home vibe.
Families should book the seven-bunk children's rooms with an adjoining nanny room known as Peanut. Wrought iron ladders and railings keep the little ones safe, and some of the room's sofas convert into beds so the house can be packed with people. Another bonus is that the entire house is available on a buyout basis in the winter months, so all the above — plus five extra suites — are yours for as long as your ménage desires. The open-plan kitchen forms the culinary heart of the mountain retreat, where breakfast spreads featuring daily specials and continental favorites are served. Lunches are packed for days on the slopes, dinners in-house are prepared on request, and suggestions on where to dine out will be given by the exemplary staff members, one of whom is dedicated to you for your entire stay. Winter adrenaline comes in the form of cross-country, piste, backcountry and cat skiing, and ice climbing; and in the warmer months, you can work off energy with fly fishing, long hikes, mountain biking, kayaking, whitewater rafting and 14er climbing.
Family fun
Eleven Experience's defining mantra is bespoke travel. Scarp Ridge Lodge offers families, perhaps, the most exclusive ski experience in the world, where you can hit 1,000+ acres of ski terrain in nearby Irwin, Colorado. Stay in one of Eleven's mountain chalets for a few days and revel in the joys of untouched cold-smoke powder without another person in sight.
From $16,600 per night for exclusive use in winter with a two-night minimum. Contact reservations team, reservations@elevenexperience.com, +1 970 349 7761, elevenexperience.com
One&Only Reethi Rah
The Maldives
Paradisiacal island escapes don't come any better than those in the Maldives, especially One&Only Reethi Rah. A favorite among honeymooners and Hollywood types, the luxury resort scatters exactly 122 thatched-roof villas along the 12 stunning beaches that make up the palm-fringed, 109-acre castaway island. It's unapologetically decadent, with design influences from Maldivian, Chinese and Balinese architecture. The glorious Jean-Michel Gathy hideaways come in all shapes and sizes, like beachside villas made for easy access to snorkeling and lazy afternoons spent on the hammock, and overwater stunners complete with infinity pool and cabana bed for perpetual star gazing. Both setups are styled in wood and natural stone, crowned by vaulted ceilings that stretch over elegant furniture and sunken baths. The must-book suite? The Grand Sunset Residence. Often enjoyed by a string of celebrities including Tom Cruise, the Beckhams and chef Gordon Ramsay, the two villas feature absolutely gargantuan beds, connecting rooms and a whopping 538-sq-ft infinity pool that leads out to your own stretch of private beach and outdoor cinema.
When it comes to dining, there's an exceptional and almost intimidating level of choice. Romantics should head for Botanica, a lantern-lit affair plating up garden-to-table cuisine; Tapasake is a connoisseur in all things modern, with Japanese tapas-style grub and great sunset views; and for afternoon tea served with a chill, Ibiza-like mood, a table at The Fanditha Bar has your name written all over it.
Children of all ages are well looked after in this part of the world, ranging from 'KidsOnly' (ages four to nine) — think a cute pool lined with child-sized lounge chairs; 'OneTribe' (ages nine to 11), for a 'chill-out zone' of gaming consoles and movie nights; and 'Teens' (12 and over) for tailored cooking experiences, extreme sports and downtime in the spa. Speaking of wellness, pampering for the entire family at the ESPA spa is a must. Massages, facials and five-day wellness programs continue to draw in the crowds (even locals from other islands show up), along with the spa's tranquil gardens that make for a wonderfully calming spot to chill and detox. A splash in the vitality pool and time in the sauna and crystal steam room are also well worth your time.
Family fun
When you're in the Maldives it's all about getting up-close-and-personal with the cerulean waters. Uncover all the secrets of the Indian Ocean at the resort's top-notch dive center, or book exhilarating snorkeling trips such as Shark Safari and Turtle Adventure, or dive excursions to explore the underwater marine life.
The Grand Sunset Residence from$27,636 per night. Contact Jan Tibaldi, generalmanager, reservations@oneandonlyreethirah.com, +960 664 8800, oneandonlyreethirah.com
[See also: A Luxury Guide to Island-Hopping in The Maldives]
Hotel del Coronado
San Diego, California, USA
It was the hotel that provided the backdrop for Marilyn Monroe in Some Like It Hot, and it has played host to numerous famous faces over the years, including those of Barack Obama, Ginger Rogers, Katharine Hepburn and Madonna; to put it simply, Hotel del Coronado is unquestionably one of the most prestigious spots in America. Originally built as a beach house, today it's a National Historic Landmark and one of the few remaining all-wooden Victorian coastal resorts in the US. Architecturally, Hotel del Coronado is as unique as they come: Shades of glossy mahogany, crown-shaped chandeliers and, of course, the signature red-roofed turrets make it instantly recognizable.
The most luxurious rooms are found at the Beach Village, which is made up of residential cottages and villas with fireplaces, marble bathrooms and private patios. The suites also feature gourmet kitchens and living rooms, some with outdoor soaking tubs or fire pits. Book the Oceanfront Cottage Horizon Suite for supreme beach views and exclusive amenities, from personal concierge service to private access to the beachfront eatery and in-suite spa therapies. Outstanding dining is a huge draw at The Del. No less than seven restaurants currently call the hotel home: Sheerwater is the hotel's terraced gem; ENO does great wood-fired pizzas; and brunch is served in the storied Crown Room.
Cocktails and mocktails are best enjoyed at Sun Deck, light bites at Babcock & Story, and for juicy fish tacos, there's the Taco Shack. On your last night, Serea is the fine dining option you cannot say no to; it's adored by locals for its upscale, super-tasty and sustainably caught seafood. Right now, unique kid-friendly services are in demand, especially in the time of borders being shut due to Covid-19. Families longing for a break between terms can enroll their kids in some long-distance learning at The Del that will see kids of all ages studying poolside from the comfort of your suite. After hours of learning, children and teens can de-stress with beachfront fitness classes and, come the weekend, the hotel can arrange tailored and private family field trips to the San Diego Zoo & Safari Park.
Family fun
Outrageously good bonfires on the pristine white sand beach have long been a favorite tradition at The Del. At sunset, roast s'mores with family and friends in the glow of your very own private fire pit. Dinner, endless drinks and hundreds of photos and fun-filled memories are all part of the deal.
Oceanfront Cottage Horizon Suite from $2,259 per night. Contact Krista Clayton, director of Beach Village operations, delreservations@hoteldel.com, +1 800 468 3533, hoteldel.com
Singita Kwitonda Lodge, Kataza House
Volcanoes National Park, Rwanda
Close-knit and just a little bit more intimate than its safari neighbors, Singita Kwitonda nails sustainable luxury. In true Singita style, the lodge was born out of the defining pillars of the brand: luxe design intertwined with the landscape, its culture and its people — an ethos admired so much that Paul Kagame, the president, personally invited the company to invest here. Overlooking lush meadows and the Sabyinyo, Gahinga andMuhabura volcanoes of Volcanoes National Park, the entire complex was designed using local materials with buildings hewn from volcanic rock, river stone, handmade ceramic tiles and oven-red clay bricks crafted by the surrounding communities.
The eight family-friendly dwellings are bold in design, blitzed in molten lava colors and a mix of textures curated to spotlight these handcrafted, artisanal details, but for families looking for a truly unforgettable experience, check in to Singita's fabulous Kataza House. The exclusive villa is set right on the edge of the National Park and is within easy reach of its elusive silverback gorillas. It has two spacious suites: a junior master suite and a lavish master suite, along with a two-bedroom staff residence, plus a wine cellar, fitness center, cinema, massage treatment room, interactive kitchen, two heated plunge pools and a roaring fire pit. Bathrooms are framed by floor-to-ceiling timber windows that welcome the breathtaking scenery, and there are also dozens of extra touches to praise, from scented candles and aromatherapy oil burners to woody incense sticks and organic bath products.
Kids are well looked after with tailored activities designed to suit their interests, including cooking classes, crash courses in Rwanda's arts and crafts scene, tours of the Akarabo Nursery (Singita's on-site nursery is home to hundreds of thousands of newly planted trees), birding, cycling expeditions and, if the kids are 12 or over, golden monkey treks in the wilderness. Food and drink offerings are truly flexible, so order what you want, whenever you want it. Less is more sums up the plant-based farm-to-table Rwandan small plates and bowls that make up the menus, and there's a deli fridge in the lodge bar perfect for snacking at your leisure. Dinners must be paired with Singita's legendary wine list.
Family fun
Gorilla trekking, naturally. It's reserved for teens 15 and up (younger children are well looked after in the nursery) so keep this in mind before you book a stay here. For those who have never done it, seeing the gorillas in their natural habitat for the first time is an introspective, deeply personal experience, and one that will create long-lasting memories for years to come. Pack your camera and extra tissues because it's emotional, in a good way.
Singita Kataza House from $6,877 per night. Contact Lydia Nzayo, general manager, enquiries@singita.com, +27 216 833 424, singita.com
Belmond El Encanto
Santa Barbara, California, USA
Belmond has led the way in pulling out all the stops for years, and this Santa Barbara jewel replete with winding pathways, charming bungalows and glittering views of the Pacific is, perhaps, one of the brand's greatest assets. Like the Inn at Rancho Santa Fe or La Valencia in San Diego, Belmond El Encanto is one of those great old California hotels that oozes history throughout: FDR and Clark Gable stayed here in their heydays, and Hollywood's A-List still escape to its dramatic hilltop. The first thing you see as you enter the property is the ocean stretching for an eternity beyond the restaurant terrace. The resort has country club vibes, yet is still relaxed and not at all stuffy.
Stylistically, it's on the traditional side with modern touches — a cascade of butterflies covers one wall in homage to the hotel's location on the butterfly migration path. There is an envy-inducing infinity pool overlooking lush landscaped gardens and a lily pond, which is home to local turtles. There are precisely 92 rooms and suites here, but staying in style in one of El Encanto's cottages is ideal for families. Two-, three- and four-bedroom chic shacks, dressed in creams, pale greens and all shades of beige, are yours to play with. The Pacific mountainscapes are a real draw, along with bathrooms decorated in rich marbles, with spacious tubs and separate shower rooms. The prim lawn, outdoor dining space and charming porch gives the cottage that extra special dose of Hollywood glam, too.
Though you are welcome to enjoy seafood-centric fare in the hotel restaurant, all your food (breakfast, lunch, dinner and 24-hour snacks) can be brought to and prepared in the comfort of your home-away-from-home at your leisure. Family experiences range from alfresco picnics packed with fresh fruit and artisanal cheeses to California salads, grain bowls and gourmet sandwiches. Movie nights star freshly popped truffle popcorn and a ridiculous amount of candy under the celestial glow of MotherNature. Elsewhere, there's a well-equipped gym, rally-ready tennis court, premier spa (the signature Himalayan salt body scrub is a must), and a hammam and steam room to detox in before your California dream comes to an end.
Family fun
Enjoy a private tour of Santa Barbara Harbor's Saturday morning fish market, where you will all meet with the city's fisherfolk and select fresh catches for your bespoke five-course lunch and wine pairing. Then, board your private 50′ Catalina Yacht, expertly helmed by Santa Barbara Sailing, for a leisurely sail along the coast for the rest of the afternoon.
Four-bedroom cottages from $3,295 per night. Contact Janis Clapoff, general manager, reservations.ele@belmond.com, +1 800 393 5315, belmond.com