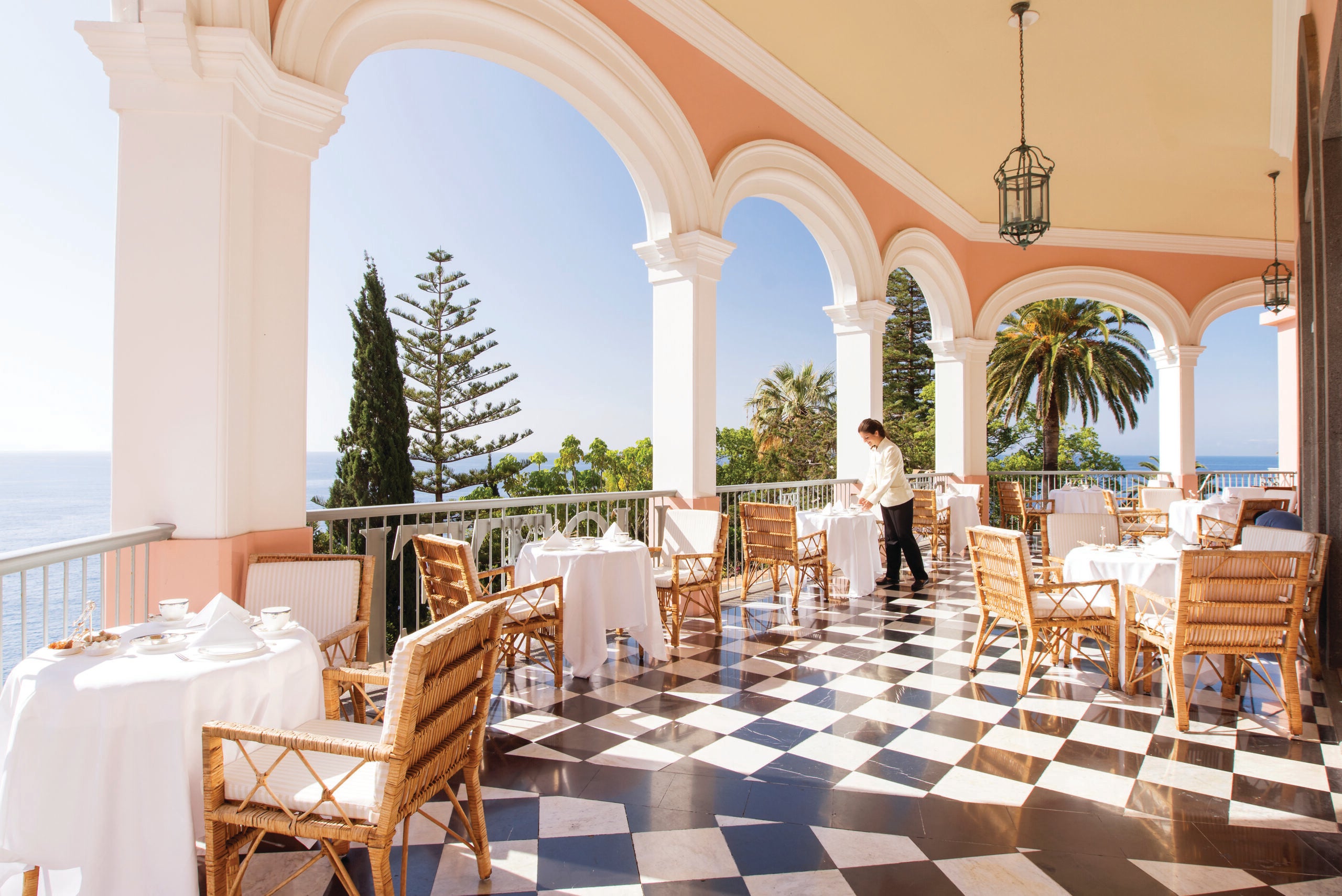 The archipelago of Madeira, Portugal, has bewitched travelers and tourists since the classical era, in which Plutarch referred to heavenly Atlantic islands that sailors called the "Isles of the Blessed". Today, Madeira remains just as intoxicating, an idyllic island experience only enhanced by the offering of luxury hotels in Madeira.
Seemingly frozen in a bygone era, visiting Madeira can feel like taking a step back in time, a sentiment the hotels are all to happy to lean into. Exuding old-world charm and classical elegance, these hotels remain loyal to the island's historic glamor, while also adding a touch of modern luxury for the 21st century.
Being situated just off the coast of Morocco ensures that Madeira enjoys a sub-tropical climate, making it an excellent vacation spot year-round. These delightful temperatures also render the island bountiful for wine-growing, an experience hotels are all too happy to arrange. Between the sun-soaking and wine tasting, enjoy Madeira's awe-inspiring landscape; the island's dormant volcanic status includes a wonderful touch of drama to the scenery.
[See also: A Long Weekend Guide to the Aeolian Islands]
Savoy Palace Hotel
With its vast ocean views, decidedly chic interiors (thanks to local designer Nini Andrade Silva) and sumptuous accommodations, the Savoy Palace is easily one of Madeira's best luxury hotels. Acting as the flagship of the Savoy Signature Collection, the Savoy Palace opened in 2020 on the same site as its namesake: the iconic Savoy Classic, which dated back to 1912. The new hotel drew inspiration from the old-world glamour of its predecessor, but with a distinctly modern edge.
Savoy Palace's 2,691-sq-ft Rooftop Presidential Suite is undoubtedly the hotel's star. Exclusively designed by Silva, the suite boasts a private pool, marble-clad bathroom with gold fixtures, grand piano and an in-room sauna and Turkish bath, as well 27/4 support from the hotel's dedicated personal assistant service.
Amenities are plentiful at the Savoy Palace, with multiple swimming pools (including a saltwater pool), direct sea access, several restaurants and bars and a state-of-the-art spa all on offer. To end the day in style, head to the exclusive adults-only rooftop lounge area, which boasts a cocktail bar, infinity pool, Jacuzzi and of course, some of the best views on Madeira.
Presidential Suite from $6,107 per night, savoysignature.com
Reid's Palace, A Belmond Hotel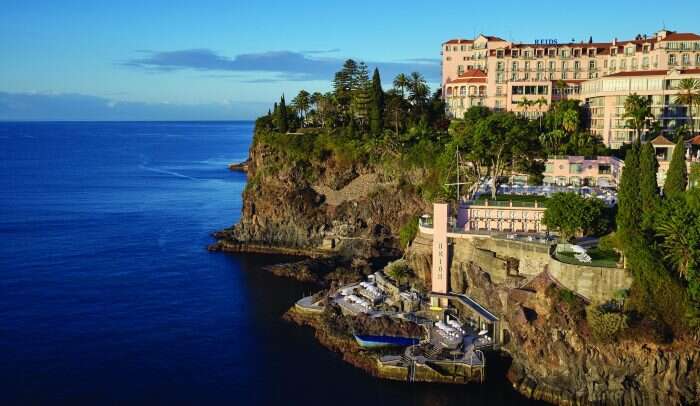 Sitting atop a cliff edge jutting out into the ocean, Reid's Palace, A Belmond Hotel surely occupies one of the best spots in Madeira. Designed to emulate the old English look that is so common throughout the region, the sugar-pink Reid's Palace is surrounded by verdant greenery with a series of pools and terraces tucked into the descending rockface.
Whether you want to while away the day poolside, try out the terraced spa, enjoy a Madeira wine tasting or venture out to the Atlantic Ocean, Reid's Palace truly shows the best of this magical island. Gourmands will be delighted to hear that the dining at Reid's Palace is some of the best in Madeira. From the Michelin-starred William Restaurant and the authentically Italian Ristorante Villa Cipriani to the glitzy gastro bar and traditional afternoon tea service, the hotel offers something for all tastes.
Of Reid's Palace's 158 rooms, it is the two presidential suites that cannot be missed. Named after two of the former hotel's most esteemed guests, the Winston Churchill and George Bernard Shaw suites combine the traditional styles of Madeira with modern amenities. Think rich wooden furniture, lofty ceilings and hand-painted ornate wallpapers.
Presidential Suites from $2,028, belmond.com
[Caribbean Dreaming: A Luxury Guide to Barbados]
Estalagem Quinta da Casa Branca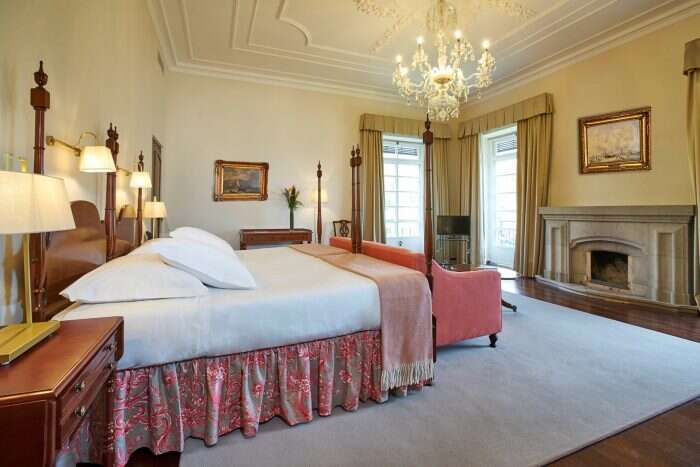 Surrounded by sprawling yet perfectly manicured sub-tropical gardens, Hotel Quinta da Casa Branca is an elegant retreat, tucked away from the bustle of Funchal's town center. Guests have the choice between a luxurious suite in the historic Manor House and a contemporary room in the modern wing where, if you opt for a Deluxe Suite, you can enjoy a private whirlpool. On the other hand, the Manor House offers traditional Madeiran style, with antique furniture, stone fireplaces and marble bathrooms, with the addition of modern luxuries such as Nespresso coffee machines.
The Manor House's style is continued into the formal Dining Room restaurant, where inventive gastronomic cuisine is served. For a more relaxed experience, opt to take dinner on the adjoining terrace overlooking the pristine gardens.
The tranquility of the surrounding garden has also overspilled into Quinta da Casa Branca's wellness offering, with the hotel's adult-only spa drawing inspiration from the natural world to offer a series of relaxing massages, facials and restorative rituals: this really is R&R at its finest.
Deluxe suites from $415 per night, quintacasabranca.com
Les Suites at The Cliff Bay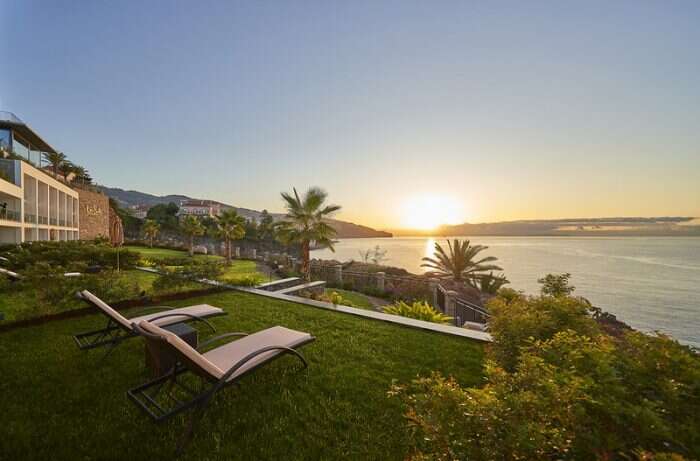 With just 23 suites spread across two stately houses and a glass-fronted modern wing, Les Suites at Cliff Bay is one of the most exclusive luxury hotels in Madeira. The three buildings are separated by manicured gardens, sunbathing spots and an infinity pool – all of which offer mesmerizing views across the ocean – for a serene island retreat.
For the most luxurious stay Les Suites at Cliff Bay has to offer, book the Master Suite. The two-bedroom accommodation overlooks the hotel's lush greenery with wide views of Funchal Bay from its full-width balcony. Inside, the interiors are subtle but stylish, with the calm neutral color scheme allowing the outside vibrancy to take center stage. The Greek marble-clad bathroom with its windowfront tub is another highlight.
In addition to Les Suites at Cliff Bay's own exclusive amenities, hotel guests will have full access to the neighboring Cliff Bay hotel, which offers multiple swimming pools, an indulgent spa and world-class restaurants – including the two-Michelin star Il Gallo d'Oro. Both hotels also offer direct access to the ocean, where guests enjoy a refreshing dip or even try out snorkeling to discover the below-surface magic.
Master Suite from $914 per night, portobay.com
[See also:Ibiza Gran Hotel Announces New Experiences for May Reopening]
Casa Velha do Palheiro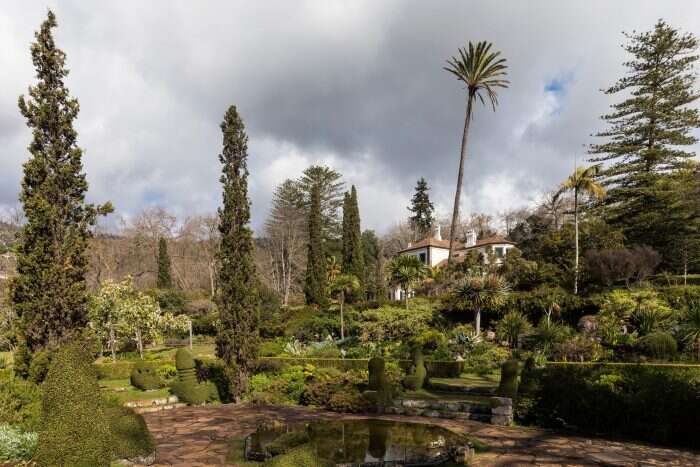 Sat within the 297-acre Palheiro Nature Estate, Casa Velha do Palheiro occupies a sensitively restored 18th century hunting lodge. Although it has now been elevated to more contemporary standards, the hotel still retains its traditional elegance – and as a Relais & Châteaux property, an added level of luxury comes as standard.
Despite being just a short distance from Funchal's busy town center, the atmosphere at Velha do Palheiro is decidedly calming. Guests are actively encouraged to wind down, relax and indulge in being surrounded by nature. In fact, the only noise you're likely to hear at this laidback retreat is the chirps of birdsong.
With the impressive estate housing a full-size championship golf course, comprehensive spa facilities with indoor and outdoor swimming pools, an all-weather tennis court, a croquet lawn and an abundance of wild nature trails and an award-winning garden to explore, you're unlikely to find any need to leave – except maybe to visit the hotel's own sports fishing yacht, which sits in Funchal marina.
Senior suites from $421 per night, palheironatureestate.com
Quintinha De Sao Joao
Traditional hotels that evoke classic English charm are a recurring trend in Madeira; Quintinha De Sao Joao is no exception. However, don't let the somewhat kitsch interiors fool you – this hotel offers the unrivaled comfort, impeccable service and first-class amenities that you would expect of any five-star destination. The hotel's interiors draw on local crafts, such as embroidered linens and carved wooden furnishings, to create an authentic feel, while outside you will find a serene and well-tended garden to explore.
Quintinha De Sao Joao makes expert use of the island's moderate climate and lush foliage, with one outdoor freshwater pool and – for when the weather is not as favorable – a glass-roofed indoor swimming pool with views out to the sea. The hotel's other amenities are plentiful, with a unique Goan-inspired restaurant open to all guests, as well as an organic spa with a full menu of healing treatments. The hotel team is incredibly attentive and is on hand before and during your stay to help craft a magical Madeiran vacation.
From $200 per night, quintinhasaojoao.com
[See also: The Most Anticipated Hotel Openings of 2023]