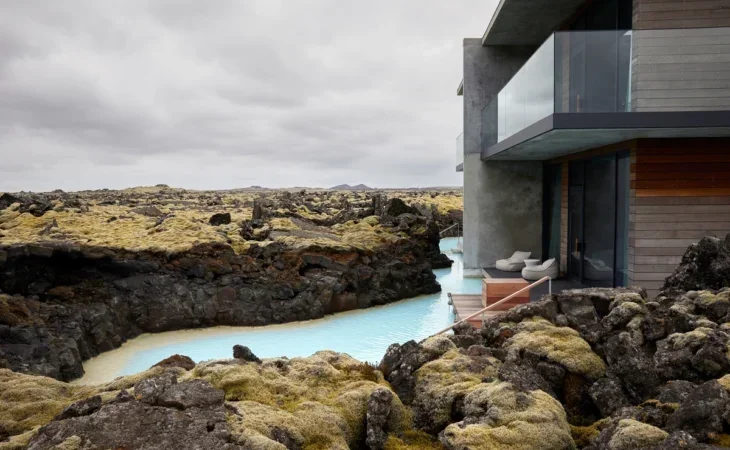 In my junior suite at Iceland's The Retreat at Blue Lagoon, which overlooks an eternity of inky-hued, 800-year-old lava fields peppered with milky-blue snippets of lagoon and carpets of spongy moss, I take the best shower of my life. Normally, I'm a bath person, and, in fact the tub, a Halo by Blu Bathworks gem, positioned to command the floor-to-ceiling window's views, hedonistically deep and gorgeously hewed, is just the sort that tempts me.
But, this shower, custom made to allow massive water flow and said to be amongst the most powerful showers in the industry, steals my heart. Beneath its velvety, supremely spacious geothermal heated outflow, the last bit of my residual stress goes right down the drain. "Be like water," I say aloud, repeating Bruce Lee's oft-quoted advice, becoming one with this healing water-based destination, where H20 defines the experience.
Despite the grandeur of my room—a moan-worthy design blend of Scandinavian understated luxury and Italian high-quality craftsmanship, all infused with a dose of Icelandic storytelling and loads of landscape references—I don't spend much time in my suite. That's because The Retreat's other virtues lure me away from my sanctum.
[See also: The Top Spa Suites for a Wellness Getaway]
Poised on a private inlet adjacent to Iceland's storied Blue Lagoon, a noted "Wonder of the World," The Retreat, its sister establishment, opened in 2018 to offer a more exclusive and tranquil stay for visitors wishing to bathe in the curative waters. With its own undulating lagoons and nooks; a transcendent, immense subterranean spa; an astonishingly serene yoga studio; three restaurants; a lava walled wine cellar; eco-conscious pathways through the lava fields; VIP entrance to the public lagoon; and stellar staff, this wellness hotel cannot be compared to any other place on earth.
Sustainability
Guided by the concept of "harmony not contrast," the Retreat, like the Blue Lagoon, was assiduously hewed into the lava flow with great effort not to disturb the terrain. Here, in the 1970s, deep-sea drilling beneath the lava-carpeted earth left behind mineral, silica and algae-rich reservoirs, which scientists soon discovered benefited ailments of the skin (particularly psoriasis), as well as rebuilding collagen, aiding hydration and boosting overall wellbeing.
Today, the Blue Lagoon and The Retreat's manmade lagoons beckon, naturally re-filled by the geothermal seawater process. Architecturally designed to be of the land and constructed with green production standards and clean materials, The Retreat uses only geothermal energy for its electricity, heating and hot water. LED lighting is set to track natural circadian rhythms, while ubiquitous floor-to-ceiling window walls suffuse every room of the hotel with natural light.
Restaurants, with menus drawn from the locale, use locally supplied products and work with farms and greenhouses powered by geothermal efforts. Even the eco-friendly Blue Lagoon Skincare lines, made by a team of scientists known for their groundbreaking work in CO2 recycling, use harvested and cultivated healing algae, as well as collected silica and lava from the surrounding fields.
[See also: The Best Wellness Retreats in the US]
The Stay
Located on Iceland's evocative Reykjanes Peninsula, just twenty minutes from Keflavik Airport, The Retreat can either be a bookend grand finale to a trip further afield in Iceland or be a place to base for visiting the many sites and activities near Reykjavik, including riding Iceland's unique furry horses, seeing South Iceland's glaciers and waterfalls, whale watching, and more.
Despite being awestruck by the dramatic beauty of the island nation, most of those who check into The Retreat find they want to linger forever. Inclusive of breakfast, afternoon coffee, activities such as yoga and entrance into the spa and the lagoons, the hotel experience consists of submerging in the warm, mineral-rich water, padding about the premises in the regulation bathrobe and slippers, taking advantage of the spa, and planting yourself on your suite's expansive terrace to commune with the terrain.
Within seconds of arriving, the frenzied pace of your real life slows down to a delicious crawl. The soul flame re-ignites, muscles relax and energy returns. It's like finding the meaning of life in a hotel stay.
[See also: The Best Hotels to See the Northern Lights]
The Rooms
Though I imagine you may not spend as much time as you'd like in your room due to other temptations, the suites could easily serve as a destination in themselves. Able to prolong the blissful feeling soaking in the water provides, they are sanctums of pampering inspired by nature.
Spacious, with window walls that bring the outdoors in, the 62 suites feature the aforementioned super shower and separate tub, the most comfortable bed (Jensen mattress and Quagliotto bed linens), jaw-dropping Italian bespoke furnishings by Design Group Italia, and Icelandic art (including a folkloric cape in the closet to don while watching the Northern Lights).
The top hideaway, the bedazzling bi-level Blue Lagoon Suite encompasses an artful 2,500-sq-ft, has its own private lagoon, a separate entrance, riveting vistas, a personal spa (replete with sauna, steam and Blue Lagoon ritual products), a kitchen and two bedrooms.
The Food
The Retreat features three restaurants. Lava highlights local cuisine in a fine-dining format with views of the lagoon; epicurean-focused, Michelin-recommended Moss, with nightly prix fixe menus (one vegan), creatively re-interprets regional fare (oh! The artistry and whimsy!); and the Spa Restaurant, where chic people wearing bathrobes go to nosh on salads, sushi, buratta and such. I love breakfast, served in the lobby, a celebration of morning with fresh-baked breads, fresh-pressed juices, cheeses, meats and that creamy Icelandic skyr.
The Spa
The Retreat Spa reigns as a warren of self-care, mystical indulgence and prodigious unraveling. Created to transport, with subdued lighting, motion-detecting doors and lava-flanked walls, it leads guests, as if on a pathway to another realm to various lagoon portals—including the public one.
Seductively, it offers myriad enticements along the way—including a sauna, a lava spring room where water drips soothingly from the ceiling, a fire-filled space, a sweep of hanging nest chairs, a cold plunge pool and a lagoon area where water treatments happen. Sign up for the new Float Therapy, an intriguing, Watsu-like experience.
By far my most beloved spa moments happen in its nucleus, where three cave-like areas comprise "The Ritual" section. Here, follow a self-performed spa treatment that avails itself of The Retreat's most healing products in turns: the lava scrub (drawn from the terrain), a silica face and body mask, and a grand finale green algae slathering.
[See also: The Best Wellness Retreats in the UK]