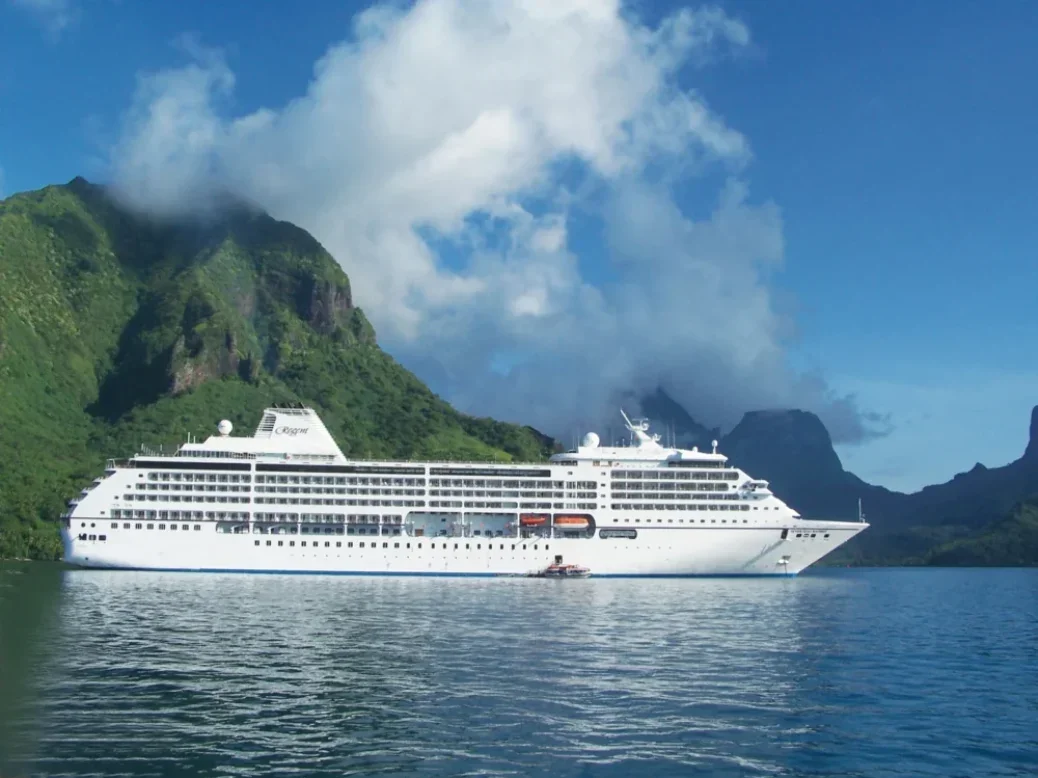 World leading luxury ocean cruise line Regent Seven Seas Cruises has just unveiled its longest ever World Cruise, boasting a remarkable and deeply thrilling adventure that spans 97 ports of call across 25 countries.
Covering 36,295 nautical miles over more than five months, the World Cruise – which will make its maiden voyage on January 7, 2025 – will embark from Miami, Florida to San Francisco, California, journeying destinations across South America, the South Pacific, Australia, New Zealand, Asia and Alaska. And if that doesn't sound quite enough, Regent Seven Seas Cruises also offers the option of an additional 18 nights of sailing, which will pass along the Mexican Riviera, visiting ports in Costa Rica, Colombia, and the Panama Canal.
"We know that our guests are looking for extended travel in exotic destinations, which is why we are incredibly excited to unveil the longest World Cruise in our 30-year history," said Jason Montague, president and chief executive officer of Regent Seven Seas Cruises. "Over 150 nights, travelers will not only experience the highest standards of service, cuisine and enrichment, plus enjoy a delightful array of luxury amenities, but they will also sail as far south as Antarctica, as far east as Asia and as far north as Alaska – all in one single, epic voyage as they sail Away in Wonder."
[See also: The Most Innovative Cruise Lines of the 21st Century]
With a remarkable 48 UNESCO World Heritage sites included within the journey – from the Historic Monuments of Ancient Kyoto of Osaka, Japan, to the Taputapuātea in Raiatea, French Polynesia – this is a cruise as committed to the thrill of travel as it is the delight of luxury.
Regent Seven Seas Cruises will also invite guests to a pre-cruise gala, followed by three shoreside events exclusive to the 2025 World Cruise taking place in Buenos Aires, Argentina, Auckland, New Zealand, and finally Bangkok, Thailand.
Regent's 2025 World Cruise includes first-class air, door-to-door luggage, a comprehensive visa package, onboard medical service, unlimited valet laundry including dry-cleaning and pressing, and more. Guests can also look forward to exceptional personalized service, including gourmet specialty restaurants, beautifully designed bars and lounges, spectacular entertainment, and unlimited WiFi.
Long-time purveyors of luxury and elegance within the travel industry, the cruise will be hosted on the ever-elegant Seven Seas Mariner, the world's first all-suite, all-balcony luxury cruise ship. Exuding sophistication and wondrously spacious, the contemporary interior décor features Italian marble, crystal chandeliers and modern artwork.
Fares for the 150-night sailing start at $86,999 per guest for a Deluxe Veranda Suite, and $249,999 per guest for the luxury of a Master Suite. Guests can pre-register their interest in the 2025 World Cruise from June 1, 2022.