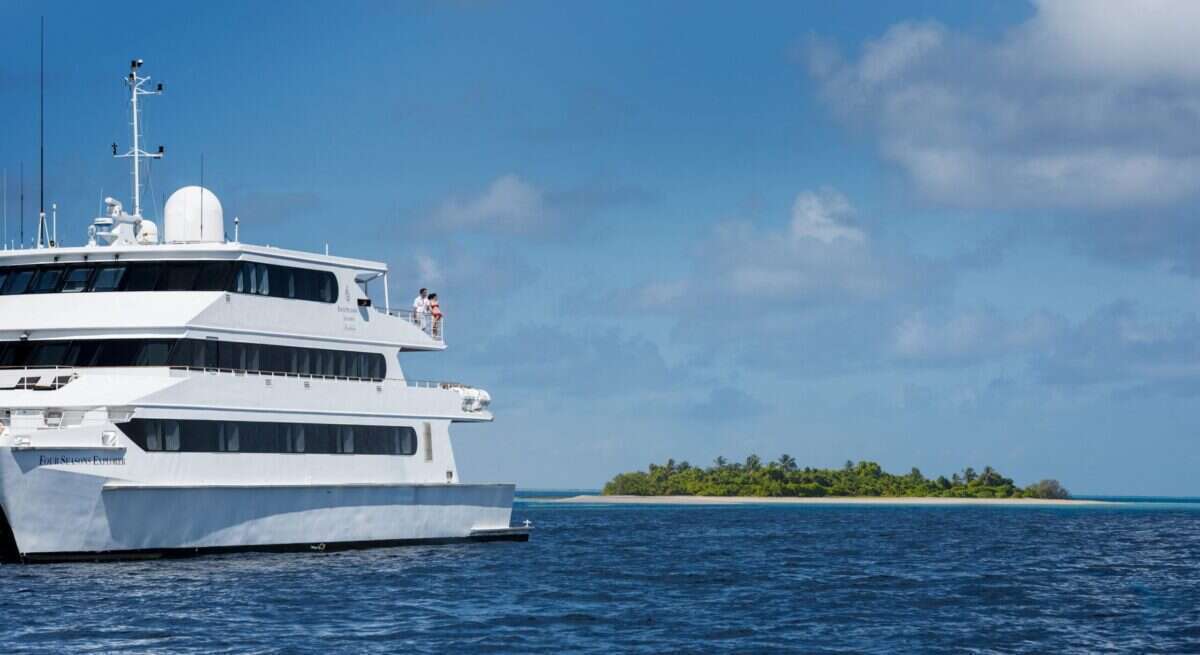 Roman poets and philosophers felt most connected to their surroundings (and to their own souls) during a time of reflective repose, which they called otium. An abstract term, otium refers to well-earned leisure time. For early Romans, that might have meant a fruitful retirement spent following one's bliss, whether soaking in thermal baths, gobbling grapes by the bunch, creating great works or napping in the sun. For passengers of Silversea's new and opulent cruise ship, Silver Dawn, otium will have similar connotations in 2022.
As the luxury cruise line's newly launched, proprietorial wellness concept, Otium — currently available only on Silver Dawn — is both an ethos that pervades the ship and a spa. Guests can embrace as much healthiness, or as little, as they like. Rekindling on Silver Dawn might mean a detox day of celery juice and hydrotherapy soaks in the Roman Bath-inspired spa, but it might also be a couple's massage en suite, with champagne and chocolate at arm's reach.
Infused with the salubrious tenets of the Mediterranean diet and lifestyle, Otium guides guests to a mind-body reset. On board, you'll find otium in myriad aspects of Silver Dawn, from the specially designed Otium beds to the S.A.L.T. (Sea And Land Taste) culturally immersive culinary program. With itineraries starting in November 2021, Silver Dawn and her 298 ocean-view suites remind travelers that living well is the best revenge.
[See also: The Most Innovative Cruise Lines of the 21st Century]
In other cruise news, why settle for just one of the Maldives' 1,192 Indian Ocean islands when you can cruise between some of its finest? Board Four Seasons Explorer, a lavishly appointed, three-deck catamaran with just 11 staterooms for its new three-, four- and seven-day winter itineraries. Led by an on-vessel marine biologist, guests have the chance to investigate different atolls in one trip.
Snorkel or dive to swim through underwater caves, visit shark havens, swim with whale sharks and manta rays, and be awed by coral canyons. At the end, tuck into your final port, one of Four Seasons Maldives' pampering resorts, Kuda Huraa or Landaa Giraavaru.
[See also: The Best Luxury River Cruises]
[See also: Luxury Cruise Industry Back and Stronger Than Ever]
Aqua Expeditions introduced its newest vessel Aqua Nera, a design-savvy ship, with just 20 spacious staterooms last summer. Built to carry passengers on three-, four- and seven-night itineraries through the tributaries of the Peruvian Amazon and the Pacaya Samiria National Reserve, the stylish ship incorporates local elements like sustainably sourced, lacquered hardwood and draws its interior motifs from the region. When not exploring villages and engaging in nature outings, guests enjoy the spa, gym and river-facing plunge pool.
For those who prefer something tropical during the holidays, Greek family-owned Variety Cruises goes beyond the Cyclades to offer an eight-day jaunt through the Caribbean. Aboard the megayacht Panorama, cruisers can experience an island hop that goes from Barbados to Grenada, to include such jaw droppers as the Piton Mountains in St Lucia and diminutive, glimmering Canouan. Known for intimate sailings, cultural itineraries, and affable staff, Variety brings some Greek storge to every trip.
[See also: Regent Suite Unveiled On Board Seven Seas Grandeur]
This article appears in the 29 Nov 2021 issue of the New Statesman, Winter 2021/22