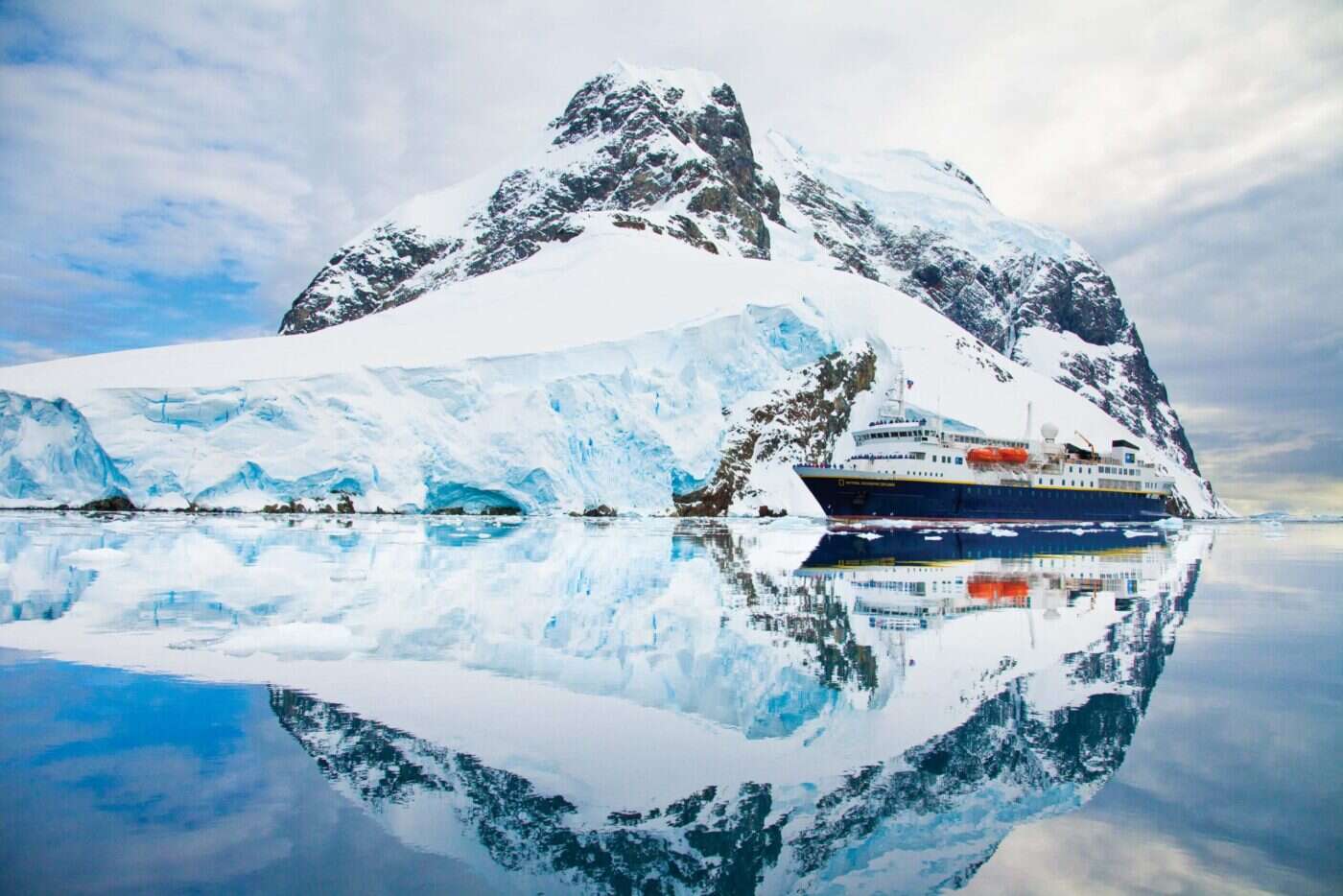 In the Galápagos, Ecuador's storied national park (where there are 13 types of finch, plus mind-boggling creatures like blue-footed boobies), I disembark from Lindblad National Geographic's expedition ship. We've anchored at Guy Fawkes Island, a collection of four volcanic tuffs, uninhabited but for a few sea lions. We approach in an inflatable boat, snorkel and flippers in hand, to explore the waters here, known to be rich with sharks and other creatures of the deep. I break away brazenly from the group and, suddenly, something the size of a baguette rushes towards me. It bumps my swim mask. Submerged, I can't scream as the baguette flits around me in circles. I spin to get a look as it comes for me again — and this time, I giggle. It's a penguin. I am swimming in a gin-clear sea with a penguin. I have to pinch myself. It's one of the best days of my life. These luxury cruise lines sail with conscience and integrity, creating joyous moments for those on board while dutifully respecting almighty Mother Nature.
Lindblad Expeditions – National Geographic
When cruising with Lindblad, a carbon-neutral company that has been committed to responsible travel and sustainability for more than 50 years, adventures happen organically. With the goal of working toward the conservation of nature and leaving the world better than how they found it, Lindblad has long been synonymous with sustainability.
"Sustainability is a necessary idea for pretty much every activity," says Sven Lindblad, president and CEO of Lindblad Expeditions. "Certainly it is a necessary idea for our industry, as no one will thrive in a degraded world. It is therefore incumbent on all of us to find creative ways to not only behave sustainably, but to look for ways to be restorative in the places that we depend upon."
Sven's father, Lars-Eric Lindblad, legendary adventure travel pioneer deemed the father of ecotourism, was the first to guide recreational travelers where only scientists had roamed before — including Antarctica (1966) and Galápagos (1967). His philosophy was that those who experienced something vital would become advocates for the preservation of the places they visited. In 1979, strengthening his legacy, Sven launched Special Expeditions, which became Lindblad Expeditions; in 2014 it formed an alliance with National Geographic.
[See also: The 5 Best Cruises in Remote Locations]
The ships serve as a base for scientists and grantees to carry out research. Guests have the chance to become active participants in scientific research and local conservation efforts while they experience raw nature (like I did with my penguin friend). Garnering countless eco-awards, Lindblad's commitment to environmental responsibility steers the company's leadership and innovation. Implementing green-friendly operations, it aims to conserve nature, preserve cultural heritage and support programs that benefit local people.
Granting more than $18.8m to projects in the regions it visits, Lindblad's LEX-NG Fund helps protect the last wild places in the ocean, facilitate conservation, and support community development and local projects.
Of note, Lindblad eliminated single use plastics in 2018, and achieved carbon-neutral status in 2019. It offsets 100% of emissions from its fleet of ships, land-based offices, and employee travel. A zero-waste, sustainable food program (including the first ever Galápagos farm-to-table program) rules the day. Take their educational voyages, which navigate far-flung bays and tapered straits around the world, from Antarctica to Japan, to discover the earth with the understanding and vision of a scientist.
Windstar Cruises
Not quite as small as Tahiti's famous outrigger canoes, Windstar Cruises' fleet of six yacht-like vessels take to the seas with authenticity, intimacy and elegance. Cruise ships made for breeze-loving sailors, Windstar's fleet promises billowing sails, a sense of hovering just above the water, and nearly 360-degree views of the horizons.
Able to navigate into places that larger boats cannot, Windstar sails myriad itineraries from ports across the globe. The highly lauded French Polynesian voyages, for example, stop on private islands and in iconic lagoon ports such as Bora Bora. With three vessels sporting new, environmentally friendly engines and advanced wastewater systems this year, the brand has broadened its already solid commitment to green practices.
"So much of the technology aimed at addressing sustainability — like our new engines with reduced fuel consumption/carbon emission savings — are hard to see from the guest perspective, but they are vital to a sustainable cruise line that is committed to sailing the world with a softer footprint," says Paul Barrett, vice president of technical operations.
"Behind every successful Windstar itinerary is a captain and a team working hard to minimize fuel consumption. Everything is considered, including speed of port arrival and departure, continuous speeds at sea, optimal operation of the engines, cleanliness and smoothness of the hull, and even electricity use on board."
AmaWaterways
Family-owned AmaWaterways began with a dream and a passion for travel — plus an ambitious effort to build a raft to float down the Amazon, which perhaps sparked a love for cruising. Clearly, president and co-founder Rudi Schreiner made it to the river's end, because his company recently celebrated nearly 20 years of providing high-end trips on rivers around the world.
Recognized for some of the highest-rated river cruises in the industry, AmaWaterways proffers trips throughout Europe, as well as in Asia and Africa. Excelling in wellness activities, immersive shore excursions and award-winning dining, AmaWaterways upped the ante with the launch of AmaMagna in 2019, which is twice the width of traditional river ships but thoroughly eco-friendly. For the brand's founders, eco-commitment matters. "AmaWaterways was built on the foundation of sustainability and environmental responsibility," said Schreiner.
Noting that 18 ships in the European fleet (nearly all of the company's total) earned the coveted Green Award certification, Schreiner praised the modern design of the vessels and the line's thoughtful itineraries. "We want to ensure we minimize the carbon footprint and work with local communities to leave the destinations better than we found them," he said. The fleet vaunts fuel-efficient engines, LED lighting throughout, and insulated windows to reduce heating and cooling energy needs. "We also have water treatment plants on board our ships, which use membrane technology to provide microfiltration and recycling of all water used on board," says Schreiner.
Silversea
Based in Monaco, Silversea, with small, opulent ships, coddling butler service and voyages to more than 900 locations (on all seven continents), exudes a sexy cachet. Its spacious, ocean-view suites with private verandas and lavish offerings should have a place on everyone's bucket list. Like other companies during the pandemic, it has geared its outlook toward more sustainable horizons.
[See also: Aqua Expeditions CEO on the Evolution of Luxury]
Its new ship, Silver Origin, was designed for the Galápagos, and it's touted to be one of the most environmentally friendly ships afloat. Plastic free, she also stands out as one of only two ships that sail the Galápagos using dynamic positioning, a computer-controlled program that ensures no anchor hits bottom to damage the seabed's delicate ecosystem.
Furthermore, Silversea's reverse osmosis system transforms seawater into potable drinking water, saving at least 17,000 plastic bottles per year. Dedicated to making a positive impact on the region, Silversea has initiated various local conservation projects in the Galápagos, including the Silversea Fund for the Galápagos, which educates and supports the archipelago's local communities.
Regent Seven Seas Cruises
Promising "an unrivaled experience" for nearly three decades, Regent Seven Seas Cruises earns its swagger with intimate (less than 750 guests) yet commodious ships that brim with style. Its fleet of five princely vessels carry eager cruisers to more than 450 destinations around the globe. On board, guests relish suite accommodations, complete with balconies, which rate as some of the grandest and largest in the cruise world. Unlike most other cruise lines, Regent offers complimentary, immersive shore excursions, as well as all-included business class flights on intercontinental travel.
Part of Norwegian Cruise Line Holdings, Regent Seven Seas Cruises joins its mother brand in a constant quest for improving sustainability culture both shoreside and shipboard. To whit, its Sail & Sustain program commits to preventing "accidents and incidents involving pollution, reducing the environmental impact of its operators, managing waste through methods that promote recycling and reusing materials and ensuring the continual refinement of its ISO 14001 certification objectives and targets." Single-use plastic straws have been eliminated, which prevents more than 50 million plastic straws entering the waste system each year, and great attention is paid to preventing damage to and restoring the world's fragile coral reefs.
As sailing season begins, take advantage of Regent Seven Seas Cruises' Upgrade in Europe offer, which provides a free 2-Category Suite Upgrade, up to a Penthouse Suite, plus 50% reduced deposits until June 30, 2021. Regent Seven Seas Cruises returns to the waves when the new Seven Seas Splendor departs from the UK in September on an 11-night voyage, roundtrip from Southampton, visiting Scotland, Northern Ireland and Ireland. She'll be in the Mediterranean and the Caribbean in months to come.