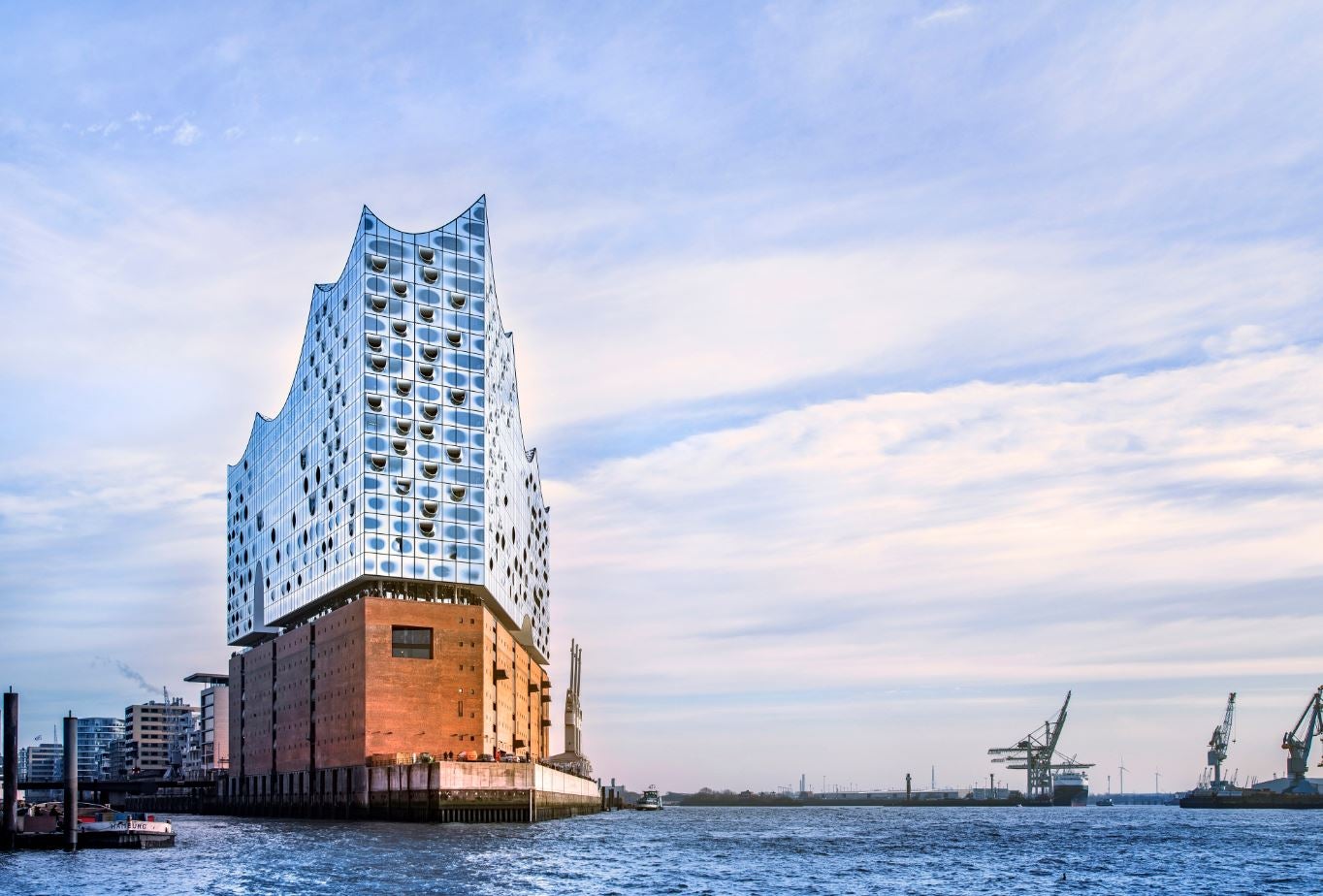 This story originally appeared in the January/February 2018 issue of Elite Traveler.
Germany's second largest city has long proven its appeal with its abundant greenery and waterside setting, and more recently Hamburg has received increasing international attention. In part owing to Unesco designating its Speicherstadt and Kontorhaus districts as World Heritage sites, Hamburg is celebrated for its remarkably rich history in trade and for its instrumental role in popular music. Not only was Hamburg home to such pioneers as the 17th-century composer Telemann, it was also the setting for Europe's first opera house and where the Beatles began their journey to success. But beyond these signature traits, Hamburg is a city that's rapidly evolving; as the historic warehouses of the waterfront juxtapose with its avant-garde new concert hall, the city is seeing an influx of bold new restaurants and stylish boutiques, enriching the visitor experience while elevating Hamburg's place on the world stage.
If you do one thing…
Designed by Herzog & de Meuron architects, the city's new concert hall Elbphilharmonie makes an impact with its structure of 1,100 curved windows that reflect the water and sky. Constructed on top of the former brick warehouse Kaispeicher A, this landmark transformed the waterfront and Hamburg's skyline. Behind its bold facade, the interior is just as striking and features an innovative design that makes it one of the most acoustically advanced concert halls in the world. The 2,100-seat Grand Concert Hall, one of three auditoriums inside, provides the most breathtaking orchestral performances. elbphilharmonie.de
Take Three/// Corners of the City
SPEICHERSTADT
One of Hamburg's Unesco World Heritage sites, this sprawling warehouse district is home to a collection of redbrick buildings originating from 1815 with cobblestone roads and canals running between them. While these cavernous warehouses were once solely used for storing goods, many are now home to designer showrooms and cafés. Stop by coffee roaster Speicherstadt Kaffeerösterei (speicherstadt-kaffee.de) to sample the java they roast and grind in-house, accompanied by their celebrated waffles.
KOMPONISTEN-QUARTIER
In tribute to Hamburg's role in music history, this quarter has been transformed into a museum district that takes you on a journey through the city's lineage of great composers and their worldwide impact. Museums dedicated to Telemann, Carl Philipp Emanuel Bach, Johann Adolf Hasse, Fanny and Felix Mendelssohn, Johannes Brahms and Gustav Mahler are clustered in this enclave, along with the inviting Kleinhuis' Café and Weinstrube, which serves homemade cake, coffee, bistro-style cuisine and wine. komponistenquartier.de
BLANKENESE
Formerly an independent fishing town, this high-end quarter of the city is one of Hamburg's most picturesque areas. Located on the right bank of the river Elbe, its houses sit prettily amid flourishing trees on slopes running down to the water and sandy shores. But aside from the scenic appeal, it's the weekly market and popularity of small shops, restaurants and cafés here that make Blankenese a popular weekend retreat. Climb the steps leading up and down this hillside and seek out the Roman garden featuring an outdoor theater.
Top Restaurants
Trüffelschwein
On the picturesque Mühlenkamp shopping street of the city's Winterhude quarter, Trüffelschwein sits amid a collection of high-end boutiques and cafés. The one- Michelin-starred restaurant fits in comfortably here, with accomplished fine-dining plates and a superb selection of German wines. In an intimate dining space, chef-founder Kirill Kinfelt creates French-international fusion plates, which are served in tasting menus of between five and nine courses. trueffelschwein-restaurant.de
The Table Kevin Fehling
Laying claim to three Michelin stars, The Table Kevin Fehling (pictured) is unsurprisingly one of Hamburg's most-talked-about restaurants. While taking pride in culinary craftsmanship and quality of ingredients, Fehling gives classic dishes a modern reinterpretation where international influences shine. The interiors reflect the same modern flair as the cuisine, with a curved cherry-wood bar for communal dining facing the open kitchen and a particularly striking sculptural ceiling design. thetable-hamburg.de
Haebel
This contemporary dining spot in the hip neighborhood of St. Pauli is the eponymous restaurant of cookbook author and presenter chef Fabio Haebel. What began as a bistro and the chef's test kitchen—formerly named Tartie St. Pauli—is now a celebrated restaurant of refined Nordic-French cuisine. The tiny dining space is warm and inviting, with modern decor and an open kitchen. The menu here changes weekly to represent seasonal ingredients at their best. fabiohaebel.de
Where to Stay
Park Hyatt Hamburg
The five-star Park Hyatt is located within the historic Levantehaus building, in the heart of the city's main shopping area.While the building is a fine example of the Hanseatic architectural style, the interior combines classic elegance with contemporary design and modern art. From the palatial entrance hall, take the elevator down to the pool and Club Olympus Spa, continue on through to the decadent dining, bar and lounge areas, or make your way up to the seventh floor, which is home to the hotel's VIP lounge. The 2,500-sq-ft presidential suite is the most coveted space, with generous living and dining areas and a bathroom designed by Philippe Starck, along with an open fireplace and a piano where Lionel Richie is said to have written a song.
Presidential Suite from $5,845 per night. Contact Lorenz Karl, director of sales and marketing, lorenz.karl@hyatt.com, +49 403 332 1711, hyatt.com
Hotel Atlantic Kempinski
Considered the Grande Dame of Hamburg, Hotel Atlantic Kempinski has been welcoming visitors for over 100 years. Now combining modern amenities and design with grandeur and tradition, the interiors are as light and airy as they are resplendent in richly colored furnishings. Having always taken its culinary reputation seriously, the Atlantic Restaurant is considered a Hamburg institution in its own right, but guests can also dine at the courtyard restaurant or take a seat at the Art Deco Atlantic Bar.  Neil Armstrong and Henry Kissinger are among those who've stayed in the Presidential Suite, perhaps because of the unrivalled views it commands over Lake Alster.
Presidential Suite from $4,100 per night. Contact Krystina Gunzer, reservations manager, krystina.gunzer@kempinski.com, +49 402 888 817, kempinski.com
The Fontenay
Set to open March 2018, the Fontenay has redefined Hamburg's hotel scene. Up until now Hamburg's most prestigious places to stay have reflected the city's heritage. In contrast, the Fontenay stands out for its striking contemporary design. An impressive glass structure of three intertwining circles and a central atrium flood the interior with light while reflecting the surrounding greenery and rippling surface of Lake Alster. From the high-ceilinged garden restaurant on the first floor up to the panoramic restaurant and wellness space at the top of the hotel, each room stands out for both its decor and views. Stay in the 2,200-sq-ft Fontenay Suite for its two balconies and appealing design accents by Georg Jensen.
Fontenay Suite from $10,552 per night. Contact Sophie von Törne, reservations manager, reservations@thefontenay.de, +49 406 056 605 850, thefontenay.de