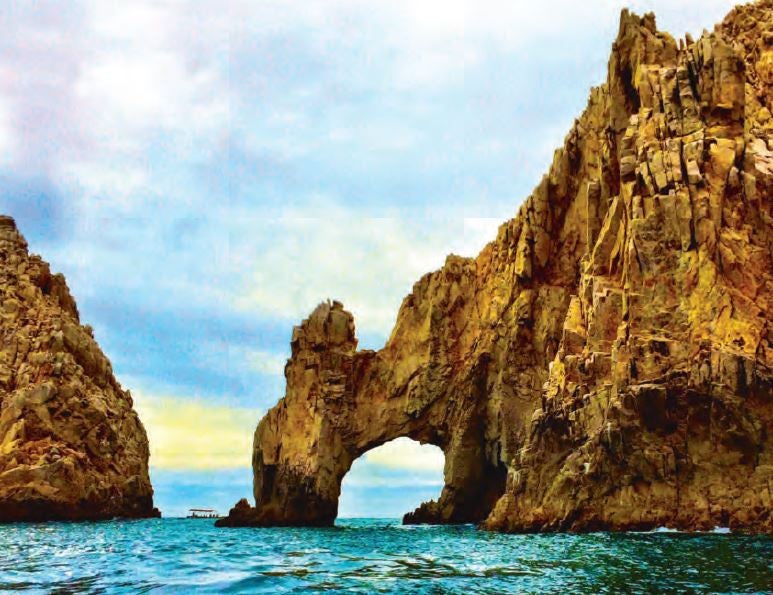 By Becca Hensley
This story originally appeared in the November/December 2017 issue of Elite Traveler.
Hemingway cast for prize marlin from the shores of Cabo San Lucas, back when the now rollicking port was a sleepy fishing hamlet. Today, it is equipped with more than 400 boat slips—many filled with yachts—and has become a bustling year-round vacation destination brimming with restaurants, galleries, nightclubs, curio shops and bars. Set on the tip of Mexico's 1,000-mile long Baja Peninsula, the resort area also encompasses a 20-mile stretch of swanky hotel-dominated beachscape between Cabo San Lucas and another one-time tranquil town, San José del Cabo—beloved for its traditional plaza and residential ambiance. With cobalt blue seas and beaches strewn with volcanic rock, the Cabo area boasts a distinctive natural beauty, accentuated by the soaring mountains and cactus-studded desert terrain that frames the shoreline. Sunset cruises around the iconic rock arch, deep sea fishing, whale watching in season and swimming with marine life, from whale sharks to dolphins, comprise some of the activities visitors will want to check off their list during a getaway. With premier hotels that know how to cosset, kitchens helmed by celebrity chefs vaunting their penchant for seasonal, gourmet cuisine, and a sophisticated, international flair that attracts vacationers from across the globe, Los Cabos says "bienvenidos."
What to do
LAND FORAYS

Say Fore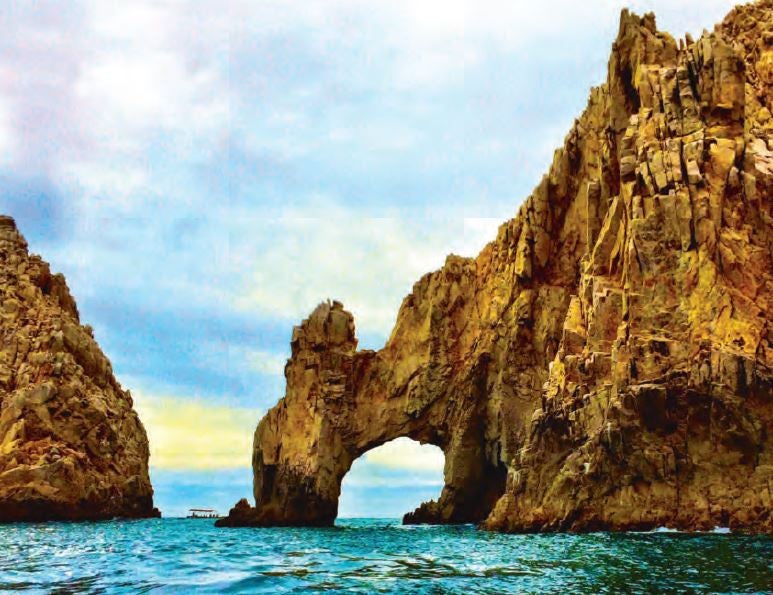 The most sought after tee time in Cabo these days is the new Tiger Woods-designed course, El Cardonal at Diamante Resort. But here's the catch: that green is for residence owners only. Not to worry, however. Los Cabos has other championship-level courses: Cabo del Sol (an 18-hole Jack Nicklaus-designed ocean course and an 18-hole Tom Weiskopf-designed desert course), One&Only Palmilla (a 27-hole Jack Nicklaus-designed course), Cabo Real (an 18-hole Robert Trent Jones-designed course) and Puerto Los Cabos (includes a newly completed 18-hole Jack Nicklaus Signature course).
WATER PLAY

Cruises Aplenty

Board a luxury yacht to experience the true grandeur of the region. Yachts Cabo's superior collection of watercraft range in size, but all rentals include crew, water toys (such as stand-up paddleboards and kayaks), premium open bar, customized menu and chef. Four- or eight-hour trips can be arranged. Consider itineraries for party cruising, snorkeling, sunset jaunts or deep sea fishing. Whale watching from November to April is certain to thrill.
Ride a Wave
Surfing isn't ubiquitous along Cabo's sometimes treacherous shoreline, but some beaches bring out long-board enthusiasts. Learn from the experts at Mike Doyle Surf School, located in the Cabo Surf Hotel on Acapulquito Beach, one of Cabo's most "hang ten" friendly shorelines. Or take advantage of Tropicsurf, a surfing school exclusive to One&Only Palmilla guests, at their swimmable beach.
mikedoylesurfschool.com, tropicsurf.net
Swim with the Big Ones

The world's largest fish, the whale shark, makes the Sea of Cortez its home from August to May. Book a private water safari with Cabo Adventures, which guides you on a snorkeling trip to swim beside these amazing creatures in crystalline waters.
Top Suites
VILLA ONE
One&Only Palmilla


You'll swoon over this hotel's signature greeting, a hand placed sweetly over the heart, and a smile that says "Your wish is my command." This one-time hideaway for 1950s Hollywood elite—today a 173-room stucco haven complete with butlers who color code your clothing in the closet—has many lavish attributes. From the stellar spa to the inviting pool, a swimmable beach and a restaurant by Jean-Georges Vongerichten, One&Only drops jaws with Villa One, a four-bedroom, 14,000 sq ft glass house with floor-to-ceiling views of the Sea of Cortez. When you tire of that, a private screening room awaits.
[See also: Top Suites in the World – Villa Cortez, One&Only Palmilla]
From$8,000 per night. Contact Marcela Nunez, reservations manager, marcela.nunez@oneandonlypalmilla.com, +52 624 146 7082, palmilla.oneandonlyresorts.com
TY WARNER MANSION
Las Ventanas al Paraíso, a Rosewood Resort
At Las Ventanas, a conch shell's whistle alerts guests to a whale's presence on the shoreline, turndown service has aromatherapy options, guests are greeted upon arrival with a relaxing shoulder massage, and a tequila and sushi bar awakens the best of epicurean fancies. The Ty Warner Mansion caps a sandy outcrop amid the resort. The 28,000 sq ft, three-bedroom sanctuary harbors a beachfront infinity pool, personal swim-up bar, palapa-covered dining patio and a personal spa. Throughout, you'll find fine local art and handicrafts that instill a sense of local place. Butlers are on command, naturally.
From $35,000 per night. Contact Lauren Carr Morado, director of sales and marketing, tywarnermansion@rosewoodhotels.com, +1 844 843 8962, rosewoodhotels.com
BEACHFRONT LUXURY SUITE
Esperanza, an Auberge Resort


Sheltered in a pocket of dramatic beach capping the bluffs of Punta Ballena, this secluded sanctum, a favorite of celebrities such as Paul McCartney and Beyoncé, occupies the only private sandy crescent in Cabo. With a floating lounge that hovers over the waves, an exceptional spa and one of Cabo's most dazzling restaurants, (alfresco Cocina del Mar, which spreads out over a rocky verge above the sea), Esperanza offers a 3,000 sq ft, three-bedroom Beachfront Luxury Suite, anchored by an expansive terrace overlooking the water. A pool, Jacuzzi and full kitchen, inclusive of butler and chef, ensure a relaxing stay.
From $5,000 per night. Contact Marc Rodriguez, general manager, marc.rodriguez@aubergeresorts.com, +1 888 965 1309, esperanza.aubergeresorts.com
IMPERIAL SUITE
Grand Velas


Daily massages and an all-inclusive mini bar stocked with your favorite champagne enhance the appeal of the eye-popping Imperial Suite at the newly-opened Grand Velas resort. A two-story residential-style retreat, the ample two-bedroom, 6,082 sq ft oasis features a huge terrace that showcases the sea. Panoramic windows bring the outdoors in, while local art and regionally-inspired and locally-made furnishings ensure a restorative mood.Other amenities, such as four hours of daily babysitting, golf at a variety of nearby courses, a sunset cruise and a romantic dinner on the beach complete the adventure.
From $18,000 per night. Contact Marina Moreno, senior sales manager, mmorenoc@velasresorts.com, +52 322 266 7923, loscabos.grandvelas.com
Delectable Dining
Manta

Have a sunset drink at The Cape's rooftop bar before descending into the hotel's sleek, contemporary digs for dinner. Drawing from other seaside cultures he admires, celebrity chef Enrique Olvera melds a bit of Peru and a smidgen of Japan to the wholly regional foundation of his elegant supper spot. The result is graceful food, fully born from regional flavors, belying the rustic reputation of classic, local, Mexican cuisine. At The Glass Box, the hotel's pop-up bar, let head bartender Osvaldo Vazquez mix you a mezcal cocktail to end the night.
Flora's Field Kitchen

Mexico's not just about tortillas and salsa. To fully understand the region, explore the bounty of the terroir at Flora Farm, a 10-acre organic plantation, which has dedicated the last decade to cultivating pesticide-free fields. Its restaurant, Flora's Field Kitchen, picks from more than the 100 varieties of herbs and vegetables specially grown for their menus, which also embrace meats procured from its own ranch. Pizza from the wood-burning oven and craft cocktails are a must.
Mi Cocina
Long a pit-stop for gourmands in the Cabo area, this diminutive restaurant lies amid the gardens of Casa Natalia, a boutique hotel in San José. Chef-owned by French expats, Mi Cocina reflects chef Loic's diverse epicurean background. Creating organic, sustainable menus with a European flair, the chef and his wife treat guests as visiting family members. Chicken with mole poblano and stuffed chile poblanos hit the mark.
El Farallon

Hewn into the cliffs above the Sea of Cortez, and wedged into a secluded part of the opulent Resort at Pedregal's private beach, El Farallon reigns as the region's most soul-touching, romantic restaurant experience.With the sea's waves breaking at your feet, enter the cave-like harbor to be greeted by a mesmerizing champagne bar. After the sun sets, sit above the sea at a handful of charming tables bordered by the rocks. Above you, a twinkly Milky Way of hanging lights mimic the stars. Choose from freshly-caught fish and locally-procured meats displayed in a vitrine, with the chef on hand to receive your cooking instructions. A multi-coursed dinner ensues, with an array of daily sides and desserts.
Get out of Town
Aesthetic Exploration
Hop into an Escalade to tour the art hamlet of Todos Santos, an hour from Cabo, nestled into the foothills of the Sierra de la Laguna mountains. Artists' ateliers, handicraft shops, upscale boutiques and restaurants are just some of the treasures to be found. A popular guide, Fabrizio Figueroa with All Ways Cabo, gets rave reviews from guests for his personable, six-hour tour which includes a glass-blowing factory, the iconic Hotel California, a meeting with artist Melissa Castaneda, lunch at a charming cafe and, of course, time to shop.