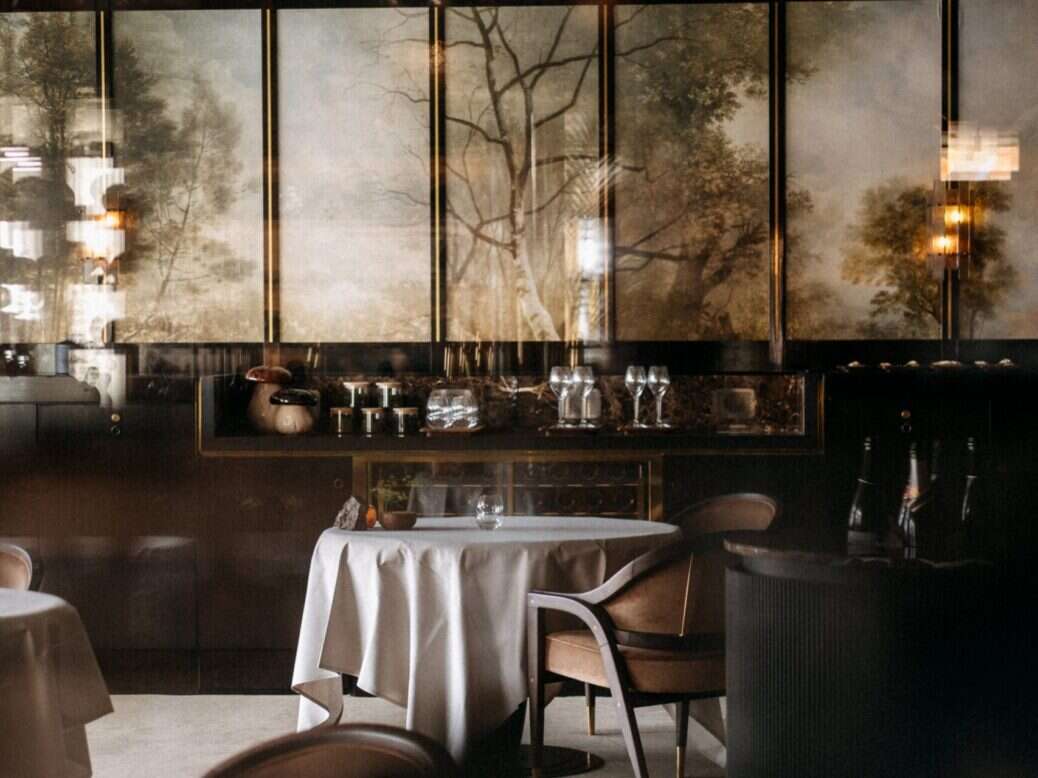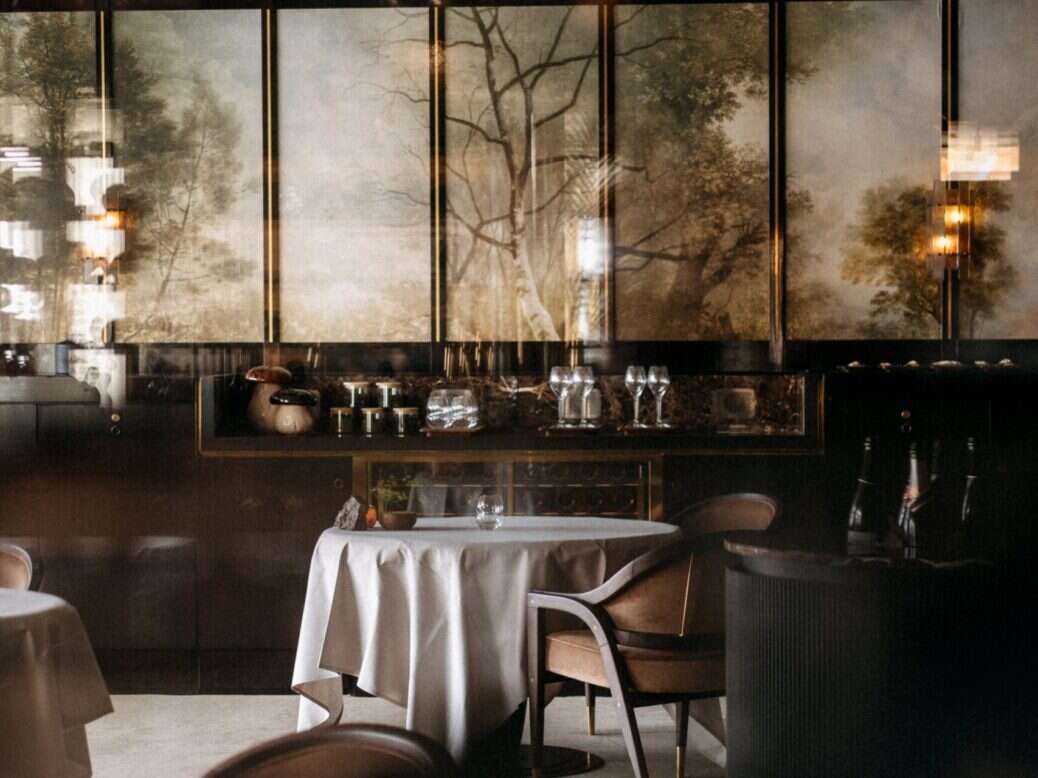 With its enchanting canals and impressive town houses, Amsterdam is one of the most recognizable cities on the planet. The Dutch capital is, however, surprisingly small when compared to its global influence. It is an eighth the size of London and has a population of just under 900,000 people. Despite its diminutive footprint, Amsterdam is home to some of the best and most innovative restaurants in Europe.
With the UK only a stone's throw away and the Netherlands sitting next to Germany, it's no surprise the Dutch capital has become a powerhouse in the European culinary scene. While the Dutch may be more well known for their pancakes, stroopwafels, cheese and herring, the fine dining on offer in the Netherlands is second to none.
[Explore Elite Traveler's World's Finest Restaurants]
As Amsterdam has grown culturally, becoming a hotspot for the art and fashion world, so too has the city's selection of fine dining. With the increase in 'trendy' events, shops and art galleries, there has also come an increase in the number of pop-up restaurants and experimental cuisine. This recent explosion of groundbreaking eateries has caused a big shakeup in the more traditional dining venues in the city, with the more old-fashioned European restaurants —often located in the city's best hotels — receiving something of a modern makeover, while many of the city's brightest new chefs have taken on unconventional dining spaces in order to create a more experiential environment for the customers.
While Amsterdam still heavily relies on traditional Dutch cuisine, with a lot of restaurants offering a variety of fish dishes, the influence of the surrounding countries is obvious, with many restaurants now offering more French and Scandinavian-inspired forms of cooking.
Many of the city's most exclusive restaurants will still have a somewhat relaxed feeling to them, truly showing how the Dutch do it. So whether you're looking for something very formal or an unusual evening out then look no further as Elite Traveler has rounded up the best restaurants in Amsterdam.
Flore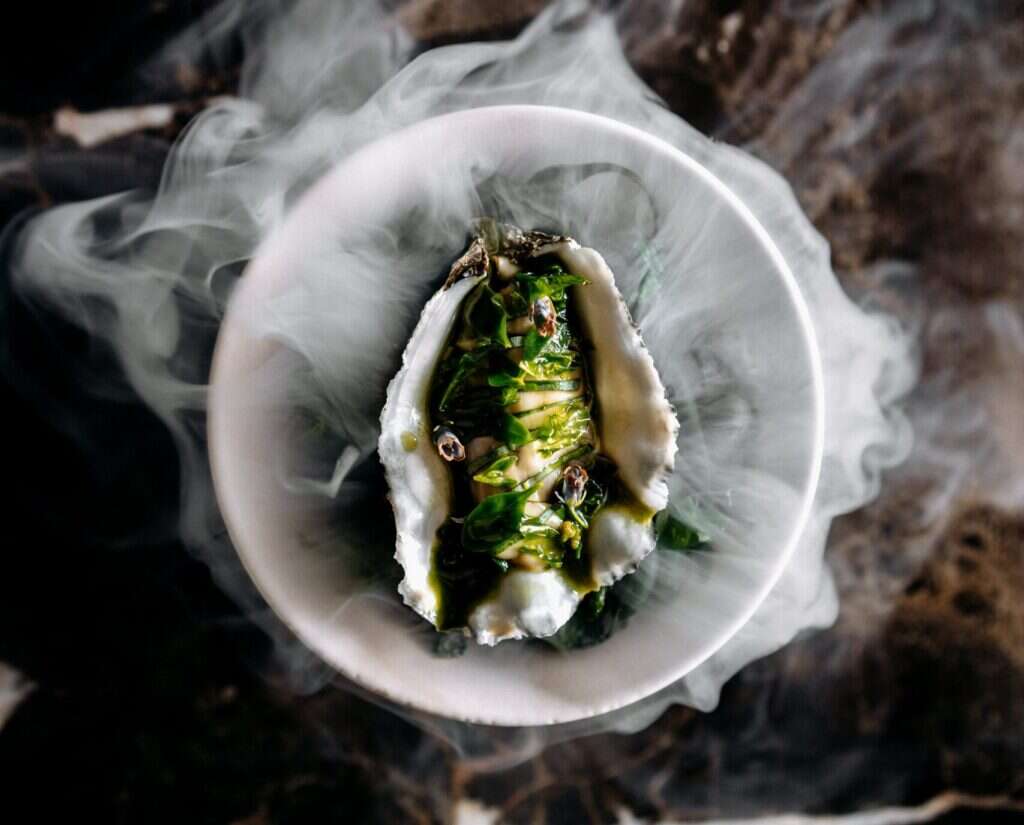 Flore – recipient of two Michelin stars, and a green star to boot.
The latest iteration of Hotel De L'Europe's fine dining offering is a sustainable extravaganza, filled to the brim with enthusiastic staff and locally sourced, carefully considered cuisine. Flore was awarded its stars just nine months after opening. The team behind Flore (formerly Bord'Eau), led by executive chef Bas van Kranen have reimagined their fine dining offering with sustainability and creativity at its core.
Notes for the reader: Make sure you've got plenty of time on your hands – the experience can take up to five hours and has a few surprises along the way too (don't worry, we have no intention of spoiling them). Secondly, the menu changes weekly, based on the foraged finds of the team's regular journeys into the stunning Dutch hinterland, so the menu on the website is purely illustrative and aims to give you a flavor of some of the culinary wonders that you'll experience.
You can read our full review here.
Two-Michelin-starred Spectrum — formerly Librije's Zusje — at Amsterdam's Waldorf Astoria represents the very best of Dutch cuisine with a hint of Asia brought via Sidney Shutte, who enjoyed a four-year stint at some of Hong Kong's best eateries.
[See also: Top suites in the world – The Mayor's Residence, Waldorf Astoria]
Schutte serves up artfully plated intricate dishes using seasonal local produce with the aim of surprising diners with a beautiful range of powerful and intense flavors. Seafood from North Sea waters features heavily and the vegetarian tasting menu is filled with unique yet delicious combinations.
Chefs Richard van Oostenbrugge and Thomas Groot have got the balance between elevated cuisine and laid-back ambiance just right at this stylish spot.
Diners at the two-Michelin-star restaurant sit at the bar as they watch a passionate team of chefs concoct culinary delights using just a handful of fine ingredients. Inventive yet simple, expect the unexpected with dishes such as smoked turbot jelly served with caviar and oyster ice cream with a sprinkling of hazelnut. It shouldn't work but it does.
For a while, Ciel Bleu held the prestigious accolade of being the only two-starred Michelin restaurant in Amsterdam, however, despite being joined by four others more recently, it is coveted by diners. Ciel Bleu mixes stunning views with delicious dishes to create one of Amsterdam's finest eateries.
Located on the 23rd floor of the delightful Hotel Okura, the restaurant offers sumptuous fare with international influences amongst elegant surroundings. Head chef Arjan Speelman uses fresh, locally produced ingredients to create gastronomic masterpieces. Combined with impeccable service, the food on offer is likely to be one of the highlights of your holiday, but remember to book ahead; the restaurant's popularity means that reservations need to be made well in advance.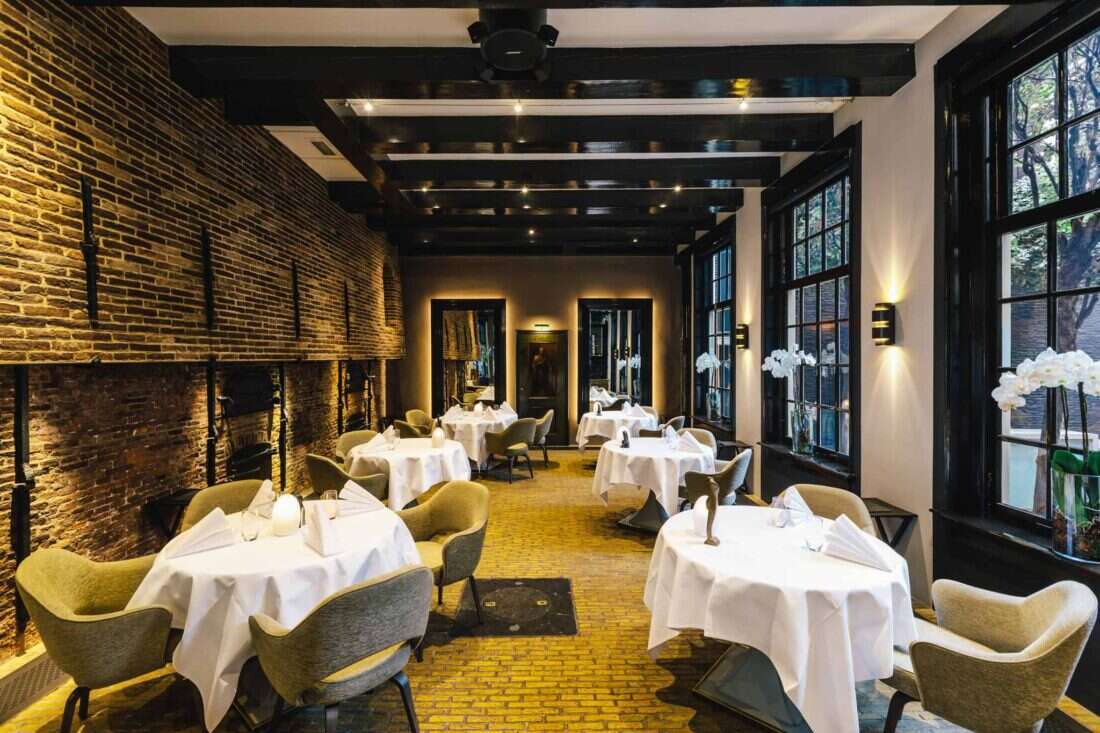 Named in honor of the Dutch painter, the one-Michelin-starred Vinkeles is located in ultra-chic Dylan hotel in a building that was once an 18th-century bakery run by the catholic church.
Indeed, the interior design still has touches of the restaurant's former life, including the original ovens. Head chef Jurgen van der Zalm offers a delightfully creative menu if delicate French cuisine that flirts between classic and contemporary. Many of the city's elite head to Vinkeles to enjoy the fabulous views over the Keizersgracht while sampling the fine food on offer.
Another eatery in Amsterdam named after a Dutch artist, Vermeer is located in the prestigious NH Collection Amsterdam Barbizon Palace Hotel.
The simple and elegant interior is the perfect backdrop to the clean and powerful flavors that await. Head chef Christopher Naylor has created a critically-acclaimed menu inspired by the fresh produce he sources from local farms as well as organic vegetables from the restaurant's roof garden. Stylish and graceful, the restaurant would have appealed to its namesake, Johannes Vermeer, who, much like the restaurant, was well known for his skill and precision in his craft.
De Kas
Located in a greenhouse dating back to 1926 that once belonged to Amsterdam's Municipal Nursery, De Kas has been wowing critics and guests for over 20 years. Today, it boasts one Michelin star and a coveted Green Star for sustainability.
[See also: Four Talented Young Chefs with Michelin Green Stars]
The unique setting and contemporary interior design give the restaurant a wonderfully natural ambiance, enhanced by the light that pours through the glass ceiling. Organic fresh greens and herbs are grown on site or in the restaurant's own nearby farm, and the ever-changing menu consists of five courses, created by chefs Jos Timmer and Wim de Beer. One of the places to see and be seen in Amsterdam, De Kas is located next to the beautiful Park Frankendael, a former 17th-century country estate.
Hotel Okura doesn't just boast one Michelin-starred restaurant, it has two, and Yamazato is very much the premier Japanese eatery in the Dutch capital. Impressively, it was the first traditional Japanese restaurant in Europe to earn a Michelin star.
Designed to represent a 16th-century Japanese tea house, the staff are suitable attired in kimonos and the Sukiya architectural style encourages diners to focus on the food on offer. The restaurant has a traditional Japanese Tatami Room for a more classical approach to eating, and there are a number of private rooms for hire, as well as a Japanese garden. The menu is Japanese haute cuisine at its finest, and as is often the case with Japanese restaurants, the wine and saki lists are extensive.