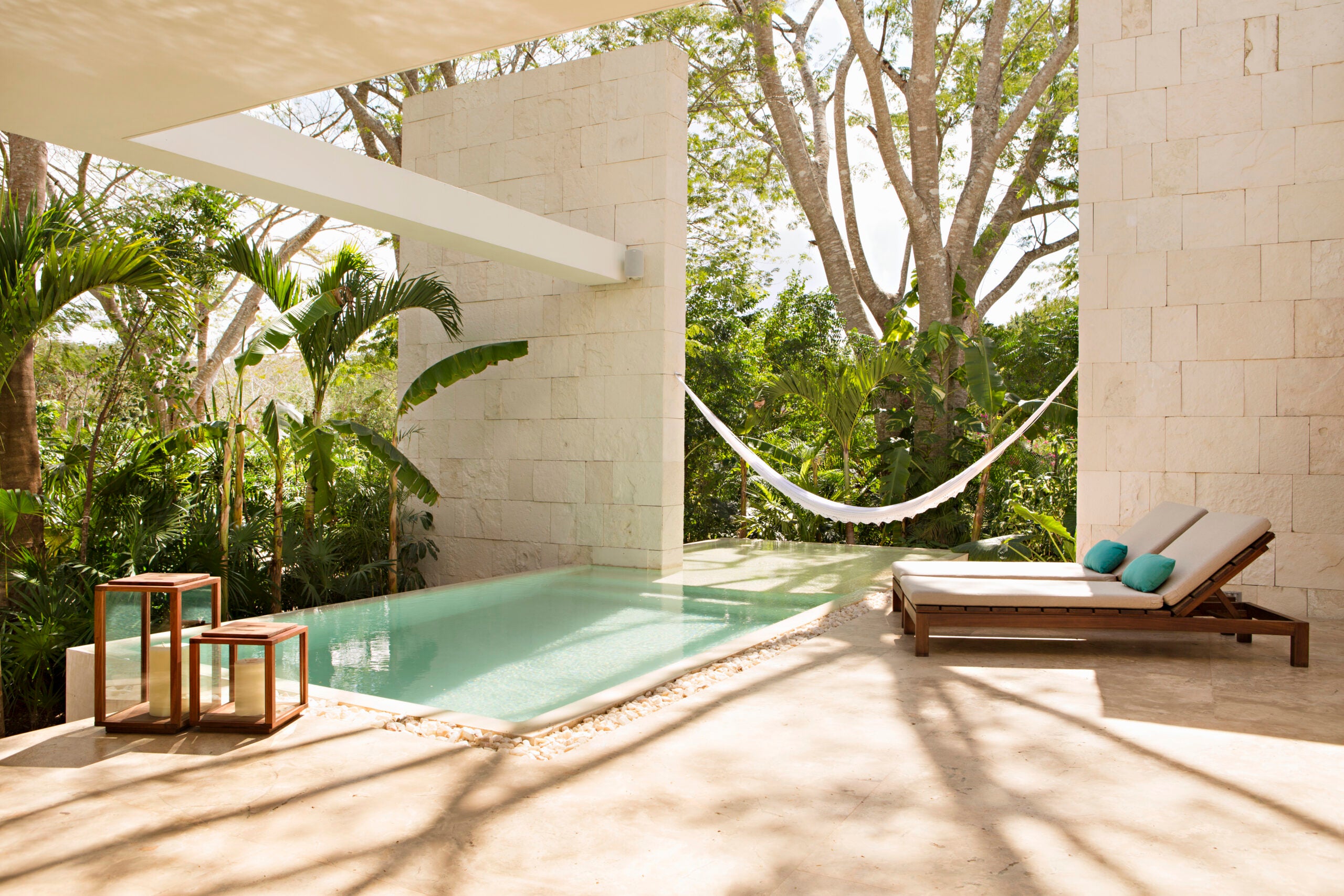 Set 2018 off to the best possible start by embarking on a wellness retreat that combines rejuvenation of body and mind with life enhancing travel experiences. Here's our pick of the most enriching luxury wellness retreats for the New Year.
Hotel La Sivolière
FRANCE
Situated within the exclusive Courchevel 1850 ski resort and having just opened its new Nuriss spa, Hotel La Sivolière stands out for its ski-in, ski-out access to the slopes and as an appealing wellness destination. Drawing on the expertise of GP, dermatologist and founder of Nuriss, Dr. AJ Sturnham, the spa now offers guests a range of après-ski treatments designed to help the body and skin recover after a day on the slopes, utilizing the medical-led spa's wellness technology. In addition to these skin and body treatments, the spa offers a range of anti-ageing cosmeceutical products formulated with natural ingredients such as fruit enzymes. Complement these treatments with time spent relaxing in the spa's balneotherapy pool, hammam and sauna.
Les Pres d'Eugenie Hotel & Spa
FRANCE
Since it was opened by the Guerard family in 1974, this hotel has been considered a leading wellness retreat as much as it's regarded for its exemplary gastronomy. These two aspects come together harmoniously as the hotel and spa combines natural and conventional therapies with nutrition and fine dining. Eugenie's health-giving thermal hot spring waters are one of the hotel's most notable attributes but guests also benefit from three Michelin starred chef Michel Guerard's Slimming Cuisine. The thermal spa is home to individual treatment booths, as well as hot spring baths, hydro-massage thermal drenching showers and a hot spring shower misted with essential oils. The spa menu then features Sisley Phyto-Aromatic treatments, combining massage rituals with the power of aromatherapy.
Palace Hotel Merano – Espace Henri Chenot
ITALY
Combining its heritage and grandeur with state-of-the-art medical and wellness facilities, Palace Hotel Merano – Espace Henri Chenot provides personalized treatments targeted at a range of needs. Taking into consideration a person's genetics, these treatments aim to restore the natural energetic balance of the body. One of the latest developments is the six-day Energy Program, which looks at scans of muscle and bone density to create bespoke personal training and dietary plans. Treatments include hydro-energy sessions, bio-energetic check-up, body densitometry and cellular resonance treatments with energy control. Sports stars including Cristiano Ronaldo are said to be fans of the program.
Amanemu
JAPAN
In its isolated position on the coast of Japan's Ise-Shima region, this exclusive resort offers true escapism while also drawing on Japanese wellness traditions and the health benefits of its natural hot springs. The individually tailored wellness immersions here, which can last from three to 14 nights, reflect this region's long held identity as a site for pilgrimage and purification, combining an introduction to the peninsula's sacred forest, pilgrim paths and shrines with hot spring bathing and bespoke therapies. Choose between the Rejuvenation, Cleansing and Transformation retreat, Mindfulness, Relaxation and Stress Control or Health, Beauty and Anti-Ageing. Each one incorporates traditional Japanese health practices such as zazen meditation with specialist therapies such as watsu.
Chablé Resort & Spa
MEXICO
Chablé Resort & Spa lies within Mexico's appealing Yucatán region near the 15th-century Spanish colonial town Merida and the region's great Mayan ruins. Positioned amid 750 acres of ancient Mayan forest, the resort comprises a collection of luxury villas, each with private pools, which lie alongside the restored 18th-century hacienda and spa. The spa fuses Mayan tradition with modern ideas in its wellness offering with therapeutic treatments for wellness, beauty, fitness and nutrition based on the three themes Fountain of Life "Flow", Tree of Life "Balance" and Heaven on Earth "Inspire". Expect treatments such as flotation therapy, salt therapy and guided meditation. Daily activities are then based on awareness, balance, fitness, gastronomy and culture, ranging from Hatha yoga and a tennis clinic to a traditional cooking class.
Hotel Arts Barcelona
SPAIN
This five-star design hotel on Barcelona's beachfront stands out for its 43rd-floor spa and outdoor pool with panoramic views of the city and sea. The spa here comprises eight treatment suites, hydrotherapy pools, saunas, steam baths and outdoor terraces for taking in the surroundings. Along with treatments by the luxury skincare brand Natura Bissé, the spa focuses on the trend for wellness technology. This is exemplified by the virtual reality Mindful Touch Facial in which a virtual reality video immersing guests in a state of mindfulness and tranquility is combined with Natura Bissé's effective skincare and the power of touch.
Bürgenstock Hotels & Resort Lake Lucerne
SWITZERLAND
Perched on the forested mountainside with a vantage point commanding views over Lake Lucerne, the recently reopened Bürgenstock Hotels & Resort is an appealing retreat for the rejuvenation its natural surroundings provide. Following on from its launch in summer 2017, the resort opened its architecturally striking medical wellness center, Waldhotel Health and Medical Excellence, where the integrated spa encourages a Healthy by Nature concept. This luxurious wellness retreat offers programs for body and mind balance, which can be combined with use of the indoor and outdoor pools, saunas, relaxation areas and secluded massage cabins.
The Nai Harn
THAILAND
Phuket's celebrated luxury resort The Nai Harn, which sits on the southern tip of the island, hosts a series of holistic wellness retreats promising to leave guests feeling revitalized and reconnected. The three- and five-day retreats focus on reducing stress, introducing a healthy living lifestyle and kick starting weight loss goals. This is achieved through a bespoke vegan diet, Purberry tonic and Purbiotic formula, a carefully planned exercise regime and a number of holistic wellness practices including yoga, meditation, one-on-one coaching and massage. While staying in a suite overlooking Nai Harn Bay, guests can savor each moment at the resort while making the most of the spa, pool, restaurants and rooftop lounge bar, as well as on the shores of the beach it overlooks. Multi-day retreats include the Puriti Luxe Retreat, which is designed to reduce stress, and the Spa Metamorphosis, which aims to provide a 'butterfly-like' transformation.
Amangiri
US
Amangiri is positioned within a protected valley amid the captivating desert and canyons of Utah, combining its extraordinary surroundings with contemporary architecture and five star luxury. The resort's desert-view spa is equally as enchanting with spa pavilions, treatment rooms and terraces within its 25,000 sq ft. While aiming to reflect the healing traditions of the Navajo through the four elements of earth, wind, fire and water, the spa offers treatments including massages, scrubs, wraps and flotation therapy, as well as immersive experiences such as the Kokoro Retreat. Until January 28th, 2018, guests will be able to embark on this four-day program, which aims to rejuvenate mind, body and soul. With leading wellness specialists Svet Bananov, Connie Beingessner and Holly Crandall on hand, the program encompasses hikes, mountain biking, fitness classes and yoga as well as meditation, massages and consultations. Indigenous cooking classes enrich the experience further.
Y.CO
Worldwide
Luxury yacht specialists Y.CO are offering a New Year Superyacht Detox for unparalleled escapism and rejuvenation of mind, body and soul, bringing together the tranquility of the ocean with on-board fitness and spa facilities plus the opportunity to travel with a personal trainer, beauty therapist, yoga instructor or specialist chef. Opportunities are endless with Y.CO's custom itineraries but you could charter the 164-ft yacht AIR in the Mediterranean for outdoor yoga sessions, its fitness equipment and sun deck Jacuzzi, or the 206-ft yacht .11.11. in the Caribbean for its steam room, massage room, two Jacuzzis and qualified masseuse and Ashtanga yoga instructor who are a part of the crew.