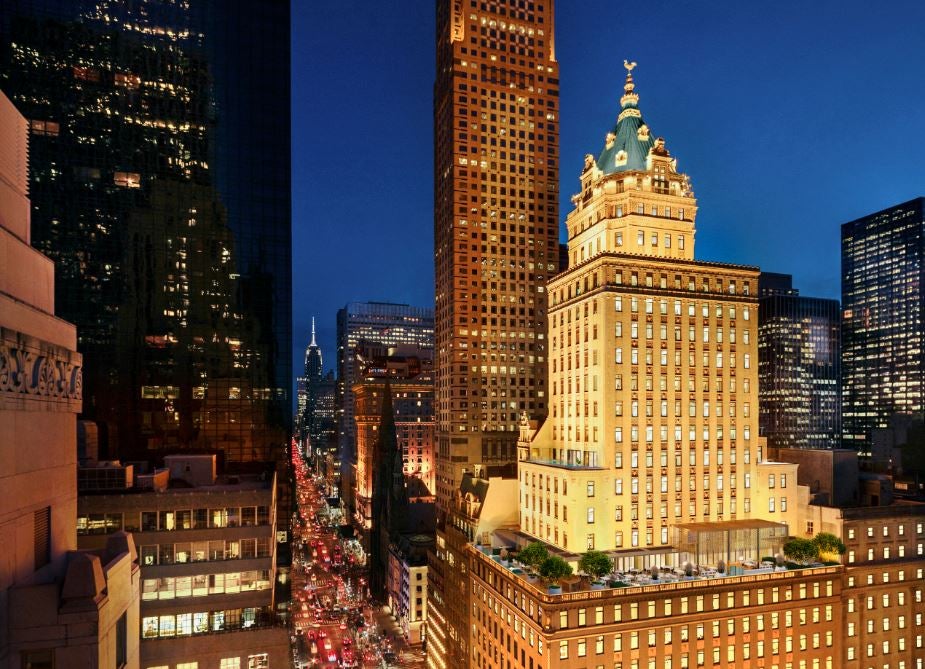 This article contains affiliate links. See our Privacy Policy for more information.
With luxurious resorts dotted throughout Asia, Europe, Africa, the Caribbean and the United States, Aman has certainly made its mark on the world of luxury travel. Now, the hotel group is set to make an even greater impression by introducing an exciting new addition to the portfolio with the creation of Aman New York.
Scheduled to open in 2020, the property will be Aman's second urban destination, as it follows on from the successful opening of Aman Tokyo, and the third Aman property to have been built in the United States. Aman New York will be situated at the heart of Manhattan, occupying the Crown Building at the point between Fifth Avenue and 57th Street, affording guests views over Central Park.
With a history going back to 1921, and having been the first home of New York's Museum of Modern Art, the Crown Building is considered one of the most architecturally significant buildings in Manhattan, exhibiting neoclassical Beaux Arts style. In the same way Aman has brought life back into historic properties such as the palazzo of Aman Venice, this architecturally important site will be restored to its original splendor and enhanced with the distinct Aman style by revered architect Jean-Michel Gathy, the lead designer of a number of other Aman Resorts.
In addition to its 83 expansive rooms and suites, the hotel will comprise a 10th-story double-height Sky Lobby, three social dining venues, a three-story spa featuring an indoor pool flanked by double daybeds and fire-pits, and Aman Members Club. 19 private residences will then be located on the upper floors, with a one-of-a-kind five-story, park-view penthouse at the building's apex complete with a wraparound terrace and both indoor and outdoor swimming pools. Contemporary fixtures and furnishings will feature throughout.
Welcoming New Yorkers in, as well as the property's members and guests, Aman New York will feature a 10th-floor wraparound Garden Terrace encompassing a bar with views over Central Park, dining venue the Terrace, stylish Piano Bar, two restaurants, a Wine Library and a jazz club.
Commenting on the new property, the chairman and CEO of Aman, Vladislav Doronin, says: "Aman has always sought the finest locations in the world, and we recently expanded our vision to include select cities. The Crown Building represents a once-in-a-lifetime opportunity to bring Aman to New York, the world's greatest and most dynamic city. We are honored to be the stewards of an exciting new chapter in this iconic building's legacy. As with all Amans, we are deeply connected to our community, and Aman New York will be no exception. We look forward to absorbing the vibrant energy that is New York and fusing it with our own unique formula, resulting in an enriching and lively guest experience that will redefine hospitality."
Keep up-to-date on the opening of Aman New York by going over to aman.com.