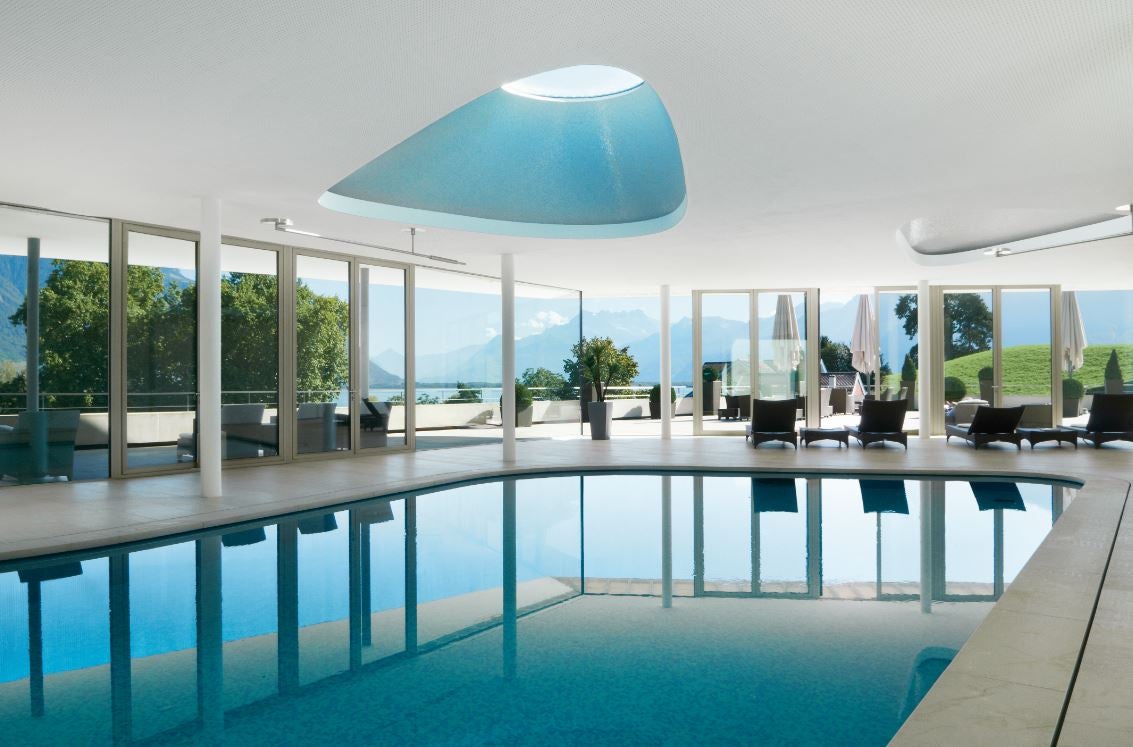 This story originally appeared in the Elite Traveler Luxury Escapes Edition 2017/2018.
Swiss medical spa Clinique La Prairie combines science, medical expertise and holistic therapies in its new Master Detox program.
Overlooking the glimmering waters of Lake Geneva, with the mountains of Montreux sitting on the horizon, Clinique La Prairie provides a serene setting for realigning both body and mind. Part hospital and aesthetics clinic, part luxury hotel and spa, CLP juxtaposes world-class medical expertise and state-of-the-art technology with a holistic spa and the decadence of its gastronomy and five-star hotel.
Now, the world-renowned clinic is setting out to revitalize its wellness programs. With this in mind, the clinic's medical professionals, spa therapists, nutritionists and fitness instructors have come together to reinvent the detox, going back to the true meaning of the word by striving to eliminate the body's toxins. But by taking a more holistic route to wellness, this detox is less about abstinence and more about listening to the body.
The new Master Detox program, a week-long wellness journey, utilizes each field of expertise the medical spa takes pride in, based around their three core principles: a medical approach, personalized nutrition and a result-focused spa.Medical director Claudine Mathieu champions the new program as the perfect way to rebalance the body's homeostasis and stimulate vitality.
What truly sets the program apart, though, is the medical mastery behind it, encompassing a series of consultations to determine your body composition, balance of minerals, presence of heavy metals, and perhaps most extraordinarily, how your genetics affect your overall well-being; developed in collaboration with Lausanne University, this relevatory test reveals exactly what you need for optimum health.
This information is used to tailor the week's program, aiming to flush out toxins in a natural and organic way through an eating plan, fitness schedule—from personal training sessions to aerial yoga—and a series of spa treatments focusing on relaxation, stimulating circulation and eliminating the toxins stored in deep tissue. All of this is then supplemented by twice daily Swiss detox tea and antioxidant concentrate.
Having already proven beneficial to guests who have tried out this revolutionary new program, the master detox shows that at Clinique la Prairie, a wellness journey doesn't just provide a quick fix; it instills in you the knowledge you need to establish a healthier lifestyle going forward.
The Master Detox from $15,300 per week. Contact Maria Gil, sales and reservation manager, reservation@laprairie.ch, +41 219 893 466, laprairie.ch
Where else to go
The Art of Detox Retreat CHIVA-SOM, THAILAND
As one of the world's most celebrated destination spas, Chiva-Som combines dietary intelligence with a luxurious setting on the Gulf of Thailand's glorious white-sand shores. The resort's collection of comprehensive well-being programs includes the art of detox Retreat, which takes place over a five-night stay. As a fully personalized dietary-focused program, the retreat begins with an analysis of what you want to achieve and how you can reach that goal through discovering the ideal diet—balancing macro- and micro-nutrients—with herbal and nutritional supplements to aid the process of cleansing the body of toxins. The retreat is designed to sustain better health through diet.
Five-night program from $4,850. Contact the reservations team, reservations@chivasom.com, +66 3253 6536, chivasom.com
Longevity Active Detox VILALARA LONGEVITY THALASSA RESORT & MEDICAL SPA, PORTUGAL
Vilalara Longevity Thalassa Resort & Medical Spa lies within 27 acres of lush tropical gardens on the edge of the Algarve's peaceful shores. By fusing a thalassotherapy spa with state-of-the-art wellness and anti-aging treatments, the resort offers transformative programs, including the longevity active detox. This seven-night program incorporates detoxifying meals with supplements, a vitality longevity plan encompassing activities such as power hiking, aqua-pilates and yoga, and a thalassotherapy medical spa program based around a series of health checks. This is complemented by specialist treatments ranging from osteopathy, microphysiotherapy and lymphatic drainage to thalassotherapy, which uses the healing properties of seawater to enhance the effects of the detox.
Longevity Active Detox from $4,870. Contact Sofia Canhola, reservations executive, reservations@longevity.pt, +35 196 710 8244, longevitywellnessworldwide.com
Digital Detox VILLA STEPHANIE, GERMANY
At this grand hotel and medical spa in Baden-Baden, you can sign up for a digital detox as well as more conventional wellness programs. Each detox program incorporates an initial consultation, health analysis, personalized nutrition and fitness instruction, as well as detoxifying spa treatments. But in addition to this, Villa Stéphanie has introduced the capability to disconnect your entire guest room from the electrical grid and Wi-Fi, thanks to copper plates in the walls and a special signal-blocking paint, reducing your devices' disruptions to your rest. combined with Villa Stéphanie's location on the banks of the River Oos, and its luxurious spa facilities, this retreat is tailored to facilitate complete rejuvenation.
Room-only rates from $570 per night with tailored menu from $205 per day. Contact Edmond Platz, reservations manager, reservations.brenners@oetkercollection.com, +49 7221 9000, brenners.com
The Purify Program AMANBAGH, INDIA
Drawing on India's ancient wellness traditions, this Aman resort in the Aravalli Hills of Rajasthan places the focus on ayurveda, which is known for its long-term benefits. Four- to 21-night programs introduce you to this 5,000-year-old practice, with an in-house ayurvedic physician to tailor your stay. The purify program focuses on eliminating toxins to regain balance and improve immunity and the body's functions. The seven-, 14- or 21-day purifying program includes ayurvedic meals, extensive ayurvedic sessions and treatments, yoga and meditation, and cultural excursions to explore the surroundings of this rose-pink, Mughal-inspired sanctuary. Specialist ayurvedic treatments include the traditional Mukhlepa facial, which uses medicated herbs to cleanse and restore radiance.
Seven-night Purify Program from $5,250. Contact Karin van Zyl, general manager, kvanzyl@aman.com, +91 146 522 3333, aman.com