Vibrating with the sounds of nature, infectious rhythms and human warmth, it doesn't take long to fall under Brazil's spell. From waterfalls and wetlands to private islands, iconic beaches and Amazonian jungle, Brazil's top suites span the country's most remote and exotic locations. Here, we've handpicked the top hotel suites in Brazil that connect you to its heritage, creativity and culture in the utmost style.
Casa Eugênia, Uxua Casa Hotel
Expertly designed by Diesel's former creative director Wilbert Das, Casa Eugênia is the most palatial of standalone houses at beach hotel Uxua. Two light-filled bedrooms are set on split levels for maximum privacy, complete with king-size beds, secluded terraces and vintage bathtubs. Eugênia is the epitome of tropical chic, with a secluded emerald-tiled plunge pool, open-plan living room and kitchen leading straight into the garden, perfect for private cooking lessons from Uxua's master chefs. Traditional white walls and thatched roofs combine with exceptionally curated design handcrafted by local artisans and Pataxó Indians. Eugênia is so in harmony with its natural surroundings that an ancient Eugenia tree peeps through the dining room roof, littering the garden with brilliant lilac petals when in season. With the Uxua Casa Hotel set on the evocative grassy square of jet-set beach village Trancoso, addresses don't get much more exclusive than this. Special amenities Packing and unpacking service, tropical flowers and homemade dessert upon arrival, elaborate Bahian breakfast, personalized guestbook, private beach shuttle, pre-reserved bed at Uxua Beach Lounge.
Size 2,454 sq ft
Number of bedrooms Two
Nightly rate from $1,090
Contact Piero Zolin, managing director, info@uxua.com, +55 733 668 2277, uxua.com
[See also: Top 100 Suites in the World]
Cordilheira Lodge, Caiman Ecological Reserve
Set on 130,965 acres of private reserve, the first eco-tourism lodge in Brazil's Southern Pantanal remains its most luxurious. Tucked away eight miles from the main lodge, this self-contained villa combines five suites, each complete with individual living rooms, bathrooms and balconies, designed in contemporary African prints featuring black-and-white photos of the reserve's abundant wildlife. Along with a private swimming pool that overlooks the lake, the lodge comes with its own private chef and a bilingual naturalist to guide guests through horseback riding, birdwatching, night safaris and canoe trips through the magnificent wetlands. Additional highlights include special excursions with biologists to track jaguars and hyacinth macaws. Special amenities Regular activities accompanied by Caimaners (bilingual guide Portuguese/English) and field guide, bar and private restaurant.
Number of bedrooms Five
Nightly rate from $4,198
Contact caiman@caiman.com.br, +55 113 706 1800, caiman.com.br
Especial Esmeralda, Ponta Dos Ganchos
Framed between Atlantic rainforest and pristine ocean on a private peninsula in the southern state of Santa Catarina, this wood-crafted villa is the ultimate romantic hideaway. With endless natural light offset by beige, crisp white and beach-blond wood, the open-plan bedroom blends into the living room and a generous deck. Here, the infinity pool drops away to the crystal clear sea, where whales cruise by from June to November. Featuring a dry sauna, private gym, wine cellar, tatami massage tables and giant Jacuzzi bath overlooking the ocean, there's little reason to leave. Staff are on hand to deliver a 10-course tasting menu for breakfast at any time of the day. Eventually, though, the resort's stellar activities, from snorkeling to boat trips and dinners on private islands, might just draw you out.
Special amenities Champagne on ice and fruit plate upon arrival, concierge service to customize daily itineraries, private cellar
Size 3,336 sq ft
Number of bedrooms One
Nightly rate from $1,923
Contact Annika Camara, reservation manager, reservation@pontadosganchos.com.br, +55 483 953 7000, pontadosganchos.com.br
Master Falls View, Hotel Cataratas
A private, front row seat to one of the Seven Natural Wonders of the World isn't something you stumble across every day. Available upon request, Hotel Cataratas' presidential suite is the only room to offer an unadulterated view of Iguaçu Falls from its juliette balcony. Recently renovated by Brazilian architects Froma as part of a $2.2m upgrade of the hotel, the suite epitomizes old world glamour, combining sleek woods and tropical fabrics with colonial Portuguese touches, such as the handmade tiles in the marble bathroom. Alongside the spacious bedroom, there's a dining room to host private gatherings, which connects to two further suites. Hotel Cataratas is the only hotel located inside the National Park; guests therefore have around-the-clock access outside opening hours, so you can fall asleep on 600 thread count Egyptian cotton to the rush of the falls and the flurry of the park's magnificent birdlife. Special amenities Butler service, dedicated concierge.
Size 1,023 sq ft
Number of bedrooms One
Nightly rate from $1,324
Contact Eduardo Bressane, general manager, reservations.brazil@belmond.com, +55 452 102 7000, belmond.com
[See also: Remote Hotels Offering Luxurious Off Grid Living]
Royal Suite, Palácio Tangará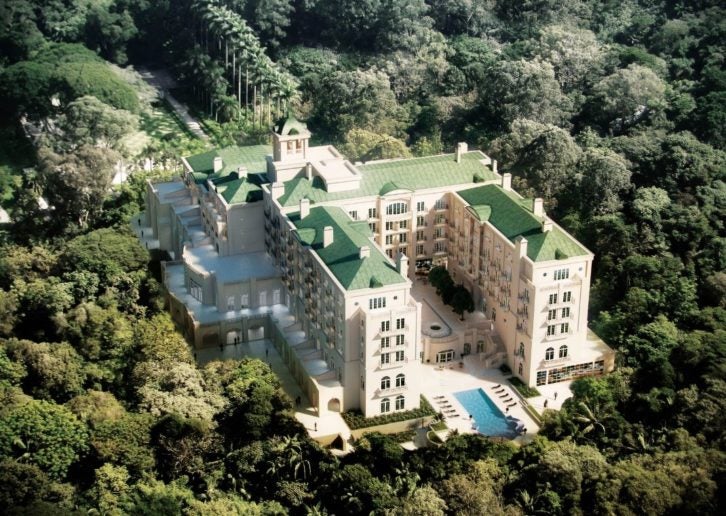 When Oetker Collection opened the magnificent Palácio Tangará in 2016, they seriously raised São Paulo's sophistication stakes. A former belle époque palace overlooking 64 acres of parkland crafted by Roberto Burle Marx, it is a haven in the buzzing metropolis. Designed with visiting heads of state and royalty in mind, the Royal Suite enjoys a princely view over the park, with a 2,690 sq ft terrace perfect for entertaining. Alongside the king-sized suite dressed in Trussardi linen, there is a private adega, living room, dining room for 12, fireplace, office and library. Elegant monochrome tones—the signature style of Brazilian designers Bick Simonato — are broken up with refined details in green and gold, paying homage to the colors of the Brazilian flag. From parties in the hotel's ballroom to spots at the hottest chef's table in town, the 24-hour concierge team (self-proclaimed "artisans of paradise") are on call to ensure your wish is their command. Special amenities: Trussardi linen, Bulgari bathroom amenities.
Size 3,003 sq ft
Number of bedrooms One
Nightly rate from $5,439
Contact Celso David do Valle, managing director, reservations.tangara@oetkercollection.com, +55 114 904 4040, oetkercollection.com
Paiol Suite, Reserva Do Ibitipoca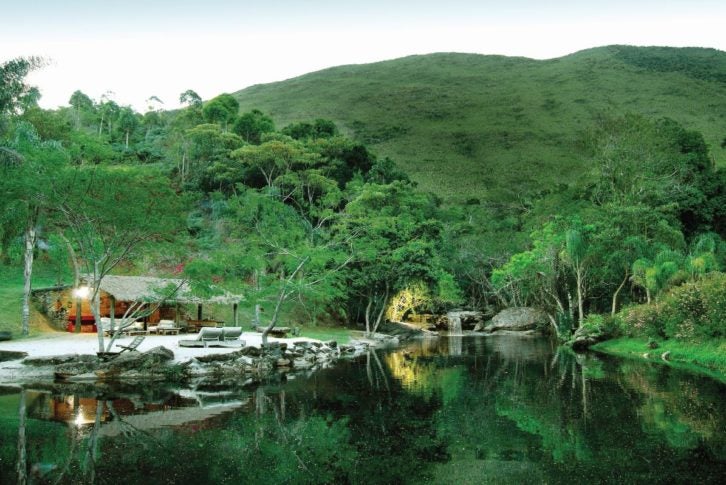 A total retreat into nature with incredible service, this 7,413-acre private reserve has been crafted by Brazilian billionaire Renato Machado to add an extra belt of protection to Minas Gerais's Ibitipoca national park, home to the highly endangered muriqui monkey. Set on a private lake, the 2,152 sq ft standalone Paiol suite sits 328ft from the main colonial-style farmhouse. A true experience of Brazilian country living, the luxurious wooden cabin combines a wraparound veranda with rustic chic living room and kitchen, where chefs can cook up fabulous country-style private feasts. In the place of Wi-Fi and TV, expect an outdoor copper tub, 400-thread count Egyptian cotton sheets and roaring fireplaces. Passionately thoughtful staff plan surprises at every turn, from caipirinhas at secluded waterfalls during horseback rides to flower-filled baths upon return. Special amenities Daily yoga and two guided walking experiences per day, access to the private runway and helipad, bespoke adventures including visits to waterfalls, rides on Mangalarga horses, cooking lessons and tours of the outdoor art and sculpture collection are available.
Size 2,152 sq ft
Number of bedrooms One
Nightly rate from $1,356
Contact Nadja Hoffman, estate manager, reservas@ibiti.com, +55 328 449 2200, ibiti.com/en
Special Bungalow Cristalino Lodge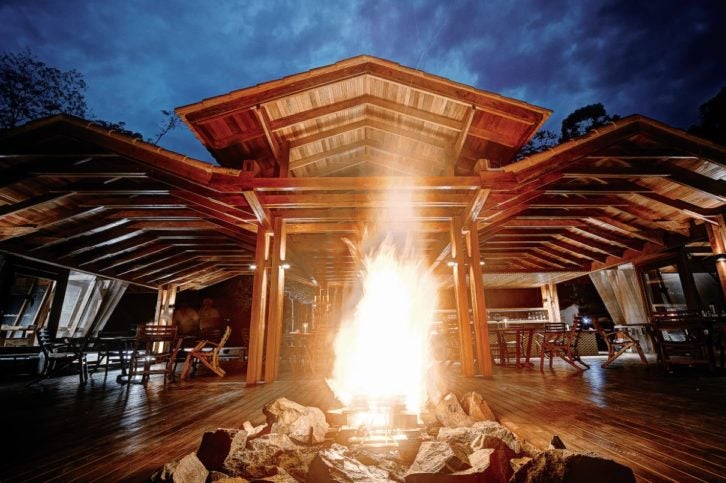 Rather than a personalized butler, howler monkeys and an array of rare birds provide the wake-up calls at Cristalino, a designer eco lodge tucked away in the remote  Amazonian rainforest. This standalone bungalow is the largest and most secluded, encircled by a private lawn where capybaras congregate in the afternoon sun. The spacious bedroom fans out onto a private jungle terrace, anteroom with additional two beds and alfresco jungle bathroom, where you can wallow in a giant tub encased in palm trees. The bungalow is accessible only by boat and is powered exclusively by solar power. The surrounding forest is home to more than seven species of monkey, including the endemic white-whiskered spider monkey, and a rich array of birdlife, butterflies and orchids. From the lodge's 164ft observation towers (the highest in Brazil) you can watch the jungle wake up from above the forest canopy. Private guiding with bird specialists is available upon request. Special amenities: Private boat transfers for guests on the Cristalino River, daily guided excursions, private guide and naturalist experts available.
Size 850 sq ft
Number of bedrooms One (with an anteroom for two children to sleep)
Nightly rate from $372
Contact Priscilla Eilert, office@cristalinolodge.com.br, +55 663 521 1396, cristalinolodge.com.br
Deluxe Oceanfront, Fasano Hotel Rio de Janeiro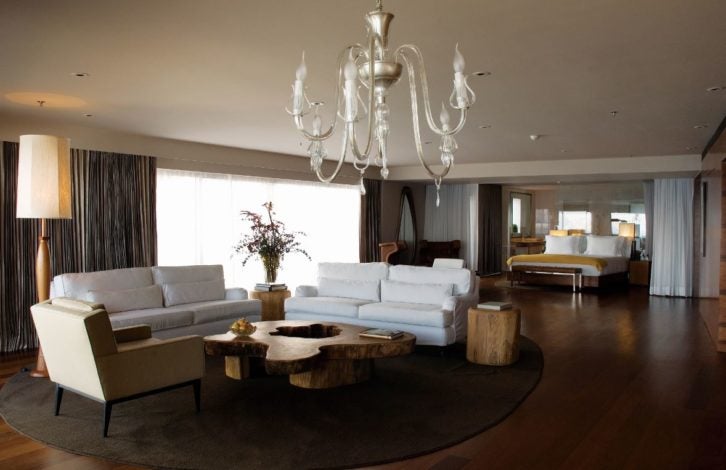 Overlooking iconic Ipanema beach's surf break, the private balcony of the Fasano's oceanfront suite is one of the most coveted corners in Rio. Even the king-size bed is positioned so you can wake up to a view of nothing but unadulterated glittering blue. Designed by Philippe Starck, the vintage 1960s style is an ode to Brazil's bossa nova era, featuring a loft-style living room with sumptuous hardwood floors, butter-soft leather armchairs designed by Sergio Rodrigues, Chinese onyx lamps and a private bar. The open-plan marble bathroom features a walk-in shower and bathtub (both big enough for two and with ocean views). Instead of artwork, Dalí-esque mirrors are strategically positioned to capture glimpses of the ocean. Come sunset, head up to the rooftop pool and mingle with the hip locals. Special amenities Large private oceanfront balcony, bathtub with ocean view, reserved loungers at Fasano's beach club.
Size 1,399 sq ft
Number of bedrooms One
Nightly rate from $2,300
Contact Bárbara Magalhães, reservations manager, barbara.magalhaes@fasano.com.br, +55 213 202 4000, fasano.com.br
Deluxe Bungalow, Toca da Coruja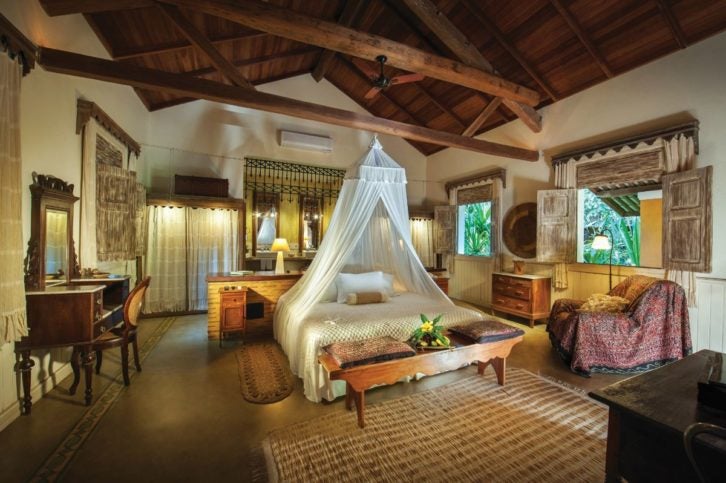 Set in the hip surfing village of Praia da Pipa in Brazil's northeast, this tropical bungalow nestles on stilts amid a 269,097 sq ft eco resort five minutes' walk from one of the country's most beautiful beaches, Baia dos Golfinhos (Dolphins' Bay). Inspired by the colonial fazendas that once dotted the region, crisp white linens combine with antique furniture and reclaimed wooden French doors that open onto a wraparound terrace, complete with giant white hammock and outdoor sofas enveloped in palm trees. Silent save for the hum of cicadas, Toca da Coruja (the Owl's Nest) is a superior spot to unwind between swimming with the dolphins, spa treatments and the series of ionized swimming pools. Special amenities: Packing and unpacking service.
Size 1,399 sq ft
Number of bedrooms One
Nightly rate from $460
Contact tocadacoruja@tocadacoruja.com.br, +55 843 246 2226, tocadacoruja.com.br
Supreme Villa, Botanique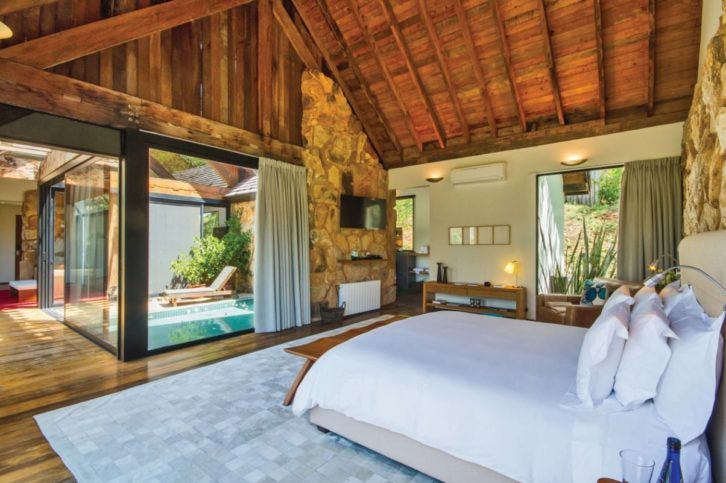 A luxury mountain escape crafted by Brazilian entrepreneur Ricardo Semler and his designer wife Fernanda as a showcase for the best of the country's artistic and design talent, with every detail as exquisite as it is Brazilian. The king of the spectacular suites is the split-level wood-crafted Supreme Villa, where endless windows overlook the Mantiqueira mountain range and pristine forest. As cozy as it is elegant, the open-plan living area combines a 55-inch TV home theater with a private bar, fireplace and grand piano, alongside indoor and outdoor bathtubs and a private plunge pool. Personalized-experience butlers transport guests around the grounds in custom-built duck-egg blue golf carts (Maseratis are left at the entrance) and organize shamanic healing massages in the tropical rainforest spa and rides on Olympic-trained horses. Special amenities: Private cinema, library, private sauna, tropical rain sauna, professional guides and teacher for all outdoor activities, such as horse riding.
Size 900 sq ft
Number of bedrooms One
Nightly rate from $857
Contact reservas@botanique.com.br, +55 123 662 5800, botanique.com.br