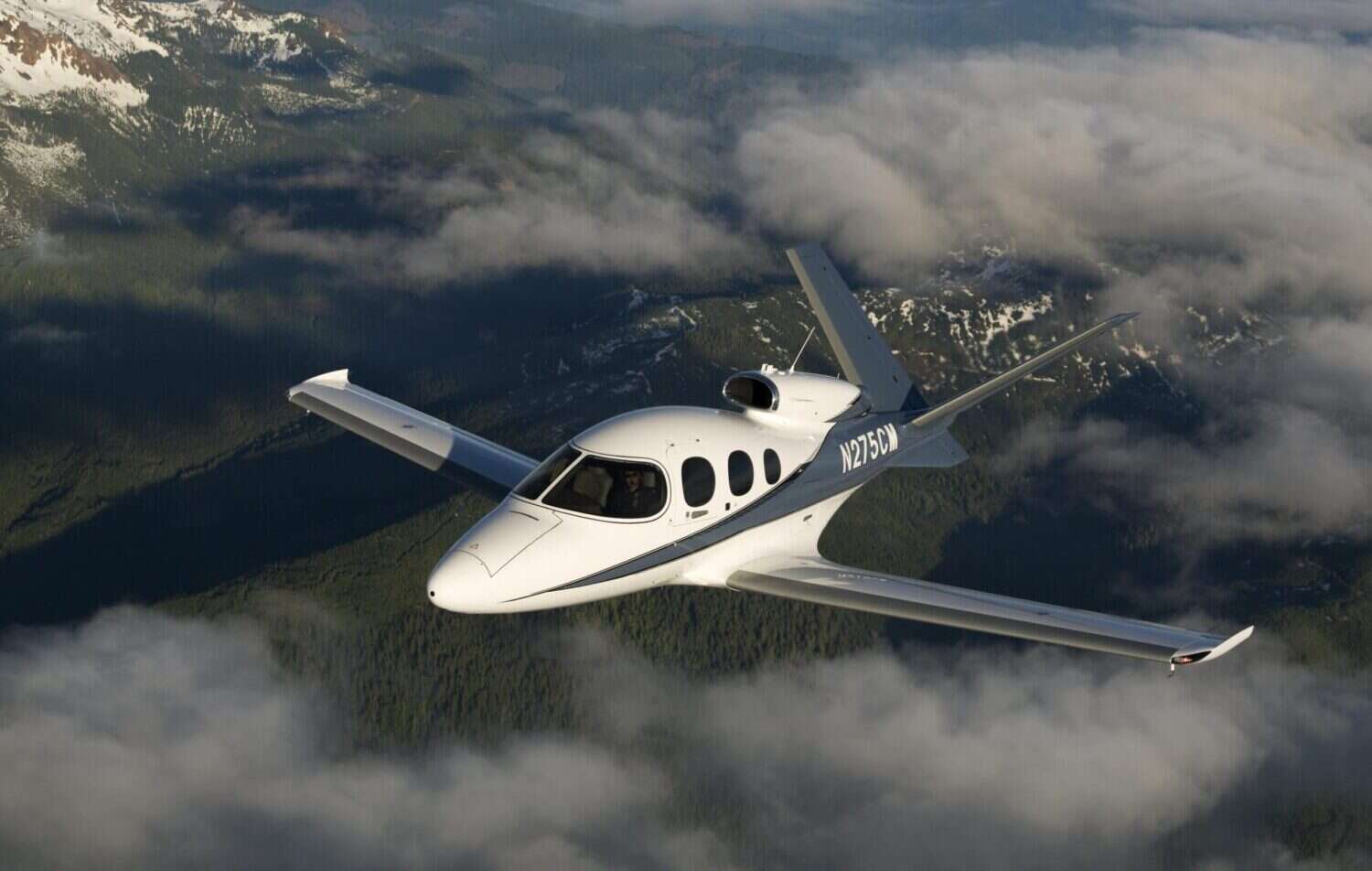 There are basically three things you need to know about the third edition of Cirrus Aircraft's popular very light jet. Unveiled this summer, the Cirrus Vision Jet G2+ can take off from more airports; it can do so with a higher takeoff weight; and, while its panoramic windows will entice you away from your digital devices, you can now stay connected with Gogo Business Aviation internet.
An update of its Williams FJ33-5A engines means shorter runways for takeoff. That adds convenient airports in Santa Monica, California and Wings Field outside Philadelphia. It also means there are no longer seasonal weight constraints when flying out of Aspen or those hot days at Las Vegas Henderson Executive Airport. In fact, executives say to think of runways at 4,000 ft, and up to 500 lbs more payload for people, pets, baggage…whatever you need.
The Vision Jet's popularity with owners, pilots and passengers has always been due to its flexibility. There are multiple cabin configurations that can easily be switched out by the pilot on a flight-by-flight basis. Owners say the feature makes it ideal for fishing and skiing trips on the weekend, then flying the corporate team to the week's meetings on Monday. The single-pilot small jet can seat up to seven. And while owners and pilots are often one and the same, that's changing as well. Cirrus' Vision Air Owner management program offering includes an on-demand professional pilot, concierge service, complete maintenance coverage, aircraft management oversight and storage, as well as options for insurance coverage and referrals for professional tax advice.
[See also: From our Partners: Cirrus Community Showcases Power of Aircraft Ownership]
There are currently more than 245 Vision Jets in service. According to the General Aviation Manufacturers Association, it has been the most delivered private jet over the past three years. The G2+ is priced at $2.98m 'fully loaded.' That's a bit more than the $2.85m price tag for the G2 and up from the original, which cost $1.96m.
Of course, the Vision Jet is unique with both its emergency parachute, a feature that's been used over 100 times, and Safe Return Emergency Autoland. The latter enables the aircraft to be landed by autopilot at the nearest suitable airport with a touch of a button, located for easy use by passengers should the pilot become incapacitated.
[See also: What it's Like to Fly the Cirrus Vision Jet]
If you want to get a good look at the G2+, Cirrus has scheduled static displays this fall at airports in Westchester County (north of New York City); Nashville; Las Vegas; Sanford, North Carolina; and Scottsdale, Arizona. If you're already an owner, there are opportunities for both WiFi and engine upgrades, Cirrus executives tell Elite Traveler.
The Vision Jet is likely to be more readily available on the charter market in the future. Florida-based Verijet is expanding its fleet nationally—and eventually to Europe. It offers a fixed rate of $3,000 per hour and an option to have a second pilot. Jet card broker OneFlight International includes the Vision Jet in its fixed-rate, guaranteed availability membership program.
Doug Gollan is founder and editor-in-chief of the private aviation solutions buyer's guide, privatejetcardcomparisons.com
This article appears in the 26 Aug 2021 issue of the New Statesman, Fall 2021