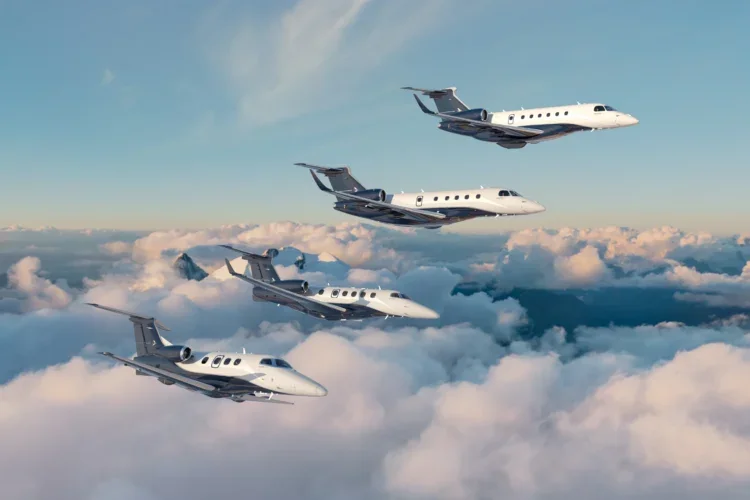 Brazilian aerospace manufacturer Embraer and sustainable aviation pioneers 4AIR have joined forces to offer new business jet owners complimentary carbon offsetting, the two companies have announced.
Embraer, through 4AIR, will offer customers of their private air services carbon offset credits at no extra cost. How, exactly? The partnership has announced that new Embraer business jet customers who enroll in the company's Embraer Executive Care program will receive a complimentary 25 carbon-neutral flight hours through 4AIR, thus offsetting their carbon emissions throughout their first year of ownership.
And Embraer couldn't have picked a better partner to work with in their pursuit of sustainable solutions within the industry. 4AIR's framework, an industry first, offers independently verified results quantified by international bodies including Climate Action Reserve, American Carbon Registry, and The Gold Standard, to offer specific, science-led goals for private aviation users.
"Embraer is committed to ensuring that the future of aviation is sustainable, and to that end we are aiming to achieve carbon-neutral operations by 2040 and are supporting the industry's goal of net-zero carbon emissions by 2050," said Johann Bordais, president and CEO of Embraer Services and Support.
"Our partnership with 4AIR will incentivize business jet customers to make their own long-term commitment to sustainability and demonstrate ways they can start acting now," Bordais continued.
[See also: Victor Unveils Sustainable Aviation Fuel Offering]
[See also: First Onboard – Inside VistaJet's Bombardier Global 7500 Fleet]
[See also: How Much Does NetJets Cost?]
This isn't the first time Embraer has proven its dedication to long-term environmental sustainability within the industry. Last year saw the company announce new environmental targets. Embraer not only increased its use of Sustainable Aviation Fuel but also accelerated its work to make its products 100% compatible with it.
"We are pleased to join with Embraer in this initiative, which will start owners and their new aircraft on the right foot for the beginning of their sustainability journey," 4AIR president Kennedy Ricci said. "The carbon offset credits Embraer is providing for Executive Care customers will have a real impact on the climate-changing emissions their jets generate."
Embraer will offer customers the opportunity to continue their commitment to fighting climate change once their 25 flight hours are completed through a variety of 4AIR plans. Options include continuing to participate in 4AIR's Level 1, which offsets 100% of carbon dioxide emissions, or opting into becoming totally emissions-neutral, through offsetting non-carbon climate-changing emissions. Another option is reducing emissions through means that include the use of Sustainable Aviation Fuel.
"These credits will not only offset the climate impact of their flight activity, but also produce real economic benefits for people in the countries where these credits fund projects," Ricci concluded.