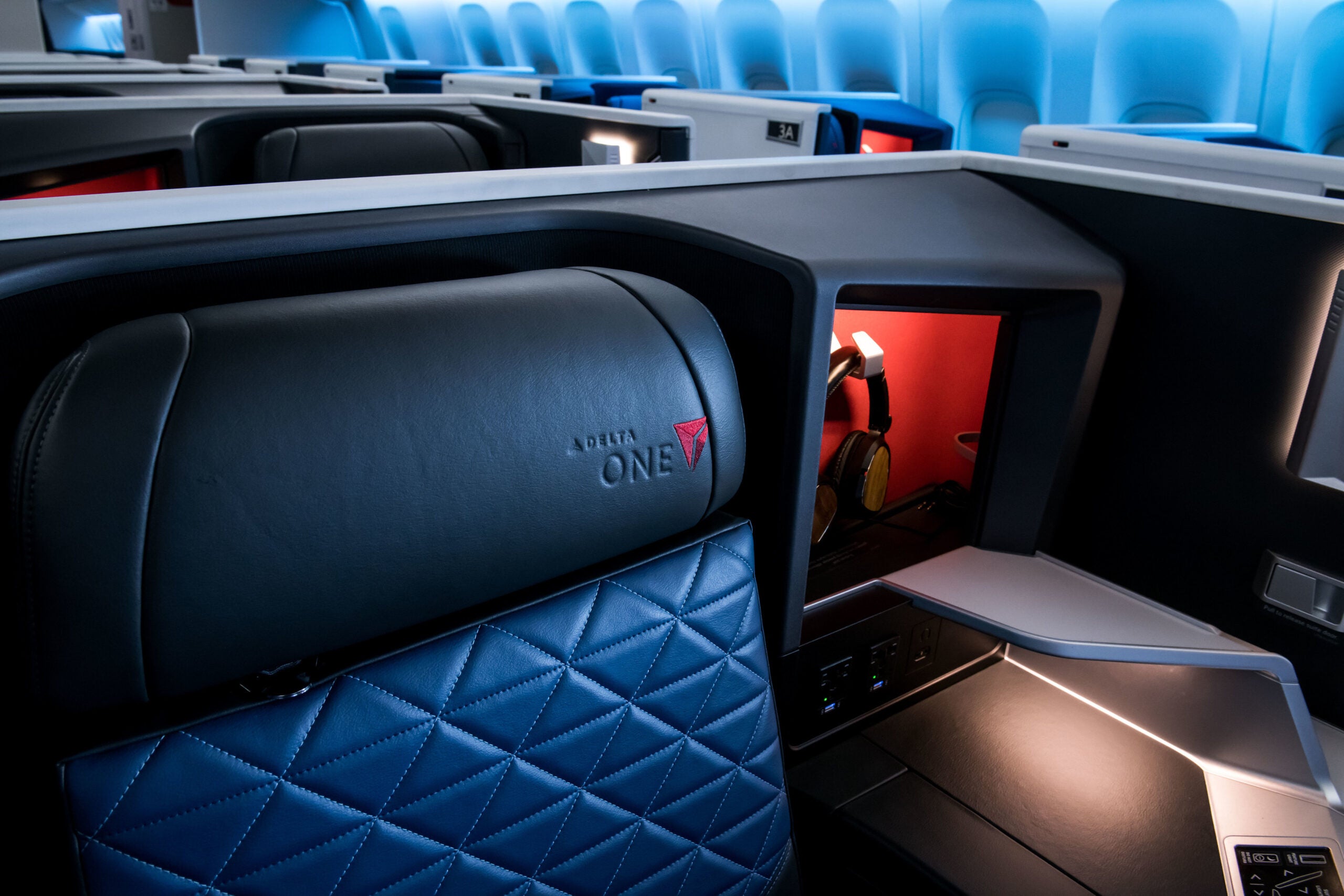 Normally referred to as Delta, Delta Airlines is a leading United States-based airline with headquarters in Atlanta, Georgia. Delta offers both domestic flights within the US and an expansive roster of international locations – it flies to over 300 destinations across 60 countries. As air travel finds its feet after a challenging 18 months, we are taking a look at what passengers can expect when they fly Delta first class.
Before delving into the details, however, it's worth pointing out that Delta first class on its international flights is actually called Delta One. In a similar way to American Airlines' format, Delta first class refers to the airline's shorter and domestic flights, which offers larger seating and world-class service – but not the layout or space that one would expect from an international first class experience.
This is why we are focusing on Delta's most premium product, Delta One, which is the 'first class' option available on most of Delta's long-haul and international flights. Offering private suites with lie-flat seating, delectable food and beverage options and impeccable service, when you fly Delta One you will experience the luxury expected of a first class cabin.
[See also: Delta Private Jets Combines with Wheels Up]
On the Ground
Before departure, those flying in Delta One can benefit from the airline's pre-flight amenities and customer service, including the use of the Delta Sky Club (found at certain airports). Within the Delta Sky Club, there is ample space to work before your flight or enjoy a pre-flight drink or meal with family and friends with complimentary food and drink.
Delta staff are on hand to offer any assistance and fulfill requests; they can answer questions and direct you to your flight when boarding is announced. Delta One passengers also benefit from Sky Priority check-in, security and baggage handling, allowing you to breeze through the airport without being stuck in long queues. This is also true for boarding – Delta One passengers are invited to board first, allowing you more time on the plane to settle in and make the most of the experience.
Amenities
The Delta One Suites have an individual, full-height sliding door that closes to create an exclusive and private suite space; they can all be accessed directly from the aisle. Not only is there more space to stretch out within the suite, but it has also been designed with a range of storage space, including a storage nook built into the seat and side tables to store personal items you may use during the flight.
The seats have the ability to transform into a 180-degree flat bed for a restful sleep, complete with an oversized duvet and a down-alternative pillow from Westin Heavenly. When they board, guests in the Delta One Suites will also be greeted by a TUMI amenity kit full of travel essentials, including Le Labo products.
Enjoy world-class entertainment on the 18-inch screens and noise-reducing headphones provided within the suite. Whether you're interested in films, games, television or music, the Delta Studio entertainment system has a range of options to keep you entertained. There is also a USB and in-seat power outlet to ensure your devices are fully charged throughout the journey.
[See also: The Best First Class Airlines in the World]
Dining
Dining options within the Delta One cabin have been updated to include seasonal produce, fresh and regionally sourced ingredients and meals that have been curated by international chefs. All meals on international flights feature multiple courses, beginning with an aperitif. This is followed by appetizers, salads and soups before the main meal is revealed; guests have a range of main mean choices, including vegetarian and seafood dishes.
Beverages and desserts are served via carts that are rolled through the aisles, with the dessert cart featuring fruit, cheese and a range of sweet options that are prepared beside your seat. All meals are served on white table cloths, using crockery from designer Italian homeware company, Alessi. Those flying with Delta are also able to pre-select their meals up to 72 hours before departure, using the Delta app.
Depending on your route and flight, you may be lucky enough to enjoy a meal that has been created to showcase the cuisine of the region you arrive or depart from. These have been made in partnership with specialty chefs, including Linton Hopkins, who has created Southern-inspired dishes for certain Delta flights departing from Atlanta.
As well as top-quality food options, Delta has worked with master sommelier Andrea Robinson to create a selection of wines from across the globe. These are available to Delta One suite guests throughout their time onboard – including exclusive wine pairings for your meal of choice.
Locations
Delta One Suites can be found onboard several different aircraft that make up Delta's fleet: the Airbus A330-900neo, Airbus A350 and some Boeing 767-400ER. As the airline's most premium product, the Suites are usually only available on international flights but there are exceptions to this rule, including the flight from Minneapolis or Atlanta to Hawaii.
The Delta One Suites were originally launched on the Airbus A350 in 2017. The airline flies to eight international routes using an Airbus A350 with Suites onboard, with destinations including Toyko, Shanghai and Seoul. Meanwhile, all the Delta Airbus A330-900neo aircraft are fitted with Suites on delivery; this aircraft mainly flies from Seattle (SEA) and New York (JFK) to international destinations including Amsterdam and Tokyo.
Slightly different to Delta's Airbus aircraft, the Boeing 767-400 has a doorless version of the Delta One Suites – and only certain aircraft have been retrofitted with the updated Suites. The international routes this aircraft takes include New York (JFK) to Los Angeles (LAX), London Heathrow (LHR), Zurich (ZRH) and Santiago de Chile (SCL).
[See also: Twenty for 20: Iconic Jets of the Past and Future]