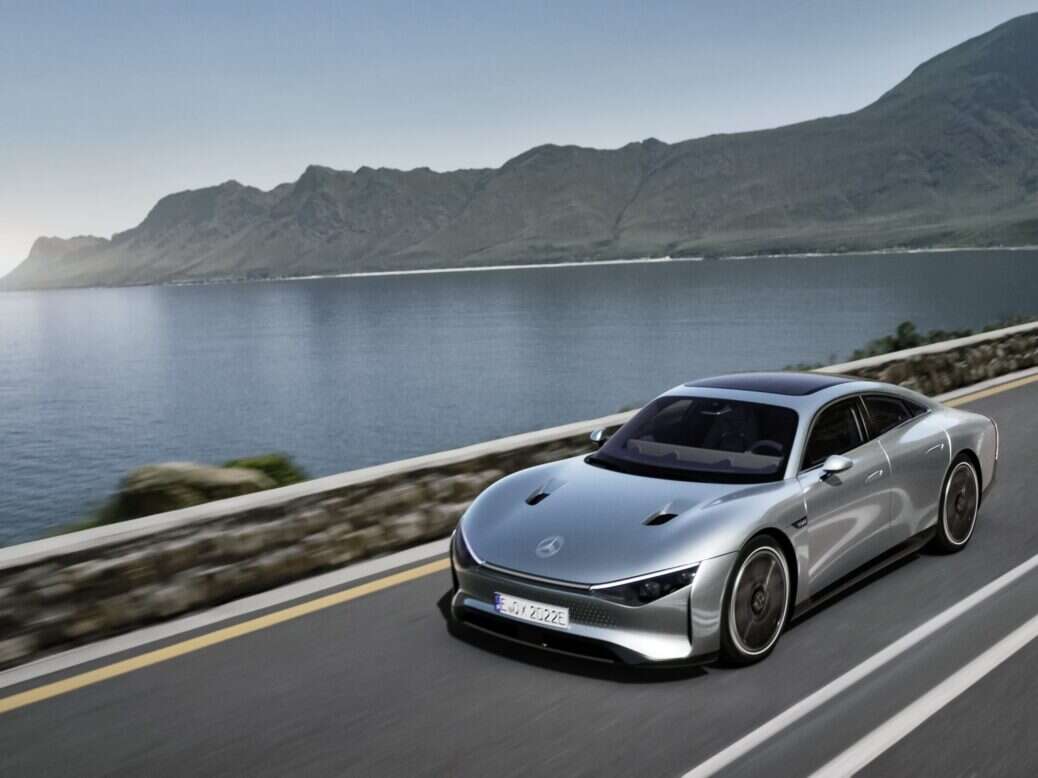 When words like less, more, smaller and greater are listed in concert, it's easy to view them as contradictory. But vehicle manufacturers and their engineers classify these terms as development and reinvention targets. Less weight, more torque, smaller engines, greater range. The pragmatic drive to make something better has grown to include another pair of words that were, until recently, often seen as diametrically opposed among car brands: sustainability and luxury.
Carmakers are increasingly eschewing lavish materials and profligate processes, and instead looking to alternatives that showcase a new kind of quality. In the following pages, we explore how a handful of automobile brands navigate and reimagine the most important global challenge facing the industry — environmental efficiency.
[See also: The Best Luxury Cars of the Year]
Mercedes-Benz
On average, it takes automakers a handful of years to bring a vehicle from sketch to market. The newest concept from Mercedes-Benz, the fully electric Vision EQXX, began a scant two years ago.
With a range of 620 miles on a single charge (that's 6.1 miles per kilowatt hour, a "crazy low" consumption according to Malte Sievers, an EQXX development engineer), the vehicle is compelling.
It's also the darling of Ambition 2039, Mercedes-Benz's plan to have a completely CO2-neutral fleet of passenger cars and vans by the aforementioned year. The brand proposed a drastic shift in value chain and life cycle to be implemented a full 11 years before it is required by European Union legislation.
"We are accelerating our innovation speed and bringing new, sustainable technologies into series production as quickly as possible," according to Markus Schäfer, chief technology officer for Mercedes-Benz Group AG.
[See also: Aston Martin COO Michael Straughan on Racing Green]
While broad, sweeping statements have the ability to pressure other manufacturers, it's the details that demonstrate true commitment. Rollout has already begun. Still in its halo model phase, Vision EQXX uses CO2-reduced flat steel in its body.
"Green steel," as Sievers refers to it, is produced entirely from scrap in an electric arc furnace, reducing CO2 emissions by 70%. (By contrast, the traditional blast furnace emits an average of more than two tons of CO2 per ton of steel produced.)
Not only are parts of CO2-reduced steel already "in initial applications" throughout the current A-Class and E-Class, the new C-Class and the EQE, but Mercedes-Benz took an equity stake in a Swedish start-up that is currently prototyping a steel with iron made from hydrogen (instead of coking coal).
That willingness to go outside of its own research and development to pursue partnerships, and facilitate and incorporate new technologies — in addition to increasing the amount of recycled and sustainable materials developed in-house — establishes the wide-reaching possibility for varied collaborations.
Vision EQXX from $138,500, mercedes-benz.com
Jaguar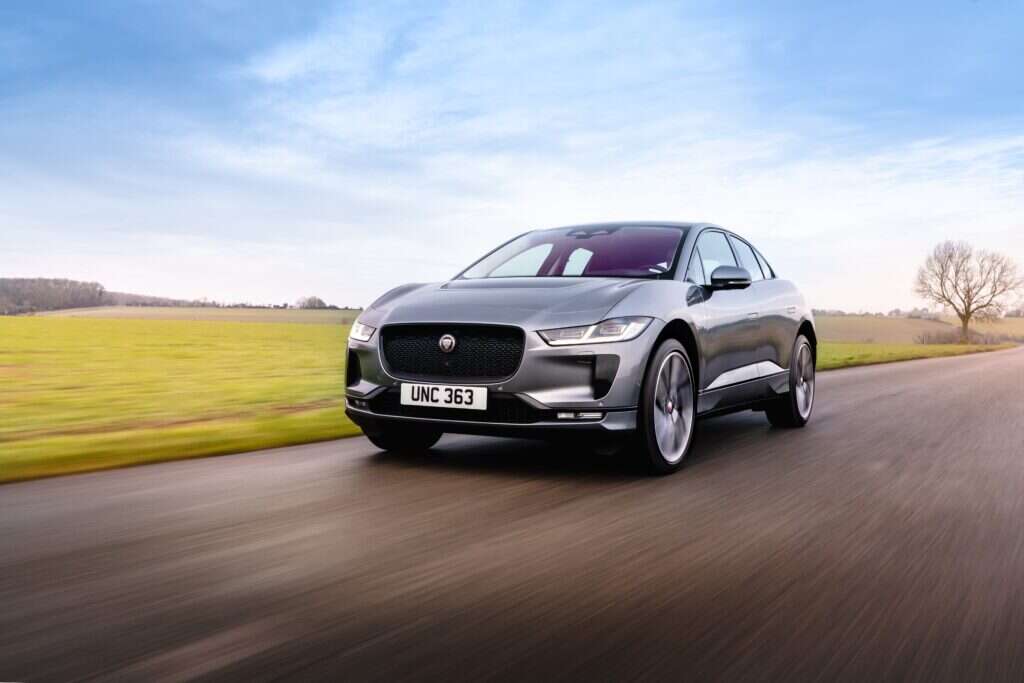 As the first to market an all-electric performance SUV in its I-Pace, it makes perfect sense for Jaguar Land Rover's circular economy team to also be the first to sort out a recycling strategy for its electrical vehicle batteries. "We have nickel, lithium and cobalt, not the most common materials," said Andrew Whitworth of Jaguar's circular economy team. "We are finding creative ways to maintain the use of the material we have, versus the throwaway society we've become accustomed to."
Jaguar's engineering team worked with energy manufacturing company Pramac to develop a zero-emission energy storage unit powered by second-life Jaguar I-Pace batteries appropriated from prototype and engineering test vehicles. The Off Grid Battery Energy Storage System features lithium-ion cells from one-and-a-half second-life Jaguar I-Pace batteries and supplies zero-emission power.
[See also: Range Rover Fifth Generation: A Modernized Classic]
Its splashy public debut (and capability flex) occurred at the 2022 ABB FIA Formula E World Championship during testing in the UK and Spain, where the Pramac unit ran the team's diagnostic equipment and supplied auxiliary power to Jaguar's pit garage. Quite simply, "You get two bites of the apple," Whitworth said. This reuse has also given Jaguar "a way to reimagine our strategy and take greater involvement in the supply chain."
Currently, Jaguar is triaging in-house, meaning they are testing the energy density of each returned I-Pace battery, analyzing and ultimately placing it where it can be most effective. The company is also sorting out how to apply that strategy to non-battery-related items like lights and the bumpers, as well as PHEV batteries. Whitworth noted: "We want to get maximum value out of everything we create and deeply invest in our sustainability message. We can figure out how to make money later. This is for the planet."
2021 Jaguar I-Pace HSE from $69,200, jaguar.com
Audi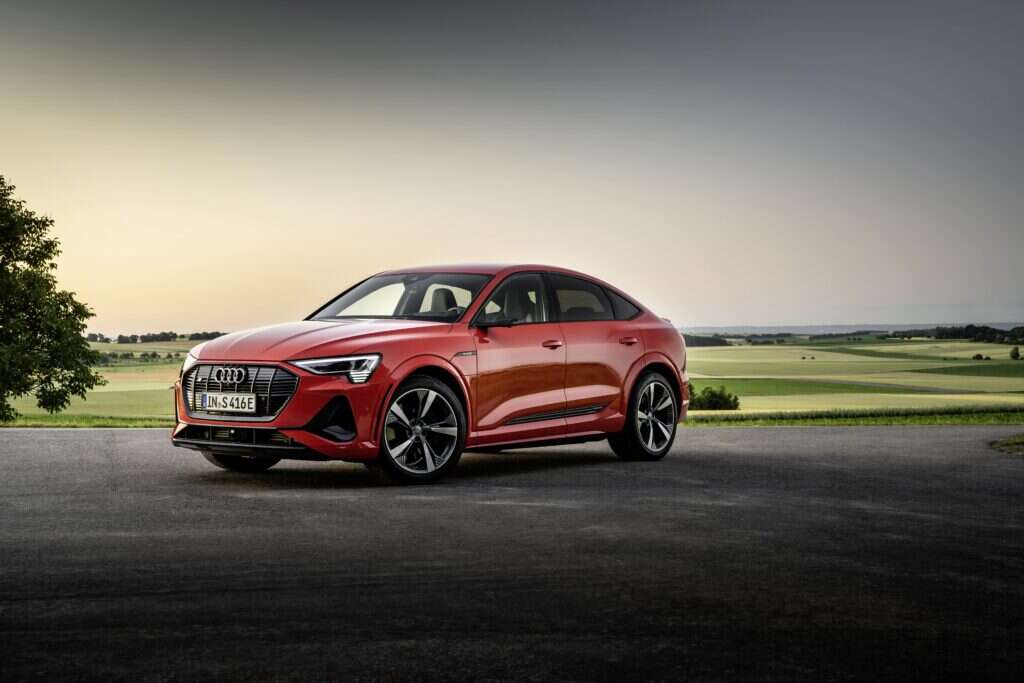 "We don't just want to buy offsets," Spencer Reeder, Audi's director of government affairs and sustainability, told Elite Traveler. One of the facets of Audi's Mission: Zero program aims for carbon neutrality (versus offsets) throughout its network, including manufacturing, suppliers, dealer operations and logistics, to name a few.
Audi released a 127-page sustainability report in 2019 outlining its objectives for Mission: Zero. Last year, the automaker took a page from the Microsoft handbook and introduced an internal sustainability fund. Within it is an internal carbon price, "which means every time someone on the executive team gets on a plane, they pay into the sustainability fund. We put a price on pollution to change behavior," Reeder explained.
The Four Rings have a series of firsts: first carbon-neutral alloy wheel (on the e-tron GT), one of the first plants to have net-zero water waste cycle, plus a pair of 'largests' — the largest commercial rooftop solar system in Europe and the brand with the largest fully electric portfolio in the world (e-tron SUV, e-tron Sportback, e-tron GT/RS, e-tron GT, Q4 e-tron, Q4 Sportback e-tron).
What's striking is Audi's commitment — both broad and narrow — to ecologically considerate methodologies. It's been a notable about-face for the brand, which was embroiled in controversy in the 2008 Dieselgate scandal. Reeder, who joined Audi in 2018, said, "The leadership was really serious about pivoting the company, and I think we have."
2021 Audi e-tron GT from $102,400 (not including the eligible $7,500 federal tax credit), audi.com
Lamborghini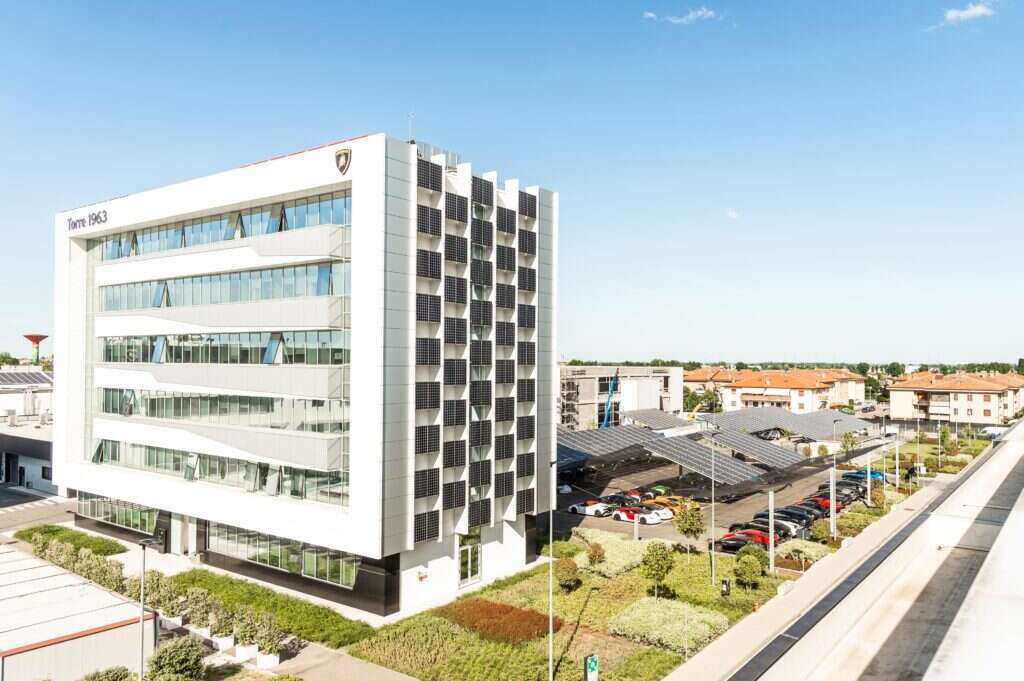 The Raging Bull likely isn't a brand consumers associate with sustainability. Lamborghini began this year by announcing four vehicle debuts featuring internal combustion engines, a curious move considering the vast majority of manufacturers are focusing their energies on alternative fuel sources. While the company's first V12 hybrid is set to debut in 2023, with full electrification by 2026, this isn't the first time Lamborghini has taken its time entering a mass-market shift. Now its best-selling vehicle, Urus launched in 2017, years after luxury SUVs rose to dominate the sector.
What may surprise, however, is the decade-long commitment to eco-initiatives throughout the Sant'Agata Bolognese facility. Since 2010, the Lamborghini photovoltaic plant, the largest in the region, has allowed a reduction of 2,000 tons of CO2. While leather and carbon fiber remain a predominant part of vehicle production, in 2020 the company recovered 56% of all special manufacturing waste, recycling it into small leather goods and sub-products.
Lamborghini may be in the pulse-quickening, hair-blowing-in-the-wind business, thanks to supercars like the 5.2-liter V10 naturally aspirated Huracán STO, but many don't know they're also purveyors of honey. Six years ago, the company installed an apiary with roughly 600,000 bees inside Lamborghini Park. Every year 948 lbs of honey is produced, a Christmas gift to employees.
2021 Lamborghini Huracán STO from $327,838, lamborghini.com
[See also: Rolls-Royce Unveils Its First Fully Electric Car]
The Elite Traveler Holiday Gift Guide launches on November 2 with over 100 ideas across 10 categories. Visit the Elite Traveler Holiday Gift Guide here.