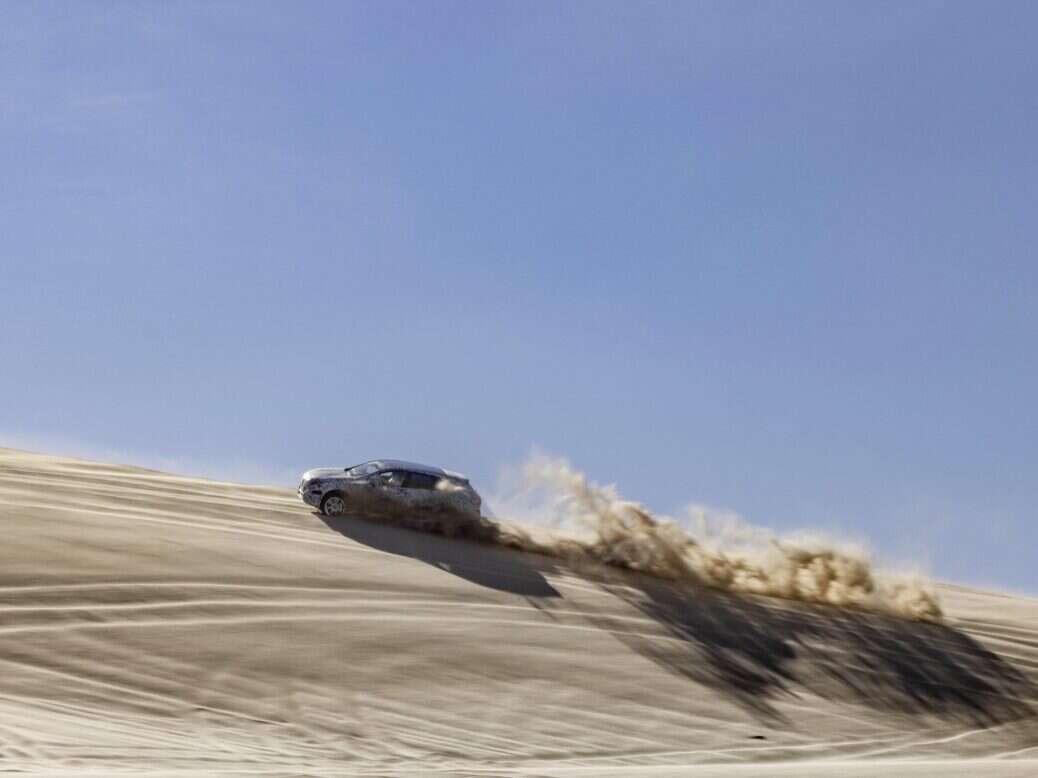 It's odd to see luxury automobile manufacturers squirm. For decades, the industry chased superlatives, sharpening exhaust notes and varying weight ratios of naturally aspirated engines and turbocharged forced inductions. Now, a different kind of race is afoot among the best cars in the world — and it's a beautiful albeit messy one.
The pandemic created and compounded chip and raw material shortages, delays and supply chain issues. Nevertheless, brands continued to experiment with electrification and range, emissions regulations and company-wide mission statements. At this moment, it's not about refining, but redefining; it's about experimenting, with a focus on possibility. The result isn't perfect vehicles, but rather thought-provoking, exciting ventures.
Aston Martin DBX707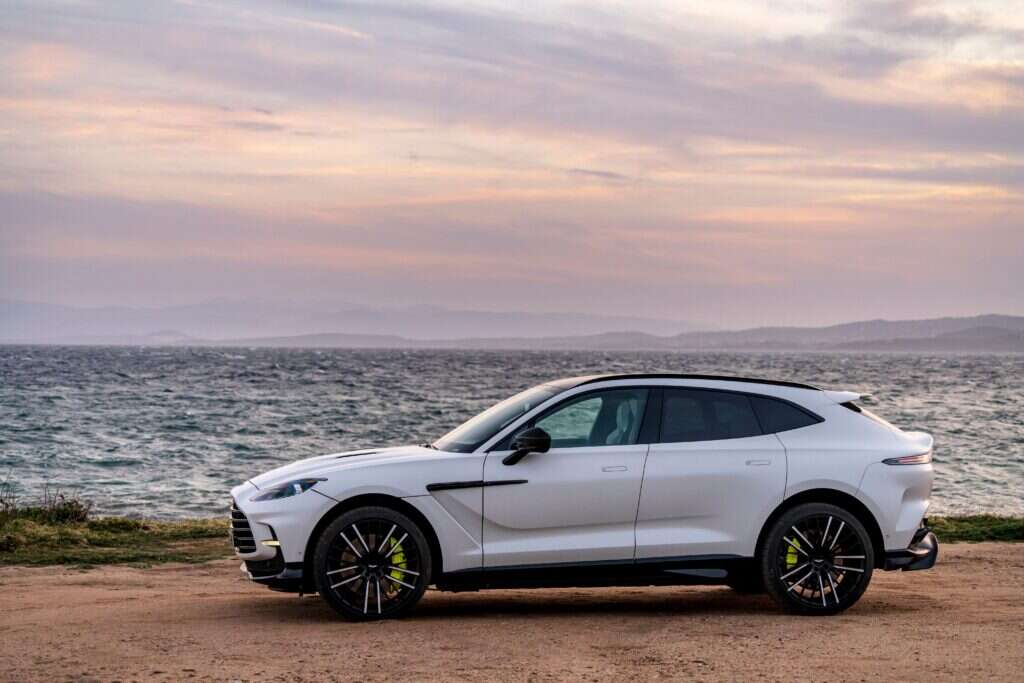 Exemplifying their archetypal humor, the Brits behind DBX707 opted to launch the current fastest SUV in the world in a place that prizes the slow passing of time. Costa Smeralda, or Emerald Coast, named for its jewel-toned waters, sits on the northeast coast of Sardinia, Italy. Rugged, undulating mountain roads — with verdant forest and rocky cliffsides that descend to wild cerulean waters — provided an unspoiled testing ground for the 4.0-liter twin-turbocharged V8.
An update to Aston Martin's best-selling vehicle, DBX (which accounted for half the company's annual sales in 2021), DBX707 features ball bearing turbochargers, a bespoke Mercedes-AMG built engine and calibration, as well as a nine-speed 'wet clutch' automatic transmission. The double-vane slatted grill is 30% larger than its predecessor, accommodating an 80% rise of airflow.
Yes, there's a 'Race Start' function. Yes, it clocks 0-60 mph in 3.1 seconds with a top speed of 193 mph. Yes, it's good ol' fashioned, brake-torquing, burnout-producing merriment.
Aston's spokespeople call the 697 hp automobile a "saber in a segment of sledgehammers." While it may, technically, be considered an SUV, the 2.5-ton crossover surely doesn't drive like one. Perhaps the purest expression of a sportscar-cum-sport utility vehicle, DBX707 embodies all the best parts of a grand tourer. Bonus: It's outfitted with height-adjustable air suspension, sits on an aluminum-monocoque base, and offers 16-way sport seats.
Aston Martin DBX707 from $236,000, astonmartin.com
Audi e-tron S Sportback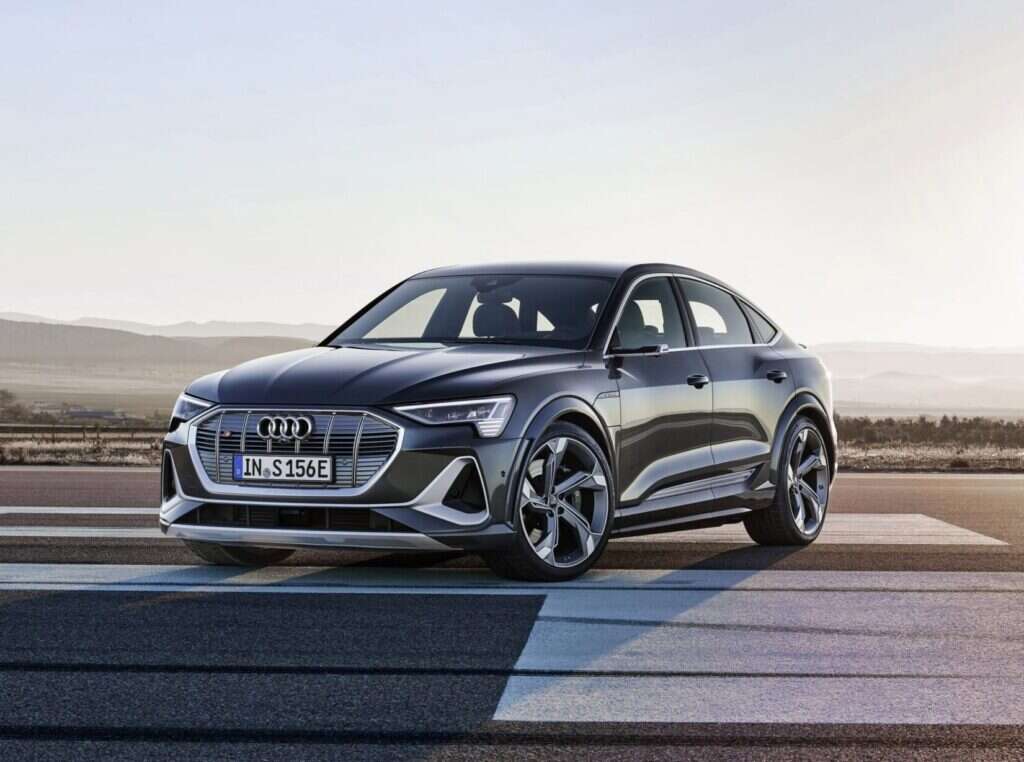 Historically, the addition of an S to any Audi model denotes enriched performance and heightened design cues. With the debut of the e-tron S Sportback, Audi continues its steadfast construction of electric drivetrains that refuse to sacrifice power or agility.
For some, the notion of multiple separate motors continues to confound, and rightly so. It's a bit tricky to understand the idea of three distinct motors configured to produce an output of 370 kW.
But that's exactly what the brand with the largest fully electric portfolio created. The bigger motor at the front axle of the e-tron S Sportback splits 201 hp between the front wheels. A duo of smaller motors paired at the rear axle, each with 177 hp, are mechanically independent but mated back-to-back inline with the axle.
Electrical engine-wise, more motors means more electric power. That includes the potential for degrees of regenerative braking, or single-pedal driving. All that's to say, despite how it gets there, the Sportback delivers. The all-wheel electric drive establishes seasonal flexibility, and the determined yet self-effacing stance allows for the handling to do the talking. While there's certainly an adjustment to electric driving, it's amusing, fast and handles swimmingly.
Audi e-tron S Sportback in prestige trim from $97,900, audiusa.com
Bentley Flying Spur Hybrid Odyssean Edition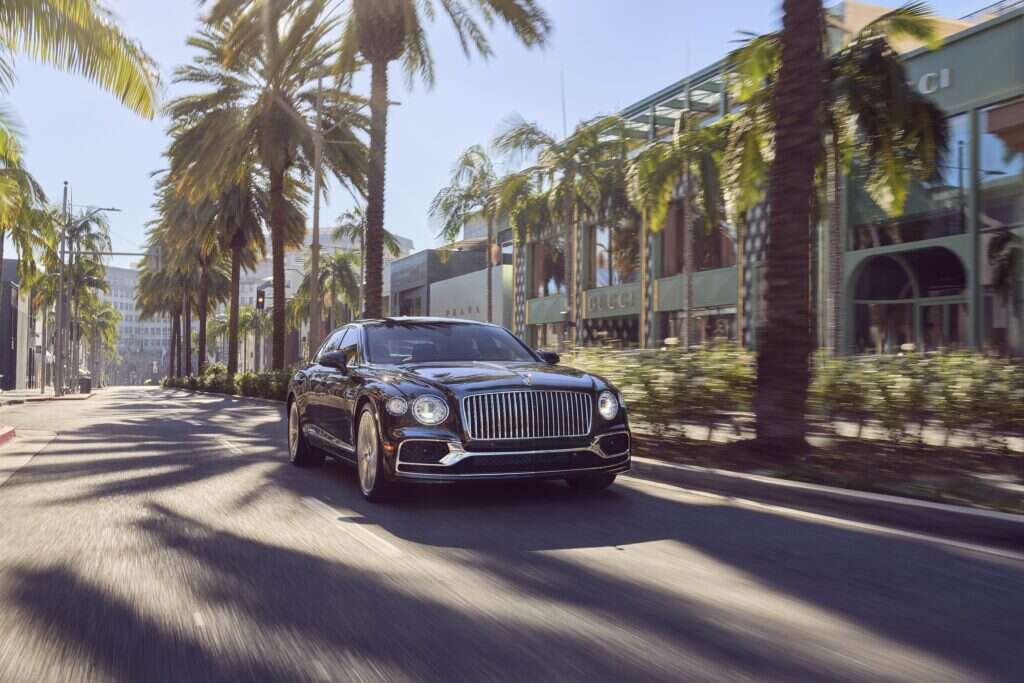 For the first time in 64 years, there's a six-cylinder engine under the hood of a Bentley sedan. To be precise, a 2.9-liter twin-turbo V6. Once unimaginable for a brand that long-prized its W12 engines, the third-generation Flying Spur utilizes the same PHEV framework as the Porsche Panamera 4S E-Hybrid. Christened the Flying Spur Hybrid Odyssean Edition, the 410 hp gas engine pairs jointly with a 134 hp electric motor for a maximum output of 536 hp. The 14.1-kWh lithium-ion battery delivers just over 20 miles of pure electric driving.
Without question, there are lighter, leaner, more range-focused plug-in hybrids and electric vehicles. For Bentley, the purpose of this hybrid is to demonstrate intentional steps toward its core mission to become the most sustainable luxury mobility company globally.
Bentley's flagship sedan is a notable cog in the wheel aiding the transition from fading system to modern technology. There are some hiccups; a rather persnickety, error-filled charging system can likely fluster those attempting to navigate it (if a Level 2 fast charger isn't within arm's reach). At just north of 5,500 lbs, it takes a second (or two) for the familiar Bentley glide to engage.
Culled from its EXP 100 GT concept car, the Flying Spur Hybrid Odyssean Edition spotlights new, sustainable interior materials like tweed sourced from 100% British wool and open-pore Koa veneer fascias and waistrails (that use 90% less lacquer than traditional veneers).
Along with the debut of the Flying Spur Hybrid Odyssean Edition, Bentley added a new handful of features to the My Bentley app including car statistics like speed, travel time and consumption, along with remote initiation of both climate control and vehicle charging.
Flying Spur Hybrid from $267,565, bentleymotors.com
Ferrari 296 GTB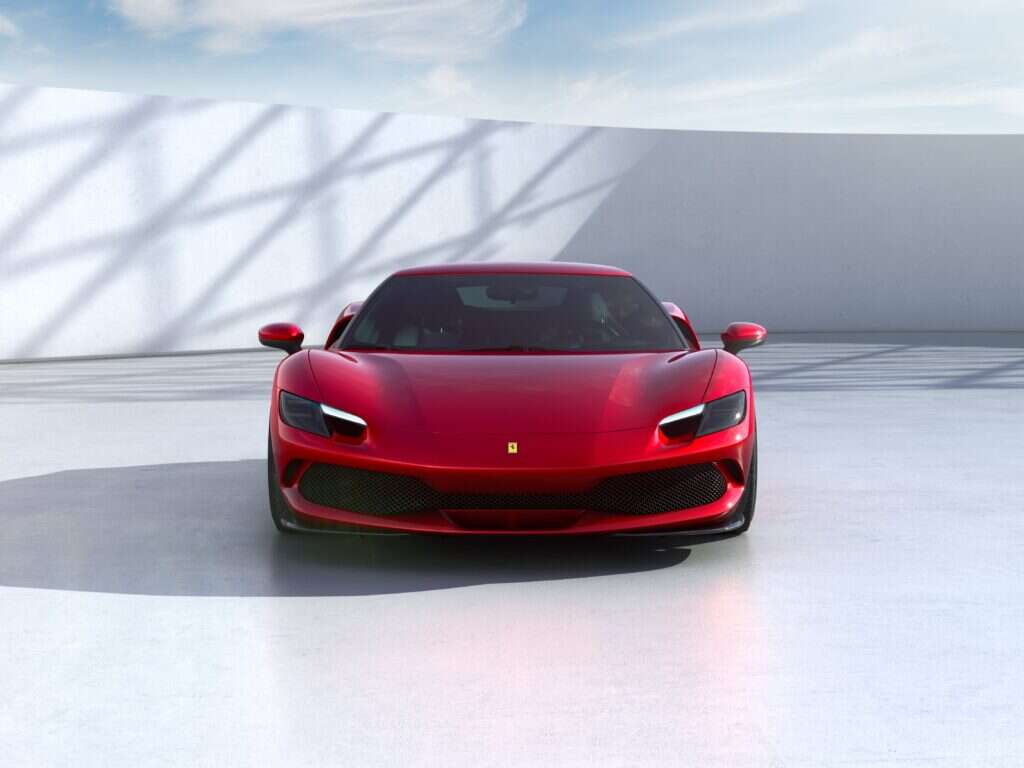 Everything about the Prancing Horse alludes to power. The classic red. The moniker. The tap of the throttle. When the Maranello house of speed makes a move, there's always an audience.
The new Ferrari 296 GTB, a mid-engine 3.0-liter Berlinetta with a twin-turbo plug-in hybrid V6, stands as equal parts statement and testament. Without question, this two-seater oozes Ferrari. From the flexed rear haunches and intakes inspired by the peppy 250 LM of the 1960s, past the transparent engine cover and down to the wide-mouthed front, the 296 GTB checks all the heritage evolution boxes.
Haters will find a way to critique the hybrid powertrain and 6-kWh battery. The 296 GTB can maintain maximum output, 819 hp, for two laps around the technical, quick and positively stunning Circuito Monteblanco outside of Seville before falling to 779 hp. That alone was plenty of time to rethink one's pre-track meal choices. Thankfully, the exhaust notes rumble louder than any human stomach, EU vehicle-noise standards notwithstanding.
Mounted on the steering wheel is a duo of selectors, one for the hybrid powertrain (eDrive, Hybrid, Performance, Qualify) and another for the chassis. It's a new type of choice the driver must make. As with any transitional technology, compromise and compliance could have flummoxed engineers and hindered the 296 GTB. It may have been forgiven. Thankfully, that's not the case.
Ferrari 296 GTB from $317,986, ferrari.com
Jaguar F-Pace SVR Edition 1988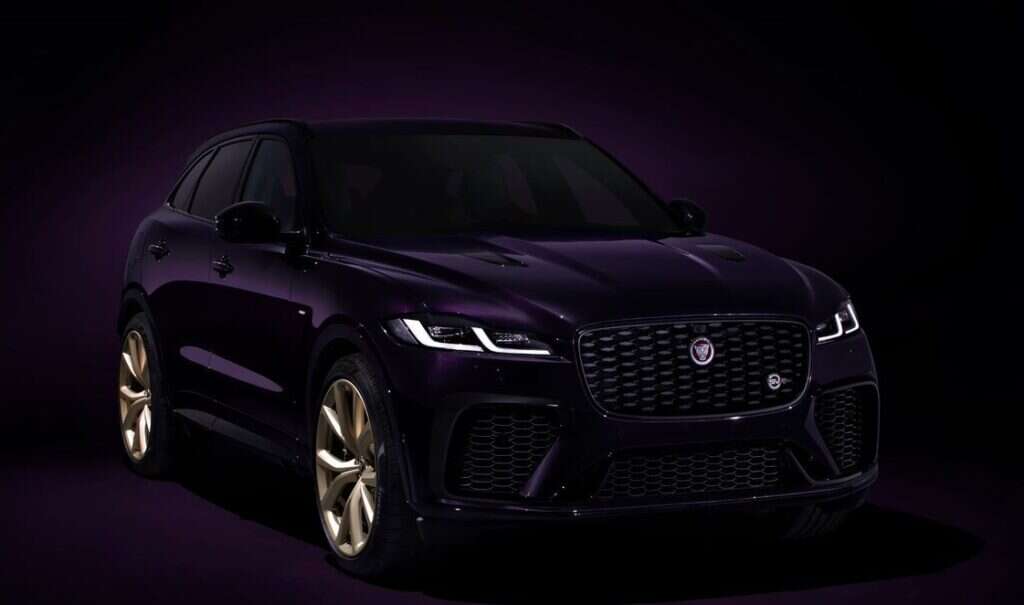 It's not terribly common for Jaguar's Special Vehicle Operations Bespoke and Jaguar Design teams to cull inspiration from the same source material. But that's exactly how the limited production F-Pace SVR Edition 1988 came to be. In 1988, Jaguar shattered its 31-year dry spell at 24 Hours of Le Mans. Jaguar's XJR-9 crossed the finish line in pole position. That monster of a 7.0-liter V12, despite its 34-year vintage, manages to quicken pulses even today.
An homage to that vehicle, the 5.0-liter 550 hp supercharged V8 found beneath the Jaguar F-Pace SVR Edition 1988 hood proffers British racing progression. It features a Midnight Amethyst exterior (think deep purple) and Champagne Gold forged alloy wheels. Sunset Gold Satin detailing on the dash, paddle shifters, performance seats and steering wheel spokes greet driver and passengers alike.
While many luxury car manufacturers are quick to race to the competition annals for stimulus, in recent years Jaguar has looked to modern design cues to redefine its lineup.
It's refreshing to see the Leaper tap into its past. Only 394 will be built, one for every 24 Hours of Le Mans lap completed.
Jaguar F-Pace SVR Edition 1988 from $110,000, jaguarusa.com
Land Rover Defender V8 Carpathian Edition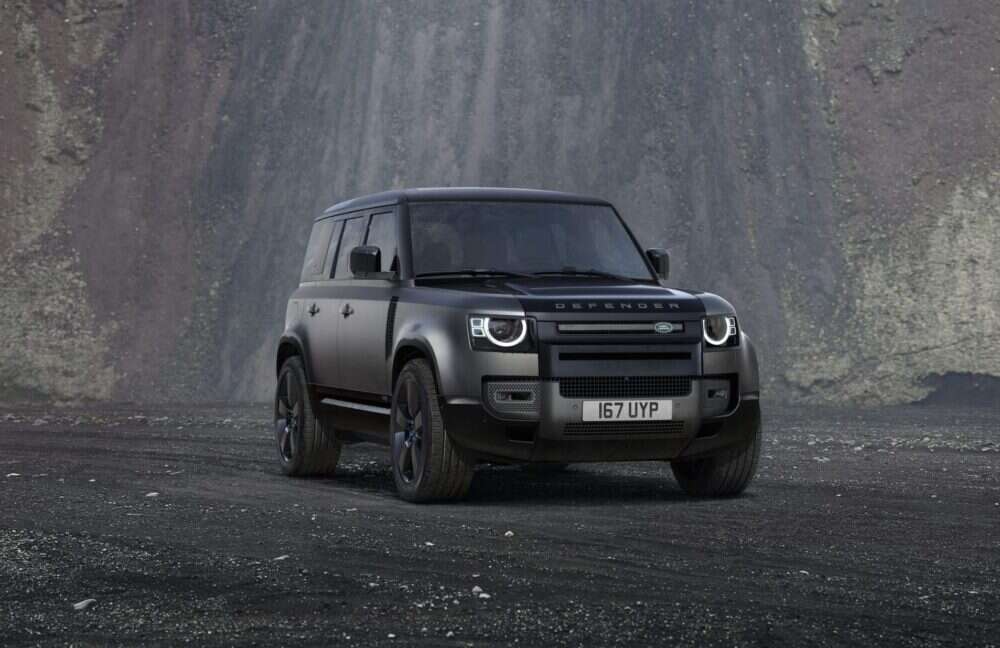 For those who worship at the altar of the Defender, look no further. The 5.0-liter V8 supercharged engine available in the punchy two-door 90 and the larger four-door 110 produces 518 hp and, according to the brand, "is the ultimate expression of the toughest 4×4." A badged P525 (here's looking at you, enthusiasts), the Carpathian Edition taps into the eight-cylinder, farm-vehicle chic meets the go-anywhere attitude of the 1970s V8 Land Rovers.
For those who don't, the V8 Carpathian Edition is the latest duo in a lineup of 17 derivatives. With bespoke chassis settings, distinct transmission and suspension tuning — including customizable spring and damper rates — the Carpathian Edition delivers a more layered driving experience. Go ford that river, rock-crawl that seemingly impossible route — like any Defender, this one will get it done. It'll also turn heads at valet and school pickup, thanks to the quad-exit exhaust, 22-inch alloy wheel and Xenon Blue brake calipers.
A recyclable PU-based wrap known as the Land Rover Satin Protective Film offers a semi-matte finish designed to help protect against off-road brush and parking lot encounters in equal parts. The interior manages an Alcantara steering wheel, suede and black leather seats, and illuminated tread plates that read 'V8,' (should the noise levels not be a sufficient indicator of which Defender was selected.)
Defender V8 Carpathian Edition 90 from $115,000; 110 from $118,400, landroverusa.com
Maserati MC20 Cielo
There's a resolute focus that comes into view as one drives along the long, narrow lanes of Kern County, California. The mind begins to envision the straightaway, the chicane, the inside line. Approaching Willow Springs Raceway is a meditation in banality that leads, inevitably, to adrenaline overdrive. Sliding into the MC20 coupé, what Maserati calls its "super sports car," there's palpable excitement.
After a 21-year hiatus from producing its own power, MC20's 621 hp 3.0-liter twin-turbo V6 Nettuno engine roared to life on the track — a fitting debut. The rear-wheel drive supercar was designed with intention, specifically to "enable convertible versions and for full electric power," a current snapshot of the brand's trajectory. According to CEO Davide Grasso, the MC20 launches the Trident's turnaround plan, freeing Maserati from being "a slave to volumes."
MC20, with its vertical lights (on other models they're horizontal) and six standard colors, is a study in deliberate editing. Its sister, the MC20 Cielo, carries a two-piece electrochromic folding glass roof. Retractable hardtops fell out of vogue in the last decade in favor of lighter fabric ones, but Maserati constructed MC20 Cielo to make a statement. More canopy than roof, the top transforms from clear to opaque using electrical current. After all, Cielo is Italian for sky.
Racing around the track, the rear spoiler improves downforce without detracting from the sleek back hatch, which also includes a polycarbonate engine cover with cutouts in the shape of a trident. Consider it performance meets panache.
Maserati MC20 Cielo from $242,000, maserati.com
McLaren 765LT Spider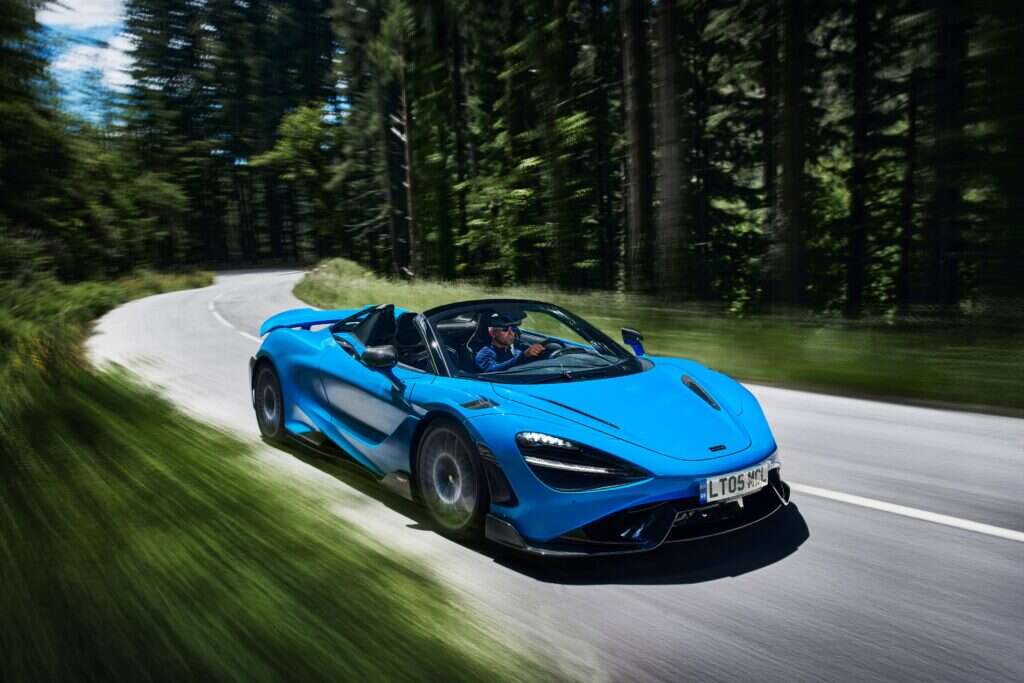 Few words convey the feeling of operating a 765LT Spider. Histrionic, perhaps. Prodigious, certainly. Nonpareil, likely.
The singular vision pounding through the 765LT Spider, from the Pirelli P Zero Trofeo R tire temperatures through the electrically operated single-piece carbon-fiber retractable hardtop, is apparent.
The 765LT Coupé gave a rock-star performance, with 755 hp thanks to a 4.0-liter twin-turbocharged V8 that managed 15% faster in-gear acceleration than the already expeditious 720S, its non-track focused sibling. In fact, it earned a spot on last year's Top Cars feature for this reason, and many more.
The Spider adds 108 lbs of weight and 100 times more swagger. A matching carbon-fiber aerodynamic package comes standard, but with active rear-wing calibration dependent upon roof up/down movement.
Even with the roof in place, the powered tiny but mighty rear window allows for what McLaren appropriately named the "searing LT soundtrack," courtesy of the quad-exit full-titanium exhaust system. When green means go, the outlets glow a white-hot blue, or so passersby have exclaimed.
Critics will say this supercar will soon be obsolete, if not already so. Only 765 Spiders will be built, in line with the marque's Coupé. Demand will, without question, far outstrip supply. When the conversation pivots to what's next, McLaren's response will unquestionably be exciting.
McLaren 765LT Spider from $382,500, cars.mclaren.com
Mercedes-Benz EQS 580 SUV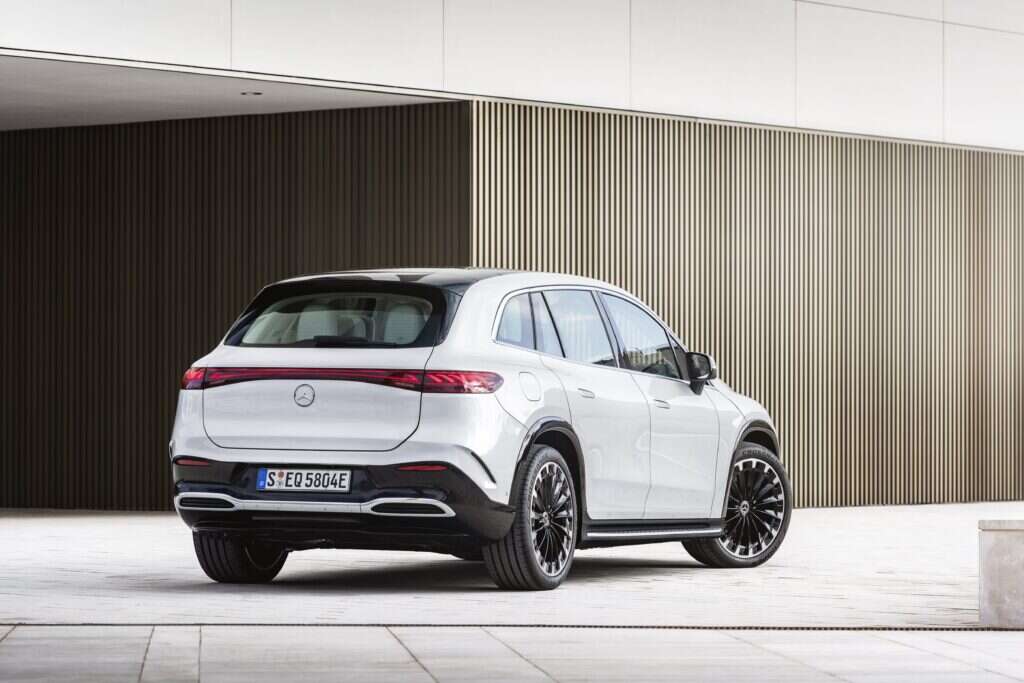 The EQS 580 SUV is Mercedes-Benz's first American-made all-electric sport utility vehicle. The latest in the EQ sub-brand of all-electric models, it is manufactured, according to the brand, in a completely CO2-neutral way.
As to where the materials are sourced, how they're used, what ways they will be recycled: Mercedes-Benz has created a new dialogue, communicated through punctuated steps and technology that document past, present and future company-wide goals. More than 40% of the steel required for the EQS 580 body shell, for example, hails from resource-saving secondary routes (like the roughly 220 lbs of steel scrap used as secondary raw material).
With an output of up to 536 hp, there's torque and power aplenty. A 340-mile range is estimated, given it shares the same 107.8-kWh battery pack as its predecessor, the EQS sedan. While it may have the stature, sport utility possibilities aren't at the forefront. There's an optional third row, or enough trunk space to fit four golf bags and it "is capable of tackling light terrain with ease," according to brand spokespeople.
Make no mistake, the EQS 580 is still deeply rooted in Mercedes-Benz DNA. Optional additions like the Acoustic Comfort Package include "acoustically effective laminated glass" to enhance noise removal. The Air-Balance Package features No. 6 Mood Mimosa, an "earthy fragrance with an alluring scent" specifically crafted for the EQS 580.
Mercedes-Benz EQS 580 SUV from $125,000, mbusa.com
Porsche 911 GT3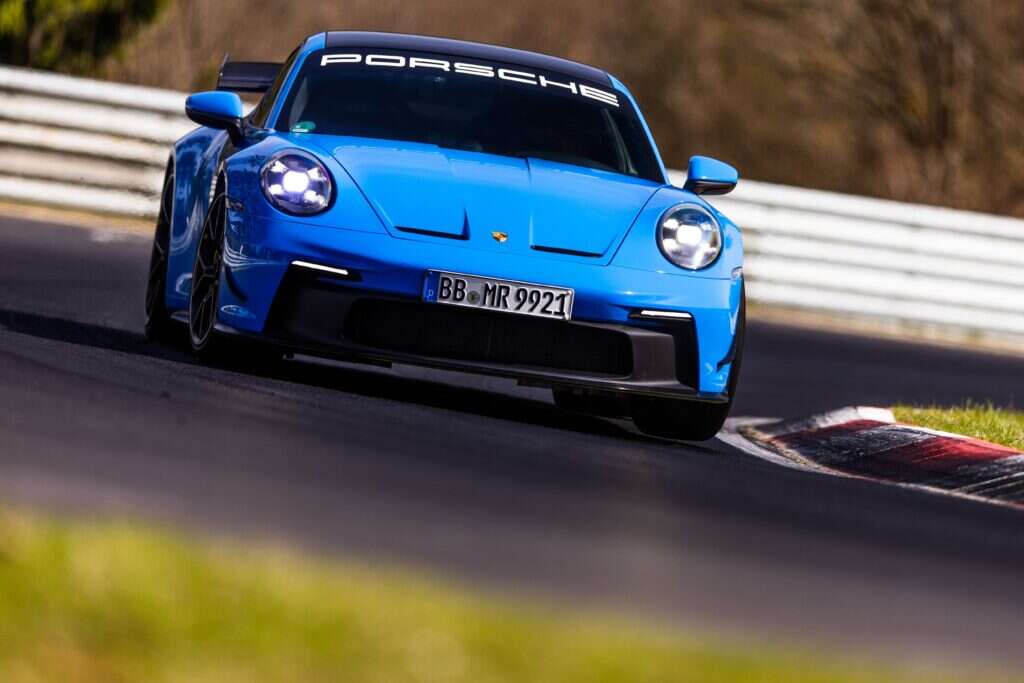 The lion's share of research and development resources within Porsche and its parent company VW Group are focused on both sustainability and electrification. As Porsche has made clear, the 911 platform will be the last of its models to be electrified.
Knowing this, or perhaps in spite of it, the engineers in Weissach continue to demonstrate that refinement and experimentation, after 50 years, are still possible. The 4.0-liter, naturally aspirated 502 hp engine, which conveniently redlines at 9,000 rpm, found its way from the Porsche Cup racing car into the GT3. It's not the most powerful engine in the lineup (that was last year's feature, the 640 hp Turbo S).
The beloved six-speed manual gearbox (the seven-speed dual-clutch transmission is optional) persists in the GT3. It plucks, from the Le Mans-winning RSR competition car, the double-wishbone front axle — a first for a series-production 911. The custom-compounded Michelin Pilot Sport Cup 2 R tires also make their first non-RS 911 debut here.
This mélange of firsts has created a rear-drive-only, track-ready albeit street-legal 911 GT3. It's a visceral kind of car in a sea of turbo and electric.
Porsche 911 GT3 from $169,700, porsche.com
Land Rover New Range Rover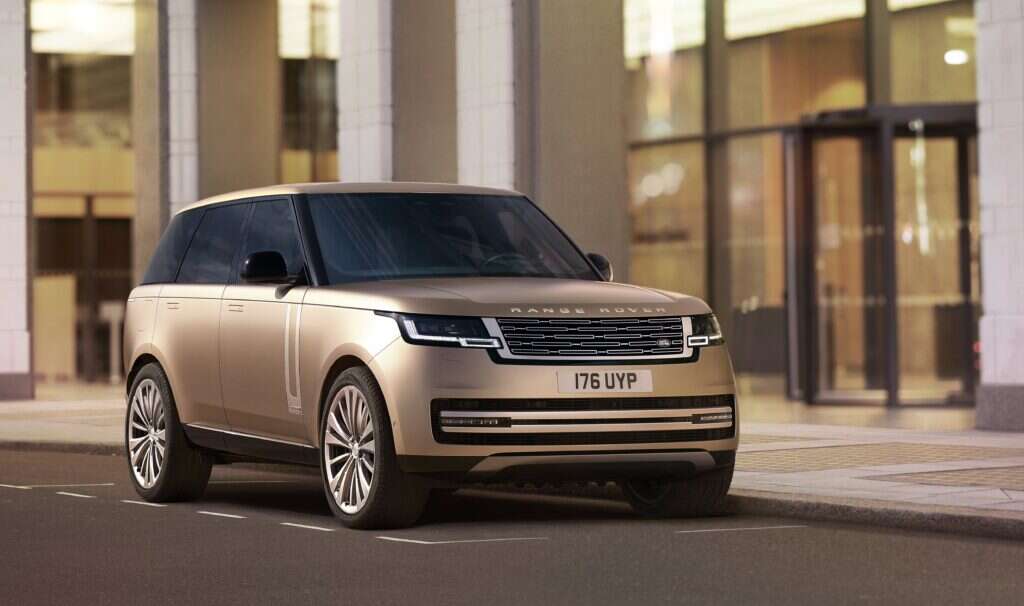 Navigating an overnight surprise rainstorm on the muddied roads of a Sonoma County vineyard created the perfect moment to debut the New Range Rover. Perennially capable, whether it's the new 523 hp 4.4-liter twin-turbo V8 or the suite of mild hybrid and plug-in hybrid launches (with electric to come in 2024), the New Range Rover continues to prove that it's not just what's underneath the hood that indicates vehicle competency.
Although no less than 125 patents were filed for the New Range Rover, it remains true to the nameplate's essential design language. Sitting amid pre-harvest vines, the original three lines that defined the SUV — the falling roofline, strong waistline and rising sill line — endure. A fresh boat tail rear with split tailgate ushers in a new backside, while the unbroken waistlines allow for the rounded edge of the door to meet the window glass with flush glazing.
For the first time, the New Range Rover long wheelbase model is available with a third row, allowing for up to seven passengers. Alternatively, the standard wheelbase offers either a three-person row or executive class rear seats. The flagship of the Land Rover family also incorporates all-wheel steering.
Electrically operated, the rear axles provide up to seven degrees of maneuverability, giving the SUV a turning circle of 36 ft, the smallest of any Land Rover. The slick, wet fields were barely noticeable, but the donuts performed indubitably left tire tracks imprinted in the mud. Well regarded as the first luxury sport utility vehicle, the fifth-generation edition defends its title.
Land Rover New Range Rover from $104,500, landroverusa.com
Rolls-Royce Phantom Series II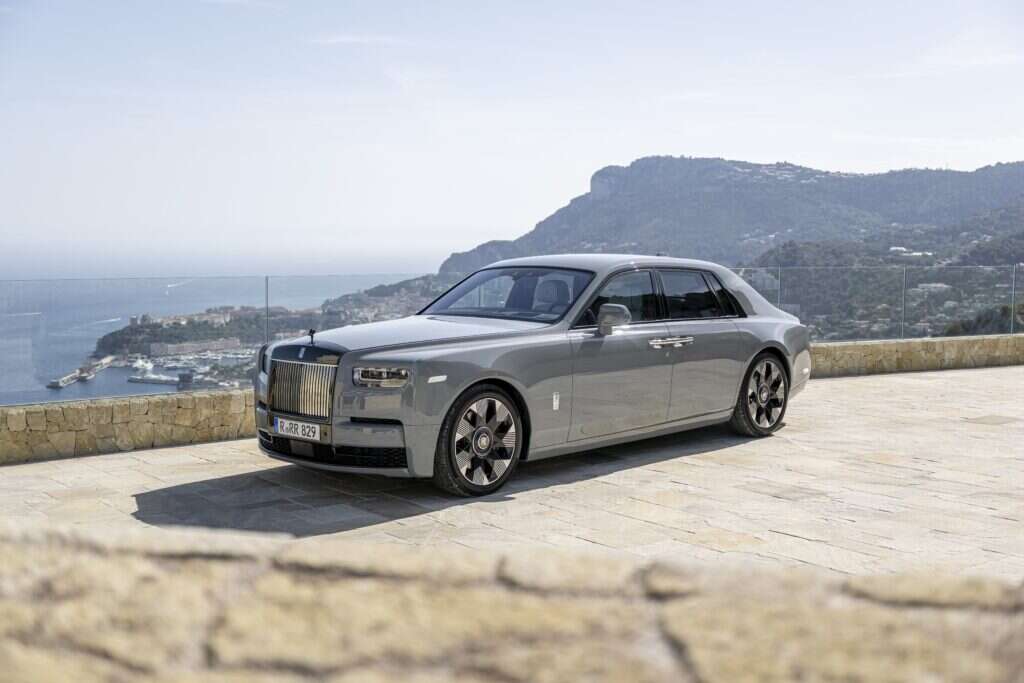 Overlooking the Ligurian Sea, the abundance of craggy Miocene breccias and olistoliths dotting the Roquebrune-Cap-Martin peninsula delivered a flawless juxtaposition for the wildly majestic arrival of Phantom Series II. Deemed "the marque's magnum opus" by Rolls-Royce, every Phantom Series II is unique; bespoke is the new normal.
While the eighth-generation Phantom technically debuted in 2017, the Series II marks its newest expression. Subtle alterations — a geometric change and illumination to the Pantheon Grille, laser-cut bezel starlight headlights, a slightly thicker steering wheel — differentiate this incarnation. The boldest option comes in the form of a suite of new wheels. Cruising through Monaco and into the Côte d'Azur, the statement-making disc wheels (available in either polished stainless steel or black lacquer) parrot the timelessness of the locale.
To debut Series II, Rolls-Royce created 10 Exemplars, two handfuls of distinct, customized Phantoms to illustrate possibility. One does not purchase a Rolls-Royce, but rather commissions it. Shrewdly, the Rolls-Royce Bespoke Collective updated Phantom just enough to present a reason to personalize a new one.
Rolls-Royce Phantom Series II from $475,000, rolls-roycemotorcars.com
This article appears in the 05 Sep 2022 issue of the New Statesman, Fall 2022