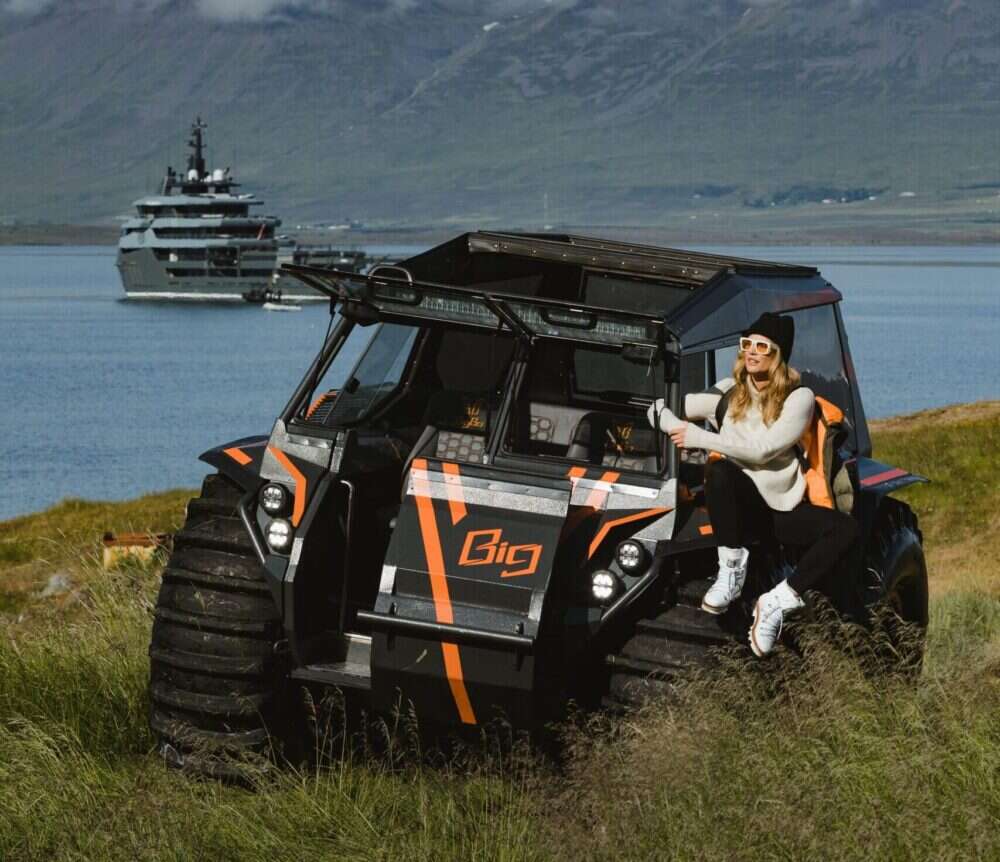 While many expedition yachts are sailing the world's oceans, not all are created equal. As two leading vessels prove, the freedom of exploration requires a tender garage equipped with amphibious, off-road vehicles.
Whether you're buying a superyacht or searching for the ideal vessel for a charter vacation, it's expected — and understandable — that much of your attention will be focused on the water. If you're seeking a sanctuary for rest and relaxation, your focus need not go any further than that. If, however, you harbor an adventurous spirit and wish to journey down the off-beaten path, an expedition (or explorer) yacht with a land-roving vehicle is a must.
When Perini Navi was commissioned to build the 164-ft explorer yacht, Exuma, more than a decade ago, special attention was paid to the yacht's ability to sail through shallow, unchartered waters, as well as its minimal impact on the environment. The modern vessel — both in age and aesthetics — has earned the Rina Green Plus Award for the achievements of its eco-friendly design.
[See also: The Best Luxury Yacht Builders in the World]
Additionally, the yacht, which can comfortably accommodate 11 guests (with seven crew members), has sailed the world's oceans since its launch and, thanks to an amphibious, off-road vehicle as part of its fleet of toys and tenders, the yacht has allowed its owner to even more extensively experience and explore the world's less-inhabited regions.
Speaking at a public event in September 2020, the owner addressed that specific amenity and the opportunities that it has presented. "I felt the need to have an explorer boat with an amphibious vehicle. This was absolutely essential," he said. "Some people don't realize how useful it is. We can use it in any country, including difficult places like Papua New Guinea. All these islands where there were no rental cars or taxis, we could just drop it into the water, climb the beach and tour the island."
[See also: How to Charter a Superyacht]
On the charter side, Ragnar, an expedition vessel available for weekly charters at €525,000 (about $623,000) by Burgess Yachts, delivers everything the intrepid, modern-day world explorer is seeking. Equipped to traverse arctic waters and boasting a range of 6,000 nautical miles, the 223-ft vessel, which was built in 2012 and refitted in 2020, can bring 12 guests (and 17 crew members) to the most far-flung regions of the world. It's also equipped with an amphibious ATV, which allows guests to venture even farther afield. Not surprisingly, when the yacht emerged from Dutch shipyard Icon Yachts after a rebuild last summer, its captain immediately set the vessel on a course for Iceland.
According to Chris Gregory, a London-based charter broker for Burgess Yachts, more vessels like Exuma and Ragnar are likely to offer similar amphibious and off-road tenders in the future. "The popularity of adventure charters is ever increasing, with more people wanting to go further afield," he says. "With new destinations opening such as the Red Sea, we expect the need and want for such vehicles to increase. If you think about the Middle East with possibilities of dune bashing and desert safaris — an off-road vehicle would be a perfect addition to a yacht's toy box."
This article appears in the 26 Aug 2021 issue of the New Statesman, Fall 2021