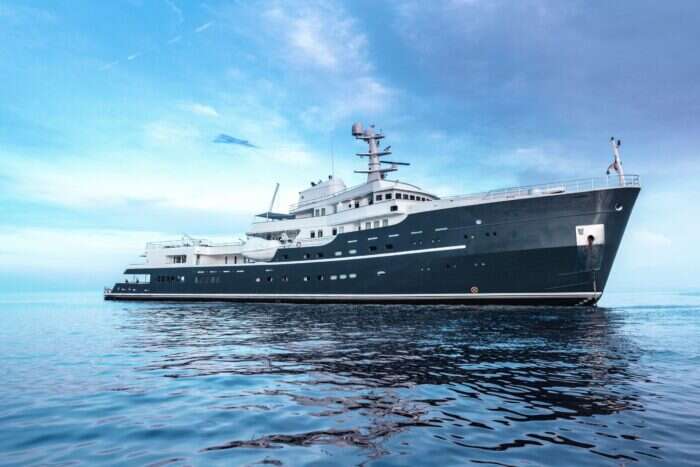 As the world inches closer to normality, privacy and space are creeping higher on the priority list, making a superyacht charter more appealing than ever. However, the world of private yacht chartering can be as elusive as it is luxurious, making hiring your own boat a tricky process – especially for first-timers.
From the pros and cons of enlisting the help of a broker and choosing the perfect boat, to understanding when to book and planning your itinerary – not to mention the all-important question of how much it costs to charter a luxury yacht – there are plenty of hurdles before you even reach the water. To help you and your guests enjoy a worry-free vacation out on the ocean, Elite Traveler has compiled a comprehensive guide to chartering a superyacht.
[See more: How Much Does it Actually Cost to Charter a Yacht?]
What is a yacht charter?
If you're new to the world of yacht chartering, even the language can be alienating. A yacht charter is the process of exclusively hiring a yacht for yourself and your guests.
While most charters are for leisure, be it with friends or family, some individuals and companies choose to hire a yacht for business-related reasons, with the undivided service and uncompromised privacy making boats an excellent place to hold meetings and conferences.
The length of a yacht charter depends entirely on your needs; some choose to book for a long weekend or even just a matter of hours if hosting a meeting or conference, whereas others opt for an extended vacation and may charter a yacht for several weeks or even months. Regardless of duration or motive, privately hiring a yacht is always considered a charter.
[See also: The Best Luxury Yacht Builders in the World]
Using a yacht charter broker
Technically, using a broker to charter a yacht is at your discretion; however, if it is your first time chartering, using a broker comes highly recommended – especially when hiring a larger-than-life superyacht. Yacht brokers will draw upon a large network of connections and extensive industry knowledge to help find the best vessel for your unique requirements.
Once you've had an initial consultation, a broker will typically offer a selection of yachts that suit your needs and help you make a final decision. From here, the yacht broker will handle the entire booking process, from securing the initial boat booking to planning each element of your onboard itinerary, including docking points. A reputable yacht charter broker will also be available to contact throughout the duration of your time on board, giving you and your guests complete peace of mind.
Occasionally, first-time charters mistakenly think that booking directly will shave some digits off the total cost, but it actually falls on the yacht owner/charter company to pay the broker fees – not the charterer. In fact, you will often find that a broker will rely on their insider connections to secure the best deal for their clients.
When it comes to choosing a yacht broker you have plenty to choose from, but names like Burgess, Fraser and Northrop & Jonson dominate the superyacht realm. Some people opt for a freelance yacht charter broker, but we'd suggest only heading down this route if you have a pre-existing relationship or they come highly recommended by someone you trust. You should also ensure that any broker you work with is a member of the MYBA Worldwide Yachting Association.
[See more: Top 10 Explorer Yachts in the World]
How to choose a yacht
As we mentioned, your yacht broker will do the hard work when it comes to choosing a yacht, calling upon their wide boat knowledge to present a selection of yachts to you. However, to be able to do this properly they will need a solid understanding of your preferences, requirements and budget beforehand.
The key things you should consider when chartering a superyacht are: the number of guests you want to bring on board (remember the legal limit for most yachts is 12 guests, including personal staff); whether or not the yacht needs to be child-friendly, the amount of indoor/outdoor space you'd like on board; where you'd like to travel, as many yachts are only available in certain parts of the world; and the on board amenities you'd like – for example, is an indoor swimming pool a priority or does a dancefloor sound more appealing?
The type of yachting vacation you're seeking is also important when choosing a boat: for intrepid travelers with a taste for adventure, a sturdier explorer yacht such as Silver Yachts' Bold or Ragnar by Royal Niestern Sand would be more suitable than a classic yacht, designed for luxury and comfort.
However, if it is your first time chartering a superyacht, don't feel concerned about going in clueless – your yacht broker will be able to guide you through every step of choosing a vessel.
[See more: Twenty for 20: Innovative Yachts of the 21st Century]
Bareboat vs skippered superyacht charter
When chartering a luxury yacht, you will sometimes be given the choice between a 'bareboat' or 'skippered' charter – bareboat being a crewless charter and skippered including a full complement of staff. However, you will find that when verging into superyacht territory, all charters are skippered for both your safety and comfort.
Again, you can always discuss the on-board crew specifications with your broker, and this is a good opportunity to outline what you'd like from your yachting experience. For example, if you have a taste for adventure, ensure that there is a watersports instructor within the crew. Looking for a more relaxing on-board experience? Ask your broker to look into securing a masseuse for your journey.
When to book a superyacht charter
When to begin booking a yacht charter is an important question. Leading charter company Northrop & Johnson recommends reaching out to a broker no later than 10 months in advance if you want to travel during peak times (July and August in the summer season, Christmas and New Year during winter), and three to six months ahead for quieter periods. However, with popular yachts booking up as much as a year in advance, it's advisable to reach out to a broker at least 12 months ahead of time if you have specific boat or date requirements.
When booking in advance, remember that local events will heavily impact availability. For example, if you're planning a European tour, take note of events such as the Cannes Film Festival and the Monaco Grand Prix when both vessels and docking spaces will be in high demand.
[See also: Burgess Yachts Reveals Marine Conservation Program]
How much does it cost to charter a superyacht?
It's no secret that yacht charters are expensive, with many first-timers unprepared for the hidden costs. It's generally accepted that the biggest price indicator of a yacht charter is boat size – so if you're heading into superyacht territory, expect an impressive fee.
However, other factors will impact the cost of chartering a superyacht, such as crew reputation, ship design and the age of the vessel. For example, Fraser Yachts offer a week on the 298.5-ft Moonlight II which was first built in 2005 from €645,000 (approximately $768,200), but prices for the 278-ft Solandge, which was built in 2013 and refitted in 2019, begin at €1m ($1.2m) per week.
Although some charter costs are inclusive, meaning expenses such as captain and crew, fuel, food and drink are included, you'll find that a 'plus expenses' charter is more common. With such charters, only the crew and ship are included in the price, an 'Advance Provisioning Allowance' (APA) is used to cover the necessary extras and is usually around 30% of the weekly charter fee. What the APA doesn't cover however is crew gratuity which although given at your discretion, is expected, with the going rate around 15-20%.
To avoid tarnishing your vacation with unexpected fees and charges, ask your broker for a full price breakdown beforehand, including any potential docking fees and additional taxes.
[See more: These are the 10 Biggest Superyachts in the World]