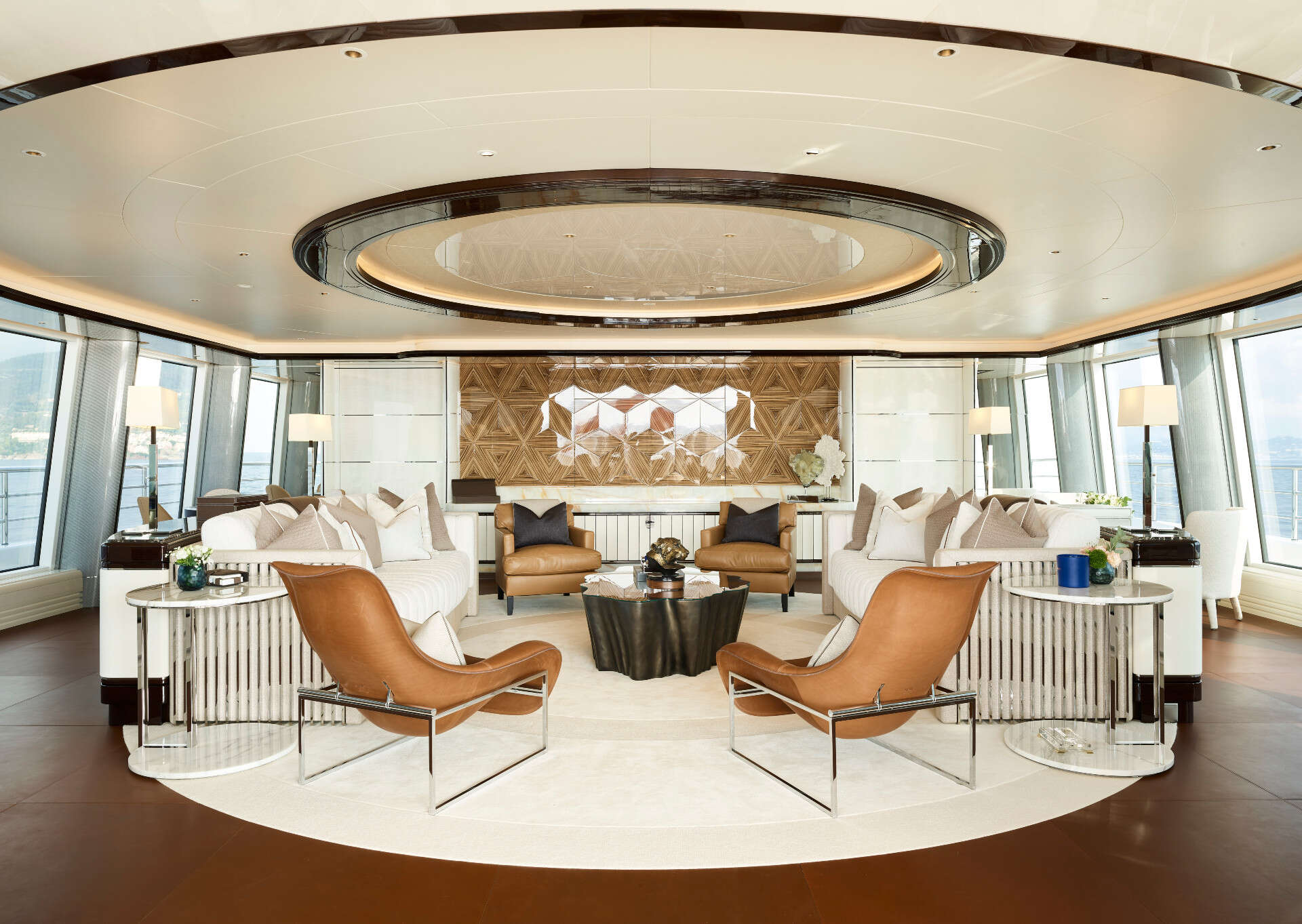 Those who can't get enough of sailing the high seas will probably have done it all: cruises, a private yacht charter and visits to the yacht shows. You might even have decided that your love of the ocean requires something more – a yacht of your own, purchased to ensure that you never miss a high season in the Caribbean again. However, if you have purchased a vessel that has not been pre-designed or furnished, the next task will be designing superyacht interiors to fit your requirements.
Much like the design of private jets, the size and usage of a yacht will be the main factors to how the vessel is designed. How many cabins will it have, and how many leisure spaces? Will you need space to carry out work, or to entertain several guests? One of the easiest ways to get around these questions is to work with a yacht interior designer, who can help you work through all the decisions and will also have knowledge on the health and safety requirements of any vessel before it is certified as sea-worthy.
Although we would highly recommend seeking expert opinion, it doesn't hurt to start thinking about what interiors you would like to see in your yacht. Elite Traveler has put together a collection of interior options including everything from lighting to dinnerware, to spark your imagination and help you start creating the perfect superyacht interiors.
Furniture
One of the most important considerations for both the style of your superyacht interiors and the safety aspect will be the furniture you choose. Depending on the size of your yacht, you may also have several rooms to furnish – giving you the opportunity to create your ideal lounge, dining space, office, cabin and even a gym or onboard cinema.
No matter the type of room, you are sure to find something that suits your style with Visionnaire. The luxury furniture company has been making world-class pieces since launching in 2005, with a strong focus on high-quality, natural materials. We particularly love the stunning Pavone Armchair, a statement piece that comes in a range of colors and metal finishes.
For beautiful and sustainable woodwork, opt for British furniture manufacturer RAFT. The brand is best known for using sustainable teak that is tried and crafted in Indonesia; the wood is naturally pest resistant and durable, growing without heavy irrigation or fertilizers. RAFT's Teak Root Glass Dining Table is a great option for any dining space, coming in a variety of sizes with a contemporary look that will work well with a variety of styles.
If you're looking for something more bespoke and selective for your furniture pieces, look no further than Glyn Peter Machin. The designer and his team have been crafting bespoke furniture and accessories for over 20 years, with a portfolio of works that covers private residences and superyachts across the world. One of the brand's latest pieces is a vibrant wireless Audio Cabinet that acts both as a work of art and a functional addition to any cinema room.
[See also: The Best Hybrid Superyachts in the World]
Accessories
One part of interior design that is often overlooked is the accessories within a room – but these can often be the final touches that finalize a space and harmonize it. For example, a well-chosen dining table will need dinnerware that has also been thoughtfully chosen. We prefer luxurious homeware brand L'OBJET's Aegean Filet collection in gold; its finish is subtle and won't detract from the food being served, but also has a slightly nautical touch with the scale-like gold trim.
If you're planning on entertaining onboard your yacht, it's impossible to go wrong with Baccarat – the global luxury icon that has been handcrafting beautiful crystal objects for over 250 years, ranging from stand-out decorative pieces to exquisite table and barware. To really make an impression when the celebrations get started, cool your champagne in Baccarat's Harcourt Champagne Cooler.
When thinking about other types of accessories or final touches to pull a space together cohesively, don't forget about artwork and how this can play a part in your superyacht interiors. For a stylish, lifelike sculpture to act as a statement piece within any room onboard, opt for a work by Hamish Mackie. The British sculptor is particularly interested in wildlife and capturing the spirit of the animals, with pieces being cast in bronze and silver.
Materials
When it comes to superyacht interiors, another important aspect of the design is the materials that are used throughout the vessel – these should be both stylish and seaworthy, adding to the style of a room while still complying with safety checks. A yacht interior designer will know how to approach this, but there are several brands that specialize in yacht materials worth knowing, in case you are planning a specific look onboard your yacht.
Studioart, for example, is a manufacturer of high-quality upholstery leathers and wall coverings, which mixes innovative technologies with the heritage and craftwork of leather making. This careful balance has meant that the brand can now be found in private yachts, homes and jets across the globe. For other types of surfaces, we love Nature Squared – an innovative company transforming sustainable, natural materials into high-quality surfaces and finishes for a range of products, private homes, yachts and more.
Finally, no list of yacht-worthy materials would be complete without mention of the world-renowned House of Tai Ping: the brand creates some of the most exquisite handmade and woven carpets in the world, which can be found everywhere from five-star hotels to private jet and yacht interiors. In fact, the brand has its own Yacht Division, which was founded in 2002, making it even easier to translate its beautiful designs into pieces that can work on your yacht.
[See also: The Best Luxury Yacht Builders in the World]