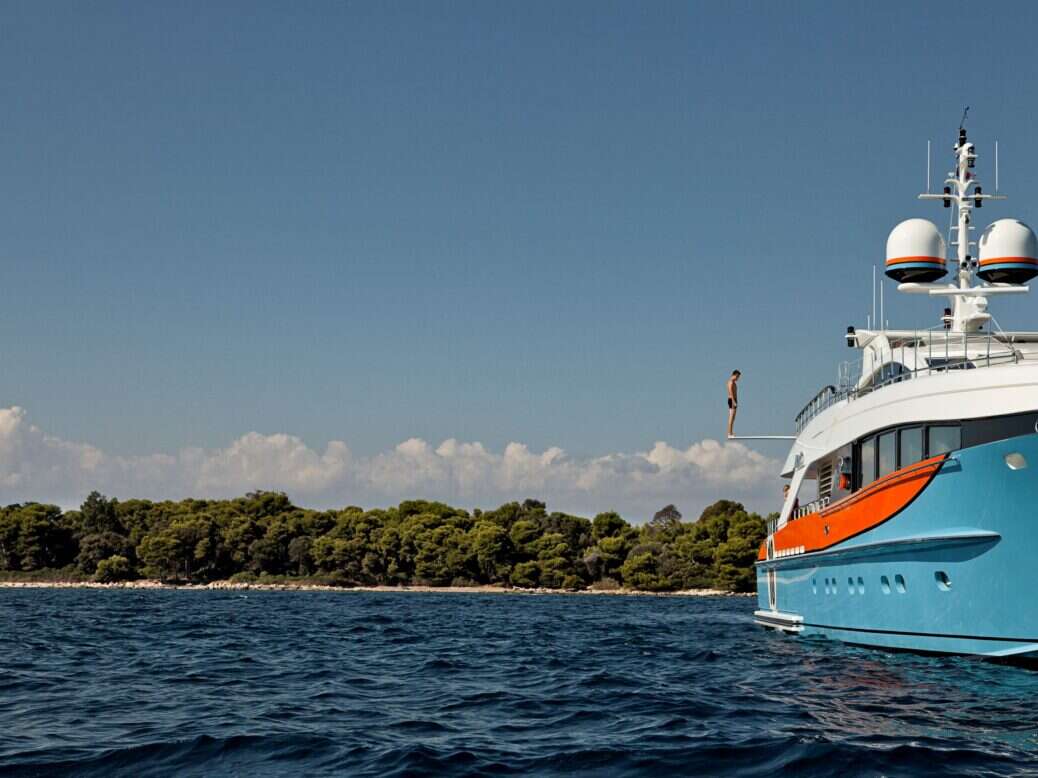 The conclusion of summer and the dawning of fall means many different things to us across the world, but for the ultra elite, it means one thing in particular. The Monaco Yacht Show, since its inception, has been the globe's most prestigious event of its ilk, and 2023 promises to be no different.
The playground for the international rich – as it has come to be known – is once again on from 27 to 30 September, and guests and prospective buyers alike can look forward to a great weekend, from the speedboats to submarines themselves, to all the glorious opulence of Monaco's hospitality.
Yet with more boats than ever, it can be difficult to know quite where to begin. Whether it's a record-breaking vessel or the beautiful and refined, here are Elite Traveler's best and brightest yachts for the Monaco Yacht Show 2023.
[See also: A Green Guide to a Luxury Long Weekend in Monaco]
Silver Star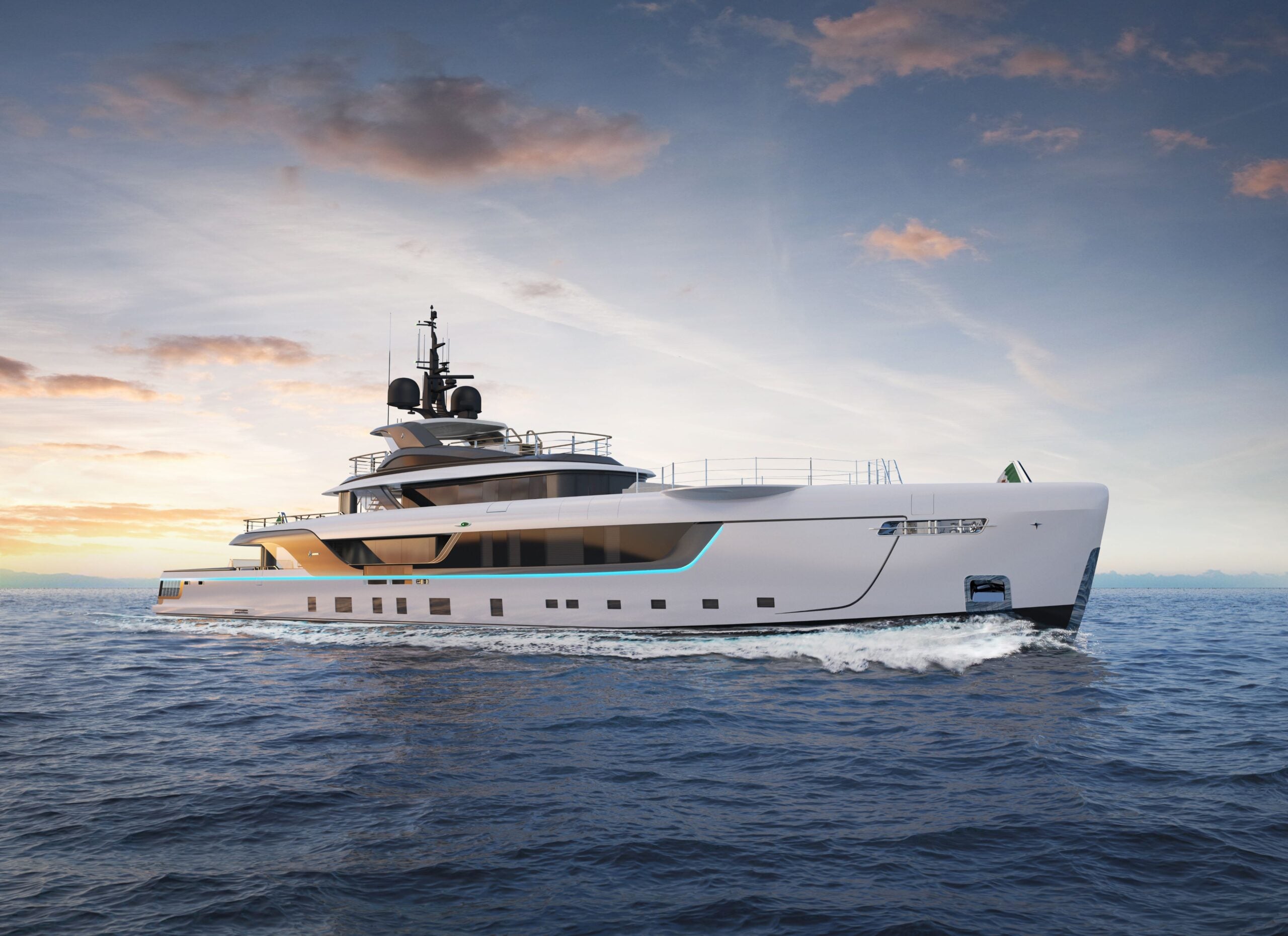 Debuting this year is the 180 ft long Silver Star by Admiral, the flagship brand of The Italian Sea Group. With an emphasis on al fresco living – the boat boasts a sundeck with a Jacuzzi, an open beach club at the stern, and a helipad that can double up as extensive outdoor living space – this is a yacht that celebrates the beauty of the open sea as much as it does the sophisticated wizardry of a well-designed boat.
Which is putting it lightly. Prospective buyers will be excited by the interior, which is designed by none other than Italian luxury fashion legend Giorgio Armani. The interior is considerably chic compared to other yachts; expect great natural lighting, a palette of blues and champagne, and refined opulence across every corner.
The RINA-certified Green Plus boat, which is composed of steel and aluminum, is built across a six-cabin layout, and includes an owner's suite, a VIP cabin, four guest cabins, and even accommodation for eleven crew members.
[See also: Does this 357-Foot New Yacht Belong to Steven Spielberg?]
Mosaique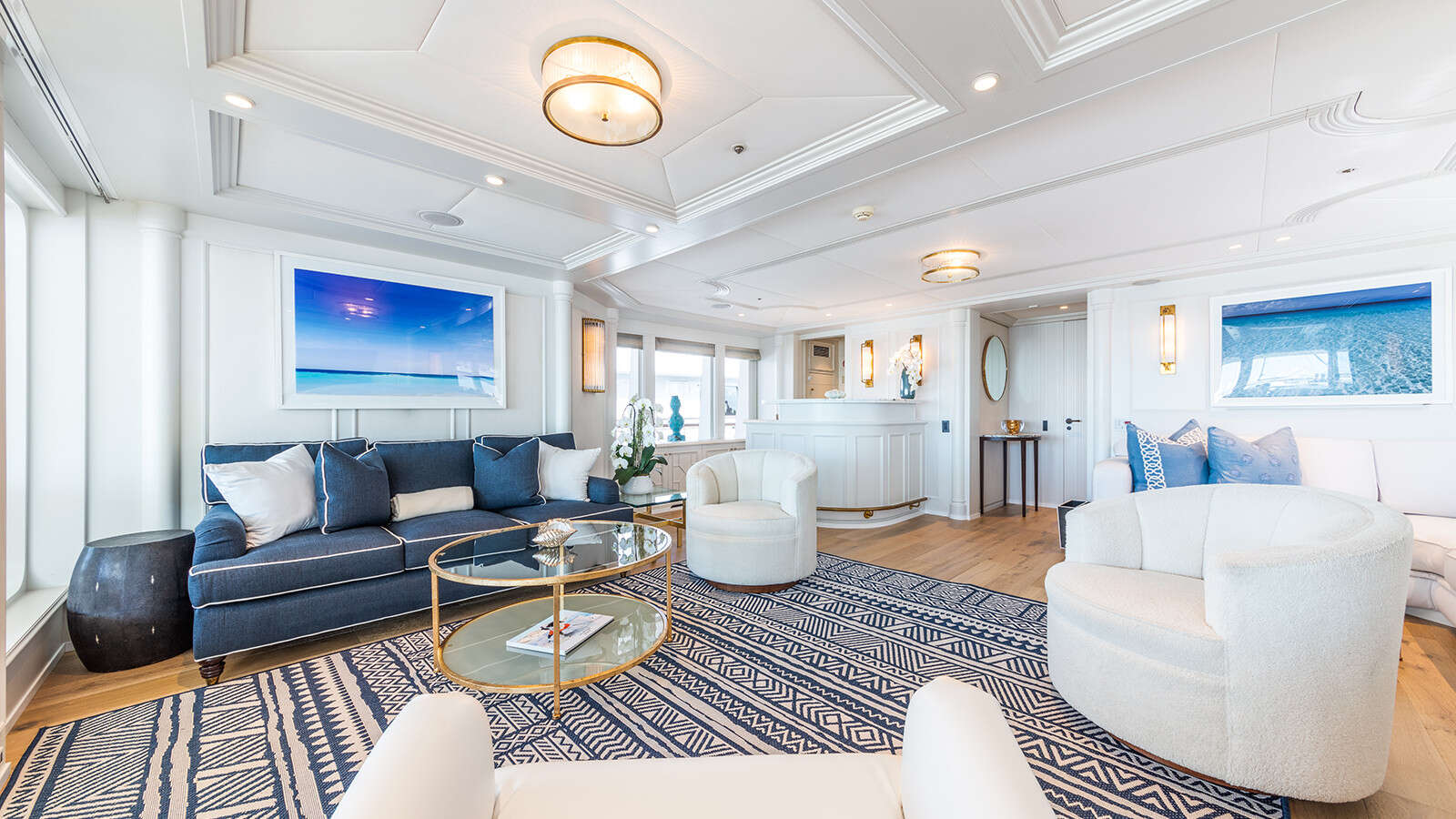 With the ability to accommodate up to 12 guests across six cabins – and quarters for 12 crewmembers, too – this 164 ft long Turquoise motor yacht is something of a summer home away from home, courtesy of the beach house interior aesthetic by Kristina Ferrand.
In fact, the only element that gives the boat away from not being a Hamptons property is the vistas enjoyed from the exterior spaces, of which there is a multitude, including an upper deck with a Jacuzzi, sun pads and loungers, a bar and two tables, and another outdoor dining space below the sundeck.
Inside, owners and their guests can enjoy all the amenities of a modern luxury mansion, including an entertainment center on each of the decks, flatscreen televisions, a games room, and even a formal dining room.
[See also: Life Onboard The World Residences at Sea]
Aurelia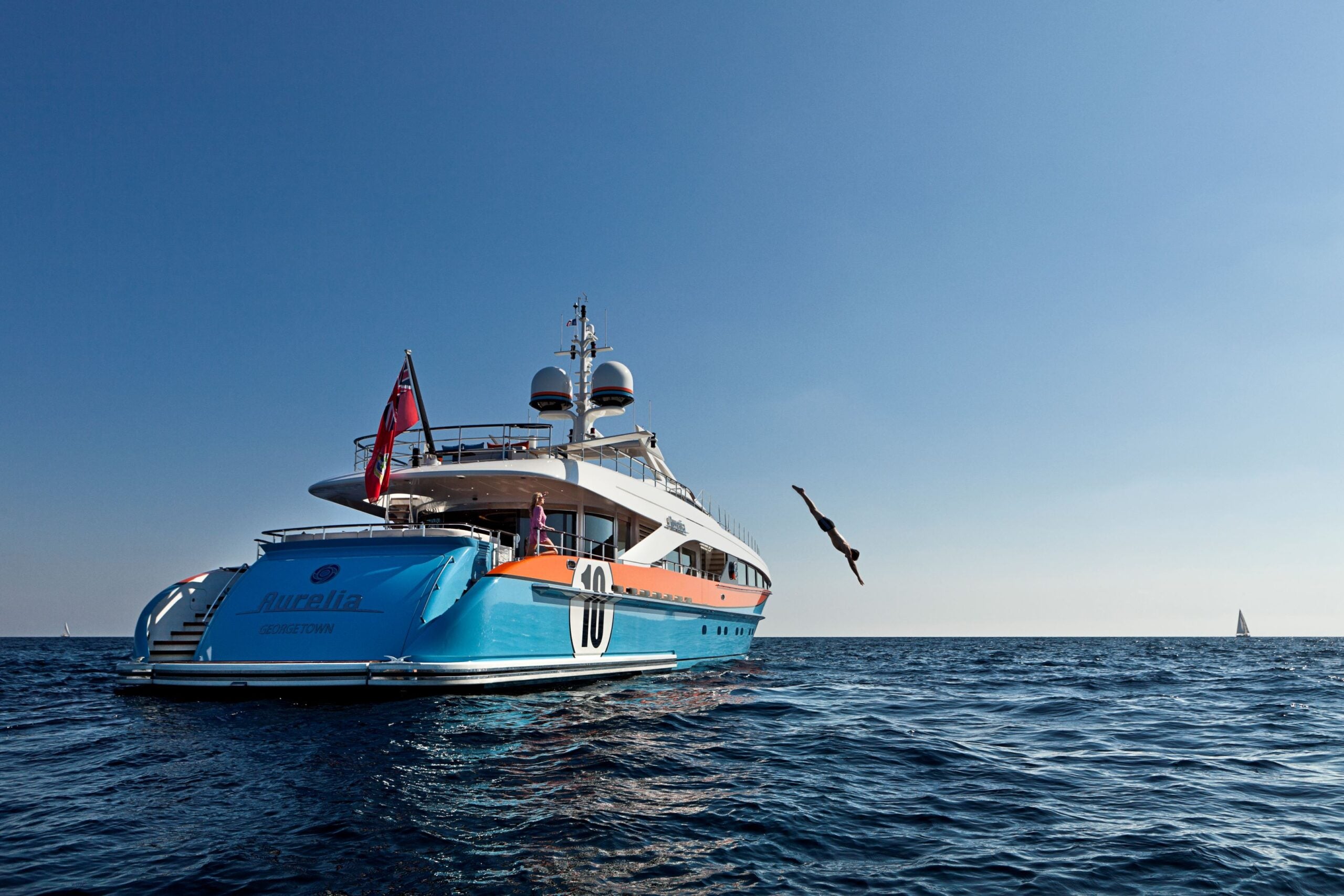 Heesen Yachts of The Netherlands is back at the Monaco Yacht Show for 2023 with Aurelia, first launched in 2011 with the idea of homage to the sports car speed and aesthetic. She was even named after the Lancia Aurelia GT, the first Gran Turismo.
With a slick exterior design courtesy of Omega Architects that boasts a vibrant and vintage color scheme, there's more to the Aurelia than just its lashings of style. 121 ft in length, with a beam of just over 23 ft, the 2 MTU engine powered superyacht features an aluminum superstructure and a top speed of 30 kn.
Furthermore, the yacht can host up to eight guests, as well as six crew members including the ship's captain. External features include a transom door folds down to create a large swimming platform, whilst the interior includes touches such as Linley Aston Martin chairs for an utterly timeless sailing experience.
[See also: Best Caribbean Yacht Charters for the Winter Season]
Sunreef 80 Eco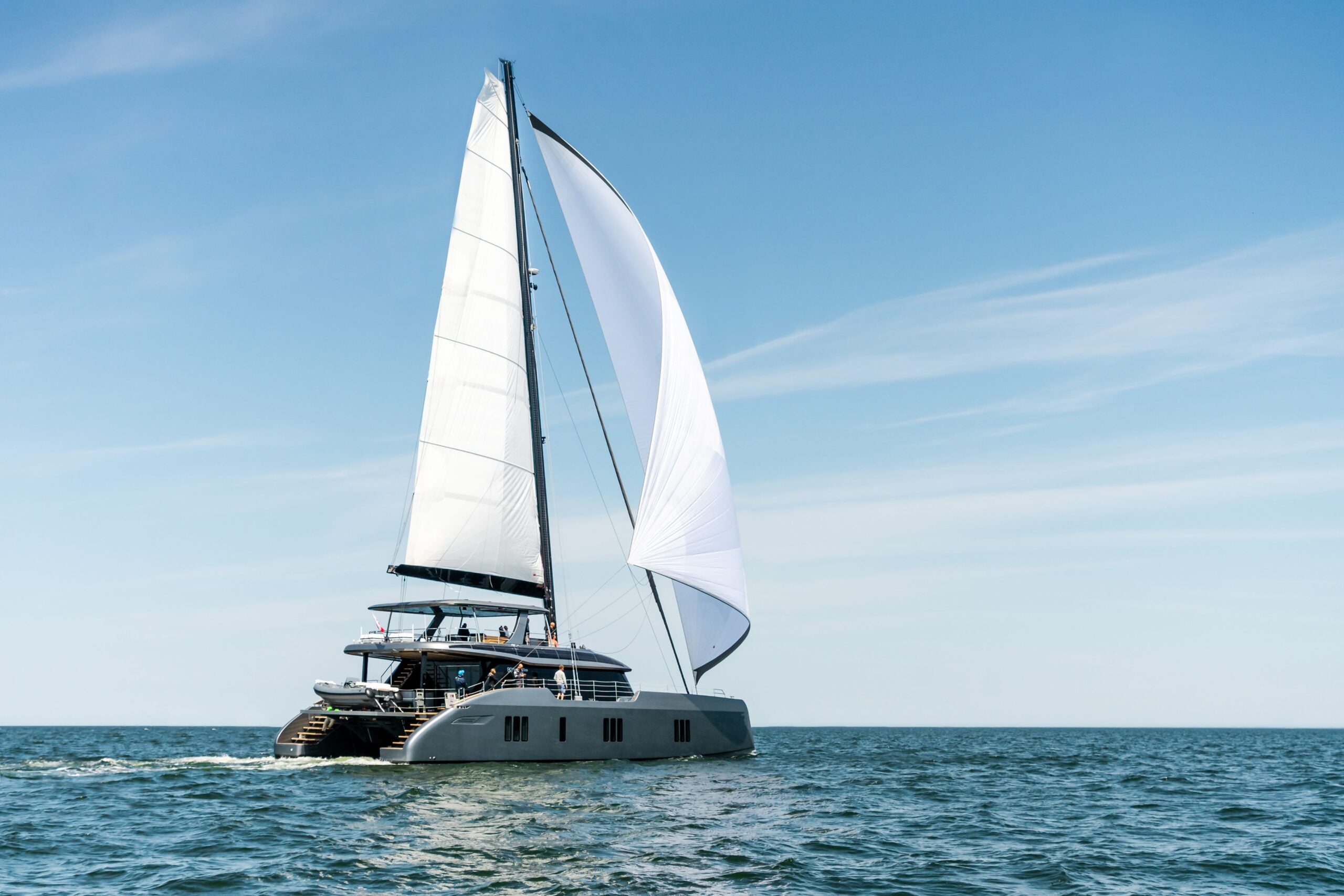 This eco-friendly offering of the Monaco Yacht Show 2023 is a real leader in how to sail the seas in great style and comfort whilst pioneering solar energy for a cleaner, more sustainable, and utterly silent ride.
The yacht features a proprietary solar power system – a total area of 164m² solar panels that can be integrated across the vessel, including the mast, boom, superstructure, and hull sides – which allows the Sunreef 80 Eco to generate up to 45,5 kWp.
The boat can sleep up to eight guests, with accommodation including a master suite that features a double bed, a walk-in wardrobe, a television and a sofa, a similar VIP cabin, and two identical guest cabins. Copious living spaces are spread out between the inside and the outside; we particularly like the fully equipped bar towards the bow, which includes a piano and a television.
Beneath the main deck, the battery bank of custom-engineered batteries combine light weight with excellent efficiency, whilst the air conditioning is the lightest and most efficient across the marine industry.
[See also: Does this 357-Foot New Yacht Belong to Steven Spielberg?]
Tankoa M/Y Grey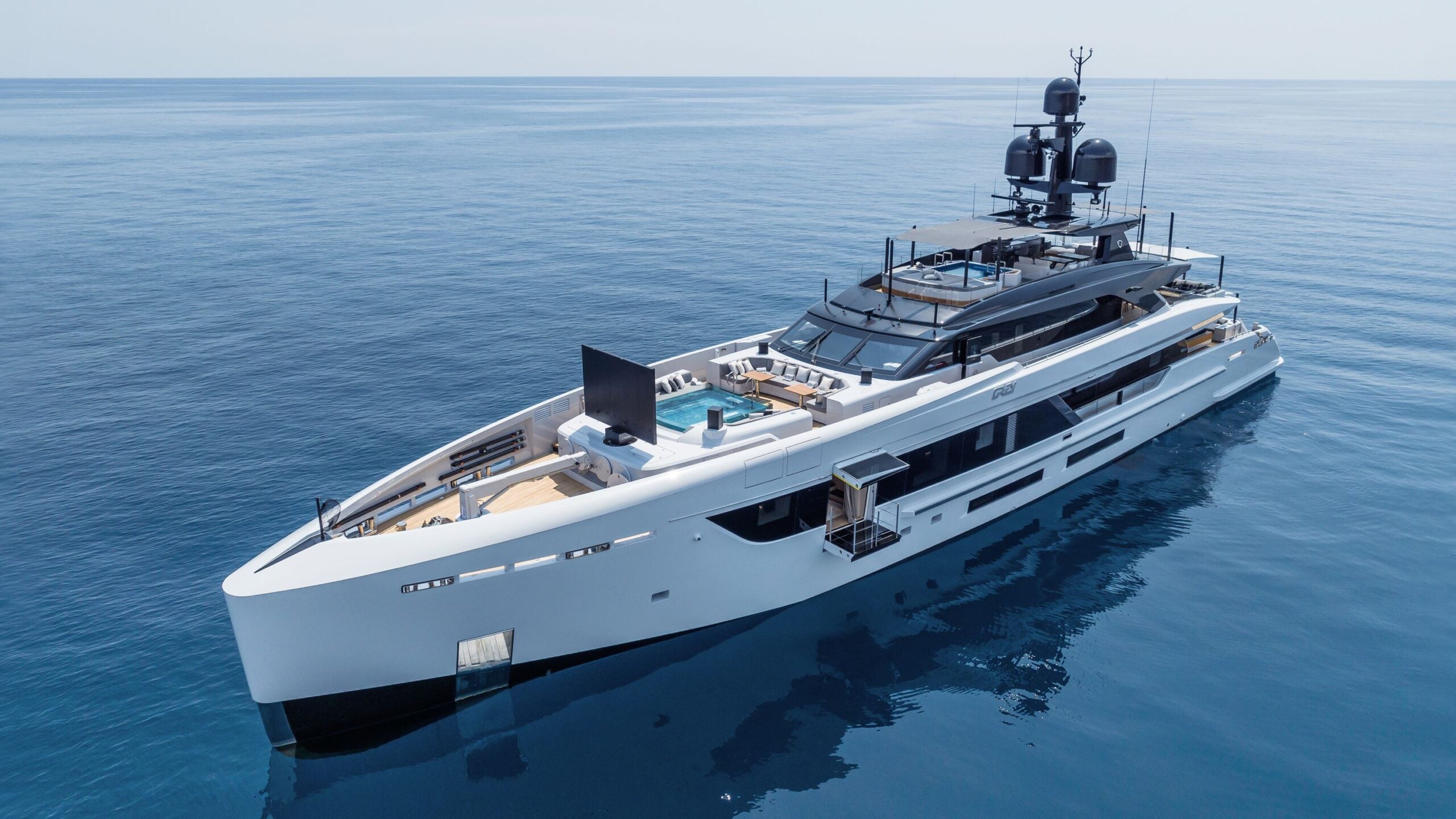 With two pools that include a jacuzzi on the fly deck, a 144-inch retractable outdoor cinema screen, a top-tier stereo sound and the most gorgeous and light-filled of modern nautical interiors, the Italy-built Tankoa M/Y Grey was only delivered in 2023, making it one of the freshest faces of this year's Monaco Yacht Show.
With a top speed of 18.0 kn, and a cruising speed of 16.0, the superyacht features two MTU diesel-electric engines, which allows navigation in marine protected areas without risk of pollution.
The Tankoa is, naturally, great for hosting; outside of all the fabulous entertainment options which places it in the utmost tier of its genre, it can accommodate up to 10 guests across five bedrooms, and 10 crew members too.
[See also: The 10 Best Restaurants in Monaco]