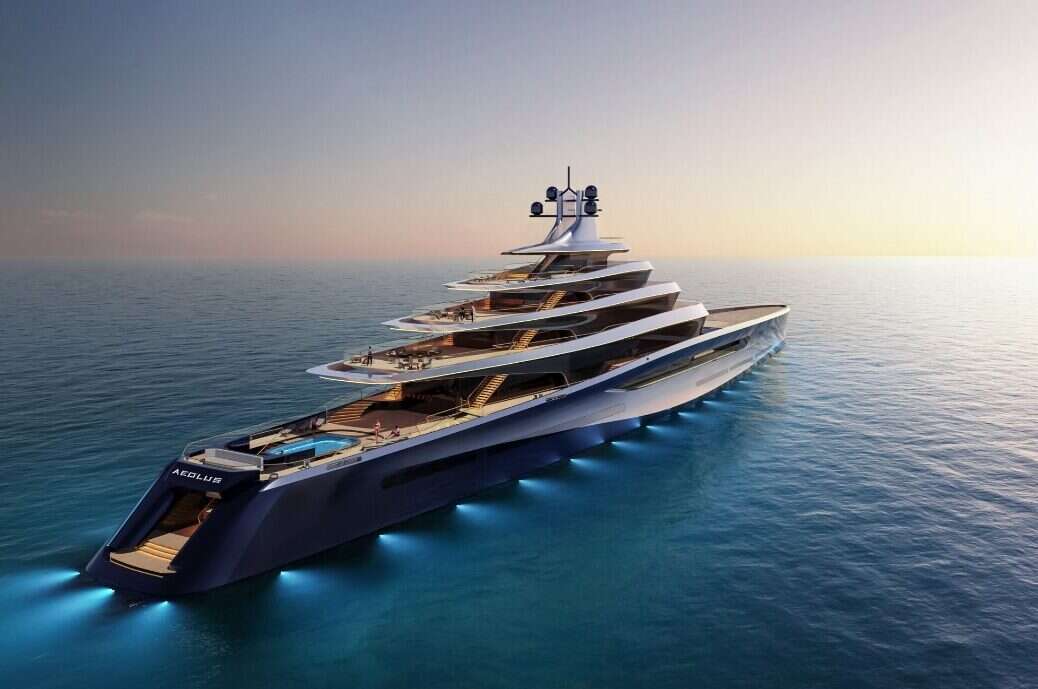 Aeolus, the Ancient Greek ruler of the winds, kept the devastating storm-winds inside the dark cavernous depths of his island. A friend of the gods and a champion of human seafarers and explorers, Aeolus finds a worthy heir in the latest Oceanco yacht design, Aeolus, which made its world debut at the 2023 Dubai International Boat Show.
Built in full alignment with Oceanco's NXT initiative, Aeolus reflects our ever-evolving relationship with the environment – as well as our personal lifestyle – for a yacht experience that pioneers authentic sustainability upon the waters, without once compromising on efficiency or beauty.
Giles Taylor overlooked the sleek and futuristic exterior design of Aeolus, themes that interior designer Njord by Bergman Design House mirrored within the yacht.
[See also: Ritz-Carlton Unveils Branded Yacht Collection]
"Aeolus's design sculpture is harmonious and borne of the function and flow envisaged for her future owner," commented Taylor.
"Her curves do not make her overly feminine because there is a masculine quality to her bold, forthright architecture. Apart from the deck surfaces themselves, not one surface is flat or brutally geometric, which provides a unique aesthetic that sets Aeolus apart."
A reference to the J Class sailing yachts that so defined the industry of the last century is at the heart of the design, which measures at a length of 420 ft, with a beam of 59 ft.
[See also: The Best Luxury Yacht Builders in the World]
The hull of Aeolus features two forward-orientated buttresses, which provide guests a gorgeous opening onto the sea. With three decks all purposely designed to provide breathtaking vistas across the seas, the interior utilizes fully sustainable and traceable materials – including biomaterials – to honor Oceanco's commitment to sustainability, whilst also delivering a product that feels as luxurious as it does homely.
"Organic nature, sensual being and playfulness played a big part of Aeolu's design, bringing that exterior language to her interior for a soft and cocooning feeling," said Sarah Colbon, co-founder of Njord.
"Every element has been rigorously considered, including sourcing and traceability of materials and working with some of the world's most innovate artisans in biomaterials and sustainable development."
Aeolus, built in the concept of a 'home away from home', was made for the yacht-owner who wants their boat to be a private retreat for family and friends, a true sanctuary of the seas. Like its namesake, Aeolus is the boat for those that do not desire control of the seas, but exploration of them.
[See also: Discovering the World's Most Exciting Superyacht Concepts]