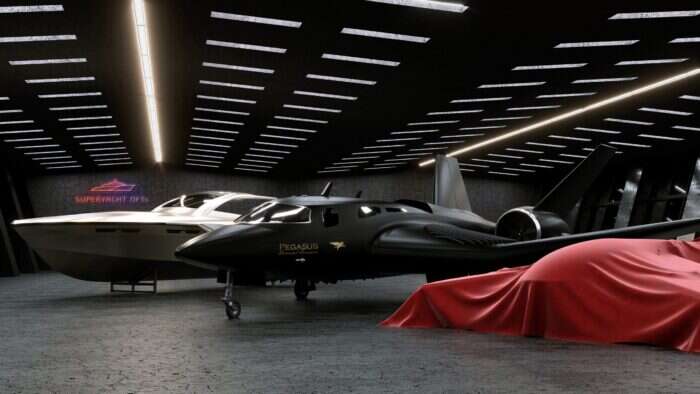 Dutch shipbuilder Oceanco has become the latest company to branch into the intangible world of non-fungible tokens, with the recent announcement of the launch of its own collection of superyacht NFTs.
Hosted on the Ethereum blockchain, the limited collection of digital assets is designed by Timur Bozca of Bozca Design, who has been celebrated as one of the world's most pioneering yacht designers. Among his large portfolio of cutting-edge vessels is the diesel-electric yacht concept Esquel, which was revealed in partnership with Oceanco in 2019, and has now formed the design inspiration for the new NFT collection.
In a move away from the highly exclusive world of yacht ownership, Oceanco's new superyacht NFT collection is centered on the philosophy that yachting should be a fun experience, rather than just a status symbol. The NFTs will grant owners access to a host of events, perks and benefits – both real-life and virtual.
In addition to the initial release, Oceanco will also be dropping additional collectible NFT add-ons, including accessories and toys, which will translate into extra owner benefits and perks.
"At Oceanco, it is important to push the industry's boundaries and challenge ourselves to continuously grow," says Oceanco chairman, Dr Mohammed Barwani.
[See also: The Best Luxury Yacht Builders in the World]
"Entering the world of NFTs felt like a natural progression for Oceanco and we wanted to make sure we offered something unique and exciting. This is why we are putting fun and engagement at the heart of Superyacht NFTs. We are making the exclusive more inclusive," adds Paris Baloumis, Oceanco group marketing director.
While the pricing model is yet to be announced, Oceanco has committed to donating a portion of the proceeds from its superyacht NFT collection to charities that align with the shipbuilders' commitment to ocean preservation and protection.
The announcement of Oceanco's superyacht NFTs comes at the same time as the launch of the shipbuilder's latest vessel, the 357-ft Project Y720. Designed by Sinot Yacht Architecture and Design and completed in Oceanco's Alblasserdam facility, Y720 has been carefully built to not only meet but also exceed the current regulations for environmental performance.
While the launch date for the Oceanco superyacht NFTs has not yet been announced, hopeful buyers can register their interest for early access online.
[See also: Discovering the World's Most Exciting Superyacht Concepts]