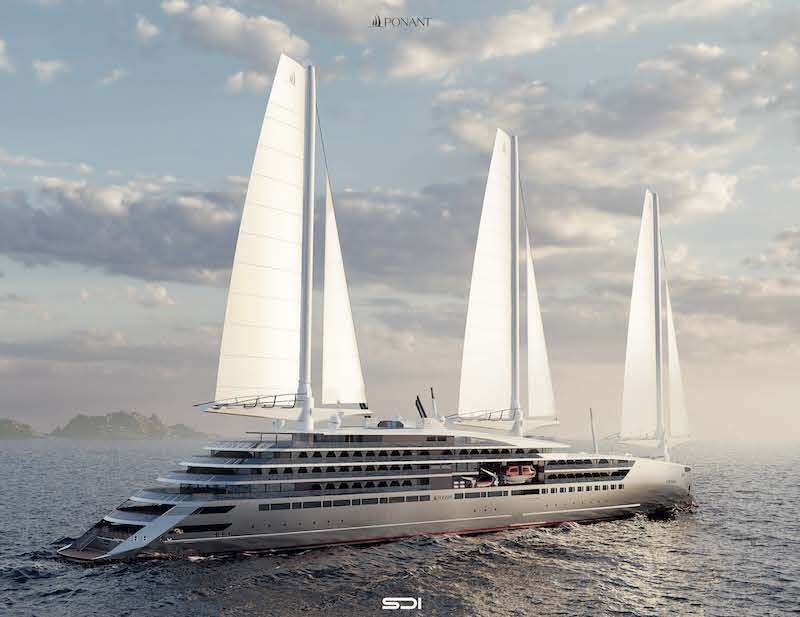 French marine expedition company and luxury cruise line Ponant has announced the building of an all-new sailing ship, currently named Swap2Zero, which marks the latest move in its bid to move toward net-zero operations.
The vessel, which is set to be completed in 2030, will combine six different groundbreaking technologies to bolster her eco-conscious credentials. Ponant's aim is for her to run with zero CO2 eq (referring to well-to-wheel CO2 equivalent emissions, including CO2, methane and N20) emissions in operation.
Along with her wind-assisted propulsion system, which is set to provide around 50% of the ship's power, Swap2Zero will also have advanced solar panels covering 10,764 sq ft; onboard carbon capture technology; a low-temperature liquid hydrogen fuel cell (the heat and water from which will be recycled) for propulsion; a high-temperature fuel cell for load requirements; and a bespoke energy management system for generator-free power distribution.
[See also: Heesen Unveils its Biggest Ever Steel Superyacht: Sparta]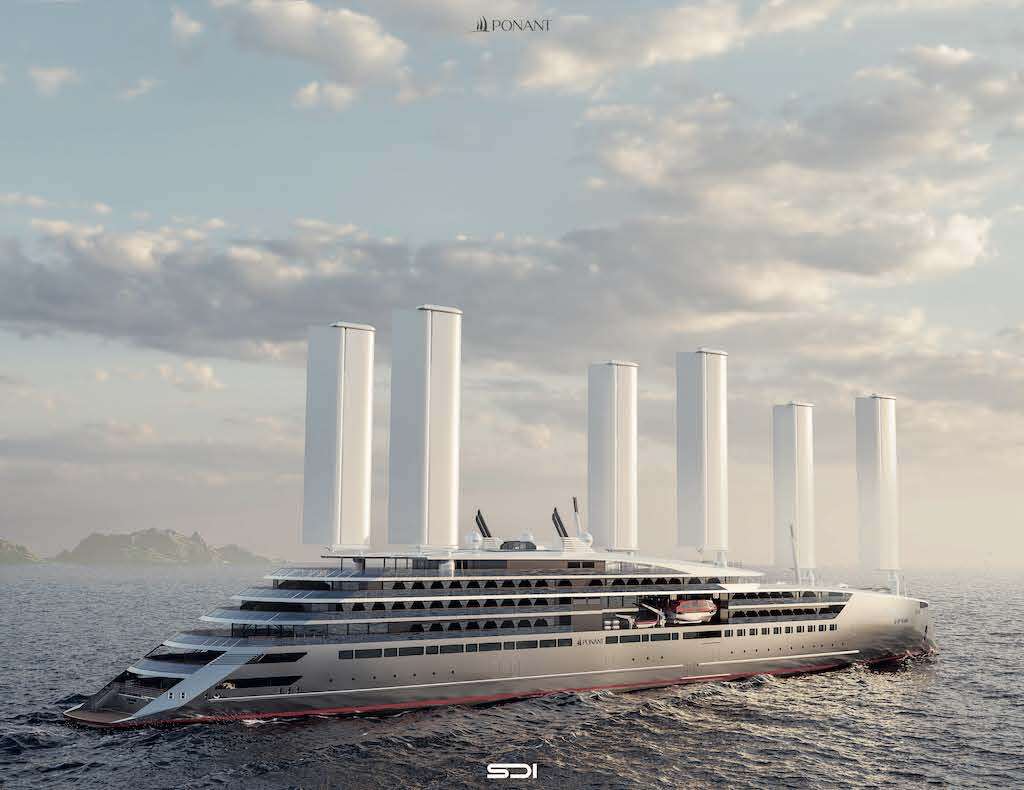 "By 2030, our future ship aims to have zero greenhouse gas emissions when sailing, maneuvering, in port or at anchor," said Hervé Gastinel, CEO of Ponant. "Her carbon footprint will be reduced throughout her life cycle. Renewable energy supplied by the wind and sun will be combined with low-carbon non-fossil energy associated with fuel cells."
For Swap2Zero's design, Ponant has once again partnered with naval architecture firm Stirling Design International. The firm has worked to a brief specifying strong replicability potential in the hopes that the ship can contribute to a greener future for the wider international shipbuilding industry. 
[See also: Arksen Debuts Maiden Explorer Vessel]
Details on the ship's interiors and layout are still yet to be released, but Ponant has revealed that she will measure in at 594 ft, and will have around 100 staterooms. As part of the Ponant Science program, she will also play host to researchers working in decarbonization technologies.
"This is much more than a new ship," Gastinel continued. "We want to offer a new mode of navigation and actively contribute to the decarbonization of the maritime sector. Our in-house R&D team has brought together the best specialists in shipbuilding and renewable energy to imagine and develop an energy model that aims at zero emissions.  With Swap2Zero, we are building a French technological showcase to convince other stakeholders to commit to carbon-neutral navigation."
[See also: The Great Edventure: The Best Educational Charter Yachts]