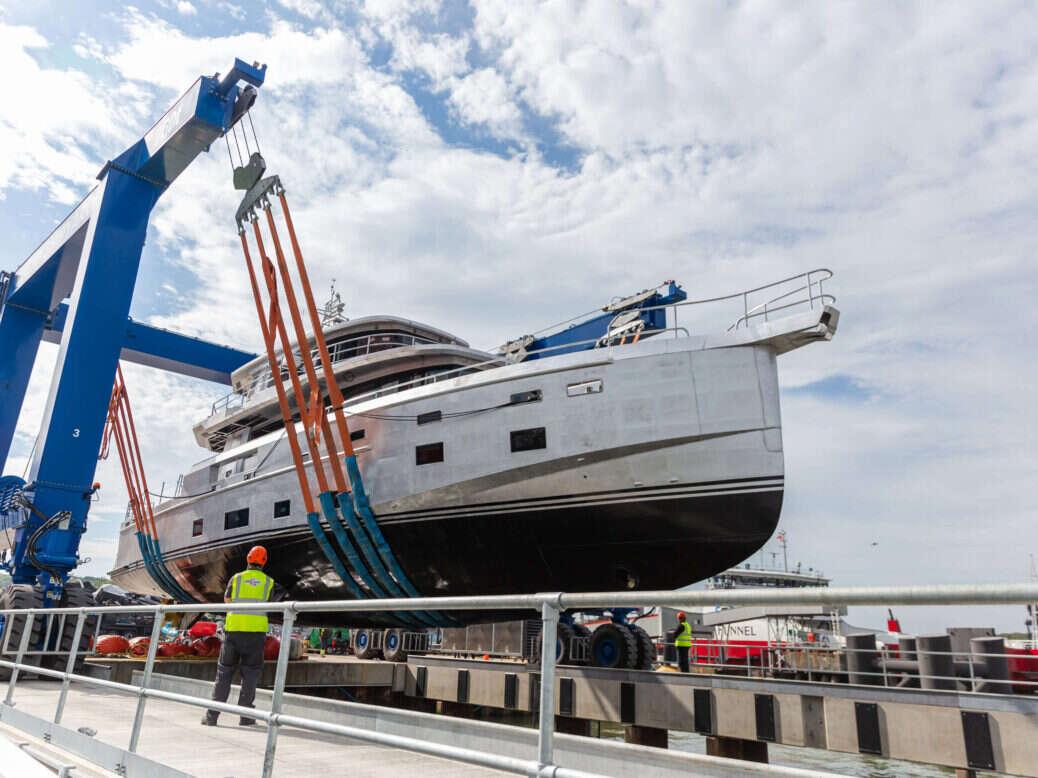 Experiential lifestyle brand Arksen has officially launched the first of its 85-meter (279-ft) explorer vessels, which hit the water earlier this month as Project Pelagos. Launched from the UK's Wight Shipyard Co, the yacht will now undergo sea trials before being delivered to her new owner.
Project Pelagos is the first of two Arksen 85s currently in-build to be launched, with the second due for completion later this year. Both have been built to the same exterior specifications – characterized by the three-deck formation and efficient aluminum hull – but feature customized interior layouts by yacht design studio, Design Unlimited.
Intended for family use in warm climates as well as longer expeditions in harsher environments, Project Pelagos has a large open-plan lounge area and al-fresco dining set up on the main deck. Accommodation is spread across one owner's suite and three guest cabins, with extra room afforded by transforming a snug area from the standard configuration into a captain's cabin.
[See also: Secret Atlas Founder on Creating a New Kind of Cruise]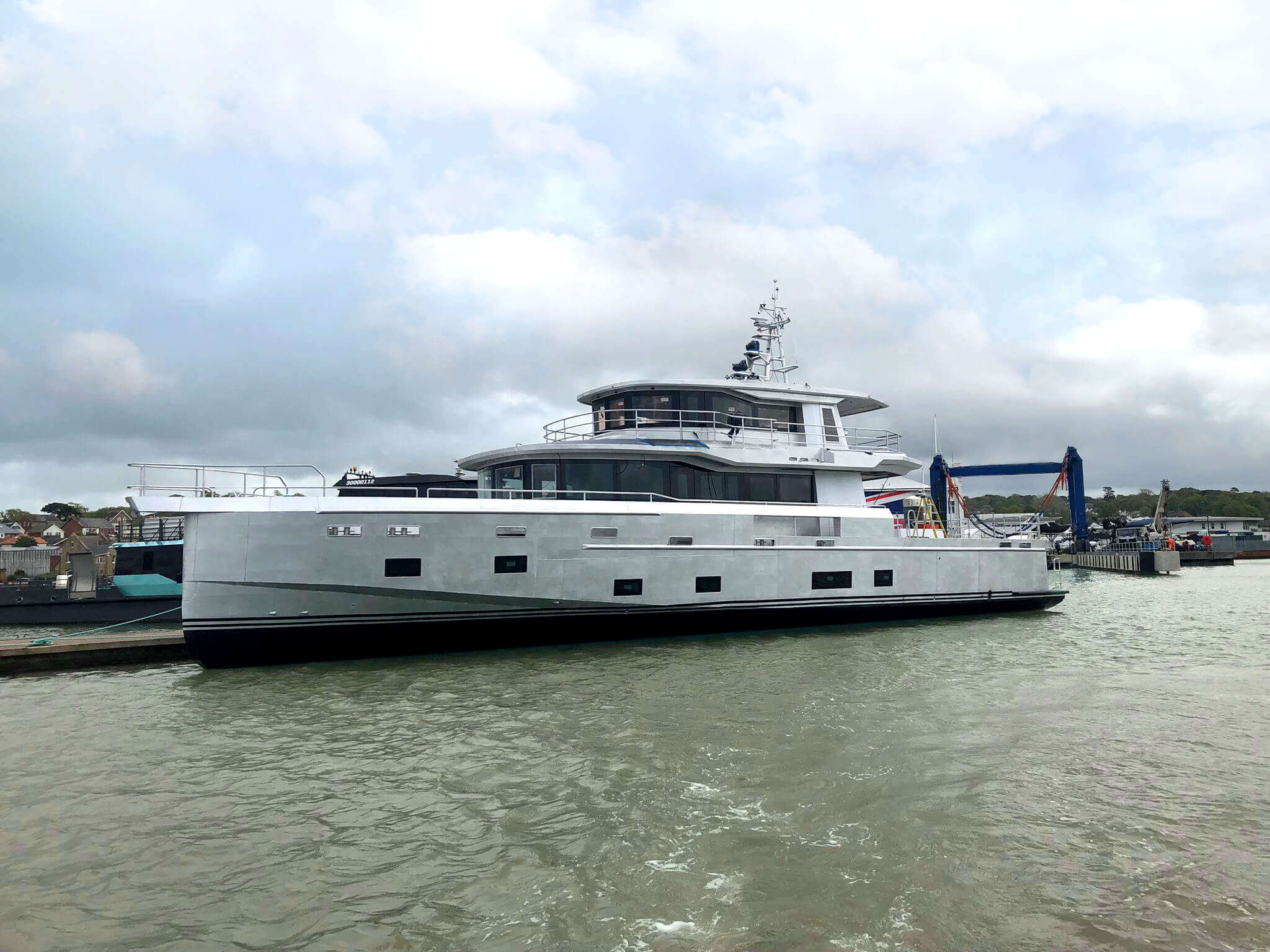 In line with Arksen's sustainability commitments, the ships benefit from a hybrid propulsion system that allows for periods of silent cruising and increased fuel efficiency, with a maximum range of 7,000 nm.
The Arken 85 falls within the brand's Explorer Series – a collection of larger, more substantial vessels intended for longer stints at sea. The Adventure Series, on the other hand, includes boats up to 45m (148 ft) characterized by their nimble stature.
Project Pelagos's new owner will also have the opportunity to opt into Arksen's Seatime Pledge, whereby owners can donate a set period of yacht time to marine research and protection programs.
[See also: The Great Edventure: The Best Educational Charter Yachts]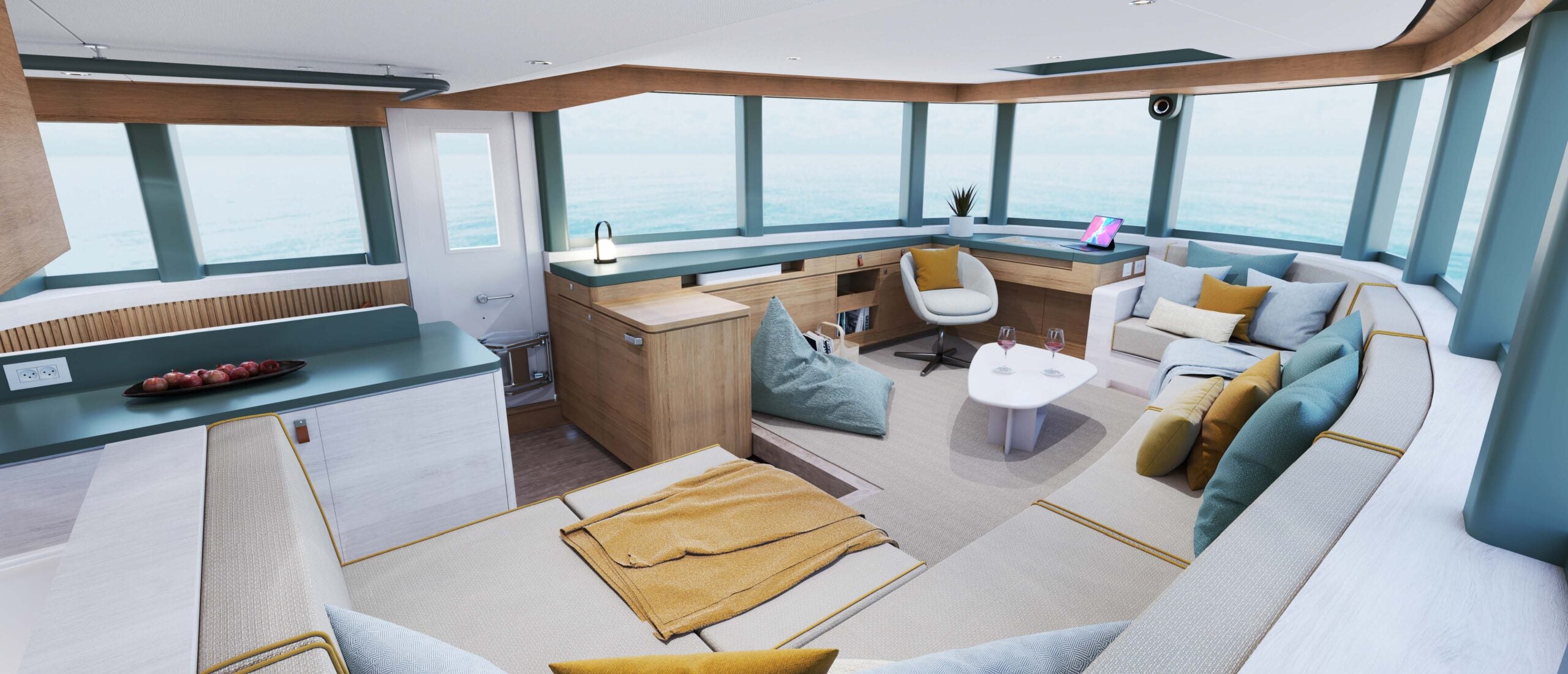 "Buying into Arksen's unique concept is giving the new generation of these explorer enthusiasts the possibility, not just to visit the last great wilderness of our planet, but also to contribute to its protection and regeneration actively," said Project Pelagos's unnamed owner.
 
"I believe this pioneering and refreshing path that Arksen is taking will make them a driving force in the future of the explorer yacht industry."
"The launch of this vessel comes at a very exciting stage of development for the company," added Arksen sales & marketing director, Dominic Bryne. "2023 has already been a big year for us and with new ownership models and additional products in the pipeline we have not finished yet. We can't wait to see the vessel off on her adventures and find out what marine science they are able to support as part of that journey." 
In addition to the launch of its first explorer vessel, the brand has also recently unveiled Arksen Labs – a range of luxury apparel, designed to prioritize performance technology for long-wearing, reliable items of clothing that can withstand demanding conditions.
[See also:Lürssen Delivers Sparkling New 295-Foot Superyacht, Norn]