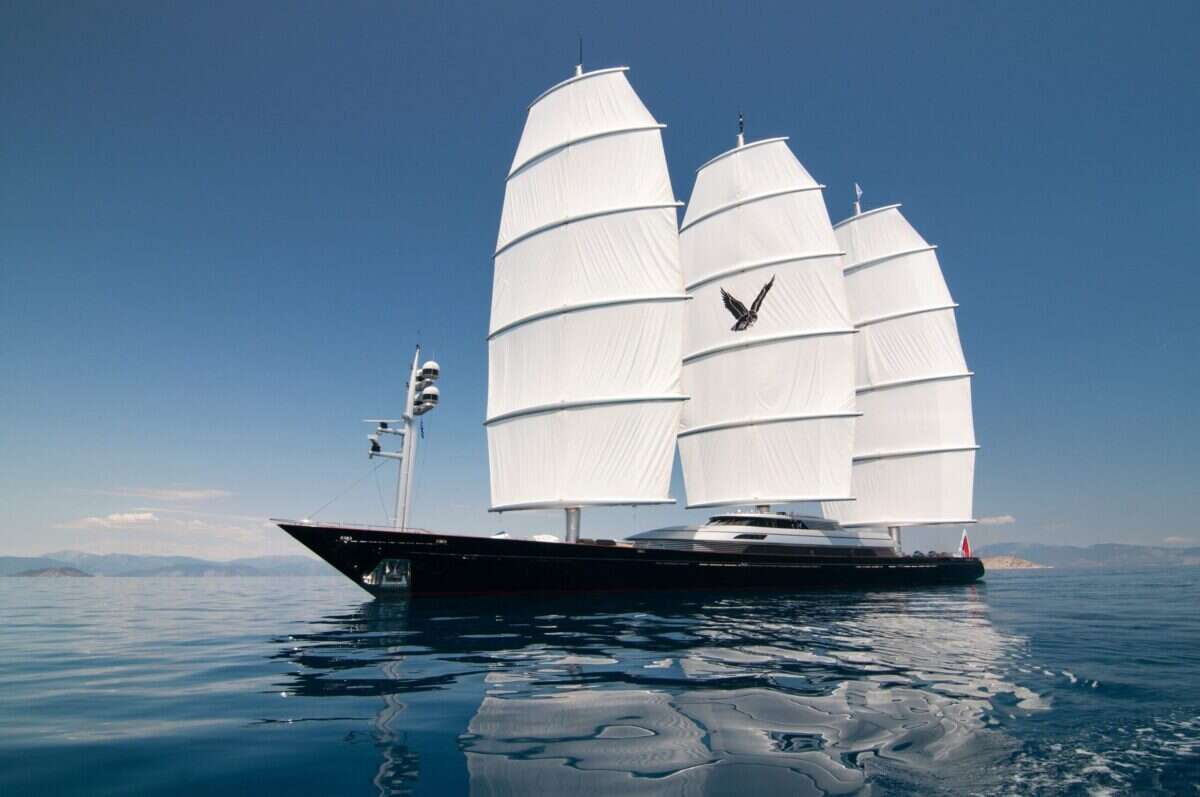 If you lined them up, the length of superyachts on the order books in 2022 would stretch more than four and a half times the height of Mount Everest. But why are people buying them during a pandemic?
After a record year, figures published by yacht industry authority Boat International report that in 2022 there are currently 1,024 superyachts in build or on order. That's a rise of 24.7% from last year's 821, which was already the second-best in a decade, and even 1.6% higher than in 2009, the previous all-time peak.
The increase in yacht sales correlates with the burgeoning in wealth of the world's richest. Despite the pandemic's turbulence, Forbes data shows that a new billionaire was created every 17 hours in 2020, with a record of 493 people joining the ranks that year.
[See also: The 10 Biggest Superyachts in the World]
The total number reached an all-time high of 2,755, with a cumulative wealth of $13.1 trillion. Crypto and technology entrepreneurs accounted for a good number of new faces, but the worldwide Covid-19 response meant many came from the healthcare industry, which accounted for 61 newcomers.
Alex Holden, strategy director of yacht broker Edmiston, anticipates the influx of new billionaires is likely to change the industry in years to come. 
He said: "Between 2020 and 2021 the cumulative wealth of billionaires grew 50% and the yacht sales market grew 60%. We are seeing clients from healthcare and tech industries coming into yachting, and the age group of our clients is certainly getting younger. 
[See also: Superyacht Brokers Prepare for Record Summer Demand]
"It's an incredibly exciting time for the industry, as more and more new clients enter the market that have a new perspective on yachting."
Figures released in April show that the war in Ukraine, sanctions on Russian oligarchs and volatile stock markets have caused the number of billionaires to fall slightly in the last year. However, total wealth stayed high at $12.7 trillion, with 40% of those who did remain on the list getting even richer. 
Recent statistics indicate that superyacht sales and charters will reach a record high this summer. 
"We enter 2022 with great confidence for the year ahead following our best year to date in 2021 and a strong January in both sales and charter," Holden says. "Last year saw 48 yachts over 30m (98ft) sold – more than double the number in 2020 – totaling over €1bn ($1.08bn) worth of sales, surpassing both 2020 and 2019. This year has seen clients booking early to secure the yacht, location and days of choice."
Jim Evans, British founder of yacht brokerage SuperYachtsMonaco, says the pandemic caused many families to rediscover a pack mentality. He said: "For many of us, the pandemic made us consider what we valued the most, and it was no different for the ultra-wealthy." 
Concern over catching Covid-19 and freedom amid restrictions on global travel are just some of the reasons behind the surge in purchases. He explained that superyachts are considered to be safe, private escapes where people can "cocoon" themselves and their family, with the best of five-star service and no fear of mixing with other travelers. 
From the numbers, it might look like a third of the world's billionaires have yachts on order, but that's not the case. Many yacht buyers are repeat owners. One billionaire, who recently finished building his 17th yacht with a well-known yard, described his passion for the yacht building process as "a sickness". 
Globally, Italy is the largest producer of superyachts, with the Global Order Book recording over 500 projects at Italian shipyards in 2022, lead by producers like Azimut-Benetti, San Lorenzo, and Ferretti.
[See also: The Best Luxury Yacht Builders in the World]

Norway and Germany are leading in the construction of large superyachts, with an average 2022 project in Germany weighing over 5,000 gross tons. The average length of a yacht on the 2022 order books of leading German shipyard Lürssen is 124m, over 400ft.
For Edmiston, the rise in sales and charter growth has been driven both by existing and new clients, many of whom found their work commitments more flexible. Holden observed a 'you only live once' reaction to the pandemic that led many to upsize their yacht. 
He said: "Covid-19 brought into sharp relief that spending time with family and friends, in a safe and secure way, is the most important thing. This, coupled with the exponential growth in remote working, made yachting a year-round opportunity for our clients and encouraged many to buy for the first time, upgrade their existing yacht to one with better home offices, or charter for much longer periods."
Demand may be up, but it's not all been plain sailing for those building the yachts. Despite the total sums being large, shipbuilding itself is not a high-profit industry. Rare and raw materials are expensive, along with the highly skilled labor required to deliver such a product. 
Issues with supply chains and staff being unable to work due to Covid-19 put pressure on many shipyards. Italian shipyard Perini Navi, famed for building the legendary racing yacht Maltese Falcon, went into liquidation last year after filing for bankruptcy. German titan Nobiskrug, which constructed the iconic Sailing Yacht A (since seized by Italian authorities), too filed for insolvency before being taken over.
[See also: Project Fox Pulls Spotlight Back to British Shipyards]
Critics across the world have also become increasingly concerned with the impact of superyachts on the environment. Speaking to the Guardian, Richard Wilk, an economic anthropologist and professor at Indiana University said: "If you add every superyacht together, it's just a blip on total greenhouse gas production. But it is symbolic – and the global impact of the 2,000-odd billionaires on the planet are very significant. So it's part of a pattern of overconsumption by the upper crust." 
Interestingly, one of the biggest sectors for innovation in the industry is sustainable development, with many owners being keen to preserve the environments in which they sail. 
"Green technology and alternative fuels have been a hot topic for several years," says Holden. "We are now seeing more superyachts in build with not only hybrid propulsion but also, alternative fuels in hydrogen fuel cell technology among others."
One of the fastest-growing build categories is explorer yachts, often described as the Land Rover of the industry. More rugged and fortified for rough weather, they are often designed to visit remote and far-flung locations in the world, from Patagonia through to the Arctic. Some carry submarines and even have space for a resident scientist on board to carry out new biological and environmental research.
In 2022, there are 85 explorer yachts on order, an increase of 32% on 2021, and 55% compared to the 2015-2019 average, a larger increase than any other category.
Sportfisher yachts have seen a significant uptick in popularity following two years of low orders, while open (sport) yachts have seen much slower growth, likely due to the pandemic's increased demand for yachts that offer larger living quarters.
[See also: Top 10 Explorer Yachts in the World]
What's next for the yacht industry in 2022? 
Despite being optimistic, Holden acknowledged there are challenges to face for the yacht industry: "Whilst the outlook is still strong, both for charter and sales, the war in Ukraine has undoubtedly left the world reeling and this creates a great deal of uncertainty. The situation is unfolding so rapidly, it is impossible to see how this war will affect futures in all industries, not just yachting. In the meantime, we are supporting those displaced by the war through companywide drives for supplies."
He also predicts the Med will remain a standout cruising ground, with regions that were quick to welcome yachts in the wake of the pandemic remaining key destinations for travel. "Greece and Croatia will maintain the strong popularity that was achieved during Covid-19, when they were the first Mediterranean cruising destinations to open up. We also see Italy and South of France looking strong for summer."
[See also: How Much Does a Yacht Cost to Build?]