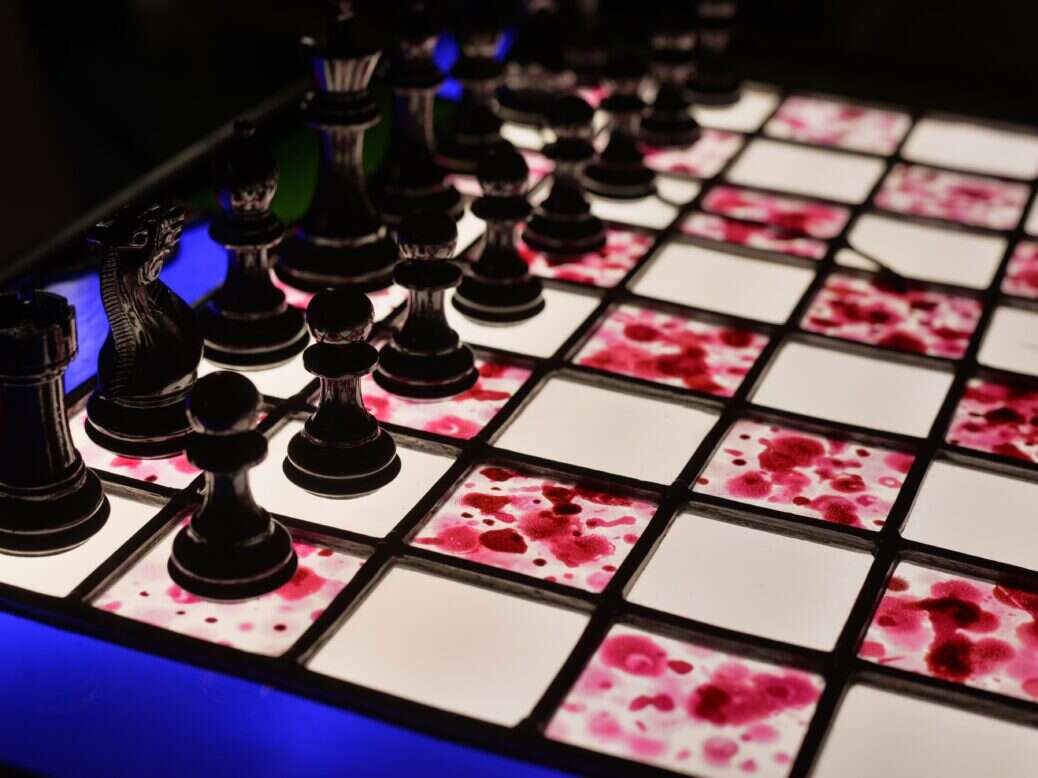 Columbian-born artist Daniel Brusatin's work transcends discipline and form, but his one-of-a-kind Creation vs Destruction chess set remains one of his finest works.
A cherry blossom is flowered to life by bloodlike splashes of ruby paint. Above this surface from which white light illuminates, darkened statues prepare for battle, the bloodshed on the ground spurring on the fight. The blood-spilled arena is rimmed by oceanic tones of blue and green. Like the white-screen surface of the board, it too sprouts vibrantly pink flowers, unwithered by the waters that engulf them.
Though these natural hues frame the central board, they are not the main attraction. Much as our own world is defined by the creatively compassionate or infuriated actions of its inhabitants, creativity and destruction instill feeling into this piece.
[See also: David Hockney to Open Immersive Exhibition in London]
Daniel Brusatin is a Colombian-born artist who, having grown up in a family of agronomists and architects, was accustomed to the harmonies of nature and art. While training at The Academy of Fine Art in Florence, Brusatin not only nurtured his love of painting but grew impassioned for the crafts of ceramics and stain glass under famed British painter Brian Clarke's apprenticeship.
After moving from Florence and Milan to Paris, Brusatin finally settled in a London studio in 2013. Though he settled in one location, Brusatin never settled on a specific medium — but rather retained a keen interest in all art forms, particularly in their power to enhance and converse with one another.
[See also: David Yarrow Showcases Most Iconic Works in Storytelling]
Brusatin's one-of-a-kind chess table, which includes 34 hand-carved and hand-painted chess pieces, is exemplary of this artful prowess. While the table's legs are beautifully arched to a symmetrical point, they are inverted, pointing down instead of inviting passage. The burnt oak board is made of Italian Nappa leather with an 18-karat gold embossed Purling logo.
From $88,700, purling.com
[See also: Kate MccGwire on Her Royal Salute Collaboration]
This article appears in the 30 Nov 2022 issue of the New Statesman, Winter 2022/23