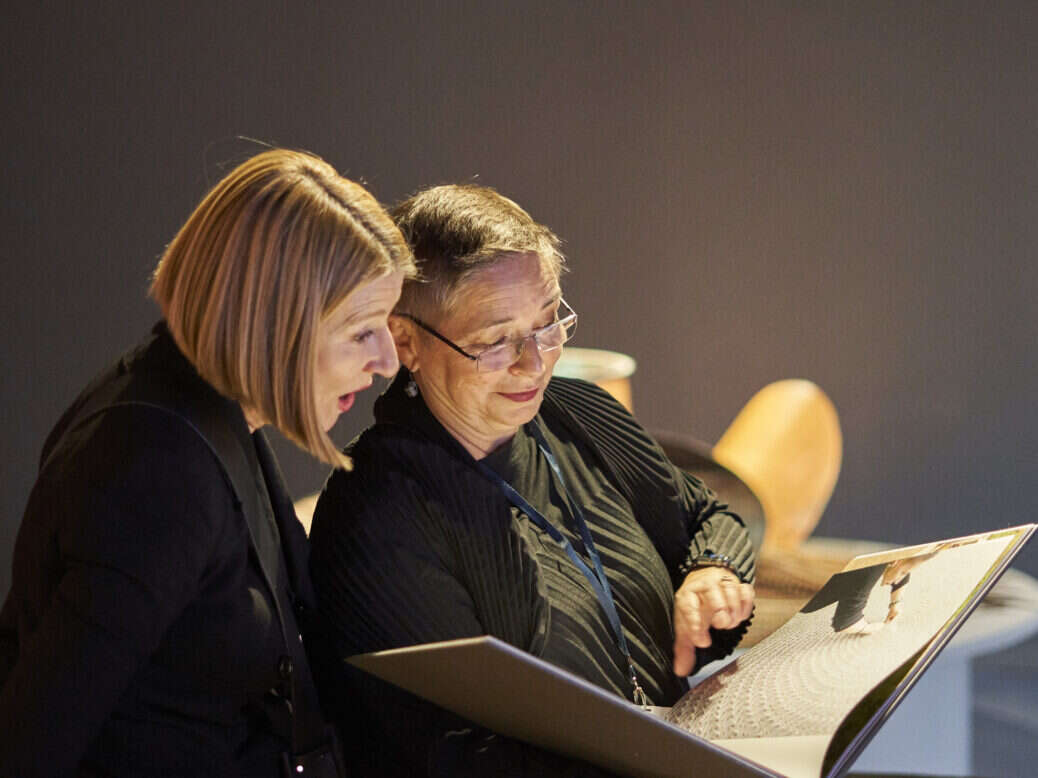 "Actually, I never touched a drop of whisky before this project," Kate MccGwire laughs. "I've had to taste quite a bit whilst doing it, and actually I like it now. Last night…" She trails off, and I join her in laughter.
We're speaking at the bright and early hour of 9am, mere hours after the Frieze London launch of MccGwire's hotly anticipated collaboration with luxury whisky brand Royal Salute. As is benefiting an artist of her credentials – and a company of Royal Salute's status – the launch concluded with a dinner hosted at the Tate Britain, in the beloved Room 9, the atmospheric dimmed lights casting the portraits of Gainsborough, Hogarth and Waterhouse in a merry state of celebration.
And what a collaboration to celebrate. Kate MccGwire is the inaugural artist of Royal Salute's 'Forces of Nature' platform, in which the whisky brand endeavors to entwine the heritage of whisky with the beauty of modern art. The collaboration features her limited-edition Paragon, which is paired with 53-year-old blended whisky in a bespoke cabinet and retails for $90,000.
[See also: Royal Salute Reveals Platinum Jubilee Whiskey]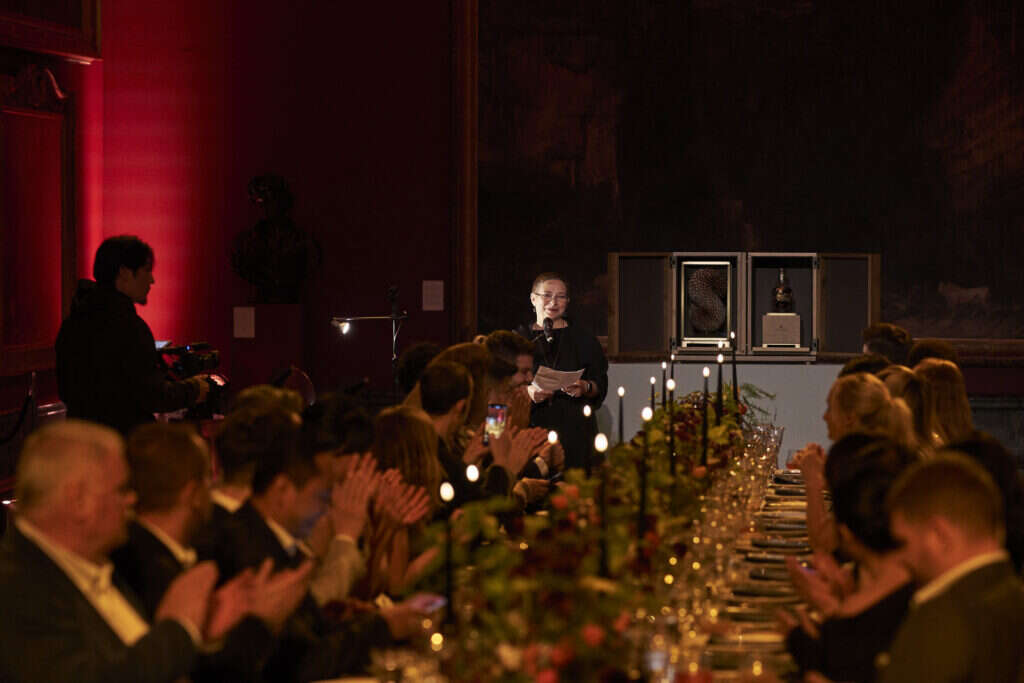 MccGwire was the top choice for this special project, we were told at the dinner by Mathieu Deslandes, global marketing director. When regarded with MccGwire's body of work, it is easy to see why; this is an artist that masterfully combines science with the natural world for a final piece that is magnificent in scope and majestic in impact. But what drew MccGwire to collaborate with a whisky company?
"I was involved with the Perrier Jouet art panel a few years ago," she says over Zoom. "It was a group of critics, artists… We selected an art person to win a prize and to be supported by us as a group. Which was actually a phenomenal thing."
"Perrier Jouet was part of that, and Axelle De Buffevent, who inaugurated that, then contacted me a few years later to see if I wanted to do this. And I trusted her completely. I knew that she knew my work, and that she understood me as a person, so it felt completely natural to do something with her."
And how has creating art with a stimulus as unusual as whisky differed from her usual process? MccGwire, now a fan of whisky – we reminisce over the fantastic cocktails prepared using Royal Salute's latest blend of the night before, and Deslandes' desire to introduce the substance to a new age group and demographic – was, as stated earlier, not a whisky drinker prior to the collaboration.
"The intrinsic nature of my work hasn't changed," she replies. "That can't be different. What you get is me, I can't simplify things. I like to make things as complicated as I can!" But, she clarifies, it was an exciting new opportunity to explore different mediums within her work, to "push a little further, work with metal which I haven't done before."
[See also: Jean-Philippe Blondet on his Inventive Approach to Fine Dining]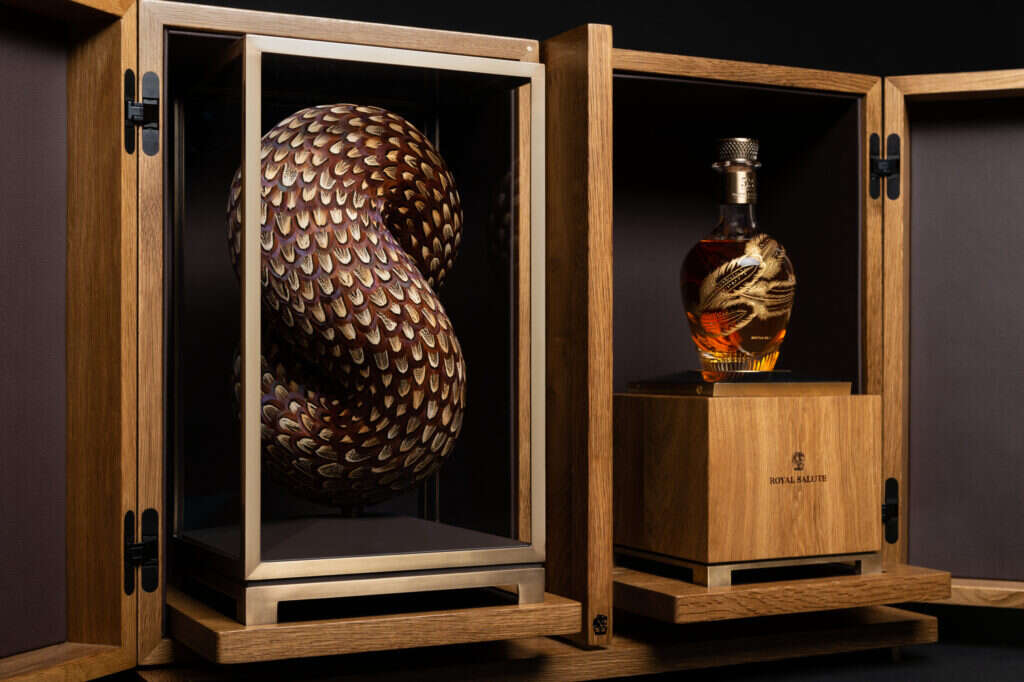 Having graduated from the Royal College of Art with a Masters in Sculpture in 2004, the first inkling of MccGwire's greatness was exhibited when Charles Saatchi bought her graduation piece, and has remained a supporter of her work since.
MccGwire's career has gone from strength to strength since. The Norfolk-born artist, whose – to quote her own website – "early memories of [Norfolk's] distinct landscape, dominated by its wetlands, serpentine waterways and wildlife" is a considerable source of influence over her work, has had her pieces exhibited across the world, from Poland and Paris to New York and Nanjing.
And yet for such a global career, it is back home in the United Kingdom that she remains the most inspired by, especially bodies of water. "My life and my studio are very interlinked," she says, the latter of which is a barge upon a river. "I can see the water lapping from the studio… You can't take me away from water."
But it was when she was toured around the Royal Salute distillery, in Speyside, Scotland, that had notable impact upon the art she created for the 'Forces of Nature' collection.
"My experience of going to the distillery," she begins, weighing up her words. "I love factories, I love production, I love learning how things are done. That was the spring-off point. [It was] fascinating. The various different processes that the whole thing goes through. Really Willy Wonka, how the pipes go through the ceiling and into different rooms. I love that. And the distilleries are these phenomenal shapes."
So how, exactly, did the distilleries inspire the art?
"Going to the stills manufacturer," MccGwire explains, "which is literally men… They cut the copper into trapeze-oid shapes, and then heat and hammer them by hand. Still! That, to me, was astounding.
"So all these huge, beautiful shapes are all molded by man. How does that happen!? Nowadays, with all these technologies, you'd think it wouldn't be done like that. And that was just amazing.
"So, if you look carefully at the bits of copper that I've cut, they have tiny hammer marks on them, all over. As a form, you think they're just curves, but they have the mark of a maker."
[See also: Champagne Making with Krug Cellar Master Julie Cavil]
MccGwire discusses the pull of the heritage of the whisky industry, if not wider Scottish culture. Heritage feels like the perfect word, I say, for a project like this, for it encompasses both the natural disposition of the region, while also including the human history that so characterizes it.
"Yes," she says. "And, of course the landscape. I haven't been to Scotland since I was a child, and it was majestic. We went on a walk, rushing over these boulders, all these pools."
It's overwhelming, I say. Having taken a few trips to the Highlands myself, there is nothing quite as strikingly beautiful as the Scottish Highlands; it is only natural that MccGwire would be so inspired by it, because truthfully, who wouldn't be?
"Absolutely", she says. "Outstanding beautiful. Wild orchards growing, ferns all over the place, the pine trees. We went to a loch at around five in the morning to catch the sunrise and the mist coming off the water… It was such a magical moment. I couldn't help but get some wild swimming in."
MccGwire is an avid wild swimmer – "365 days a year", she tells me – "and I've been swimming in the Serpentine since being in London. The water isn't as clear. But Bear Grylls was there, that was exciting."
In our last few minutes, we circle back to discussing the Highlands. She says: "You get the flatland around the River Spey, and that landscape, and then you get these incredible hills, within the distance, snow on top of the mountains. And I look down, and there was this singular orchard. And, you know, the micro and the macro together like that was just mind-blowing."