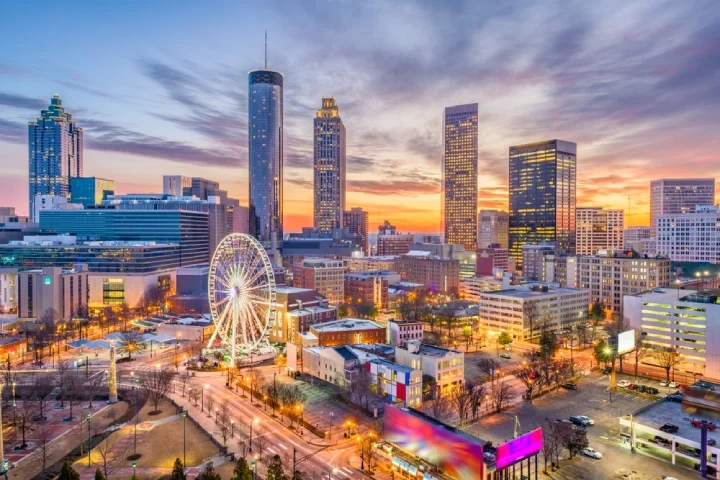 With its Southern personality and warm welcome, Atlanta is a city that will charm anyone who visits. Best of all, it's home to some of the best restaurants in the US with a huge variety of culinary experiences.
From traditional dishes to surprising modern cuisine, Atlanta has it all. Food connoisseurs from all over the world travel there to savor some of the best dishes the US can provide.
Whether you are looking for a succulent steakhouse or some of the finest Japanese cuisine, our guide to the best restaurants in Atlanta has something for everyone – even the most fickle foodie.
Bacchanalia
Chef-owners of Bacchanalia Anne Quatrano and Clifford Harrison have developed one of Atlanta's finest restaurants. Open since 1993, this restaurant relies exclusively on organic ingredients, the majority of which are sourced from Quatrano and Harrison's farm, Summerland. 
The menu here relies on entirely organic ingredients, many of which are sourced from Anne and Clifford's farm, creating a unique dining experience every time.
Bacchanalia offers a four-course prix-fixe dinner including starters, meat, cheese and dessert, starting at $110 per person. The menu can also be ordered a la carte at the bar.
Bacchanalia holds up to 90 guests and the private dining room is able to accommodate up to 20.
Kevin Rathbun Steak
Named as one of Esquire Magazines Best New Restaurants, Chef Kevin Rathbun's eponymous restaurant produces fine American cuisine and has done since 2007. 
The restaurant is located in the Inman Park area of Atlanta. This stylish, renovated warehouse also boasts several options for private dining. Dine within the Wine Room, the outside covered and heated patio, perfect for cigars aficionados, or select the entire restaurant as a complete buyout option, creating the perfect venue for groups of one hundred or more.
From BBQ Wagyu short ribs to eggplant fries, this establishment knows how to keep its distinguished guests satisfied. Rathbun's also boasts Krog Bar, an intimate Mediterranean wine bar which can hold up to sixty people for a standing-style reception.
Tomo
Located within one of the most renowned and fashionable neighborhoods in Atlanta, Tomo in Buckhead is one of the city's best destinations for upscale Japanese cuisine.
Having recently relocated from Vinnings strip mall to Buckhead, the restaurant boasts an airy space paved with black slate floor tiles and is now located within the same building as the Ritz Carlton Residences.
Head chef and owner Tomohiro Naito, who has previously worked at Nobu in Las Vegas, opened the restaurant with one goal – to serve contemporary Japanese food with the finest ingredients from all over the world. There is also an omakase option, which is the ultimate Japanese experience. For $250 per person, the omakase journey includes a personalised and unique menu each night, with the chef's explanation as every dish comes out. 
Aria
Head chef and owner Gerry Klaskala lends his wealth of experience and dedication to detail to every dish prepared at Aria. Unlike other restaurants, Aria is exclusively devoted to the evening meal, with the menu changing daily to reflect the freshest seasonal ingredients.
This Buckhead-based favorite boasts a monochrome, minimalist interior. A no-fuss approach is also evident in Aria's cuisine which is never over-embellished, yet not lacking in drama. The same attention to detail witnessed in the menu has ensured that the wine list is a complementary companion to the artful cuisine and includes new vintages and extraordinary boutique wines.
Bones
Since opening in 1979, upscale steak and seafood restaurant Bone's has been recognized as one of the best steakhouses in Atlanta. It is mostly known for business lunches and dinners, but also for fine dining experiences for groups and private events. 
The dinner menu includes appetizers such as crab and lobster napoleon with chardonnay cream. Bones has even been recognised by Zagat as having the highest ranking for food and service of any steakhouse in the US.
As well as offering 10 cuts of steak, they also offer a variety of salads, soups and sandwiches. Bones also offers personalized private dining rooms which can accommodate between 8-74 people, making this restaurant the perfect venue for that special occasion, be it a business meeting or a birthday party. The wine gallery also boasts 20,000 bottles.
Canoe
"Tucked away along the peaceful banks of the Chattahoochee River, yet conveniently located in the Atlanta community of Vinings lies one of the country's most acclaimed restaurants." This is how Canoe's website introduces the establishment.
With its suggestive and atmospheric garden, Canoe in Atlanta is the perfect combination of natural aesthetics and fine dining. Right in front of the structure, the river flows peacefully providing a unique feeling for the diners.
Executive chef Matthew Basford and executive sous chef Michael Connell crafted a brunch, lunch and dinner menu with care and passion. From crab cake with spiced napa slaw to the signature Canoe's House smokes salmon, diners can rest assured that all the dishes prepared in the establishment are worthy of the accolades they have won.
Nikolai's Roof
Located at the top of the Hilton Atlanta Hotel, Nikolai's Roof offers its guests some of the greatest panoramic views of the city. 
Chef Daniel Palaima transferred his 20 years of experience to Nikolai's Roof, which offers its diners some of the most refined dishes in the city. From duck breast with sour cherries to a perfectly-cooked Wagyu steak, this establishment maintains its elegance even on the menu.
Alongside dinner, Nikolai's Roof also offers a unique cocktail-tasting experience, including beverages such as house-infused flavored vodkas and flaming cocktails. 
Atlas
Within the St. Regis Atlanta, Atlas stuns its guests with a venue adorned with an extensive collection of 20th-century modern art. 
Only using the most seasonal and fresh produce, Atlas aims to tell a story with every dish, adopting an innovative approach to traditional cooking. Indeed, the menu changes every season. 2023's summer menu, for instance, includes lobster rolls and Wagyu burger.
Within the structure, there are two main rooms: Papillon Room and the Garden Room. The former offers a bespoke installation with a custom-made menu for private guests, while the latter, as the name suggests, is an outside area where diners can take advantage of the bar and the multitude of tables.