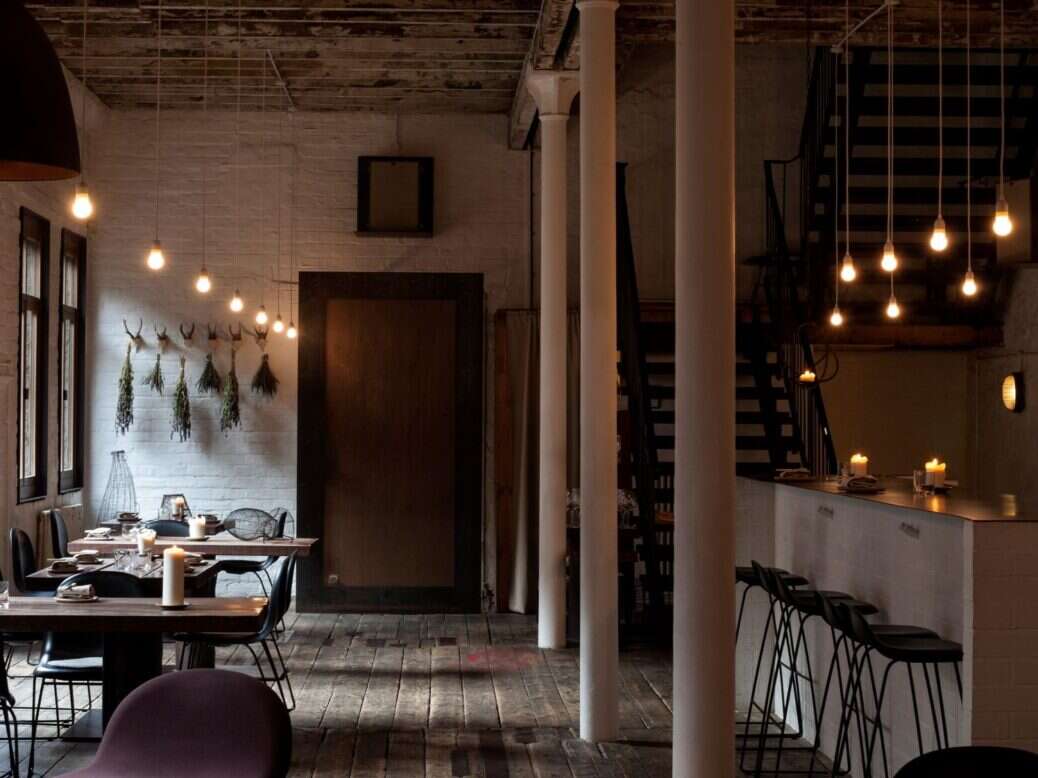 Oh, Edinburgh. The capital of Scotland has inspired dreamers and thinkers – and scientists and students, politicians and philosophers – for centuries now. It's near impossible not to be enchanted by its dreamy winding cobbled streets, its ancient architecture, its utter lashings of culture.
Auld Reekie is the second most visited city across the United Kingdom, and yet Edinburgh is refreshingly resistant to the usual trappings of tourist traps. More likely to stumble upon a MacDonald tartan mini than a McDonald's chain outlet, the city can often feel like a voyage through time, especially if you travel outside of the peak tourist months.
Just strolling through the medieval Old Town and the Georgian New Town is enough to stimulate the senses, tickle a long-lost childhood imagination. With so much to do and see, the city's thriving restaurant scene – in which traditional Scottish cuisine is elevated to international heights – only adds to the never-ending Edinburgh vacation list. To aid your travels, we've rounded up the best restaurants in Edinburgh for 2023.
[See also: Curated Touring Unveils Ultra-Exclusive Scotland Itinerary]
Timberyard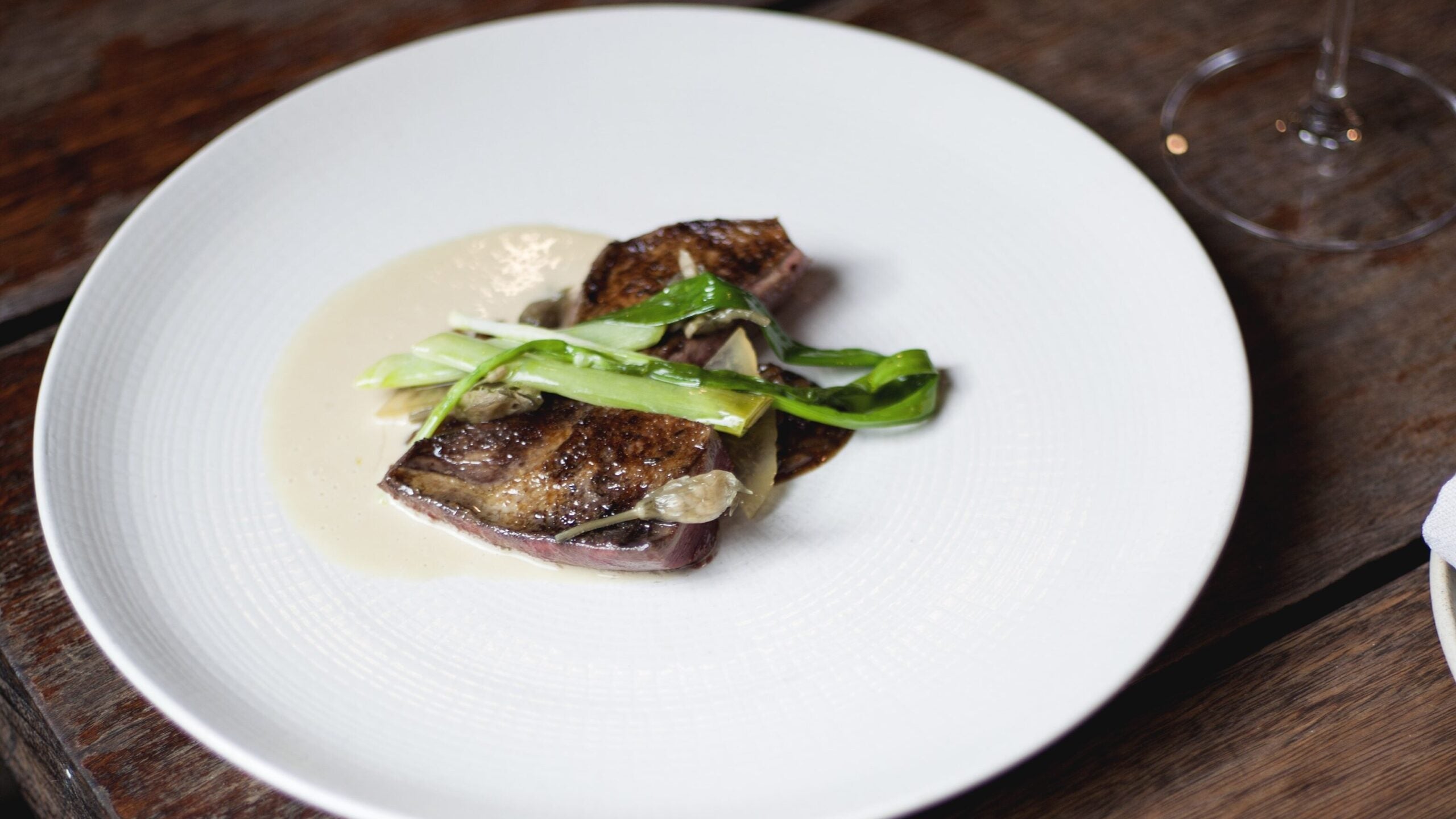 Located in an old and seemingly scrawny warehouse, with a vivid red door dominating most of the shop front, you'd be forgiven thinking Timberyard looked less like a high-end restaurant and more like a hipster dive bar for the city's students. But keep up, this is 2023: industrial-chic is in, and Michelin-awarded Timberyard is leading the charge.
One of the five Michelin-starred restaurants in the city, and only one of two within the city center, Timberyard strays from the traditional Scottish palette and offers up a seasonal menu that combines a Nordic approach with some French elements for a thoroughly enjoyable dining experience.
The interior follows suit. More Scandinavian minimalist than tavern cozy, the former warehouse space has been modernized a bit with nice lighting and a stylish (and well stocked) bar but shies away from going down a more London route: no kitsch cocktails and flamboyant desserts here. Instead, locals and tourists alike enjoy the stripped-back – but by no means boring – ambience, and the exciting, eclectic, food offerings.
Heron
No neighborhood across the world, we'd argue, has come to symbolize the powers of gentrification quite like Leith. The port of Edinburgh, and epicenter of its traditional industries, Leith has gone from being a tourist no-go to the most happening spot in the city. Testament to this change is its three Michelin starred restaurants, rendering it one of the most high-end gastronomic scenes across the country.
Young chefs Tomás Gormley and Sam Yorke at the Heron have curated a menu that is minimal in offerings – the menu looks akin to something placed upon a set table at a wedding – but utterly unlimited in imagination. Veal sweetbread is offered with walnut and sweet rocket; seaweed joins lamb and asparagus.
And located right on The Shore, diners can enjoy gorgeous vistas across the Water of Leith and the old docks. Large windows welcome in the views and the light, whilst the interior design leans into a fun mid-century chic.
[See also: Tracking Your Own Whisky Trail Through West Scotland]
The Scran & Scallie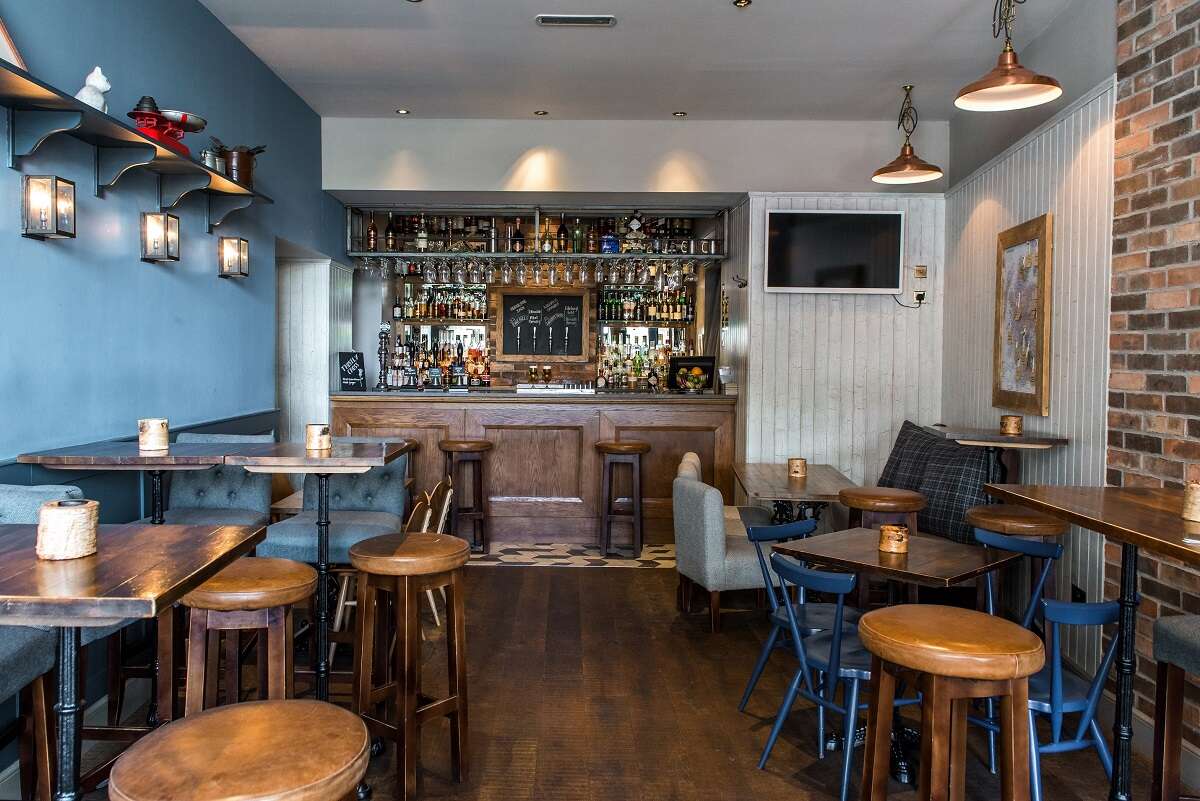 The Scran & Scallie is a quintessential British gastropub experience that every visitor must enjoy once during their stay, and we're pressed to find a better time than at this Stockbridge institution. It's all heart, from its warm and cozy local ambience, to even the irony in its name; scran is Scottish slang for leftover scraps of food.
This Michelin Bib Gourmand by Michelin-starred Tom Kitchen and Michaela Kitchin serves up posh pub grub with an emphasis on Scottish delicacies; easier to digest than a fried Mars bar, do try the haggis, neeps and tatties. The menu ranges from the classics – fish and chips, fish pie, steak pie – to offerings more orientated around the great local seafood offerings, such as monkfish and oysters.
Located on the left of New Town, take a walk through the historic Stockbridge afterwards for an authentic village feel within the center of the city, and check out neighborhooding Dean Village for perfectly fairytale vistas. If you can drag yourself out, that is: this is delicious, hearty Scottish dining at its most authentic and enjoyable.
Condita
Newington, located just south of the Old Town, is reliably packed with the vintage jacket and flared jeans uniform of Edinburgh's university students, a neighborhood studded with cafes and bookshops. It is not, for those that know the city, where one would expect the second of the city center's Michelin awarded restaurants.
But nothing about Condita follows the traditional trappings of high dining, and the restaurant is all the better for it. Firstly – and perhaps most radically – there's no menu: it is, in Condita's own words, a "surprise, no choice." What diners can be assured of is a spotlight on local produce, highlighted by a hand-drawn note, in which the evening's modern dishes are displayed.
It's a small space, made up of just six wooden tables. The décor changes seasonally – we told you this was a firecracker – reflecting Edinburgh's moving moods throughout the year, from a fairytale Christmas to a thriving summer scene during the Edinburgh Fringe Festival. Book well in advance for one of the city's most exciting gastronomic experiences.
[See also: How the Prestigious Michelin Star System Really Works]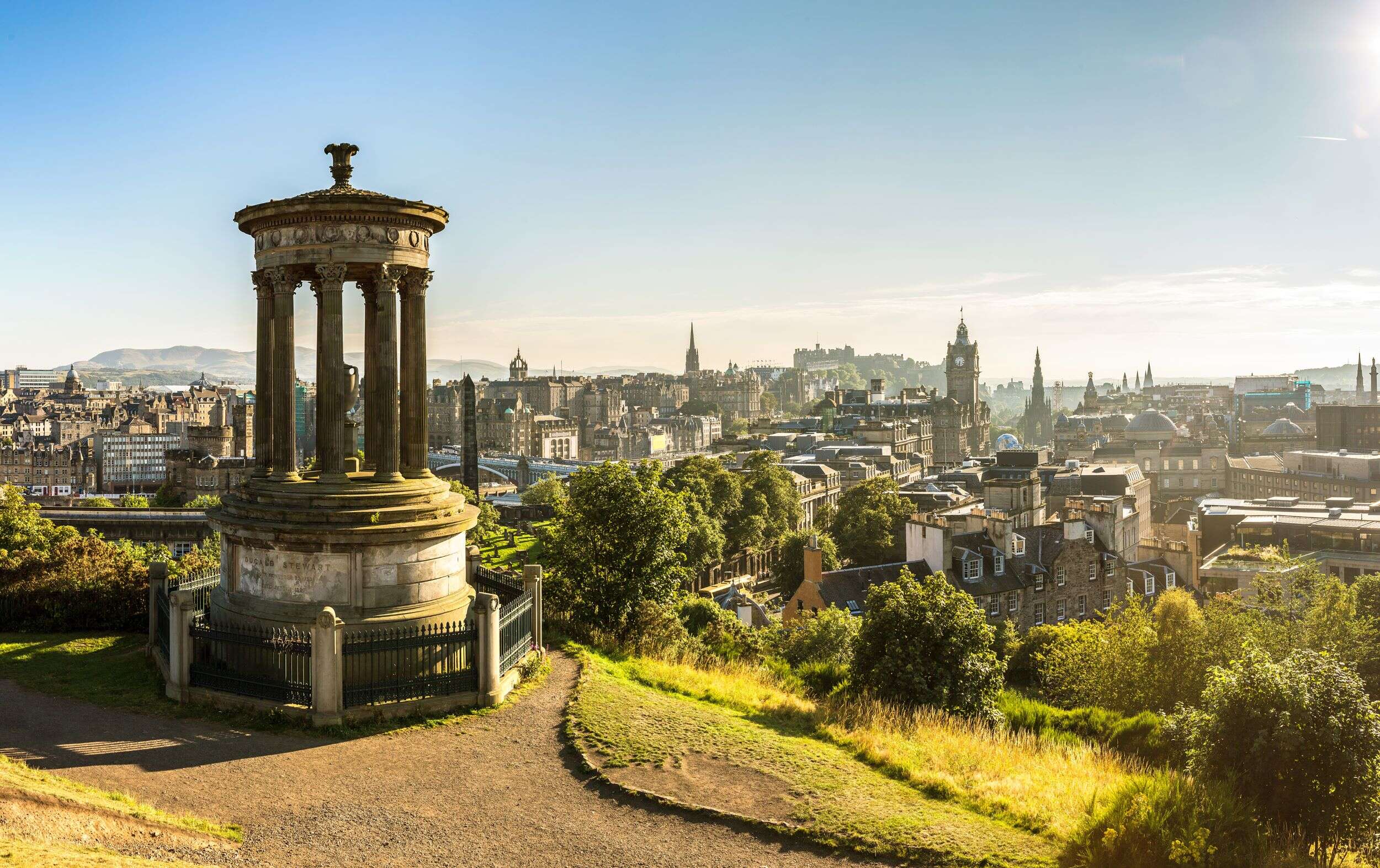 The Outsider
It's a buzzing scene within this restaurant, a rare meeting ground between the city's students, young professionals, date nights. With a down-to-earth menu, in which the day's specials are scribbled underneath the usual offerings, and a relaxed and sophisticated ambience, the Outsider is something of a badly kept secret amongst those who live there. A recommendation to one of the best restaurants in Edinburgh is whispered, not screamed.
Why? The food is great; the menu combines British and Scottish classics for updated tavern dining, aided by the golden candlelight introduced for dinner. But it's the views that render this restaurant, located on the totally picturesque George IV Bridge, such a flagship of the Edinburgh dining scene.
The tall and generous bay windows that so define the city's architecture bring in some of the best views of Edinburgh Castle found across the city. Framed by the Gothic roofs and jutting chimney tops of the Old Town, these vistas are just as magical in the blistering rain as they are on a summer's day. But don't fret if you can't wrangle a window-side table; the cozy and warm atmosphere of the Outsider is enjoyable enough.
Martin Wishart
Edinburgh-raised chef Martin Wishart has worked under what reads as a who's who of modern luxury dining – Albert Roux, Michel Roux, Marco Pierre White – and so it comes as no surprise that his eponymous restaurant was awarded a Michelin star of its own just two years after opening in 1999, and remains one of the best restaurants in Edinburgh.
Wishart combines his French gastronomic education with a wide and diverse range of Scottish ingredients – Shetland quid, Orkney scallops, Dornoch lamb, to name a few – plus a few of his own personal touches, for a final result the Michelin guide describes as personable cooking, dishes with individuality.
Wishart is the first chef in history to receive an honorary degree from the University of Edinburgh; he also contributed a food column to the city's Sunday Herald magazine. Not only is Martin Wishart, located in Leith, a gastronomic institution of the city in its own right, but its chef is a bastion of a culinary force within Scotland's growing food sphere too.
[See also: The Most Exclusive Scotch Whisky Experiences]
The Spence at Gleneagles Townhouse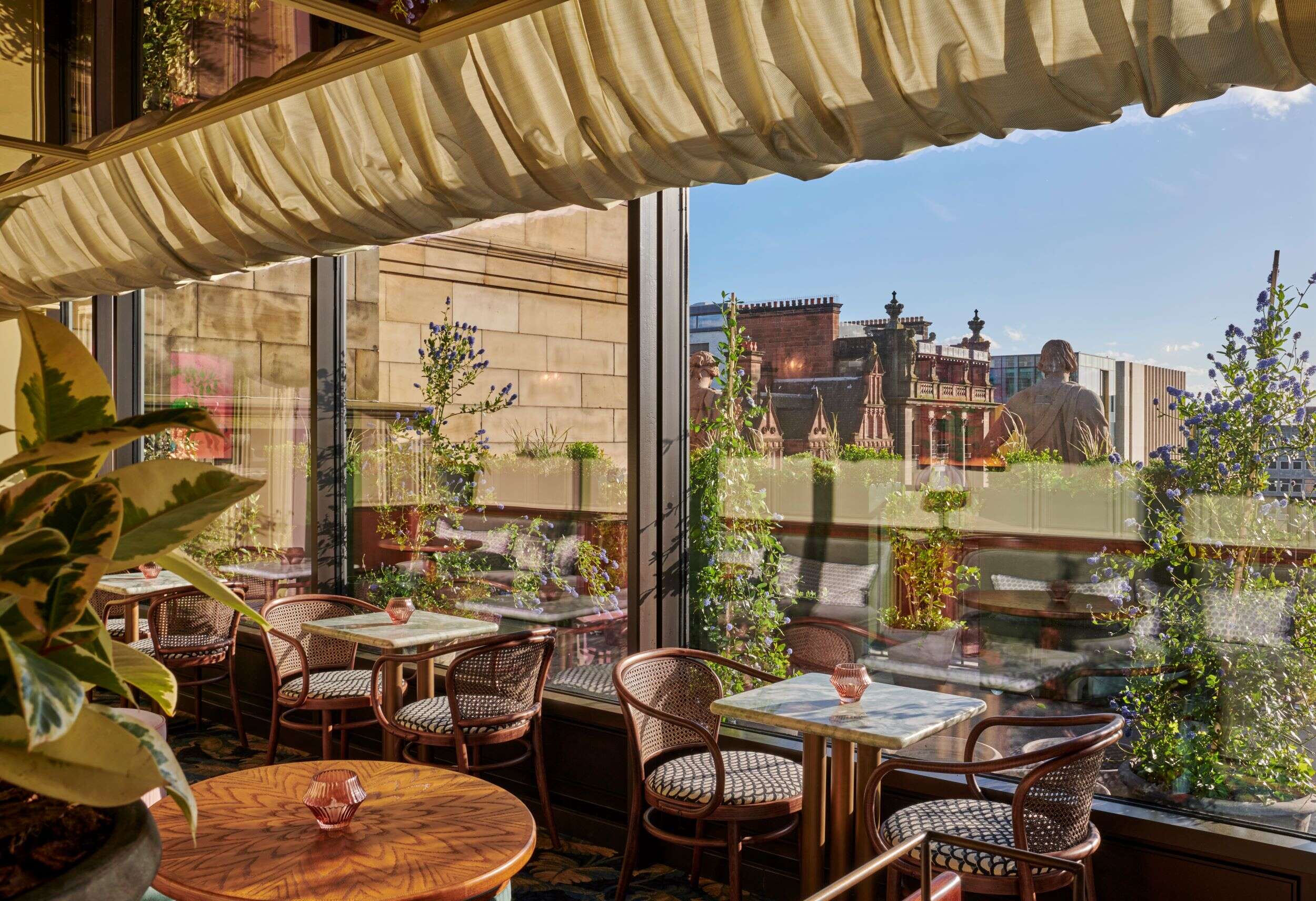 Great buzz surrounded the Summer 2022 opening of the Gleneagles Townhouse, an urban branch of the iconic Gleneagles country estate. Considerably chicer and definitely cooler than its rural counterpart, the hotel – housed in what used to be the Bank of Scotland – is Scottish luxury at its finest, from its glorious Georgian architecture to its modern wellness offerings.
And its flagship restaurant, The Spence, is just as delightful as the hotel itself. Located within the restored glass-domed hall, the Art Deco space is popular enough to be consistently full of people, but big enough to still feel thoroughly spacious.
Head Chef Jonny Wright utilizes local and seasonal produce to present a menu that spotlights beloved classics, with seafood being a particular highlight. A particularly fabulous detail that strikes exactly the right note of kitsch is the dessert trolley; don't miss out on the selection of Scottish cheeses. Gleneagles Townhouse's rooftop bar, The Lamplighters, is just as stylish as downstairs, for an after-dinner drink overlooking brilliant views of New Town and across to the Old Town.