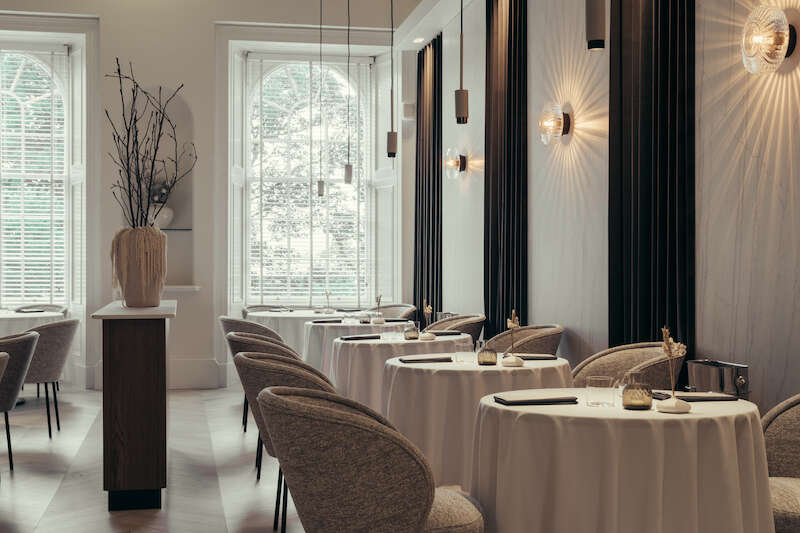 In the nicest possible way, Scottish chef Stuart Ralston has a little bit of a monopoly on Edinburgh's fiercely competitive restaurant scene. In a little capital like this one, running three restaurants (Aizle, Tipo and Noto) makes his name a serious one – now, Ralston has taken things one step further with the opening of Lyla, an unashamedly fine dining restaurant on Edinburgh's Royal Terrace.
Taking over the space that was once home to 21212 – the late Paul Kitching's celebrated restaurant, which closed earlier this year following the chef's passing – Lyla occupies the first and second floors of a grand Georgian townhouse. It opened its discrete doors on October 17, and we snagged a seat just over two weeks later.
You wouldn't know it's new, though. Yes – it looks flashy and freshly kitted, but everything runs smoothly. The team is spritely and friendly, and seem just as excited to be here as we are, but still unfalteringly confident and clued up on every dish. A 7pm reservation feels quiet at first, but by 8.30 the small (28-cover) dining room is chocka, in a visual testament to Ralston's reputation.
[See also: Inside the Hotly Anticipated Gleneagles Townhouse, Edinburgh]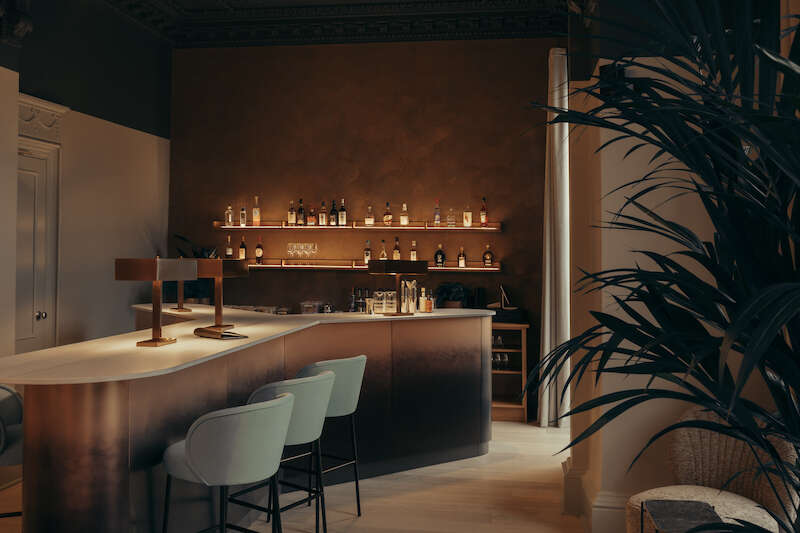 "Paul [Kitching] has always been an inspiration to me. Taking over this space is bitter-sweet for obvious reasons. When Katie [O'Brien, Kitching's partner] offered it to me, I just wanted to make sure that I would create a restaurant that I think he would be proud of," said Ralston.
"Each of my restaurants represents something I love about this intensely creative and exciting industry … This restaurant will be a culmination of everything I have learned over the years and everything I love to cook and eat."
[See also: The Little Chartroom: Something Special is Happening in Leith]
Chef
Fife-born Ralston spent much of his early culinary career on the other side of the Atlantic in NYC, where he worked under the legendary Gordon Ramsay, with stages – work experience – with the likes of David Bouley, Daniel Humm and Jean-Georges Vongerichten. In 2009, he headed south to Barbados for a role as chef de cuisine at Sandy Lane Resort.
By 2014, however, Ralston was back on home turf. His first signature restaurant, Aizle opened in the same year (eventually moving to Edinburgh's Kimpton Charlotte Square hotel in 2020), and has been regarded as one of the city's very best ever since.
Noto – an understatedly stylish little restaurant with an Asian-inspired menu – followed in 2019, reaching a similar level of belovedness among Edinburgh locals and tourists alike. Tipo joined the clan in spring 2023, offering a more casual dining experience inspired by Italian flavors and traditions. The aim with Lyla is to take things up a notch: Same creative, internationally inspired style, just at a far more ambitious standard.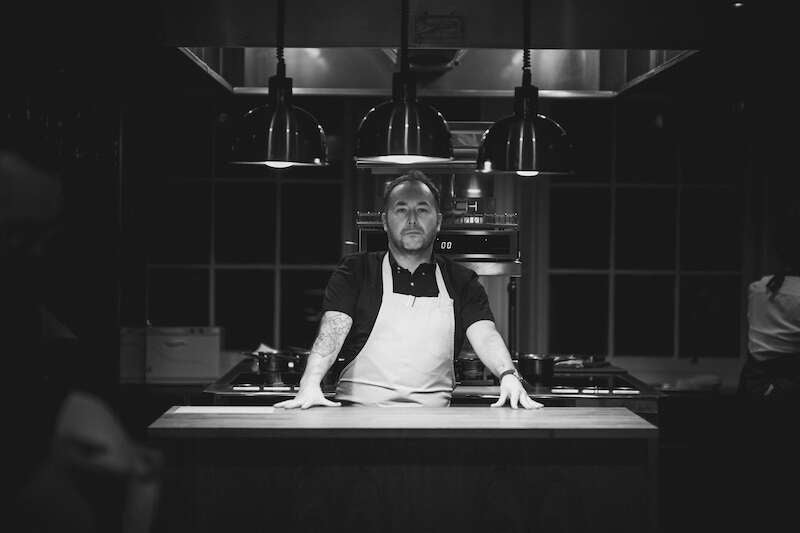 Menu
If you've been to one of Ralston's other Edinburgh restaurants (if you haven't, do) the menu at Lyla will feel familiar – but much posher. The chef's latest opening goes down a similar vein of taking seasonal Scottish ingredients and interpreting them through an international lens. Some dishes take us way over to Japan; others look to Europe.
Dinner starts upstairs in the lounge, either on one of the sofas or around the bar, where a series of small snacks ease into the menu. Apparently, the Alp blossom cheese and onion cracker has already become a firm favorite, but it was the lobster that stood out: Chunks of sweet poached Scottish lobster are encased in a cracker made from Leith-based beer and topped with sake-soaked trout roe.
[See also: Aulis: Simon Rogan's London Restaurant Revived]
The evening continues back downstairs, past the open kitchen and into the beautiful main dining room. Course after course descends – the Scottish langoustine, wrapped up in a coat of crispy noodles of kataifi pastry and served with a big dollop of burnt apple ketchup, will have you close to asking your waiter for another one, please.
Ralston is firm that this is a chef-led restaurant, so many dishes are finished tableside, with a flourish that feels fancy but never forced – be it a final spoon of caviar on top of a hunk of halibut, a generous shaving of truffle over a spenwood cheese mousse, or the drizzle of jalapeno oil on cured plaice and pickled kohlrabi. 
[See also: Claridge's Restaurant: An Icon Returns]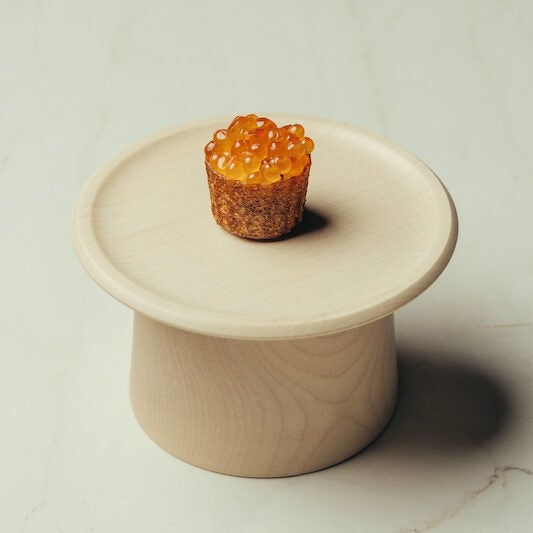 As is becoming more common, the bread course comes halfway through; it's worth the wait. Lyla serves an impossibly buttery, brilliantly flaky cylinder of laminated brioche alongside two butters: One is house-made and dusted with Grinch-colored garlic powder ("a fancy garlic butter," in Ralston's words), the other is simply dotted with Himalayan salt. I could have eaten both straight from the knife.
The ten(ish)-courses are accompanied by a very, very interesting wine pairing by award-winning sommelier Stuart Skea. The majority of labels come from France, but a sake kicks things off, and a syrupy Hungarian number from Szent Tamás winery closes the evening.
Even the ordering of the wine flight intrigues – where you might expect a sparkling wine to be one of the first glasses, Skea saves his (an English sparkling from Berkshire, and a dark pink Pet Nat from Bugey Cerdon) until way into the night. It's fun and its interesting, and every glass comes as an intriguing surprise.
[See also: Sarah Hayward on Winning Michelin's Young Chef Award]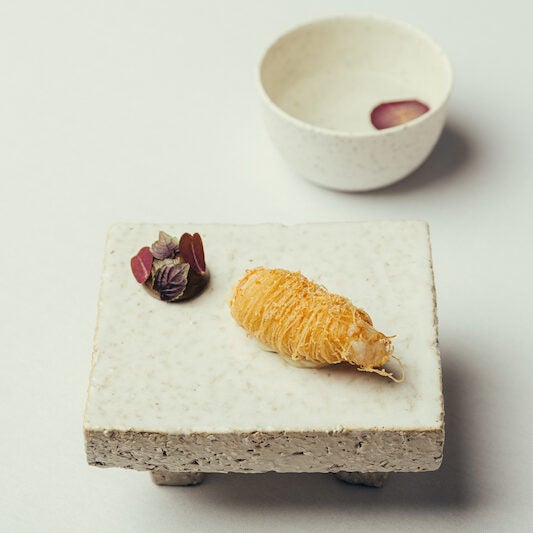 By the time you get to desserts, expect to be full (and quite likely tipsy too – that wine pairing means business). Every course is dainty but generous so I don't think anyone would be surprised if you had to ask for your trio of petit fours to go.
Interior
Lyla's interiors proudly stand up to the caliber of food leaving the kitchen. Fashioned more like a very swanky home than a restaurant, both the upstairs lounge and the dining room below are modern yet warm, with the character of the Georgian building shining through in ornate plastered ceilings, huge windows and open fireplaces.
The open kitchen makes for gripping entertainment – try to nab the table in the far right as you walk in for a good view of both the chefs at work and the rest of the restaurant.
From £145 ($178) per person. Lyla, 3 Royal Terrace, Edinburgh, Scotland, EH7 5AB, lylaedinburgh.co.uk