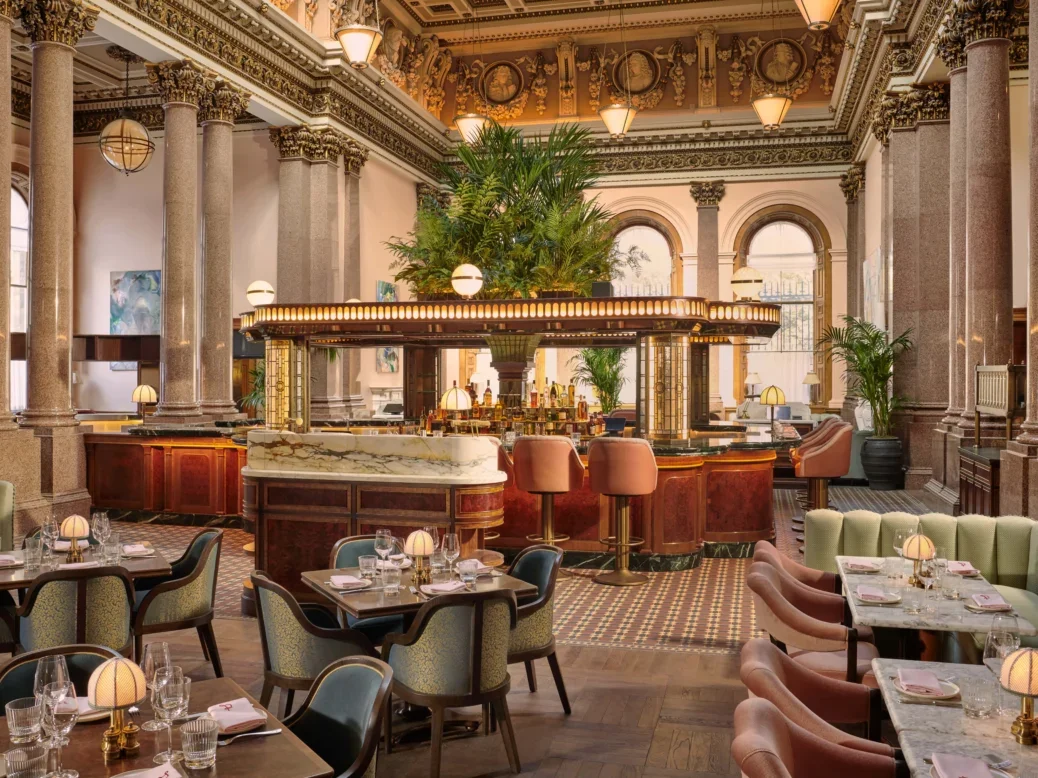 Stepping inside the lobby of the Gleneagles Townhouse, you'll notice a delicate floral scent. It took several attempts to find the perfect fragrance for the historic property, but, as the hotel's charming general manager Willem van Emden tells me, they got there in the end.
This is just one of countless thoughtful touches that have gone into finessing the 'younger sibling' of the iconic Gleneagles country estate. Situated in the heart of Edinburgh, overlooking St Andrew Square, the much-anticipated Townhouse opened its doors in June, marking the luxury brand's first venture beyond its Perthshire Hills property in its 97-year history.
Naturally, our expectations were high. Could the magic of the original hotel be captured away from Scotland's tranquil glens, here in the bustling capital? The answer, in short, is yes. Think of Gleneagles Townhouse as the mischievous little sister of the Perthshire outpost – equally as glamorous but with an energetic, buzzy atmosphere that befits her new urban location.
The property itself is steeped in history. Built in 1781 by George Ramsay, the 8th Earl of Dalhousie, the sandstone mansion served as a branch of the Bank of Scotland for over two centuries before Ennismore began the painstaking process of restoring the listed building.
[See also: The Most Anticipated Hotel Openings of 2022]
Approaching Gleneagles Townhouse from across the street, it's clear this is no ordinary hotel. Imposing Corinthian columns flank the façade, topped with classical statues that keep watch over the square below. But it's not until you enter the lobby that you realize the true extent of just how much effort has gone into preserving the building's rich history.
A wood-paneled reception desk sits beneath the original gilded staircase with light pouring in from a stained-glass window overhead and delicately restored Victorian tiles underfoot. Modern touches come in the form of lush green plants and contemporary art in pastel shades.
This is serious luxury but with a home-away-from-home vibe that will have you feeling instantly at ease. The other thing worth mentioning here is the staff. Helmed by van Emden (previously of Soho Farmhouse), the friendly, spirited team is on hand to cater to your every whim, going above and beyond to advise on where to go and what to do during your stay.
It's not just personal service – they seem genuinely happy (and excited) to be here, many having up sticks and left coveted posts at some of the country's most prestigious hotels and restaurants to be part of something that is, we can confirm, truly special.
Stay
The boutique hotel comprises just 33 elegant guest rooms, ranging from cozy Nook Bedrooms up on the third floor, to spacious Master Bedrooms with soaring ceilings boasting the best views of the city.
Comfort comes first at Gleneagles Townhouse: the mattresses and giant pillows are so snug it's hard to tear yourself out of bed in the morning. The interiors have been beautifully designed – think pale pink velvet headboards, plush forest green armchairs, antique rugs and bespoke wooden furnishings.
Bathrooms – which feature a mix of generous monsoon showers and free-standing tubs – are adorned with pretty wallpaper, dark green tiles and marble sinks with gold taps. You'll find impossibly soft robes and slippers here, plus a range of luxurious toiletries crafted by Gleneagles & Co and plastic-free shaving kits, bamboo combs and toothbrushes.
Of course, you'll enjoy access to all the modern amenities too including a TV, coffee machine, hair dryer and even straighteners. There's also a lovely selection of Pekoe herbal teas from Leith, a little pot of flapjacks, and a generously stocked mini-bar.
Dine
Dining at Gleneagles Townhouse is a real treat. Downstairs in the dramatic glass-domed former banking hall, you'll find The Spence – the hotel's all-day restaurant. Decorated with dusty pink granite columns, velvet sofas and a wonderful Art Deco bar, the eatery has a laid-back yet decidedly lively atmosphere. It's easy to while away an evening here; it's packed with so many people you get the feeling you're lucky to have a table.
As for the food itself, talented head chef Jonny Wright has created a vibrant menu packed with Scotland's bounty of seasonal produce. Again, thoughtful touches abound here, from the embroidered napkins to the expert waiting staff who have tried everything on the menu and are ready with suggestions.
Seafood is very much the star of the show. We loved the buttery west coast Langoustines served in their shell with Dijonaisse, Argyle rock oysters and indulgent native lobster penne pasta. Also well deserving of a mention is the succulent cornfed roast chicken served on a bed of baby potatoes, peas and broad beans. This is comfort food at its finest.
Pudding is equally as delicious – the dessert trolley is ceremoniously wheeled round with endless sweet treats to choose from including a light-as-air Amalfi lemon meringue tart and, of course, a selection of Scottish cheeses served with quince and crackers.
After dinner, head upstairs to The Lamplighters – the hotel's stylish rooftop bar complete with an outdoor terrace boasting killer views of the city. Here, inventive bar manager Steph Anderson has created a selection of signature cocktails, which are served alongside a comprehensive list of local whiskies (this is Scotland after all) and craft beers. We recommend The Leerie – a heady mix of Casamigos tequila, Cloudcatcher cordial, cranberry, coconut and Aperol.
[See also: The Best Restaurants in Edinburgh]
Relax
While the wellness offering at Gleneagles Townhouse is, as van Emden puts it, "a work in progress" these are not facilities to be sniffed at. Located down in the bank's former vault, The Strong Rooms includes a purpose-built gym (much bigger than expected) complete with two studios where guests and members can take a range of classes including spin, yoga and pilates.
Cozy treatment rooms can also be found here, with expert therapists on-hand for signature Gleneagles treatments, as well as Dr. Barbara Sturm facials and Tata Harper massages.
Perhaps most intriguing, however, is the cryotherapy chamber. Don gloves, slippers and a hat before stepping into the private suite, which reaches temperatures of up to -150 degrees Fahrenheit. Just a couple of minutes in here is said to boost endorphins, lower inflammation and relax muscles leaving you feeling refreshed and re-energized. Oh, and it's not a bad hangover cure either.
Explore
It would be easy to spend your entire stay within the four walls of Gleneagles Townhouse, but if you're eager to explore Edinburgh be sure to speak to the staff who are brimming with ideas.
On Sundays, head to Stockbridge Market (around a 20-minute walk from the hotel) for paella from Casa Roble and take a wander along the picturesque Leith Walkway by the river.
If you're lucky enough to be visiting during August, catch a show at the Edinburgh Fringe – the world's largest arts and culture festival. The city is filled with incredible museums and galleries – the Writers' Museum, Royal Scottish Academy and Scottish National Portrait Gallery to name a few – and, of course, gourmet eateries including chef Conor Toomey's one Michelin star Condita.
Then, there's drink. A trip to Edinburgh would not be complete without sampling the city's famed Scotch whisky. Head to Johnnie Walker Princes Street in the heart of the West End for a tasting in the underground cellar to sample an array of drams straight from the cask.
The price per night for a Master Bedroom starts at £528 (approx. $640).
reservations@gleneaglestownhouse.com
UK: +44 (0) 800 917 4655
USA: 1 866 881 9525
[See also: The Most Iconic Hotels of the 21st Century]